If you are a nature photographer or a nature lover and you loves to capture the views of the objects you are watching, a spotting scope is an indispensable item to have. With the best spotting scope for Digiscoping, you will be able to take photos and record high-quality videos of birds, wildlife, plants, marine creatures and any other subject you are observing.
Unlike the telephoto lenses that are expensive, heavy and cumbersome to carry around, spotting scopes are lightweight, smaller in size and more portable. Besides, using a spotting scope for Digiscoping is much easier, even for the beginners in photography. You also get image magnification that is far beyond what any top-tier telephoto lens will give you, which is important when you are taking photos of the distant targets.
It is however not a simple task to find the best spotting scope for Digiscoping, given the plethora of models available out there. Besides, there are so many factors that you need to take into account before making a selection.
In this post, we are going to help you choose right by taking you through the best spotting scopes for Digiscoping that are available on the market today. These scopes are designed to provide high-quality sight pictures and help you reach and surpass your photography goals.
Without much ado, let's jump right in.
7 Best Spotting Scopes for Digiscoping
1) Celestron Regal M2 100ED Spotting Scope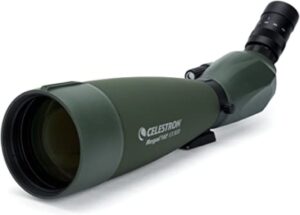 Celestron is a renowned optics manufacturer known for its premium-quality optics. The Regal M2 100ED Spotting Scope is by far their best spotting scope for Digiscoping. It features a broad magnification power and offers admirably bright and clear views of targets in different lighting and weather conditions.
The spotting scope is made with versatility in mind. It is a perfect solution for birding, wildlife viewing, astronomy and other outdoor activities. Besides, all its air-to-glass surfaces are multi-coated to maximize light transfer through the optical path and deliver bright and crisp clear image views.
Furthermore, the scope has an oversized 100mm objective lens which offers a wide viewing angle and collects more light in low light settings. You also get to use the scopes' included 22-67x zoom eyepiece to bring the distant targets closer or pair it with any 1.25" astronomical eyepiece when you want more zoom power.
For Digiscoping, this sighting tool has a T-mount adapter and other field worthy accessories included. This way, you don't have to incur any additional costs buying them separately. It also comes with a rotating tripod mount that you use to position it to different viewing angles.
To top it all, the spotting scope has a lightweight magnesium alloy body which is sturdy, durable and weather-resistant to guarantee many years of use.
Features
Dual speed focusing mechanism
Fully waterproof and fog proof
Extra-low dispersion glass
Magnesium alloy body
XLT lens coatings
22-67x zoom eyepiece
Rotating tripod mount
Pros
Super easy to zoom quickly
Bright, clear and sharp optics
Versatility
Easy to use
Cons
2) Swarovski ATS 80 HD Spotting Scope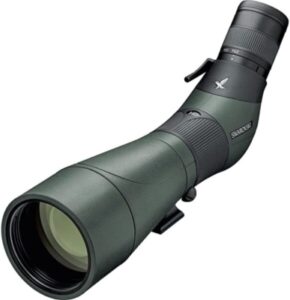 If you want to turn every observation into an adventure, the Swarovski ATS 80 HD Spotting Scope is your ideal option. It harbors an array of premium-quality features that make it ideal for virtually any outdoor adventure.
Built with HD lenses, the spotting is an exceptional choice for regular viewing of birds, wildlife and the great outdoors. The crisp, razor-sharp and color rich views it provides also makes it an ideal choice for Digiscoping where you will be able to take quality photos through it.
With the angled design, the spotting scope accommodates users of different heights comfortably and makes Digiscoping much easier. It also alleviates neck strain and fatigue when you are glassing for long. Besides that, it is well-built to last long and well-protected from scratches and dents to add on durability. It also has a rubber armoring which protects the optics from shock and elements when you are outdoors.
Features
Rugged aluminum body
Fluoride containing HD lenses
80mm objective lens
Rubber armoring
Waterproof and submersible to 13 feet
High grade optical system
Pros
Lightweight design
Solid construction
Easy to use
Crisp clear optics
Cons
3) Gosky 20-60×80 Spotting Scope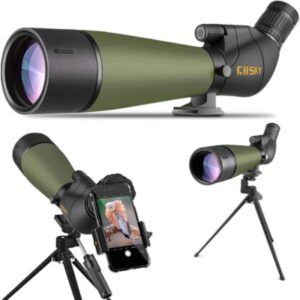 The best spotting scope for Digiscoping for the budget buyers is the Gosky 20-60×80 Spotting Scope. It is a perfect sighting tool for archery, birding, wildlife watching, astronomical observation and many more.
Built with a large 80mm aperture, this spotting scope delivers clear resolution even in low light settings. The aperture is multi-coated with a green film to enhance light transmission and reduce glare. Also included is premium-quality BaK4 prisms which provide bright and color rich images that every photographer needs.
Another facet that makes the spotting scope stand out is its durability. It has a durable framework and a rugged rubber armor which provides long lasting external protection. Furthermore, the optics waterproof and nitrogen filled to be fully fog proof. An eyepiece shield is also included to protect the eyepiece from scratches, dust and any other debris.
More importantly, this spotting scope has a smartphone Digiscoping adapter included so you don't have to buy one separately. It also boasts smoothly adjusted focus and magnification knob for easy adjustments and smooth zoom respectively.
Features
Waterproof and fog proof construction
Multi-function rubber eyeshade
20-60x magnification
Multi-coated lenses
Adjustable eyecup
Long lasting rubber armor
Quality BaK4 prisms
Pros
Budget friendly
Great light transmission
Large field of view
Easy to use
Cons
The quality of the coating is average
4) Vortex Optics Razor HD 22-48×65 Angled Spotting Scope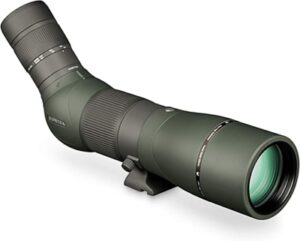 Vortex makes top-tier optics and this is clear in the Razor HD 22-48×65 Angled Spotting Scope. It has an ultra-sleek functionality that makes it ideal for a wide range of outdoor adventure activities and an angled eyepiece for Digiscoping.
The detail that makes this device the finest spotting scope for Digiscoping is the superior optical finesse. It employs a Triplet apochromatic lens coupled with high-density, ED glass to deliver unmatched resolution and color richness. Better yet, the lenses have XR-Plus anti-reflective lens coatings that yield admirable image brightness even when you are glassing in low light conditions.
Complementing the outstanding optical features is a built-in sunshade that reduces glare in broad daylight and protects the objective lens from scratches. In terms of construction, the spotting scope features a shock-absorbing rubber armor which provides unrivaled durability. It is also equipped with a multi-position eyecup that make it eyeglass-friendly, and Armortek coatings to protect the lenses from scratches and dirt.
Furthermore, this spotting scope has a smooth helical focus and a locking collar that you can use to rotate it into different viewing angles. It is also fully waterproof and fog proof to ensure unimpeded field use in all weather conditions.
Features
Smooth helical focus dial
Waterproof and argon purged
Rubber armor
Armortek lens coating
Multi-position eyecup
XR-Plus anti-reflective lens coatings
Extendable sunshade
Pros
HD optical quality
Lightweight and portable
Tripod ready
High build quality
Cons
The exit pupil diameter is narrow
5) LANDOVE 20-60X80 Spotting Scope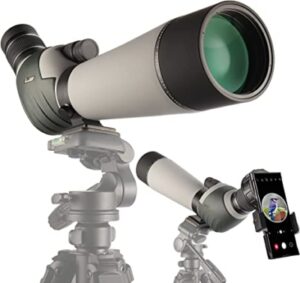 When it comes to versatility, the LANDOVE 20-60X80 Spotting Scope is hard to beat. It is suitable for Digiscoping when you are birding, watching wildlife and observing the celestial objects. In addition, the scope is ideal for other outdoor activities including hunting, archery and outdoor sporting.
The spotting scope features a variable 20-60x magnification which makes it easy for you to zoom into the target and get a more detailed view. The 45-degree angled eyepiece allows for comfortable observation from any position and the large 80mm aperture provides the much-needed wide field of view.
For comfortable observation with or without eyeglasses, the scope features a rotating rubber eyecup that you use to tailor your eye relief. Furthermore, it employs BaK4 Porro prism and fully multi-coated lenses that increase light transmission and deliver bright, crisp and color rich images even in critically low light settings.
The scope is made to be operable in all weather conditions. It is waterproof and nitrogen filled to adapt to all kinds of outdoor weather conditions. It also boasts a non-slip and shock proof rubber armor which provides lasting protection from elements and rough handling.
Other essential features included are a scalable sunshade for glare reduction and a new design large smartphone Digiscoping adapter that works with nearly all types of smartphones.
Features
Rotating rubber eyecup
BaK4 Porro prism
Waterproof and nitrogen filled
High-quality, non-slip rubber armor
Fully multi-coated lenses
Smartphone Digiscoping adapter
Coaxial dual speed focus system
Pros
Lightweight and durable
Versatility
Easy on the wallet
Excellent picture quality
Quick to focus accurately
Cons
The magnifying ring is hard to turn
6) Barska Blackhawk 20-60×60 Spotting Scope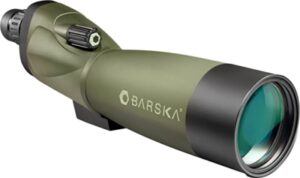 The Barska Blackhawk 20-60×60 is the best spotting scope for Digiscoping for birding and nature enthusiasts. It has a lightweight design of 2.86lbs only for portability convenience, and an easy-to-use design for added convenience.
The spotting scope is suitable for viewing subjects at close ranges as well as long distances. This is made possible by the close focus distance of 23ft/7m and a variable 20-60x magnification that brings the faraway objects closer.
With the large 60mm objective lens, the spotting scope collects ample light needed for viewing targets in low light settings and for observing the sky at night. In addition, it boasts high definition glass which improves picture quality and a built-in sunshade that reduces the glare when you are observing targets under harsh sunlight.
For use in all weather conditions, this optic is fully waterproof and fog proof. It also features a durable rubber armor body which protects the fragile optics from scratches and damages during use.
Features
Multi-coated lenses
Durable rubber armored body
Angled eyepiece
Extendable sunshade
Fully waterproof and fog proof
Premium BaK-4 Porro prism
Pros
Lightweight design
Good field of view
Simple to use
Crisp clear glass
Cons
7) Zeiss Conquest Gavia 85 Spotting Scope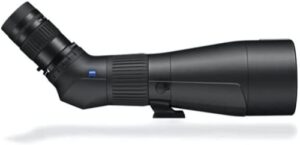 Lastly, we have the Zeiss Conquest Gavia 85 Spotting Scope. This top-tier spotting scope is made with a multitude of advanced features and modern technology to get you closer to nature and take your Digiscoping skills a notch higher.
It boasts a universal base that makes it easy to integrate into any quick head system of a Manfrotto tripod head. When you mount it on a tripod, you will take the weight off your hands and have a more comfortable observation session. You will also get stable views of your subjects even on the highest zoom power. Besides, getting the extensive Digiscoping accessories available will expand its usage.
Another outstanding feature of this spotting scope is the removable eyepiece which allows the use of other eyepieces that deliver different magnifications. Furthermore, the sighting line of the objective bell makes target finding a walk in the park, while the fully multi-coated lenses provide bright and crisp views of the subjects in nearly all light and weather conditions.
Regarding construction, the spotting scope features a premium quality construction which maximizes durability. It has an angled eyepiece design which makes Digiscoping more convenient and a weatherproofed body for use under any environment.
The spotting scope also brings to the table a LotuTec hydrophobic lens coating which sheds dirt, oil and water stains to ensure that the field of view stays clean all through.
Features
Waterproof to 400mbar of pressure
Sighting line on the objective lens
Angled eyepiece
LotuTec hydrophobic lens coating
Multi-layered anti-reflection coatings
Removable eyepiece
30-60x zoom eyepiece
Pros
Smooth focusing
Compact and portable design
Stunning picture quality
Rugged and reliable construction
Cons
Read Also
How to Choose a Spotting Scope for Digiscoping
Explained below are the important factors to consider when looking to buy the best spotting scope for Digiscoping.
Size of Lens
The lens in a spotting scope is the part that is responsible for collecting light inside. Generally, the larger the lens is the more light is collected. In low light settings, a large objective lens will enhance resolution and make the target views to appear brighter. It will also provide you with a large viewing angle which is important when Digiscoping and tracking fast moving subjects.
Magnification Range
The magnification power of a spotting scope is represented by the first set of numbers in its configuration. When you get a scope with a high and vast magnification power, you will get stunning details of subjects at different ranges. As such, you will be able to capture high-quality photos of even the most remote objects and make your Digiscoping expedition more rewarding.
Eyepiece
Spotting scopes are categorized as angled or straight depending on the shape of the eyepiece. For Digiscoping, it is best to get a scope with an angled eyepiece. You will have an easy time attaching your Digiscoping gear than when you are using a straight eyepiece. An angled eyepiece also gives you the flexibility to turn it into different viewing positions. This will be extremely helpful when you want to watch your subjects at an angle and take photos.
Close Focus Distance
Next, consider the close focus distance the spotting scope provides. For you to have a Digiscoping trip that is fully rewarding, you will need a sighting tool that delivers quality image views with great sharpness at both long ranges and up close distances as well.
With a good close focus distance of about 20feet, you will be able to see a close range target in detail without any distortions.
Durability
Irrespective of whether you are a recreational photographer or a professional one, it is important that you invest in a premium-quality spotting scope that will last long. A product that is built with high-quality materials will provide long-term durability and give you reliable performance in the field. The best spotting scope for Digiscoping should come with a shock-absorbing rubber armor for added protection from bumps and shock.
Weight
In spotting scopes, the weight varies from one product to the other. When Digiscoping, you will be moving from one point to the other looking for subjects and trying to look for an angle where you can take the most perfect shot.
If the spotting scope is too big and bulky, it will be cumbersome to carry around and it might interfere with your movement. It is therefore important that you get a product that is fairly light. A lightweight spotting scope will not just be easy to carry, but also simple to use.
Weatherproof
Those who are in search for the perfect Digiscoping equipment, require a spotting scope that delivers reliable performance in any weather condition. When taking photos of birds, wildlife or the celestial objects, the weather conditions will not always be in your favor.
It can start to rain when you are still in the field and if the scopes tubes are not weatherproof, moisture will get inside and damage it. To avoid that, you should get a spotting scope whose tube is filled/charged with an inert gas and O-ring sealed to be fully waterproof and fog proof.
FAQs
What magnification do I need for Digiscoping?
This will depend on how far you plan to use the scope for and your individual preference. A tip is to get a tool that is equipped with a broad magnification range. Such a spotting scope will allow you change the magnification depending on the situation at hand and observe targets at different ranges.
Which type of spotting scope is better, angled or straight?
For most outdoor applications including Digiscoping, angled spotting scopes are the best. They let you observe the targets comfortably at any angle without much muscle and neck strain. An angled spotting scope is also the ideal choice for group sharing among users of different heights.
Digiscoping is much slower compared to a telephoto lens, and less ideal for taking photos of  subjects that are moving fast or too much. However, it is more convenient when it comes to portability given that a spotting scope is much smaller in size. You will also be able to get good quality photos when you are able to take a perfect shot.
Conclusion
Finding the best spotting scope for Digiscoping doesn't have to be an exhaustive task. When you have all the necessary information at hand, it will be easier to find a product that caters for all your needs. Regardless of the brand you settle for, it is my hope that you have found this article to be insightful and helpful.