Binoculars are by far one the of the most popular hunting sighting tools and there is a good reason behind that. They are simple to operate, versatile and comfortable to use during long hunting sessions. The best lightweight binoculars for hunting are not any different.
When hunting, you will often find yourself carrying other hunting gear other than the hunting firearm. As such, it is important to keep the weight at the lowest level possible . Here is where lightweight binoculars come in handy. These handy sighting tools will keep the weight of your hunting gear at a minimal and ensure that you maneuver the fields with them effortlessly when looking for game.
What Makes a Great Pair of Hunting Binoculars?
There are a multitude of attributes that make a pair of binoculars great for hunting. Firstly, the binocular has to have a rugged housing that is scratchproof and shockproof to endure rigorous use and rough handling.
Furthermore, the binocular should have a magnification power that provide precise detail of game irrespective of how far the game is or the nature of the hunting environment. Additionally, it should have a large objective lens that draws in more light and enhances performance in low light settings.
Since you will not be hunting in favorable weather conditions all the time, you will need a pair of binoculars that built for use in all kinds of weather conditions. It should be waterproof, fog proof and have a grip that stays non-slip in wet weather conditions.
Moreover, great binoculars for hunting are lightweight, portable and easy to operate. They also have a long eye relief to ensure comfortable glassing and a focus system that is smooth to operate and easy to bring the target into sharp focus before they run away.
Some modern hunting binoculars come equipped with a built-in rangefinder that is essential when hunting as it shows you how far the target is and how big it is.
8 Best Lightweight Binoculars for Hunting
Given the plethora of binoculars present in the market today, we have made a list of 8 best lightweight binoculars for hunting to make your selection process simpler and less time consuming.
So, without further ado, let's dive right in.
1) Vortex Viper HD 10×42 Roof Prism Binoculars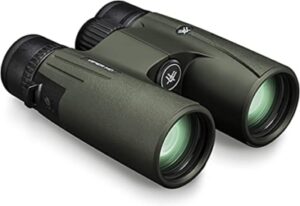 Vortex is a household name in the field of optics. It is renowned for its reliable and quality optics and the Viper HD 10×42 Roof Prism Binoculars are not an exception. This pair of binoculars is simple to operate and a perfect companion for many hunting applications.
The binocular is built ready for use in any environment. It has a rubber armor that protects the optics from impact and elements, while ensuring that you get a secure, anti-slip grip in all environments. Moreover, it is waterproof and fog proof for usability even in adverse weather conditions, and scratch resistant for added protection.
For superior light transmission, the binocular has fully multi-coated lenses that also guarantee bright and clear image views even in critically poor light conditions. The eyecups are adjustable to provide an eye relief that is long and eyeglass friendly and ensure comfortable and fatigue-free viewing. Better yet, the binocular has a center focus wheel for smooth adjustment.
Above all, this set of binoculars is tripod ready. When hunting for long hours, you can mount it on a tripod and free your hands.
Features
HD lens elements
Waterproof and fog proof
Center focus wheel
Armortek lens coating
Rubber armor
Phase corrected roof prisms
Adjustable eyecups
10x magnification
Pros
Generous eye relief
Great low light performance
Tripod adaptable
Great brightness and clarity
Easy to use
2) Steiner Predator Series Hunting Binoculars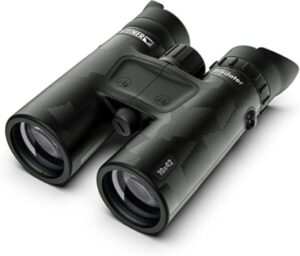 The Steiner Predator Series Hunting Binoculars is the go-to optic if you want to take your hunting skills to a new big level. It is optimized for hunting and made with a ton of impressive and easy to use features that make it one of the best lightweight binoculars for hunting.
This set of binoculars keeps prey in focus at any distance or speed. It employs advanced CAT game sensing lens coatings that reveal game hiding in cover or shadow while enhancing light transmission. Besides, it has a large 42mm objective lens that draws in more light to optimize low light resolution.
Another feature that makes this binocular stand out is the solid build quality. It has a rugged Makrolon housing that is laser textured to provide a sure grip in all conditions and stand up to rigorous use. The ergonomic eyecups are made of silicon and the entire body is made with military-grade materials for strength and rigidity.
To top it all off, this pair of binoculars has a unique open-bridge design that is ultra-light and comfortable to hold when you are scouting for game.
Features
Military-grade Porro prism tough
Rugged Makrolon housing
Laser-texture surface
Wheel-free open bridge design
Advanced CAT game sensing lens coatings
10x magnification
Waterproof and fog proof design
Pros
Easy to use
Crystal clear optics
German quality
Easy to hold
Cons
The lens caps fall off easily
3) Nikon Monarch M5 8×42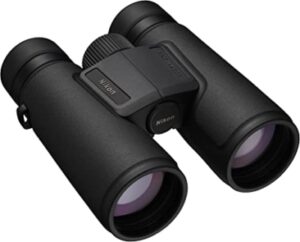 Nikon prides itself in manufacturing premium quality and versatile optics and this is clear in the Monarch M5 8×42 binoculars. It is a perfect sighting tool a wide range of outdoor applications including hunting.
The binocular has a moderate 8x magnification power that makes it ideal for hunting in dense brush and thick woodlands. It provides a wide field of view so you are able to see more detail and view more of the scene. The large viewing angle also makes it easy for you to track the fast moving game.
Furthermore, this pair of binoculars utilizes Nikon's high-eyepoint design which makes it comfortable to use it even with your glasses on. It also boasts turn and slide rubber eyecups to ensure maximum glassing comfort.
For use in all weather conditions, the binocular has a waterproof design. The optics are nitrogen purged to stay fog free and the lens covers included guard the objective lens against elements and scratches.
This set of compact and lightweight binocular also brings to the table a locking diopter and a rugged rubber armored exterior which provides a firm and comfortable grip.
Features
Waterproof and fog proof
Rubber armored body
Turn and slide rubber eyecups
ED glass
Advanced multilayer lens coating
Premium roof prisms
Pros
Long eye relief
Compact and portable
Bright and clear optics
Versatility
Decent price
Cons
Shallow depth of view of the focus
4) Vortex Crossfire HD 10x42mm Binoculars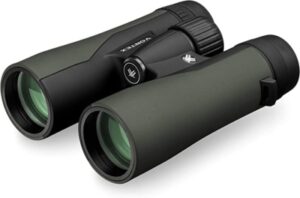 The Crossfire HD 10x42mm Binoculars are the best lightweight binoculars for hunting for the budget buyers. They make a perfect companion for backcountry hunting where they let you observe your surroundings in stunning clarity.
This compact pair of binoculars is waterproofed to be usable even in harsh weather conditions. It is outfitted in a slip resistant rubber armor that provides a firm grip in wet environments and provides additional protection from elements.
More importantly, the binocular has BaK4 roof prisms and fully multi-coated lenses that yield bright and color accurate sight pictures with stunning clarity from edge to edge. It also has a generous eye relief that complements the wide field of view and makes it easier for you to find game and monitor the fast-moving targets without breaking a sweat.
Features
BaK4 roof prisms
Waterproof and nitrogen purged
Fully multi-coated lenses
10x magnification
Rubber armored body
Rugged and shockproof construction
Scratch proof Armortek finish
Pros
Sturdy, durable and good quality
Simple to use
Reasonably affordable
Great low light visibility
Cons
5) Carson 3D Series 10x42mm Binoculars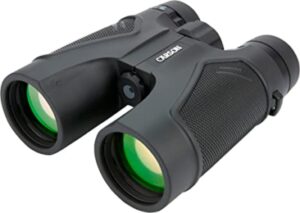 Next up we have the Carson 3D Series 10x42mm Binoculars. This full-size binoculars are multifunctional and appropriate for a ton of  applications including hunting.
The selling point of these binoculars is the tough construction. They are built with a strong chassis that is rubber armored to be shockproof and slip resistant. Besides, the optical tubes are purged with nitrogen to keep the lenses free of fog, and O-ring sealed to prevent moisture and dust from entering and damaging the optics.
Optically, this binocular combines optical coating technology with extra-low dispersion glass to provide the brightest and clearest image views even in dismal hunting environments. It is also built with twist down eyecups that make it friendly to use with eyeglasses.
Features
ED glass
Waterproof and fog proof design
Rubberized armor textured coating
Fully multi-coated lenses
10x magnification power
Twist down eyecups
42mm objective lens
Pros
Wide field of view
Spectacular picture quality
Easy to hold and use
Great value for money
Cons
The eyepiece gets damaged easily
6) Burris Droptine Binoculars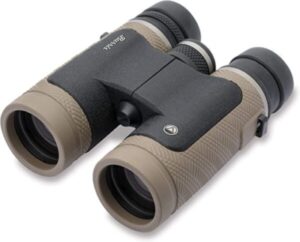 Specifically designed for hunting, the Burris Droptine Binoculars are here to revolutionize the way you hunt. They are lightweight, portable and very easy to hold, even in wet conditions or when you are wearing gloves.
Burris made these binoculars from aluminum which guarantees durability and many years of hunting. The high build quality ensures reliability in any hunting environment and provides the performance every hunter demands.
Moreover, the optics are protected from shock and elements by the robust rubber armor which also gives you a secure, non-slip grip. When it comes to the optical features, the BaK4 prisms provide optimum resolution while the index-matched fully multi-coated lenses increase light transfer for clarity and image brightness.
For peak performance, the binocular has a fast focus system that is easily accessible with both hands. It also features a wide field of view of 340ft at 1000 yards for quick target finding and rugged metal eyecups for extreme ruggedness.
Features
BaK4 prisms
Rubber armored body
10x magnification
Index-matched fully multi-coated lenses
Robust metal eyecups
Waterproof and nitrogen filled
High performance HD lenses
Pros
Easy to hold
Inexpensive
Wide field of view
Outstanding optical quality
Solidly built
7) Maven C1 10×42 mm ED Binocular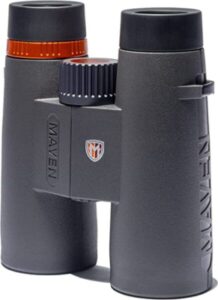 As one of the best lightweight binoculars for hunting, Maven C1 10×42 mm ED Binocular uses the highest grade materials to ensure that it works when you need it the most. The quality construction is paired with state-of-the-art optical technology to change how you hunt for the better and ensure that your hunting trips are more successful.
It employs extra-low dispersion glass that cut any chromatic aberration and optimize resolution. Better yet, the lenses are fully multi-coated for exceptional light transfer and glare reduction. The end result is incredibly clear, bright and high constant sight pictures even in poor lighting conditions of dawn or dusk.
Complementing the outstanding optical quality is a robust housing that is tough enough to weather whatever nature has in store for your hunt. Moreover, the exterior lenses are scratch resistant to provide additional protection in the field.
The binocular is also waterproofed and fog proofed to ensure unimpeded use in the field in all types of weather conditions.
Features
Extra-low dispersion glass
Waterproof and fog proof
Fully multi-coated lenses
Schmidt-Pechan prism type
Scratch resistant lenses
10x magnification
42mm objective lens
Pros
Multifunctionality
Bright and clear optics
Outstanding durability
Stellar picture quality
Cons
8) ZEISS Conquest HD Binoculars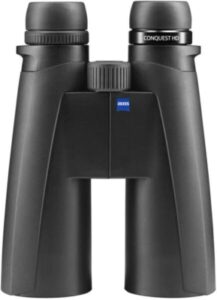 Last but not least, we have the ZEISS Conquest HD 8×42 Binoculars. Designed as a rugged and twilight capable optic, this set of binoculars is perfect for hunting in forested areas where the lighting condition is always poor.
Thanks to the 8x magnification, you are guaranteed of getting steady image views in all situations. Besides, you get a wide field of view that is essential when hunting as it helps you locate the game easily and monitor it when it starts to move.
Another highlight of the binocular is the ergonomic design. It is compact, lightweight and easy to hold for the ultimate comfort in the field. Besides, it has rotating and lockable eyecups to accommodate all users, with or without eyewear.
For all-weather functionality, all Zeiss binoculars are weatherproofed and this model is not any different. Even better, it comes with a LotuTec water shedding exterior coating for use in all weather conditions, and a rubber armored body that gives you a sure grasp in wet environments.
Above all, this versatile binocular has T premium lens coatings that offer supreme image brightness and vividness by maximizing light transmission.
Features
Waterproof construction
Rotating and lockable eyecups
T lens coatings
LotuTec water shedding exterior coating
HD lenses
8x magnification
Pros
Compact and robust construction
Twilight capable
Sharp and crisp viewing
Cons
Read Also
Best Lightweight Binoculars Buyers Guide
There are a multitude of top-quality binoculars ideal for hunting. But how do you know which model to pick? Explained below are the things to look got when shopping for the best lightweight binoculars for hunting.
Magnification
Having the right binocular magnification is important for finding and tracking targets from a distance. Generally, a pair of binoculars with anything from 7x to 12x is enough for most hunting applications.
7x and 8x binoculars are the best for hunting game in dense bushes where a wide field of view is essential. 10x and 12x models on the other hand are best for pursuing game in open fields at longer ranges. Anything more than 12x will be ideal for extreme long range hunting, but you might have to get a tripod to keep it steady.
Objective Lens
Magnification and objective lens diameter go hand in hand. The higher the magnification the larger the objective lens should be to draw in more light and ensure that the images generated are of great clarity. For hunting, the best binoculars have an objective lens that measures between 40mm to 50mm. Such binoculars provide incredible detail of the targets without being too big to carry around.
Lens Coatings
Lens coatings are an important part of every pair of binoculars. The more lens coatings a set of binocular boasts, the better. It will increase light transmission in low light conditions and generate images with superb brightness and clarity. Good lens coatings also provide added protection from scratches in the field.
Eye Relief
Eye relief plays a vital part when you are using binoculars. It determines how comfortable your glassing session will be, with or without eyeglasses.
With less sufficient eye relief, you will have a hard time using the binoculars comfortably. So, ensure that you get a product that boasts a long eye relief of 15mm if you don't wear spectacles and over 18mm if you put on eyeglasses.
Durability
Hunting can be rough on binoculars especially when you are looking for game in hunting fields that you are less familiar with. Go for a pair that has a sturdy and durable chassis made from magnesium alloy, aircraft quality aluminum or any other high-quality material. Such binoculars are durable and tough enough to take in the beating.
Furthermore, get a pair of binoculars that comes with a shock absorbing rubber armor. The best lightweight binoculars for hunting are also waterproofed and fog proofed to offer a lifetime of use under all types of weather conditions.
Ease of Use
Irrespective of the type of hunting you will be using the binoculars for, look for a product that is made with ease of use in mind. Firstly, the binoculars should have a focusing mechanism that is smooth and simple to operate. Furthermore, a good binocular will come with a diopter adjustment usually on the right eyepiece to accommodate the focal differences in your eyes, a durable carrying case and comfortable neck strap.
FAQs
What binocular magnification is good for hunting?
8x or 10x. The best binoculars for hunting come with either 8x or 10x magnification power. Both magnifications provide a wide field of view which is very important when hunting. They are also ideal for hunting game across vast ranges as well as in different environments.
What do numbers in binoculars represent?
The two numbers in binoculars configuration represent the magnification power and objective lens diameter. So, for an 8x42mm binoculars for example, 8x is the magnification power and 42 is the diameter of the aperture in millimeters.
Final Thoughts
Finding the best lightweight binoculars for hunting is a stepping stone to having fun and successful hunting trips. As you can see, there are a multitude of products for you to choose from. Factor in your hunting habits, the environment you will be hunting in and how far you will be hunting then use this guide to find a set of binoculars that will make you a better hunter this hunting season.