Binoculars are an important tool for hunting. With the right pair at hand, you will be able to improve your overall hunting performance and experience, and in our article today, we will take you through the best hunting binoculars under $200.
The market of hunting binoculars is diverse and so it the price range. In this day and age, the optics field continues to evolve and as a result, more and more brands have come up with different sized binoculars suitable for hunting. These binoculars vary in terms of zoom power, features and technology, to meet the needs of every avid hunter out there.
We understand that the array of binoculars available on the market often make the selection process a daunting chore, especially for the first time buyers. To help, we have scoured the market and put together a list of the best performing models that are crafted with the budget conscious buyers in mind. When hunting, lining up for the accurate and perfect shot requires a sighting tool that offers great precision, and these binoculars are up to task.
Best Hunting Binoculars under $200 – Top Picks
Irrespective of the size or type of game you anticipate to hunt, here are the best hunting binoculars under $200 suitable for you. Let's have a look.
1) Leupold BX-1 McKenzie HD 10×42 Binoculars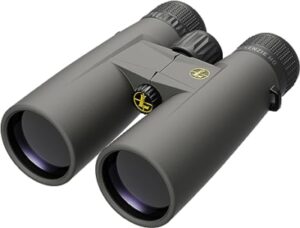 Leupold BX-1 McKenzie HD 10×42 Binoculars are by far the best hunting binoculars under $200. They offer a significant 10x magnification in a lightweight package, and a ton of other features that you need to make your hunting expeditions more competitive.
The highlight of this binocular is stunning low light performance. It is designed around Leupold's advanced optical system which offers true light transmission for extended glassing sessions. This optical system also offers the superb glare reduction in harsh light and the best resolution and clarity.
Another stand out feature of the binocular is robust construction. It has an open-bridge roof prism design that is extremely tough and durable to weather any abuse that you subject it to. Furthermore, the optical tubes are fully waterproof, dust proof and fog proof for use in all kinds of weather conditions.
The wide field of view makes it easy for hunters to find and acquire targets in different kinds of hunting environments. Other than that, this pair of binoculars features removable twist up eyecups and a generous eye relief for snug extended viewing.
Features
10x magnification
Removable, field replaceable eyecups
High-definition calcium fluoride lenses
Waterproof and fog proof
Fully multi-coated lens system
BaK4 roof prisms
Open-bridge design
42mm aperture
Smooth central focus dial
Easy-grip armor coated body
Scratch resistant lenses
Pros
Lightweight, ergonomic design
Large field of view
Sturdy and durable construction
Super clear and crisp optics
Easy to use
Cons
2) Upland Optics Perception HD 10x42mm Hunting Binoculars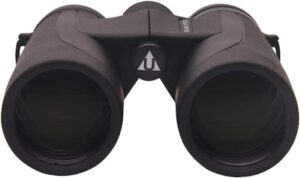 Upland Optics Perception HD 10x42mm Hunting Binoculars are designed to provide the perfect balance between performance and value. They are easy to operate and suitable for hunting in any weather condition.
With the robust and quality construction, this set of binoculars is able to endure anything you encounter on the hunting fields. In addition to the ruggedized design, it features reliable waterproof and fog proof protection for performance even in adverse weather conditions.
Not only is the build quality of this sighting tool outstanding, but also optical performance. The large 42mm objective lens draws in large volume of light to enhance performance in low light. On top of that, the binocular boasts extra-low dispersion glass for exceptional image brightness and clarity.
Features
Waterproof and fog proof
42mm objective lens
Extra-low dispersion glass
10x optical zoom
113m field of view at 1000m
Durable construction
Pros
Large field of view
Bright and clear views
Long eye relief
Lightweight and portable
Cons
3) Burris Droptine 8×42 Binoculars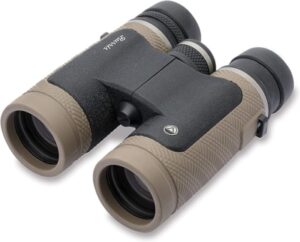 Burris is a brand that has built its reputation in the field of optics. It makes a wide variety of high-quality and cost-effective optics and the Droptine 8×42 Binoculars are not any different.
This pair of binoculars is one of the best hunting binoculars under $200 for hunting in dense brush. With the moderate 8x power, it provides a significantly large field of view which is vital for such hunting environments.
Furthermore, the binocular is built ready for outdoor use. It has a robust rubber armored chassis with unique no-slip texturing. This guarantees secure, non-slip grip even in wet environments. Moreover, the optical tubes are filled with nitrogen to provide a lifetime of waterproof and fog proof performance in harsh weather conditions.
Optically, this pair of binoculars uses dielectric coated prisms to maximize image brightness and detail. Furthermore, the lenses are index-matched and fully multi-coated for resolution, glare omission and high light transmission.
Features
Rubber armored chassis
Ultra-rugged body
Waterproof and nitrogen filled
8x magnification
Robust metal eyecups
Dielectric and phase-coated BaK4 prisms
Robust metal eyecups
Fast focus system
42mm objective lens
Pros
Built to last
Bright and clear optics
Significantly large field of view
Generous eye relief
Precise, fast and smooth focusing
Cons
4) Vortex Optics Crossfire HD 10×50 Binoculars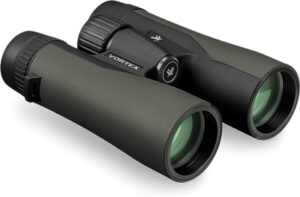 If you are looking for the best binoculars for hunting in low light, look no further than the Vortex Crossfire HD 10×50 Binoculars. With 10x magnification and 50mm objective lens, this pair of binoculars is optimized for use in low light settings.
The fully multi-coated lenses complement the large objective lens and ramp up light transmission. As a result, you are assured of exceptional image brightness, clarity and color fidelity. Furthermore, this binocular is designed with a roof prism optical path that is valued for greater durability and a more compact size.
For extra value, the binocular is comfortable to use with or without eye glasses. It has adjustable eyecups that twist up and down to ensure snug and fatigue free observation. Other than that, it has a center focus wheel which is smooth to focus and a diopter located on the right eyepiece.
In terms of construction, the Crossfire HD 10×50 Binoculars have a rugged construction to withstand recoil and impact. It is also O-ring sealed and nitrogen purged to provide reliable waterproof, dust proof and fog proof protection.
Features
Fully multi-coated lenses
Adjustable eyecups
Waterproof and nitrogen purged
10x magnification
Right eyepiece diopter
Center focus wheel
Rubber armored chassis
Tripod adaptable
Large 50mm objective lens
Pros
Rugged and durable construction
Excellent low light performance
Tripod ready
Clear and crisp optics
Large field of view
Cons
5) Nikon 8252 Aculon A211 10-22x50mm Zoom Binocular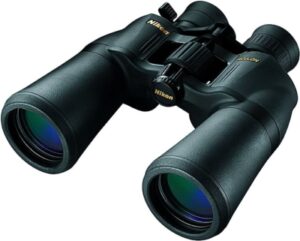 As one of the best hunting binoculars under $200, the Aculon A211 10-22x50mm Zoom Binocular from Nikon is designed to give you a hunting experience that is nothing short of incredible. It is built with a lightweight, ergonomic design for ease of use and convenient carrying in the field.
The selling point of this binocular is adjustable zoom from 10x to 22x. This makes it ideal for hunting game in different ranges as well as different environments. The magnification is useful even at the highest level thanks to the 50mm objective lens which also provides a wide field of view.
Moreover, this set of binoculars is built to last with eco-safe components. The robust construction is complemented by a durable rubber armored coating that provides a sure, non-slip grip. On top of that, the binocular has dependable waterproof and fog proof protection to outlast elements.
Another thing that makes this sighting tool a perfect tool for hunting is optical finesse. It has multi-coated eco glass lenses which deliver bright and crisp clear image views in most lighting conditions. Over and above that, the binocular has turn and slide rubber eyecups for comfortable viewing during extended hunting periods.
Features
Multi-coated eco-glass zoom
Adjustable 10-22x zoom
Durable rubber armored coating
Waterproof construction
Turn and slide multi-click rubber eyecups
Smooth central focus knob
BaK4 Porro prism system
50mm objective lens
Pros
Phenomenal picture quality
Durable and resistant to abrasion
Easy to operate
Great low light visibility
Cons
6) Carson VX-Series 10x42mm Binoculars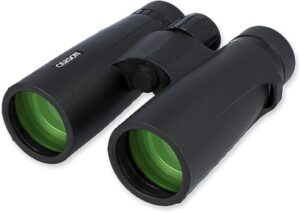 Next up, we have the Carson VX-Series 10x42mm Binoculars. Designed with versatility in mind, this set of full-size binoculars is ideal for a multitude of outdoor adventure applications, including hunting.
Complementing the versatile design is a ruggedized construction which guarantees reliable performance in the fields. The binocular is able to weather any abuse you subject it to and last for a prolonged period of time.
On top of the quality construction, this pair of binoculars is waterproofed and fog proofed to allow for high endurance in all weather conditions. As a result, you are guarantee of reliable performance in all seasons.
And that's not all. The Carson VX-Series 10x42mm Binoculars have multi-coated lenses that optimize optical clarity from sunrise till sunset. They also boasts a lightweight construction and long eye relief for added convenience.
Features
BaK-4 dielectric and phase-coated prisms
Fully multi-coated optics
Waterproof and nitrogen filled
Tripod mountable
Polycarbonate chassis
Center focus system
10x zoom power
42mm objective lens
Pros
Generous eye relief
Lightweight construction
Versatile
Quality and durable construction
Tripod ready
7) Bushnell Engage X 10x42mm Binoculars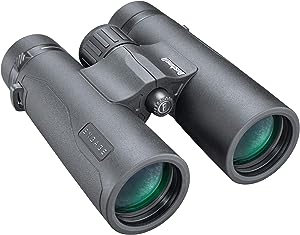 The Bushnell Engage X 10x42mm is another full-sized binocular that is designed with the avid hunter in mind. It is reasonably affordable but rich in features to help you unlock your potential in the hunting fields.
This pair of binoculars is operable in all weather conditions. It has an IPX7 waterproof rating to prevent moisture and dust from penetrating and damaging the delicate optics. Furthermore, the exterior part of the lenses is coated with a hydrophobic EXO barrier coating to provide clear field of view irrespective of the weather.
The optical performance of this binocular is another outstanding facet that makes it perfect for hunting. It has top-notch glass that is fully multi-coated to boost light transmission and prevent light loss through internal reflection. As a result, you are get exceptional image clarity and brightness, even in low level light settings.
The other essential features that make the Bushnell Engage X 10x42mm binoculars ideal for hunting include lightweight and ergonomic design, adjustable diopter as well as ultra-smooth focus wheel.
Features
IPX7 waterproof rating
10x magnification power
Adjustable diopter
Fully multi-coated lenses
EXO barrier water and dirt repellent lens coating
Smooth central focus wheel
Ruggedized aluminum chassis
42mm aperture
Pros
Ultra-lightweight design
Smooth, precise focusing
Easy to use
Crisp and clear optics
Comfortable on the hands
Cons
What Magnification Do You Need?
There is always a thrill when it comes to hunting. With the right binocular magnification, you will be able to pursue the game with ease in all the environments you will be hunting in and make every expedition more memorable and worthwhile.
The best binocular magnification for hunting is 8x, 10x or 12x. Since field of view is inversely proportional to magnification, 8x binoculars are ideal for hunting in dense timber environments where a large field of view is paramount. On the other hand, you need 10x binoculars for medium to long range hunting in the more open fields, and 12x for extreme long range hunting applications.
Read Also
Thing to Look for in the Best Hunting Binoculars under $200
Before you settle on a particular pair of binoculars for hunting, take into consideration the following factors.
Size and Weight
The size and weight of binoculars varies from one product to the other. The best hunting binoculars under $200 have a compact size for easy packing and transportation. In addition to that, the best binoculars for hunting are constructed lightweight for convenient carrying in the field.
Picture Quality
It is with no doubt that the picture quality a pair of binocular yields can make or break your hunting. It is therefore important to buy a model that produces the best quality sight pictures.
We recommend binoculars that use ED, HD or calcium fluoride glass. When you look through a binocular with such glass elements, you will see crisp clear sight picture without any chromatic aberration.
On of that, it is important to get a binocular with premium anti-reflective lens coatings. The coatings maximize light transmission and ensure reliable performance even in low light.
Durability
Invest in a pair of binoculars that is crafted with durability in mind. The chassis should feature robust construction from high-quality materials such as aluminum or magnesium. Furthermore, the chassis needs to be rubber armored for extra protection from scratches, abrasion and accidental falls.
Field of View
The other important thing to consider is field of view. It is a measure of the total area you can see at once without moving the binoculars around.
A large field of view is vital in binoculars for hunting. So, look for a model with a large one for easy target finding and seamless monitoring of the mobile game.
Weatherproof Construction
The best binoculars for hunting under $200 are those built to adapt to all kinds of weather conditions. The optical tubes should be completely sealed to ensure that no dirt, dust or moisture penetrates. Furthermore, the tubes should be filled/charged with argon or nitrogen gas to be thermal stable and to prevent fog build up in the rain or cold environments.
FAQs
What is the best size binoculars for hunting?
10×42 is by far the best size binoculars for hunting. A pair of binoculars with 10×42 configuration provides the best balance of performance, value and quick target acquisition without compromising on the field of view.
Do you need binoculars for hunting?
Absolutely. If you take your hunting seriously, a pair of hunting binoculars is an invaluable tool to have. Irrespective of the game that you anticipate to hunt, having a quality pair of binoculars at hand will go a long way to make your hunting trip thrilling, rewarding and memorable.
Conclusion
Every avid hunter requires a quality and reliable pair of binoculars to carry along when going hunting. When making your selection, keep in mind that your hunting habits and the type of hunting you will be doing play a big role in determining which binocular to get. Whatever you have in mind, there is a pair of hunting binoculars out there for you.