Are you in the market for the best binoculars under $300? If yes, you have come to the right place. In this comprehensive guide, we will take you through the best performing binoculars under $300 from the highly respected manufacturers such as Vortex, Nikon and Celestron.
The market of binoculars is diverse and so is their price tag. With the technological evolution happening in the field of optics, binoculars are now more affordable than ever. It is now very easy to find a quality pair of binoculars under $300 and get the best performance from it.
When buying a pair of binoculars, there are several features that you need to consider before settling on any specific product. These include size, optical configuration and build quality among others. We have done our homework and made a list of the best-rated binoculars under $300 that are top-quality and phenomenally dependable for all outdoor applications.
But before we look at each binocular in detail, let's begin by taking a look at the attributes that make a great pair of binoculars.
What Makes a Great Binocular?
Binoculars come in different sizes and designs that make them ideal for certain applications. There are several attributes that separate a cheap binocular from a great one and they include:
Premium Construction
The first thing that makes a great binocular is quality construction. A pair of binoculars that is made with premium-graded materials offers stunning performance in all environments, even the most unforgiving ones.
Weatherproof Construction
Furthermore, a great binocular is built ready for use under all kinds of environments. It is sealed against moisture and dust, and filled with a dry inert gas to keep both the interior and exterior of the lenses fog free.
Long Eye Relief
Another facet that makes a great binocular is long eye relief. This feature is responsible for ensuring comfortable use of the binoculars with or without eyeglasses.
Solid Lens Coatings
Lastly, the best binoculars under $300 should have premium glass elements to enhance resolution and color. On top of that, they should have solid lens coatings to ensure optimal light transfer of light drawn in by the objective lens.
Best Binoculars under $300 – Top Picks
With the plethora of binoculars available on the market currently, here is a list of the stellar performing models available under $300. Let's take a look.
1) Celestron – TrailSeeker 8×42 Binoculars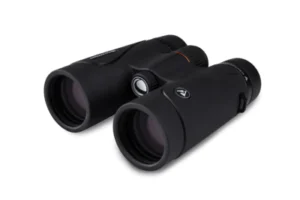 Celestron TrailSeeker 8×42 Binoculars are our best overall binoculars under $300. This optic strikes the perfect balance between value and optical performance in a sleek, stylish and lightweight chassis that enhances portability.
This pair of binoculars is outstanding for nearly all outdoor applications. It is good for birding, hiking and nature adventures among others. Besides, it is built waterproof and fog proof to stand up to all kinds of weather conditions.
Optically, the binocular has fully broadband multi-coated lenses that provide high levels of optimally managed light. Coupled with the large 42mm objective diameter, the binocular yields stunningly bright and clear image views even in dismal environments.
Another thing that makes it one of the best binoculars under $300 is solid make. It is built tough and rubber armored to withstand rigorous outdoor use. The binocular is also designed with comfortable twist-up eyecups that make it eyeglass-friendly.
Features
Premium prism coatings
Waterproof and fog proof
Fully multi-coated lenses
5feet close focus
8x magnification power
Durable magnesium alloy frame
Metal multi-stop twist up eyecups
Pros
Large field of view
Tripod adaptable
Lightweight design
Stunning picture quality
Easy to use
Cons
Questionable build quality
2) Vortex Optics Diamondback HD Binoculars, 10×42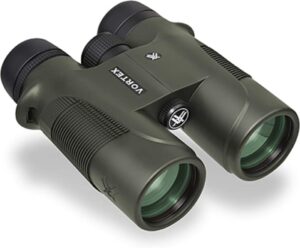 Vortex Diamondback HD Binoculars 10×42 are built with outdoor enthusiasts in mind. They are easy to use and loaded with premium quality features that will revolutionize your sighting experience irrespective of the outdoor application you use them in.
Built with 10x magnification and 42mm ocular lens, the binoculars guarantee stunning views for targets at all ranges. The versatile configuration is complemented by high quality glass elements that provide outstanding color fidelity, sharpness and light transmission.
Moreover, the binocular has adjustable eyecups that twist up and down to accommodate users with eyeglasses. The center focus wheel adjusts the focus of both barrels simultaneously while the right eyepiece diopter included adjusts for differences in user's eyes.
Construction-wise, the binocular has a rugged construction to withstand impact and rough handling. The entire chassis is rubber armored to add on protection and provide secure, non-slip grip. Additionally, the binocular is argon purged and sealed to be waterproof and fog proof.
Features
Fully multi-coated lenses
Adjustable eyecups
Center focus wheel
Waterproof and argon purged
Rubber armored body
Armortek lens coating
10x magnification
Right eyepiece diopter
Pros
Good value for money
Great picture quality
Quick and easy to focus
Lightweight and durable
Cons
Slight color fringing on the edges
3) Upland Optics Perception HD 10x42mm Hunting Binoculars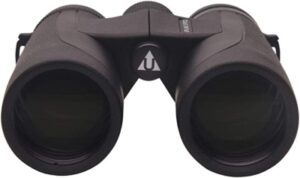 The Upland Optics Perception HD 10x42mm are the best binoculars under $300 for hunting. Made for hunters by hunters, this sighting tool makes an invaluable companion when hunting game in any environment.
It is built with 10x optical zoom and 42mm objective lens. This configuration makes it an ideal choice for pursuing game in open fields. Furthermore, it boasts a large field of view of 113m at 1000m to ensure that you find and track the fast-moving game with ease.
Another feature that makes it stand out is solid and sturdy construction. It is sturdy enough to handle whatever you encounter in the hunting fields. In addition to that, the optical tubes are waterproof and fog proof to take in anything Mother Nature has in store for your hunt.
Moreover, this set of hunting binoculars is lightweight and very comfortable on the hands during use. It is also built with ED glass to provide you with sharp and brighter image views with no distortion.
Features
Waterproof and fog proof
Durable rubber armored body
10x magnification power
Extra-low dispersion glass
42mm objective lens
Pros
Wide field of view
Generous eye relief
Easy to focus
Lightweight and easy to use
Cons
The lens falls out easily
4) Leupold BX-2 Alpine HD 10x42mm Binoculars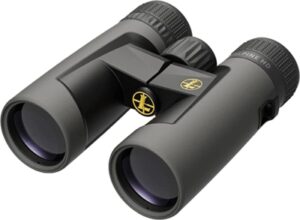 Next up we have the Leupold BX-2 Alpine HD 10x42mm Binoculars. Leupold is a household name in the optics industry. It manufactures a wide range of rugged and versatile devices and this pair of full-size binoculars is not any different.
The selling point of this binocular is optical finesse. It has an Elite Optical System that uses fully multi-coated lenses and barium crown glass roof prism to deliver incredibly bright and clear images. On top of that, the lenses have an EXO-Armor coating that repels dirt, dust and stains to keep the field of view clean.
Despite the compact design, these binoculars are built tough as nail. With the quality construction, you are guaranteed that they will be able to handle harsh conditions and rigorous field use. Besides, they are fully waterproof and fog resistant to offer reliable performance even in the less-than-ideal weather conditions.
Features
EXO-armor housing
Ruggedized magnesium chassis
Elite optical system
Field replaceable twist-up eyecups
Waterproof and fog resistant
10x magnification
Manually adjustable focus system
Pros
Generous eye box
Excellent optical clarity
Ease of adjustment
Versatile
Cons
5) Vanguard Endeavor ED 8x42mm Binoculars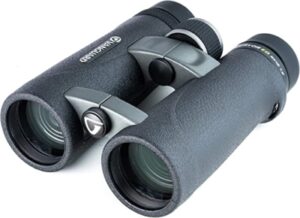 Vanguard Endeavor ED 8x42mm are the best binoculars under $300 for birding. Investing is this premium quality pair of binoculars will better your birding views in all environments and make your expeditions more enjoyable.
The highlight of this optic is its crafted with durability in mind. It boasts a robust chassis that is rubber armored to be non-slip and shock proof. Furthermore, the ergonomic, open-bridge design is responsible for ensuring comfortable handling during use. The binocular is also built with a large focus adjustment wheel for ease of focusing.
Optically, this top-of-the-line binocular has premium extra-low dispersion glass to optimize resolution and color while eliminating any chromatic aberration. It also brings to the table fully multi-coated optics that deliver high-quality sight pictures by enhancing light transmission.
Another facet that makes this binocular outstanding is all weather construction. It is nitrogen charged and O-ring sealed for waterproof and fog proof performance.
Features
BAK4 roof prism optical path
Waterproof and fog proof
Premium ED glass
Fully multi-coated optics
8x magnification power
Center focus wheel
Pros
Long eye relief
Lightweight, ergonomic design
Excellent picture quality
Solid feel
Cons
Comparatively narrow field of view
6) Bushnell Trophy 10x42mm Roof Prism Binoculars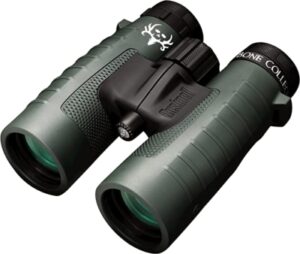 Featuring a high 10x magnification power, the Bushnell Trophy 10x42mm Roof Prism Binoculars are perfect for all outdoor applications that involve long distance observations. They are simple to operate and fairly light for easy portability.
These binoculars yield spectacular sight pictures rich in clarity and consistency. This is thanks to the fully multi-coated lenses that work in tandem with the 42mm objective lens to boost light transfer.
Moreover, this pair of binoculars is built ready for any environment. It has a heavy-duty housing that is 100% waterproof and fog proof. On top of that, the chassis it armored with a non-slip rubber to absorb shock and provide extra protection from elements.
The other essential features included are a large center focus knob and 2-step twist-up eyecups that make the binocular eyeglass friendly.
Features
Premium BaK-4 prisms
100% waterproof and fog proof construction
Textured, non-slip rubber armor
Lead-free glass
Large center focus knob
2-step twist-up eyecups
Fully multi-coated optics
Pros
Small and lightweight
Clear optics
Durable construction
Large field of view
Cons
The eye relief is a bit short
7) Athlon Optics Midas Gen II UHD 8x42mm Binoculars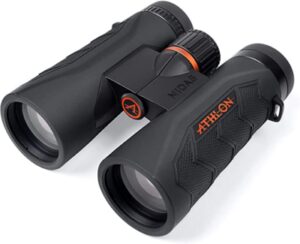 Midas Gen II UHD 8x42mm are the best binoculars under $300 for family use. They offer brilliant views of nature in all weather conditions and are ideal for use by both adults and kids.
This set of binoculars is good for both close and long-range observation. It has 6.5 close focus distance, an essential feature for viewing the up-close targets in detail. Additionally, the moderate 8x magnification coupled with 42mm aperture ensure comfortable glassing at longer ranges.
Another feature that makes the binoculars shine is ultra-spacious field of view. It has a linear field of view of 429ft at 1000 yards to ensure quick finding of targets and easy monitoring of the mobile subjects. Other than that, it boasts a long eye relief that adds on glassing comfort particularly during lengthy glassing sessions.
Athlon also built this compact pair of binocular ready for outdoor use. It has a rugged magnesium chassis that is weatherproofed to be ready for anything nature throws at it. Besides that, it has advanced fully multi-coated lenses that guarantee crisp, vivid sight pictures even in low light environments.
Features
Rubber armored body
Waterproof and fog proof
BaK4 prisms
Advanced fully multi-coated lenses
Twist up eyecups
5ft close focus distance
Durable magnesium chassis
Pros
Compact and portable
Numerous accessories included
Long eye relief
Versatile
Cons
8) Nikon Monarch M5 10×42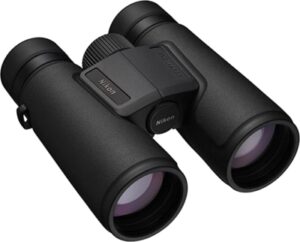 Our last but not least binocular recommendation under $300 is the Nikon Monarch M5 10×42 binoculars. This is a multifunctional set of binoculars ideal for birding, wildlife viewing and nature observation among others.
The binocular has a powerful 10x optical zoom and a close focus distance of 8.2ft. This combination makes it an ideal choice for striking high-detailed views of targets at close or long ranges. Besides, it boasts a large, smooth-spinning central focus knob that makes it simple to adjust the focus precisely.
Nikon optics are known to use premium glass and this binocular is not any different. It employs extra-low dispersion glass to eliminate common distortion, chromatic aberration and color fringing. Additionally, it has multilayer coatings to enhance light transmission.
For all weather use, the binocular is nitrogen purged and sealed to prevent dirt and moisture from getting inside the optics. It is also designed with a sophisticated rubber armored exterior that provides a firm, non-slip grip in all environments.
Features
Flip down objective lens cover
10x magnification power
Waterproof and nitrogen purged
Locking diopter control
Rubber armored exterior
Turn and slide rubber eyecups
Extra-low dispersion glass
Advanced multi-layer coating
Pros
Lightweight and compact design
Smooth and quick to focus
Comfortable to hold
Crisp clear optics
Cons
See Also
Types of Binoculars
There are three main types of binoculars. They include night vision, compact and long range binoculars.
Compact binoculars are small in size and ideal for on the go use. They have a moderate zoom power of either 8x or 10x, and a small objective lens of not more than 32mm.
Long range binoculars are designed for long range use. They have a high zoom power from 12x and above to bring you closer to the distant objects. Long range binoculars also have a large objective lens that is essential for collecting as much light as possible inside the optics.
Night vision binoculars are specially designed to work in low light environments as well as typical night environments. They have a night vision technology that picks up infrared light allowing you to see objects clearly at night.
What to Look for in Binoculars under $300
With under $300, you will want to invest in the very best binoculars for your needs. Here are some of the important things to consider when making your selection.
Glass Quality
This is the first thing you should take into account. The best binoculars under $300 are made with top-tier glass elements such as extra-low dispersion glass and high-density glass. Such binoculars yield spectacular views of targets in all environment. Be sure to get a pair of binoculars that is also built with quality lens coatings.
Magnification Power
Many binoculars in this price range have a moderate magnification of 8x, 10x or 12x. 8x binoculars are the best for birding and wildlife viewing where a large field of view is vital. 10x models on the other hand are more suited for hunting especially in large open fields. Binoculars with 12x are also ideal for hunting and any other long-range application.
Intended Usage
Binoculars are by far the most versatile optics available today. It is this multifunctionality that makes then an invaluable tool for outdoor enthusiast. When buying a pair of binoculars under this price range, be more specific about the activity you will using it for. This will help make your selection process a simple and pleasant task.
Eye Relief
The next thing to take into account is eye relief. For those buying binoculars for the first time, eye relief is a measure of how far the binocular has to be from your eye and still offer a full field of view. We recommend that you invest in a pair that has at least 15mm of eye relief.
Durability
The durability of any pair of binoculars is determined by the quality of construction and the materials used. Irrespective of the kind of application that you will be using the binoculars for, it is important to buy a model that is optimized for both longevity and durability.
Pick a binocular that is crafted with magnesium alloy, aircraft grade aluminum or any other premium graded material. The best binoculars under $300 should also be rubber armored and weatherproofed for use in all environments.
Weight
Weight is the other crucial thing to take into consideration. Go for the lightest binoculars possible. It will be easy to carry during long glassing sessions and comfortable on the hands during use.
Final Thoughts
We hope that you have found this post to be of great help. Under $300 price range, there are tons of binoculars that you can choose from based on your needs. Remember that the kind of activity you will using the binoculars for plays a significant role in determining which model you pick. Whatever your needs are, there is a product out there for everyone.