Are you preparing for the next hunting pursuit and looking for the best binoculars for hunting in the woods? You are in the right place. This post sheds a light on the best-rated binoculars ideal for hunting in the woods.
A good set of binoculars is an absolute necessity when looking for game in the woods. It gives you clear details of the targets you are pursuing even in the low light settings and from multiple yards away. Binoculars are help provide a wide field of view which is crucial when hunting in the woods.
There are a ton of hunting binoculars available on the market currently. They almost look similar to each other, but differ greatly in terms of features, functions and quality. In this post, we will take you through the best models for hunting in the woods. We have also attached a buyer's guide with some of the key things you need to consider when buying hunting binoculars.
So, without wasting any more time, let's jump right in.
Best Binoculars for Hunting in the Woods – Top Picks
1) Vortex Razor HD 10×42 Roof Prism Binoculars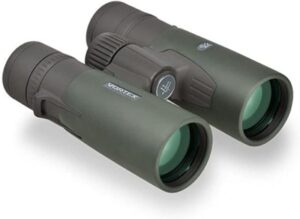 First up, we have the Vortex Razor HD 10×42 Roof Prism Binoculars. This binocular offers the best combination of advanced optical features and premium quality. It is ultra-light, tough and optimally ergonomic to give you an edge in the hunting fields.
The binocular has a powerful 10x magnification that provides stunning detail of targets in the woods. Complementing the high zoom power is a wide field of view that is very important for tracking the game after taking the shot.
When hunting in the woods, light is always low compared to hunting in the open fields. With this in mind, Vortex made the Razor binocular with a 42mm objective lens that optimizes light collection in such environments. It also has the state-of-the-art anti-reflective coatings that maximize transmission of light collected to produce bright, clear and ultra-sharp image views.
Another thing that makes this unit the best binoculars for hunting in the woods is durability. It has a true open hinge magnesium chassis that is strong, lightweight and rugged enough to take in any abuse. Besides, the exterior optics are scratch resistant for added protection and the optical tubes are O-ring sealed and argon purged to be fully waterproof and fog proof.
The other handy features included are multi-position eyecups, a locking right eye diopter and strategically placed indents in the rubber armor to ensure secure grip in any condition.
Features
Robust magnesium chassis
High-quality anti-reflective lens coatings
Multi-position eyecups
Waterproof and fog proof
Locking right eye diopter
Rugged rubber armor
10x magnification
Pros
Large field of view
Lightweight, ergonomic design
Great low light visibility
Bright and clear optics
Cons
2) Steiner Predator Series Hunting Binoculars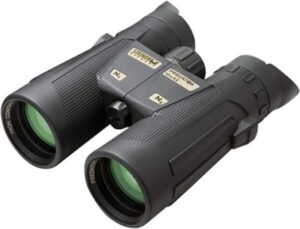 The Steiner Predator AF Binoculars is the sighting tool to go with when you want to make your hunting expeditions more successful. It is optimized for hunting and comes with every feature that an avid hunter requires to find game easily in any environment at any distance.
A defining feature of this binocular is the color adjusted transmission, CAT technology that lets you see deer and any other game hiding in foliage or shade. This unique lens coating combined with the high 10x magnification and the wide field of view make it the best hunting optic.
For added convenience, the binocular comes with an auto focus mechanism that keeps the prey in focus at any distance. Furthermore, it is built for use in any environment. It has a bombproof Makrolon body that is waterproof and fog proof to be ready for anything Mother Nature has in store of your hunting.
What's more is that the binocular has an open-bridge design that is lightweight, easy to grip and comfortable to hold during use. It is also built with high-quality optics that yield bright, clear image views with color richness and enhanced details.
Features
Rugged Makrolon body
Laser-textured grip
Waterproof and fog proof
CAT game sensing lens coatings
Porro prisms
Auto focus function
Ergonomic silicone eyecups
10x optical power
Pros
Crystal clear optics
Lightweight and easy to hold
Durable construction
Great value for money
Cons
3) Nikon Monarch M5 8×42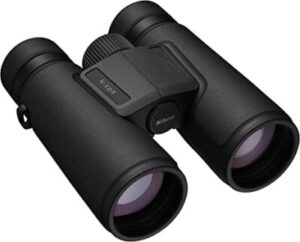 Nikon Monarch M5 8×42 binoculars offer many of the benefits of high-end binoculars without the high-end price. It is reasonably inexpensive to meet the needs of the budget-conscious buyers and doesn't compromise on quality or durability.
The binocular is built to provide stunning image views even in the critically low lighting conditions. It has a large 42mm objective lens to draw in more light when the lighting conditions are poor. Additionally, it utilizes Nikon's ED glass and dielectric multi-later prism coatings to limit glare and loss of light internally through reflection.
To ensure that you gather more of the hunting field, this set of binocular yields a wide field of view that also helps with easier spotting of the targets. Even better, it comes with turn and slide rubber eyecups to maximum the user's glassing comfort during lengthy hunting sessions.
When it comes to construction, this mid-sized binocular features an enhanced rubber armored body that is durable and resistant to elements. The optical tubes are nitrogen filled and sealed with O-rings to keep the optics clear misty and rainy weather conditions and offer dependable performance in all sorts of weather conditions.
To top it all off, this binocular is compact, lightweight and easy to maneuver with you everywhere you go.
Features
Waterproof and fog proof
Adjustable turn and slide rubber eyecups
Rugged armored body
Close, smooth focusing
Premium quality ED glass
Advanced multilayer lens coatings
Flip down objective lens covers
Pros
Lightweight and compact design
Wide field of view
Bright and clear optics
Easy to use
Cons
Not sharp for the distant targets
4) Upland Optics Perception HD 10x42mm Hunting Binoculars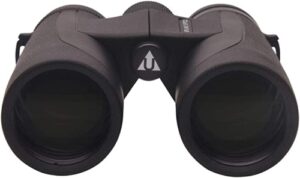 When hunting, it is important to have quality hunting tools that will help make your expeditions more rewarding. The Perception HD 10x42mm Hunting Binoculars are high-quality binoculars made by hunters for hunters.
This hunting binocular features a powerful 10x optical zoom which brings the distant game closer and helps with positive identification of targets. Even with the high zoom power, the binocular provides a wide field of view of 113m at 1000m. This is important as it helps with quick target location and easy monitoring of the game as the move.
Optically, this set of hunting binoculars uses extra-low dispersion glass to minimize chromatic aberrations and yield sight pictures that are rich in detail and color contrast. Furthermore, the binocular is both waterproof and fog proof to get you the clearest views of targets even in the less favorable weather conditions. It is also designed with high-quality materials to withstand the rough handling you subject it in the woods.
Features
Extra-low dispersion glass
Fog proof and waterproof
10x magnification
Durable housing
Rubber armored body
Individual eye focus
42mm objective lens
Pros
Spacious field of view
Long eye relief
Lightweight and easy to hole
Cons
5) Maven C1 10×42 mm ED Binocular
As one of the best binoculars for hunting in the woods, Maven C1 10x42mm is dependable, solid and powerful. It will let you explore the fields with ease and deliver reliable performance in all hunting environments.
Built with 10x magnification and 42mm objective lens, the binocular provides quality image views even for the distant targets. It uses ED glass to increase resolution and cut on chromatic aberrations. Additionally, it is built with a dielectric coated Schmidt-Pechan prism system that yields exceptionally clear and bright image views from dawn to dusk.
For all weather performance, the binocular is fully waterproof and fog proof. When it comes to construction, it has a robust housing to withstand the rough use that comes with hunting in the woods. It also has scratch resistant lens coating to add on durability and ensure unimpeded field use.
Features
Schmidt-Pechan prism optical path
Extra-low dispersion glass
Fully multi-coated lenses
Durable polymer frame
Waterproof and fog proof
Scratch resistant lenses
10x magnification
Pros
Bright and clear images
High-quality glass
Lightweight and durable
Large and clear field of view
Cons
The eyepiece comfort could be better
6) Leica Ultravid 8×42 HD Plus Binoculars
The Leica Ultravid 8×42 HD is your ideal option if you are looking for a set of binoculars that will take your hunting to the next big level. It has a ton of high-end features packed in a compact size for easy carrying in the field.
The binocular has a magnification factor of 8x. With this moderate zoom power, it brings you closer to the distant targets without sacrificing on the field of view. And with the spacious field of view, the binocular provides a good overview of the hunting field and helps you find the targets without breaking a sweat.
The durability this compact pair of binoculars provides is second to none. It's body is manufactured from ultra-lightweight magnesium while the axis is made from high-tensile titanium. The quality construction withstands any abuse and guarantees many years of use.
Furthermore, the binocular is made with HD optics that offer sharp and detailed image views in all lighting environments. It is also designed with a water and dirt repellent coating that provides a clear field of view in almost any occasion.
Features
8x magnification power
Removable eyepieces with two click stops
Waterproof and watertight to a depth of 5m/16.5ft
Shock absorbent rubber armoring
High-quality lenses
Robust magnesium construction
Pros
Unmatched picture quality
Compact, ergonomic design
Wide field of view
Clear and bright optics
Cons
7) Zeiss Conquest HD Binoculars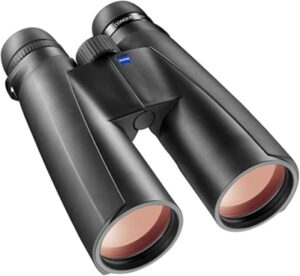 When it comes to versatility, it is hard to go wrong with the Zeiss Conquest HD Binoculars. Getting this compact and lightweight binocular for your hunting pursuits will guarantee exceptional performance in all hunting environments.
The compact size makes it a perfect companion in rough and difficult terrains, while the ergonomic design makes it easy to hold comfortably even during long hunting sessions. Furthermore, the binocular is designed with 8x optical power that delivers steady image views in all situations.
Another thing that makes the binocular ideal for hunting in the woods is the wide field of view it provides. Even at longer distances, it provides a wide panoramic view of the targets while enhancing fatigue-free observation. The high-quality optics also play a big role of ensuring that nothing is left undiscovered.
What's more is that the binocular boasts a LotuTec hydrophobic lens coating for all weather use. It also comes with a fully armored body that is waterproof to be usable in the less ideal weather conditions. Last but not least, the binocular features rotating and lockable eyecups that make it comfortable to use with or without eyeglasses.
Features
T premium lens coatings
Waterproof construction
Rubber armored body
LotuTec hydrophobic lens coating
8x magnification power
Schott ED glass
Large focusing wheel
Pros
Compact and robust construction
Large field of view
Long eyeglass-friendly eye relief
Smooth focusing system
Cons
Read Also
What Binocular Magnification Do You Need for Hunting in the Woods?
Magnification is a vital element in binoculars. It brings you closer to the targets that are far away and enhances their detail no matter how big or small their size is. It is represented by the number before the "x" in the model number configuration.
For hunting game in the woods, binoculars with a moderate magnification power of 8x to 10x are the best. 8x means that the binocular will magnify the object 8 times, and 10x ten times. Models with 8x zoom power have a bigger field of view than the 10x counterparts as magnification and field of view are inversely proportional.
However, both are ideal for hunting in the woods as they easy to hold steady during use. They also aid in rapid target acquisition as it is easier to bring the target into focus quickly.
What to Look for in Binoculars for Hunting in the Woods
Hunting binoculars have different specifications that make them ideal for certain hunting applications. When shopping for the best binoculars for hunting in the woods, here are the things that you should consider.
Size
Size is the first thing that you need to pay attention to when buying binoculars for hunting in the woods. The most popular sizes for hunting binoculars are mid and full sizes. The full-sized binoculars have a larger objective lens than the mid-sized counterparts and often heavy in weight.
Magnification
Magnification matters a lot when it comes to finding the best binoculars for hunting in the woods. Majorly, binoculars with either 8x or 10x are the best for such a hunting environment. They are easy to hold steady during use and better at helping you find the game quickly as they offer a wide field of view.
Objective Lens Size
The objective lens is an important part of every pair of binocular. It determines the total size and weight of binoculars as it is the largest part of the optic. It is also important in that it determines the volume of light the binocular collects into the optics.
Generally, big objective lenses are the best for hunting in the woods where the lighting conditions are always limited. They allow more light to flow through so the images generated appear bright and clear.
Weight
The next important thing to consider is weight. A huge and bulky binocular is not good for hunting. It will be cumbersome to carry and if its too big in size, it will come in your way of hunting.
Look for a pair that has a lightweight, ergonomic design for portability convenience. Such a binocular will not just be easy to maneuver with in the field, but also comfortable to hold during lengthy hunting sessions.
Lens Coatings
The best binoculars for hunting in the woods are made with high-quality glass and lenses that are coated with anti-reflective coatings. The better the coatings are, the more light the binocular transmits. Lens coatings also limit glare and minimize internal light loss so the binoculars generate sight pictures that are clear, sharp and rich in brightness as well as color accuracy.
Eye Relief
Eye relief is the other important thing to consider when buying hunting binoculars. It refers to the distance your eye has to be from the eyepiece of the binoculars during use. The best hunting binoculars come with adjustable eyepieces that you use to set the eye relief a level that is most comfortable for you.
FAQs
What do binocular numbers mean?
The model number of binoculars shows the magnification power and size of the objective lens diameter respectively. Therefore, in 12×50 binoculars for example, 12 is the magnification power and 50 pertains to the diameter of the objective lens in millimeters.
What size binoculars are best for hunting in the woods?
10×42 or 8×42. The best binoculars for hunting in the woods have a moderate zoom power and a medium sized objective lens of 42mm. Both sizes offer great visibility in these poorly lit hunting environments and maintain a wide field of view that is vital when hunting.
How far can binoculars see?
This depends on several things such as the magnification power, quality of the glass and the environmental conditions. On average, a human eye sees as far as 30 miles without any obstacle. When you use a binocular with 10×42 configuration, your vision will increase 10 times. As such, most binoculars can see up to 300 miles.
Final Thoughts
Hopefully, this post has given you all the information you need to choose a good binocular for hunting in the woods. When making your selection, remember to factor in your hunting habits as that goes a long way in determining which product you pick. Whatever your needs are, worry not as there is a set of binoculars out there for you.