As the field of optics continues to advance in technology, rifle scopes have become more affordable than ever. Today, LPVO scopes have become more and more cost effective and, in this post, we will focus on the best LPVO under 500 available on the market.
Many hunters and gun enthusiast consider LPVOs to be one of the most versatile optics out there. This opinion is largely based on the ability of this optics to cover target across varying ranges. Given their multifunctionality, it shouldn't be a surprise that more gun enthusiasts are choosing this optics as their go-to sighting tools.
While most rifle scopes come a high cost, LPVOs are different. Well-known manufacturers have come up with more affordable LPVOs to meet the needs of the budget buyers. As such, it is very easy to find a quality LPVO that doesn't cost an arm and a leg.
What is an LPVO?
LPVO is an abbreviation for low power variable optic. LPVO scopes unlike traditional rifle scopes are usually graced with a lower magnification power that starts at 1x and spans all the way to 10x. These optics are also different in that they have a smaller ocular lens of not more than 32mm.
This unique design makes LPVOs an ideal choice for a wide variety of hunting and shooting activities. They are compatible with a variety of firearms as well so their multifunctionally is really hard to beat.
Attributes of a Great LPVO
If you are buying an LPVO scope for the first time, you are probably which design features make one great. There are several things that make a LPVO great for hunting and shooting and they include:
Clear Glass
A great LPVO should be made with high-quality glass elements to guarantee optical clarity. It should also have proper anti-reflective lens coatings to amplify light transmission.
Excellent Craftmanship
An LPVO scope is only as good as its build quality. It should be made with high quality materials that promise durability. On top of that, the scope needs to have excellent fit and finish so it is able to stay in good condition for a long period of time.
Long Eye Relief
A sufficient and forging eye relief is another attribute that a great LPVO scope should have. It is the generous eye relief that puts LPVOs in their own little niche.
Ease of Use
Last but not least, the best LPVO under 500 should be made with ease of use in mind. The design should be intuitive to use and the adjustments knobs easily accessible from different shooting positions.
Best LPVOs under 500 – Our Top Picks
If you have a tight budget and looking for a cost-effective LPVO, here is a list of the top-rated and top-performing models under $500 that you can choose from. Let's take a look.
1) Primary Arms SLx 1-6x24mm Rifle Scope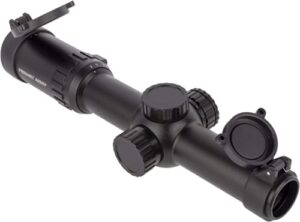 Primary Arms SLx 1-6x24mm is hands down the best LPVO under 500. This low power variable optic is part of Primary Arms SLx series line that is built in the reputation for innovation, reliability and value.
The scope has a total magnification of 1-6x built in a second focal plane reticle. The reticle doesn't change with change in magnification and it features a combined sighting system aurora for precision aiming.
Through the entire 1-6x zoom range, the scope maintains a wide field of view that is vital for rapid target finding and acquisition. Moreover, it boasts a generous eye relief to ensure great glassing comfort.
In addition to everything else, the Primary Arms SLx 1-6x24mm LPVO is built with a 30mm body to enhance strength and rigidity while ensuring that there is ample space for windage and elevation adjustments.
Features
Second focal plane reticle
1-6x magnification range
Clear and quality glass
30mm body tube
Waterproof and fog proof
11 illumination settings
120 MOA windage and elevation adjustment range
Pros
Fully upgrade optical system
Long eye relief
Illuminated reticle
Cons
2) Monstrum Alpha Series 1-6×24 Rifle Scope

If you are a beginner is hunting or sports shooting, Monstrum Alpha Series 1-6×24 Rifle Scope is your ideal option. It is engineered with an array of user-friendly features that make it very easy to use.
The scope features 1-6x magnification power that is appropriate for close and medium range use. Even at the highest 6x zoom setting, the scope provides high-quality image views which is vital for precision shooting and accurate target identification. This is made possible by the quality glass elements it uses.
Furthermore, this LPVO has a first focal plane reticle that is etched in glass to ensure better recoil resistance. The eye relief is accommodating for all users with or without eye wear. Besides, the ultra-light construction of 12oz makes this scope super easy to carry in the field.
In terms of construction, the Monstrum Alpha Series 1-6×24 Rifle Scope features a single-piece 30mm body tube made from 6061 aircraft grade aluminum. The body tube is also anodized against scratches and corrosion, and also protected from all weather elements.
Features
First focal plane reticle
30mm tube diameter
1/2 MOA impact point correction
6061 aircraft grade aluminum construction
Type III hard anodized finish
Brass internal for windage and elevation
Water, fog and shock proof
Adjustable 1-6x magnification
Pros
Generous eye relief
Quality construction
Great illuminated reticle
Clear glass
Cons
Poor low light performance
3) Vortex Strike Eagle 1-6x24mm Rifle Scope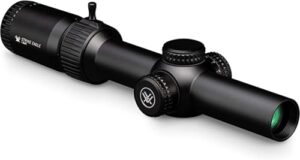 If you want to enhance precision on the hunting grounds and shooting fields, get the Strike Eagle 1-6x24mm Rifle Scope from Vortex. This rifle scope is built with modern features and advanced technology to fine tune your accuracy and boost your overall shooting experience.
A highlight of this LPVO is optical performance. It features fully multi-coated lenses that work in tandem with extra-low dispersion glass to provide ultra-vivid sight pictures with unmatched color accuracy and edge to edge sharpness.
Furthermore, this rifle scope is made for use in unfavorable conditions and challenging weather conditions. It has an 30mm anodized aluminum tube that is rugged enough to withstand any abuse. On top of that, it is protected from dust, moisture and other elements to ensure reliable performance in all environments.
The other essential features this rifle scope is built with are a fast focus eyepiece, adjustable parallax and generous eye relief of 3.5 inches.
Features
Rear focal plane reticle
30mm body tube
Fast focus eyepiece
Aircraft grade aluminum housing
Fully multi-coated optics
11 brightness settings
Fog proof and IPX-7 water resistant
140 MOA windage and elevation travel at 100 yards
Pros
Illuminated reticle
Crystal clear optics
Easy to install and use
Excellent fit and finish
Cons
The eye relief at max power is unforgiving
4) SightMark Citadel 1-6x24mm CR1 Rifle Scope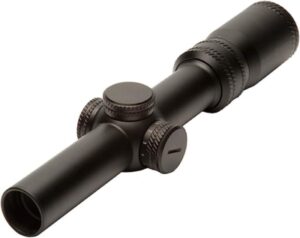 When it comes to value and versatility, it is hard to beat the SightMark Citadel 1-6x24mm CR1 Rifle Scope. It is compatible with multiple types of firearms including ARs and bolt action rifles. It also offers a wide magnification range of 1-6x for close to mid-range shooting.
The scope features a BDC reticle calibrated for 55gr 5.56/.223. It is etched in the second focal plane and illuminated to enhance contrast against targets in low light environments. Other than that, the scope boasts fully multi-coated optics that are responsible for boosting light transmission.
Solid and sturdy construction is another facet that makes this optic the best LPVO under 500. It has a single-piece 30mm tube made from aircraft grade aluminum. On top of being extremely durable, the scope has an IP67 waterproof rating for safe use in all kinds of weather conditions.
Features
Fully multi-coated optics
Single-piece 30mm tube
Capped, low profile turrets
Second focal plane reticle
120 MOA windage and elevation travel
Robust aluminum housing
1-6x magnification power
Pros
Lightweight and durable
Sufficient eye relief
Great reticle illumination
Multiplatform friendly
Cons
5) Bushnell AR Optics 1-6x24mm Rifle Scope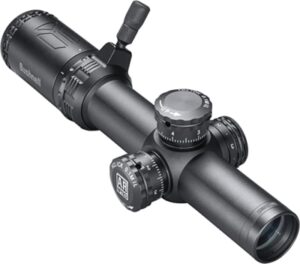 Bushnell strives to make high-quality optics for avid hunters and shooters and the AR Optics 1-6x24mm Rifle Scope is not any different. This rifle scope is optimized for use on AR platforms where it greatly enhances accuracy and speed of target acquisition.
Built with an adjustable 1-6x magnification power, this scope is ideal for shooting at close to mid ranges. It employs fully multi-coated optics that not only boost light transmission and prevent glare and internal light reflection. This creates bright, vivid and color accurate images with every glance at every zoom setting.
More importantly, the scope comes with two throw down power levers with different lengths that are responsible for ensuring quick and easy magnification adjustment. Other than that, the turrets are capped to prevent accidental adjustments and provide extra protection from bumps in the field.
The AR Optics 1-6x24mm Rifle Scope is also built with the most durable materials to handle rigorous use and give you many years of reliable field use.
Features
1-6x total magnification
Rear focal plane reticle
Fully multi-coated optics
100 MOA adjustment range
Built-in throw down power lever
30mm body tube
Capped turrets
Pros
Bright reticle illuminate
Rugged and reliable construction
Clear glass
Good eye relief
Lightweight
Cons
Stiff throw lever
No mount
6) Burris RT-6 1-6x24mm Rifle Scope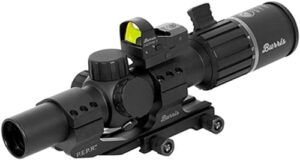 Burris RT-6 1-6x24mm Rifle Scope is another best LPVO under 500 in our list. Designed for consistent and repeatable firings, this rifle scope makes an invaluable piece of gear for close and intermediate distance shooting applications.
The scope uses a Ballistic AR 5X reticle housed in the rear focal plane. This reticle has trajectory compensation out to 600 yards to stalk big game. Additionally, it is illuminated to ensure confident aiming in the low level light settings.
Burris scopes are known for their ruggedized construction and this LPVO is not any different. It is built with aircraft grade aluminum and has a 30mm body tube enhance strength and rigidity.
In addition to quality construction, Burris RT-6 1-6x24mm Rifle Scope has dependable protection from water, fog and other elements for all-weather reliability. It also brings to the table Hi-Lume multi-coated lenses that ensure optimal light transmission.
Features
1/2 MOA adjustment click value
Waterproof, fog proof and shock proof
30mm main tube
Hi-Lume multi-coated optics
Second focal plane reticle
80 MOA windage and elevation adjustment range
Aircraft grade aluminum housing
High performance glass
Pros
Lightweight
Ease of use
Great reticle design
Good build quality
Great glass
Cons
7) Swampfox Arrowhead LPVO 1-6x24mm Rifle Scope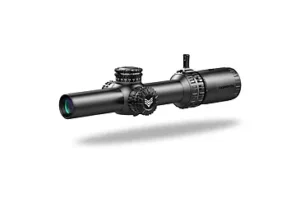 Arrowhead LPVO 1-6x24mm Rifle Scope is another budget LPVO that strikes the perfect balance between value and performance. If you are new in hunting or target shooting, this scope is your ideal option.
It employs state-of-the-art optical design which creates a spacious field of view without compromising the eye relief. This aids in rapid target acquisition and ensures great glassing comfort for all users, with or without eyeglasses.
Moreover, the scope has true 1x that enables both eyes open shooting. The 100 MOA windage and elevation adjustment range included guarantees great precision at all ranges in all terrains. Other than that, this LPVO comes with push and pull locking turrets to prevent accidental adjustments.
For added convenience, this optic has a built-in throw lever for seamless magnification adjustment. Over and above that, it comes with an illuminated reticle with 10 daylight and 2 night vision compatible brightness settings.
Features
True 1x
High-end optical design
Push/pull locking turrets
12 reticle illumination brightness levels
Second focal plane reticle
1-6x adjustable magnification
30mm tube
Built-in throw lever
Fully multi-coated lenses
Pros
Accommodating eye relief
Illuminated reticle
Easy to use
Solid and sturdy construction
Great glass clarity and quality
Cons
Read Also
Things to Look for in the Best LPVO under 500
Magnification Power
In LPVO scopes, magnification power spans from 1x to 10x. How far you are going to be shooting is what will determine the magnification size that you get. The kind of shooting activity you purpose to use the scope for also goes a long way to determine which magnification you choose.
Intended Usage
The next thing to consider is the application you will be using the scope for. Is it for hunting, target shooting, competitive shooting or other applications? You should be able to answer this question before you head out to the market.
Glass Quality
Whether you are buying an LPVO for the first time or looking for an upgrade, ensure that you get a product that is made with high-quality glass elements. ED and HD glass are the best in terms of quality and performance. On top of that, the best LPVO under 500 should have premium quality lens coatings to amplify light transmission.
Reticle
Today, there are so many reticle choices in the optics industry. They range from duplex to BDC based and mil-dot reticle for hunting, and MRAD for competition shooting. Factor in your shooting/hunting needs and then find the scope that has the perfect reticle for your needs.
Eye Relief
The next thing to consider is eye relief. Measured in inches, it varies greatly from one LPVO to the other. Irrespective of the kind of application you will be using the scope for, we recommend 3.5" and above eye relief for the best LPVO under 500. The longer the eye relief, the more comfortable you will find the scope to shoot with even if you put on eyeglasses.
Build Quality
The construction quality of an LPVO plays a very big role in determining how long it will last and how dependable it will be. Generally, scopes made with the best quality materials are durable and reliable compared with counterparts built cheaply with low quality materials.
We recommend that you go for a scope that is made with premium materials preferably aircraft grade aluminum or magnesium. The best LPVO under 500 should also have reliable protection from elements that include dust, moisture and debris.
FAQs
What is the best use for LPVO?
LPVO are multifunctional optics ideal for use at close to medium ranges. They offer rapid target acquisition of targets in different environments and are best used for hunting and target shooting in addition to competitive shooting and law enforcement.
How far can you shoot with an LPVO?
The distance you can shoot with an LPVO largely depends on the scope's magnification power and the environment you are shooting in. When the environmental conditions are in your favor, you can shoot effectively out to 1000 yards with a 1-10x LPVO. This range however goes down with decrease in magnification.
What do the numbers in an LPVO represent?
Magnification power and objective lens respectively. The two set of numbers in an LPVO show the magnification power and diameter of the objective lens. In a 1-6x24mm LPVO for example, 1-6x is the zoom power and 24mm is the diameter of the objective lens.
Final Thoughts
LPVO have taken the optics industry by a storm and it is for a good reason. They are durable, easy to shoot with and ideal for a wide range of shooting and hunting applications.
Choosing the best LPVO under 500 requires that you do your research well, but irrespective of what your needs are, there is a scope out there for everyone.