Are you in the hunt for the best long range rifle scope? You have stumbled upon the right place. This comprehensive guide sheds light on the top-rated long range rifle scopes that are suitable for all kinds of long range hunting and shooting applications.
The popularity of long-range shooting is growing steadily. More hunters and gun enthusiasts are garnering interest in this extremely thrilling sport and the manufacturers of rifles and optical devices are taking note.
To hit targets accurately at long ranges, you will need a scope designed for long-range shooting. The best long range rifle scope will provide a clear point of aim and help you place the shot accurately no matter the situation. A good scope will also revolutionize how your shoot and make your hunting/shooting expedition more competitive.
What Makes a Great Long Range Rifle Scope?
Finding the best long range rifle scope requires consideration of your individual needs and conversance with long-range shooting. Firstly, a great long-range rifle scope has to have a broad magnification power to help you cover vast ranges and bring you closer to the action.
Furthermore, the scope should have a large objective aperture of 40mm and above. The further you shoot, the more light the scope needs to draw in and create a crisp image views.
The other essential features a great long range rifle scope should have include:
A reticle that is clear, easy to use and designed for long range applications
Quality construction that maximizes durability and resistance to rough handling
High-quality glass and proper lens coatings to maximize the transmission of light and deliver bright, clear and tack-sharp sight pictures
A long eye relief to ensure snug observation with or without eyewear
Adjustable parallax to eliminate parallax and increase your shooting accuracy at extended ranges
Excellent range of windage and elevation adjustment
7 Best Long Range Rifle Scopes – Our Top Picks
With the sea of rifle scopes available on the market today, it becomes a taxing task to find the best scope for your needs. To help you choose right, we have complied a list of 8 best long range rifle scopes suitable for every avid shooter and hunter. Let's take a look.
1) Vortex Razor HD Gen 2 3-18×50 EBR-2C Rifle Scope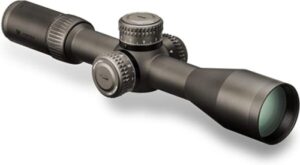 The Vortex Razor HD Gen 2 3-18×50 EBR-2C Rifle Scope is the ultimate precision, long range optic. It is designed and engineered to provide unbeatable precision at extreme ranges in any shooting or hunting environment.
The scope features 6x zoom range that gives you the flexibility to take shot at different ranges. Complementing this versatile zoom power is a large 34mm body tube that provides ample room for both adjustments and reticle movements, and a large 50mm aperture that delivers stunning image quality even at the highest zoom level.
Another feature that makes this rifle scope the best for long range use is the EBR-2C reticle. It is put on the first focal plane and has constant sub tensions to allow accurate holdover at every magnification. Even better, the reticle is glass-etched for optimum durability and illuminated to give you precise points of aim in low light conditions.
Construction-wise, the scope has a robust housing that yields stunning durability. It has a rugged aircraft quality aluminum body that is waterproof and fog proof. The lenses are fully multi-coated to increase light transmission and have a scratchproof exterior coating for added protection.
With all these handy features, this state-of-the-art optic delivers deadly accuracy across vast ranges to boost your confidence and make you a better shooter.
Features
34mm main tube
First focal plane EBR-2C reticle
Fully multi-coated lenses
Waterproof and argon purged
L-Tec turret system
Extra-low dispersion glass
Aircraft quality aluminum housing
Pros
Stunning picture quality
Extremely accurate
Solid construction
Generous eye relief
Cons
2) Leupold Mark 8 CQBSS 3.5-25×56 Riflescope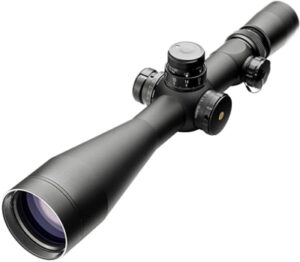 Leupold prides itself in making rugged and high-quality optics and this is clear in the Leupold Mark 8 CQBSS 3.5-25×56 Riflescope. It harbors a ton of impressive features that make it one of the best long range rifle scopes.
The scope is built to triumph the worst conditions. It is designed to survive shock, impacts and the highest recoil and give you many years of shooting/hunting. Besides, the waterproof and fog proof construction guarantees unimpeded field use under all kinds of weather conditions.
Designed with Twilight Max Light Management System, the scope yields bright, clear and color rich images views in a broader variation of low and bright lighting conditions. It also boasts diamond coat 2 ion-assist lens coatings that offer higher light transmission and superb resistance to scratches and abrasion.
The other features that makes the scope stand out are a first focal plane reticle, lockable fast focus eyepiece and M5B1 turrets with auto-locking pinch and turn adjustments.
Features
Fully waterproof, fog proof and shockproof
8:1 zoom ratio
Lockable fast focus eyepiece
Front focal plane reticle
35mm main tube diameter
Twilight Max Light Management System
Pros
Great low light visibility
High build quality
American quality
Crisp clear optics
Cons
Heavy
Short eye relief at max power
3) Bushnell Elite Tactical 3.5-21x50mm DMR3 Riflescope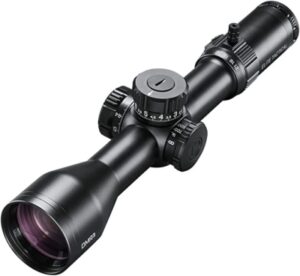 The Elite Tactical 3.5-21x50mm DMR3 Riflescope is the go-to optic if you want to take your long-range shooting skills to the next big level. The scope offers superior long range precision and has a versatile 3.5-21x magnification to help you take shots at both close and long ranges.
Built with one of the most advanced optical systems, the scope offers stunning picture quality from dawn till dusk. The large 50mm objective lens increase low light resolution, while the FMC elements maximize light transmission and limit loss of light internally. The scope also boasts extra-low dispersion glass that cuts down color fringing to ensure that the images generated are rich in color.
Furthermore, Bushnell crafted the scope to be nearly indestructible. It has a 34mm tube made from aircraft grade aluminum. The housing is ultra-durable, lightweight and IP67 rated for all weather protection.
For additional convenience, the scope has exposed turrets engineered for quick and secure locking. It also brings to the table a two-position throw hammer that lets you adjust the magnification lever to a right-handed or neutral position that fits your shooting style.
Features
EXO barrier lens protection
Multi-position throw hammer
Rock solid zero stop
High-quality ED glass
Exposed locking turret
Waterproof and dustproof
34mm body tube
Aircraft quality aluminum construction
Pros
Outstanding durability
Superior glass that is crystal clear
Superb long-range precision
Holds zero perfectly
Cons
4) Primary Arms GLX 6-24x50mm Rifle Scope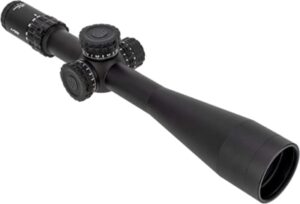 Next up, we have the GLX 6-24x50mm Rifle Scope from Primary Arms. This rifle scope brings premium technology and solid construction into a fair price range. It is simple to use and a perfect choice for the beginners in the long range shooting.
With the vast 6-24x magnification power, the scope will help you locate, track and engage medium range targets with ease as well as reach out to targets at long to extreme long distances with super accuracy. The large 50mm aperture also ensures that the sight pictures generated at each zoom setting are clear.
Furthermore, the scope has an advanced combined sighting system reticle that is hard to beat when it comes to long range shooting. The reticle is housed on the first focal plane so it remains true at every zoom setting. Besides, it is compatible with tons of calibers for added versatility.
Regarding construction, the scope has a 30mm main tube made from high strength one-piece 6061-T6 aluminum body. Its compact form of 15.3" only makes it easy to mount on most long range rifles and easy to maneuver with in the field. The scope also has a light weight of just 24.5oz for easy carrying in the field, and premium grade glass that yield stunning picture quality.
Features
Elevation indication rotators
30mm main tube
Premium grade glass
Steel-on-steel precision adjustments
6-24x magnification
Autolive illuminated FFP reticle
Waterproof, fog proof and shockproof
6061-T6 aluminum body
Tactile and audible 1/10 MIL click value
Pros
Tracks well
Stunning clarity
Easy to use
Lightweight and compact design
5) Zeiss LRP S5 5-25x56mm Rifle Scope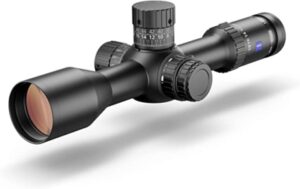 The Zeiss LRP S5 5-25x56mm is one of the best long range rifle scopes for competition shooting. It provides a massive amount of magnification range and an oversized objective lens to ensure that nothing is left undiscovered.
With this rifle scope, you will be able to engage targets out to 1,500 yards with stunning precision. When you use it in PRS and NRL types of competitions, it will give you the edge to be more competitive and win. Better yet, it works really well on a wide range of rifle platforms.
The reticle in this rifle scope is positioned on the first focal plane and it is daylight visible. Construction-wise, the scope has a 34mm tube diameter made from aircraft grade aluminum which guarantees durability as well as longevity. It has highly repeatable and tactile turrets that offer a massive amount of total elevation, and a heavy-duty construction to withstand shock and impacts.
Above all, the scope provides a clear view in whatever weather condition you are using it thanks to the hydrophobic LotuTec coating that repels dirt and moisture.
Features
High performance optics
Daylight visible illuminated reticle
Best-in-class total elevation travel
Highly repeatable and tactile turrets
34mm tube diameter
Water resistant and nitrogen filled
Heavy-duty aircraft grade aluminum construction
Pros
Compact and durable
Comfortable eye relief
Crisp clear optics
Cons
6) NightForce SHV 5-20x56mm Rifle Scope

As one of the best long range rifle scopes, the NightForce SHV 5-20x56mm provides exceptional precision at medium to long ranges thanks to the high and versatile 5-20x magnification.
The scope has a 30mm body tube that is compatible with a wide range of long range rifle. With this body tube size, you are guaranteed of ample adjustments in the field as well as easy mounting and removal from the firearm. Further, you get to choose between a first or second focal plane reticle based on your individual preference and shooting needs.
Like any other Nightforce optic, the SHV 5-20x56mm scope is made to last. It is machined in 6061 T6 aircraft quality aluminum which guarantees longevity as well and durability. Besides, all metal dials have weatherproof caps for added protection in the field.
For added convenience, this rifle scope brings to the table a generous eye relief to ensure comfortable glassing with or without eyewear. It also features European style fast focus eyepiece for simple diopter adjustment and speedy reticle focusing.
Features
MOAR reticle
All metal dials with weatherproof caps
30mm body tube
6061 T6 aircraft quality aluminum housing
European style fast focus eyepiece
5-20x magnification
ZeroSet function
Pros
Rugged construction
Crisp clear images
Illuminated reticle
Holds zero well
Cons
Thin lines for the reticle
7) Vortex Viper PST Gen II 3-15×44 EBR-2C Riflescope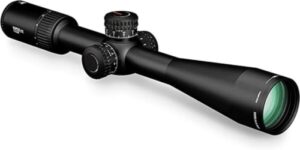 The Viper PST Gen II 3-15×44 EBR-2C Riflescope is a feature-rich long range rifle scope ideal for hunting and tactical shooting. It offers incredible performance in every situation thanks to the high-end technology and rock solid features it is made with.
The durability of this rifle scope is outstanding. It has a single-piece, aircraft grade aluminum construction that is rigid enough to take in the beating. The shockproof design stands up to fierce recoil that most long range rifles generate, and with the waterproof and fog proof construction you will be able to use even in the harshest weather conditions.
Complementing the robust construction is stunning optical performance. The scope utilizes extra-low dispersion glass that increases resolution and color fidelity. It also features XR fully multi-coated lenses that increase light transmission in low light setting and an Armortek coating to protect the lenses from dirt and scratches.
Furthermore, the scope has an illuminated reticle for optimal viewing in low light settings. You can adjust the brightness levels into 10 different settings depending on the ambient light conditions and tailor it to suit your preference.
This rifle scope also comes with an adjustable parallax to enhance your accuracy at long ranges, an RZR zero stop for easy sighting in and fast focus eyepiece that allows for quick and simple focusing of the reticle.
Features
Extra-low dispersion glass
First focal plane reticle
Waterproof, fog proof and shockproof
Adjustable parallax
Precision glide erector system
Fast focus eyepiece
Hard anodized finish
Pros
Bright and clear optics
Solid build quality
Illuminated reticle
Accurate and easy to zero
Cons
Types of Long Range Shooting
Long range shooting is classified into three categories: long-range benchrest, precision rifle shooting and extreme long-range shooting.
Long-Range Benchrest
Long-range benchrest shooting pushes precision to the next big level. With this type of shooting, benched shooters at 600 to 1000 yards aim for the lowest possible group sizes and hit the center of the target repeatedly until they achieve the highest possible scores.
Precision Rifle Shooting
With precision rifle shooting, you add the element of speed to the shooting game. Here, you use steel targets in different forms and sizes and fire them across vast distances.
Extreme Long Range Shooting
Extreme long range shooters push the limits of their long range rifles by often firing at targets that are above 1,000 yards away. With this type of shooting, math and ballistics are extremely essential as they determine which adjustments you need to make to the gun's scope to hit the target.
This shooting factors in bullet drop, load data and the shooting environment. If you are a long range shooter, you must have great marksmanship and quality equipment to want to win in a competition and go far.
Read Also
Best Long Range Rifle Scopes Buyers Guide
Whether you are a beginner in long range shooting or a seasoned shooter, here are the key things you need to consider when purchasing a long range rifle scope.
Magnification
A scope for long range shooting must have a high magnification power. In a scope, magnification is what brings you closer to the action and allows you to zoom in on the small targets so you can have a better view. Without proper magnification, you will have a hard time hitting the targets at the long ranges.
Long-range shooting and hunting typically requires a sighting tool with 10x magnification and above. The higher the zoom power, the longer the distance you will be able to cover effortlessly.
Intended Usage
The kind of shooting activity you will be using the scope for goes a long way to determine which model you get. With the plethora of long range scopes available out there, look for the model that works best for your intended application. This way, you will be able to make the most out of it.
Visual Clarity
Visual clarity is very important in long range shooting. So, ensure that you get a scope that is made with high-quality glass. The best long range rifle scopes are made with high-density or extra-low dispersion glass that cut any chromatic aberration and enhances resolution and color richness.
Furthermore, the scope should have good lens coatings to enhance light transmission especially when you are using it in low light settings. Lens coatings also prevent scratches and significantly reduce glare and limit internal light reflections.
Reticle
When it comes to choosing a scope for long range shooting, there is a broad selection of reticles to choose from but metric markers that include MILs and MRADs are the most popular in long range reticles.
The other thing to consider is the plane at which the reticle is placed. You can get a scope with a first or second focal reticle depending on your needs and preference.
Durability
Long range scopes are quite expensive given the high magnification power and high-end features they are made with. When making a purchase, you will want to get a scope that is well crafted to last long and perform reliably under any environment.
Try and look for a rifle scope that is crafted with high-strength materials such as magnesium alloy or aircraft grade aluminum. Such scopes are toughly built to withstand rigorous use and rough handling. The best long range rifle scopes are also shockproof, waterproof and fog proof to offer unbeatable reliability.
Weight
Weight is another important facet you need to consider when looking for a scope for long range applications. High caliber weapons are in most cases used for long range shooting and hunting. Such weapons require a scope that is light enough to scatter the heavy recoil they generate effectively and optimize durability. Another benefit of getting a light scope is that they are simple to carry around and in most cases multi-platform friendly.
FAQs
What scope size is ideal for long range shooting?
The ideal scope size for long range shooting depends on a number of factors including individual preference and how far you will be shooting. On average, a scope with 10x magnification is ideal for most long range applications. However, you will need more than 10x magnification for extreme long range shooting.
How do long range scopes work?
A long range scope works by magnifying the sight picture of your target. When magnified, the target will appear bigger and closer. This helps you see it more clearly than you would with your naked eyes and be able to fire more accurately.
Conclusion
Hopefully, you have found this post to be insightful and of great help. Long range shooting is fun-filled but it requires a lot of practice, patience and effort. All the scopes we have mentioned in this guide have the essential facets you need to hone your skills and transform the way you shoot. Look at the feature that each has, see if they work for your needs and decide appropriately.