If there is an accessory that you must have for your muzzleloader, it is a good scope. Mounting a decent scope will not just increase your odds of hitting the targets accurately, it will also boost your confidence and make you a better shooter. Whether you use your muzzleloader for target shooting, hunting or any other application, a scope will help make your expedition fun, swift and more rewarding.
However, choosing the best scope for muzzleloader is not always a simple task, especially if you are new to hunting. The market is flooded with so many scopes from different brands that choosing the best model can be quite taxing. If you are having a difficult time selecting the most ideal scope for your muzzleloader, we are here to help.
To make your selection process less daunting, we have come up with this detailed review of the best scopes for muzzleloader available of the market today. But before we dive into the specific models, let's first start by looking at the essential features that make a scope great for a muzzleloader.
What Makes a Great Scope for Muzzleloader?
There are several features that make a great scope for muzzleloader and the chief one is magnification. Most muzzleloaders are accurate at close and medium ranges up to 300 yards, so you will want a scope that has a magnification power for that range.
Moreover, it is important that you get a scope with quality optics and decent lens coatings. With such a scope, you are assured of getting good quality image views whether you are using your muzzleloader to hunt or shoot in broad daylight or poor lighting conditions.
It is also a wise thing to purchase a scope that is durable and sturdy enough to stand up to the recoil the muzzleloader generates and also endure rough handling that comes with hunting and shooting outdoors. Above all, a great scope for muzzleloader should be able to offer dependable performance in any weather condition and it should also be easy to use.
6 Best Scope for Muzzleloader – Our Top Picks
With all that said, let us take a dive right in, shall we?
1) Vortex Optics Crossfire II Second Focal Plane, 1-inch Tube Riflescopes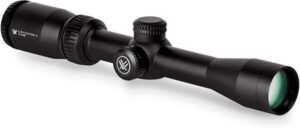 The 2-7×32 Crossfire II riflescope is arguably the best scope for muzzleloader available on the market currently. It is packed with tons of quality and admirable features that you will certainly find impressive. It is also available at a remarkably affordable cost which makes it your best choice if you are on a budget.
The scope features a Dead-Hold BDC reticle which is suitable for hunting and shooting at different ranges where estimating holdover is a concern. The reticle is placed on the first focal plane so it stays in the same size with change in magnification. The benefit of this is the reticle stays clear and visible even in low magnification setting. Furthermore, the scope comes with anti-reflective, fully multi-coated lenses that offer true light transmission and reduce light loss through reflection. This gives you bright and vividly sharp sight pictures from sunrise till sunset.
Another feature that makes the rifle scope remarkable is the high-quality housing. It has a mono-piece tube made from aircraft-quality aluminum. This solid construction ensures strength and shockproof performance. Also, it performs very well in fog and rain as it is O-ring sealed and nitrogen purged.
The other notable features the scope brings to the table are a fast focus eye piece, long eye relief, resettable MOA turrets and a lightweight construction.
Features
Capped reset turrets
Dead-Hold BDC reticle
Waterproof and fog proof
Fast focus eye piece
Aircraft-quality aluminum housing
Single piece tube
2-7x magnification range
Pros
Ample eye relief and ultra-forgiving eye box
Reasonably affordable yet quality
Crisp clear optic
Beginner-friendly
Easy to use and make adjustments
Cons
Lacks parallax adjustment turret
2) Leupold VX-Freedom 3-9x40mm Scope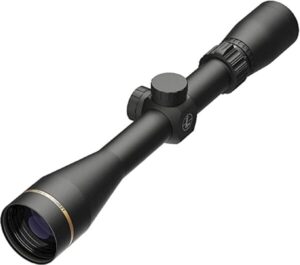 Mounting the VX-Freedom 3-9x40mm Scope on your muzzleloader will boost your confidence and better your performance in the hunting field or shooting range. It boasts a wide range of new and improve features which guarantee reliable performance in any environment.
With 3-9x variable magnification, the scope gives you the flexibility to cover targets at varying ranges and in different environments. It offers a massive field of view at closer ranges as well as better target acquisition for the distant targets. Not to mention that it provides crisp images views even at the highest 9x for accurate target identification.
All Leupold scopes are built to offer rugged performance and this VX-Freedom is not an exception. It is designed to offer reliable performance even when you expose it to extreme weather conditions. Besides, it is designed to be recoil resistant and shockproof to take in harsh handling.
Furthermore, the scope offers accurate aiming points up to 300 yards, which makes it a perfect companion for a muzzleloader. It is also light and portable, and simple to use. In addition to everything else, this optic offers a long amount of eye relief for comfortable observation and  lightning-fast target acquisition.
Features
3-9x variable magnification
1/4 MOA precision finger click windage and elevation adjustment
Waterproof, fog proof and shockproof
1-inch main tube
Second focal plane duplex reticle
Accurate aiming points up to 300 yards
Pros
Ultralight construction
Very simple to use
Great tool for every hunter and shooting enthusiast
American quality
High quality glass
Cons
Lacks illumination of the reticle
3) Bushnell Banner Dusk & Dawn Multi-X Reticle Riflescope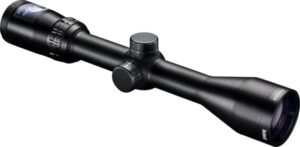 The Bushnell Banner Dusk & Dawn is the best muzzleloader scope for the money. It harbors a wide selection of high-quality features to help you achieve the most out of your muzzleloader. Plus, it doesn't cut corners on quality and durability just because it is cost-effective.
This rifle scope offers classic pictures of the targets you are shooting from dawn to dusk. This is thanks to the fully multi-coated optics that optimize transfer of light even in low light settings. Further, you can aim more accurately under adverse lighting conditions thanks to the Multi-X second focal plane reticle that stays visible even in low light conditions.
Bushnell made this top-performing rifle scope ready for hunting. It is feather-light for simpler and convenient carrying in the field. Additionally, it has a waterproof construction which prevents entry of moisture and dust inside the optics. It also comes with capped elevation and windage turrets to prevent accidental dialing and for added protection from rough handling and bumps.
Overall, it is one of the most reliable yet cost-effective rifle scopes you will find on the market today.
Features
Fast focus eyepiece
Waterproof and fog proof construction
Multi-X second focal plane reticle
Resettable elevation and windage adjustments
Fully multi-coated optics
3-9x variable magnification
Pros
Affordability
Superb low light performance
Lightweight and compact
Stunning HD clarity
Capped turrets
Cons
Short eye relief
Reticle lacks holdover points for windage and elevation
4) Sig Sauer Sierra3BDX 2.5-8x32mm Rifle Scope
The Sierra3BDX 2.5-8x32mm Rifle Scope is a compact and feather-light optic designed with great versatility. It makes an ideal sighting solution for muzzleloaders, shotguns, light rifles as well as crossbows.
The scope features a variable 2.5 to 8x magnification which is ideal for hunting and shooting targets at both close and medium ranges. It provides crisp images at every magnification and has an LED illumination for accurate aiming in low light settings. In addition, it has an adjustable parallax for greater accuracy at long distances.
The best part about this scope is that is built like a tank. It features a 30mm tube that is shockproof to withstand rugged handling and take in anything nature throws at it for optimal durability. To complement this robust construction, the scope is also IPX-6 water resistant and fog proof to be used even in harsh weather conditions.
Above all, this Sierra3BDX rifle scope has a HD optical coating that increases transmission of light for brilliantly vivid and sharp image views even in poor light conditions.
Features
30mm main tube
5-8x variable magnification
IPX-6 water resistant and fog proof
HD optical coating
Durable and shockproof housing
BDX-R1 digital reticle
Pros
Compact and lightweight design
Designed for a wide range of weapons
Easy to use
LED reticle illumination
Cons
5) Burris Scope Fullfield 3-9×40 E1 Ballistic Plex Muzzleloader 200347

Another best scope for muzzleloader on our list is the Burris Fullfield 3-9×40 scope. It is specially designed for muzzleloaders and it is perfect for both hunting and shooting at different ranges.
The scope is made with high-quality optics which provide you with years of reliable optical performance. Even in poor light settings, the scope provides admirably bright and clear image views. Further, it boasts a variable 3x to 9x magnification which gives you the flexibility to shoot targets at close to long ranges and a wide field of view for smooth target identification.
Construction-wise, the scope is sturdy and well-made to offer long-term durability. It also posses a double internal spring tension system which makes it sturdy enough to hold zero through the harshest recoil, vibrations and shock.
With all these handy features, you can rest assured that this scope will help you push your muzzleloader to its full potential.
Features
1-inch tube diameter
Variable 3-9x zoom power
Second focal plane Ballistic plex reticle
Double internal spring tension system
Durable and rugged housing
Pros
Forever warranty
Economical
Lightweight construction
Clear views at every optical power
Quality and very clear glass
Cons
No parallax adjustment
Non-illuminated
6) CVA AA2005 Scope Kit w/Medium Mount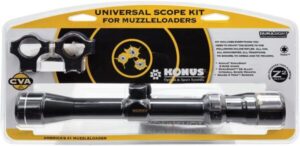 Last but not least, we have the CVA AA2005 Scope Kit w/Medium Mount. Inside this kit is a KonusPro 275 3x-9x40mm scope that is specifically built for muzzleloaders.
This scope gives you exact aiming points from 75 yards out to 275 yards no matter the shooting environment. It has a BDC reticle that helps take the guess work out of hold over angles even when you are making the most difficult shots. The scope also features a large 40mm objective lens that provide bright image views at every zoom setting, superior low light performance and a large viewing angle as well.
Another outstanding feature about this scope is the robust and reliable make. It is built with sturdy materials that optimize its durability. It is also filled with nitrogen so it offers reliable performance in fog, rain and misty weather.
To top it all, this scope also features a compact and lightweight design so it is easy to use and convenient to carry around.
Features
3-9x variable magnification
Waterproof and fog proof
BDC reticle
Exact aiming points from 75 yards out to 275 yards
40mm objective lens
Pros
Universal muzzleloader scope mounts included
Backed by a lifetime warranty
Lightweight construction
Holds zero well
Easy to adjust turrets
Cheap
Cons
Read Also
Criteria for Choosing the Best Scope for Muzzleloader
When you are out shopping for the best scope for muzzleloader, here are the chief features you should look out for regardless of whether it is the first scope you are buying or you are looking to upgrade to a newer model.
Lens Quality
The best scope for muzzleloader is one with quality lens. With quality glass and good lens coatings, the scope will deliver bright and tack-sharp images even in low light conditions. If you are hunting in forested area, you will be able to distinguish your targets swiftly and plan your shot even in a difficult situation.
Magnification
Magnification in important feature of a scope as it helps bring far away targets closer. With muzzleloaders having an effective range of about 300 yards, a scope with 3-9x is ideal. But you can go with any other magnification depending on the caliber you are using and your preference.
Ease of Use
A scope for muzzleloader that is easy to use will help you achieve the most out of your hunting or shooting trip. Whether you are a beginner, a pro or anyone in-between, stick to a model that has a simple design and all the basic features you require.
Also look for a scope that has a lightweight design. It will simpler to carry around on the field as you hunt down the game. A light scope is also simple to mount, more accurate and easier to operate.
Compatibility
With the market offering a wide selection of scopes, make sure that you pick a model that is compatible with your gun. It will be of no point to purchase a scope only to find that you can't mount it on your rifle.
Also, if you have a collection of firearms, it is best to get a scope that offers you the flexibility to mount it on different platforms. With the modern scopes available on the market today, it is possible to find a quality scope that is compatible with muzzleloaders, shotguns, rifles and crossbows as well as.
Durability
A scope for muzzleloader must be sturdy and durable. Even when it gets knocked around, it must be sturdy enough to take in certain levels of shock and impacts. If you are using a heavy recoiling bullet, make sure that you get a scope that is recoil resistant.
The other thing you should look for is whether the scope is weatherproof or not. Some scopes are 100% waterproof and fog proof to stand heavy downpour and changes in temperature and humidity. Go for such a scope so you will be able to use it in any weather condition.
Reticle
When buying a scope for your muzzleloader, try and look for a model that comes with one reticle and a simple one. For hunting, a duplex reticle will de ideal. It is simple to use and it also remains visible even in low light settings.
You can also get a scope with any other reticle, provided it suits your individual needs and hunting/shooting style.
Best Scope for Muzzleloader FAQs
Do you need a special scope for Muzzleloaders?
Yes, you do. When shooting with a muzzleloader, the optic you choose to mount on it should have a robust housing that is rigid enough to withstand the recoil it produces. You can also use any rifle scope that is rated for use with larger calibers.
How far can a Traditions Muzzleloader shoot?
A Traditions Muzzleloader can shoot up to about 200 yards accurately if it is equipped with all the features needed. When you add a quality optic, the accuracy increases out to 300 yards.
Will a Muzzleloader kill a deer?
Yes. When you are using a hard hitting caliber, you will be able to kill a deer in any hunting environment. When you place the shot accurately, you will take down the deer instantly and make the kill ethical.
 Conclusion
We do hope that this guide has helped you find the best scope for your muzzleloader. Muzzleloaders are powerful weapons and you require a quality scope that matches its performance. All the models listed above are designed and built well to stand up to the heavy recoil that muzzleloaders produce. Grab any one of them and use it to enhance your muzzleloader's effective range.