A scope is a handy item to have when hunting in the field or shooting in the range. It aids in accurate shot placement as well as simple and rapid target identification. As the demand of optics continue to grow year in year out, so has the low power variable optics, or LPVOs. While they are relative newcomers in the optics industry, today, LPVO scopes have become the dominant scope choice on the market.
These scopes are designed to work well at close and intermediate ranges, offering great accuracy in both. In most cases, LPVOs have a variable power that ranges from 1x to 6x. However, there are those models that go as high as 8x or 10x, while some only open go up to 2x.
If you are in the hunt for the best LPVO scopes, you have come to the right place. Majority of optics manufacturers have added LPVOs to their line of product and we have compiled a list of the best models available on the market today. But before we break them down, let us start by taking a look at the features that make a great low power variable optic.
What Makes a Great LPVO Scope?
A great LPVO scope is made of several features. To start with, a great LPVO scope has at least 1-4x magnification range. In rare cases will you find one that has a magnification above 6x. Typical LPVO scopes also come with a smaller aperture and an illuminated reticle that aids in easy aiming in low light settings.
Another thing that makes an LPVO scope great is durable housing. With a sturdy and hard-wearing construction, the scope is capable of withstanding anything you subject it to. It should also be shockproof to stand up rough handling and fully waterproof and fog proof to offer reliable performance under any weather condition.
Last but not least, the overall length and weight of an LPVO scope should be minimal to enhance both portability and ease of use.
7 Best LPVO (Low Power Variable Optics) Scopes – Our Top Picks
With all that said, let us now dive into the best LPVO scopes available on the market currently.
#1) Vortex Optics Strike Eagle Second Focal Plane Riflescopes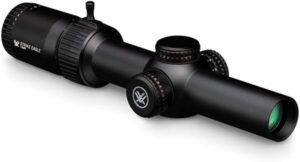 The Strike Eagle 1-6×24 Second Focal Plane Riflescope is arguably one of the best LPVO scopes currently available on the market. It is designed with speed and versatility to help you get the most out of your shooting or hunting excursion.
This rifle scope has what you need to engage targets from close ranges out to 600 yards. This is thanks to the variable 1-6x magnification and the BDC-3 MOA reticle that is ideal for shooting at varying ranges. Besides, the reticle is illuminated for better clarity in low light settings.
Another remarkable thing that sets this rifle scope apart is the build quality. It has a 30mm tube crafted from aircraft grade aluminum. It is shock resistant to stand up to rough handling and rigid enough to shrug off recoil and impacts. Moreover, it is purged with nitrogen to ensure no internal fogging occurs and O-ring sealed to keep the optics waterproof and dustproof as well.
Furthermore, the scope features a fast focus dial on the eyepiece for simple reticle focusing and a thread-in throw lever that makes  magnification adjustment as simple as a five-finger exercise . It also features anti-reflective coatings on every air-to-glass surface to enhance transmission of light for brighter and clear views of the target.
Features
Waterproof, fog proof and shockproof
XD lens elements
30mm main tube
Second focal plane BDC3 reticle
Fast focus eyepiece
Aircraft grade aluminum construction
Fully multi-coated lenses
1-6x variable magnification
Pros
Glass-etched and illuminated reticle
Great value for money
True 1x
11 brightness settings for use in different environments
Maintains zero well
Built well to last long
Cons
Slight distortion past 4x
Slightly heavy
#2) Primary Arms SLX 1-6×24 SFP Rifle Scope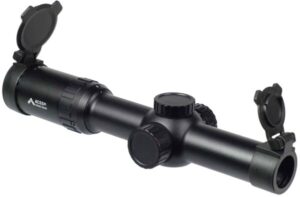 Primary Arms makes high-quality optics and this is clear in the SLX 1-6×24 SFP Rifle Scope. This low power variable optic scope come with nearly every feature you require for close quarter and mid-range applications.
This rifle scope provides a sighting system that is accurate from 300 yards to 800 yards. It also features a second focal plane BDC reticle with partial red illumination for easy aiming in poor light settings. Better yet, the illumination has a total of 11 different levels for visibility in different lighting environments.
Construction-wise, the scope has a hard-wearing 6063 aluminum body that is r0bust and sturdy enough to stand up to any punishment you subject it to. It also features a Type II hard anodized finish that prevents formation of rust and corrosion whenever you use the scope in humid environments while shielding the scope from scratches. Moreover, this optic has an IP67 waterproof and fog resistant rating so you can count on it to perform under rain, mist and fog.
In addition to everything else, the SLX rifle scope features fully multi-coated optics for enhanced light transmission and a lightweight construction that ensures ease of portability.
Features
IP67 waterproof and fog resistant
Fully multi-coated optics
Second focal plane reticle
Type II hard anodized finish
6063 aluminum body
1-6x magnification
Pros
Lifetime warranty
Lightweight, compact and portable
Illuminated reticle with 11 brightness settings
Long lasting CR2032 battery
Excellent glass quality
Cons
Brightness drops notably at high magnification
#3) UTG 3-9X32 1" BugBuster Scope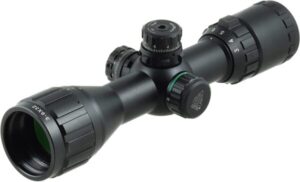 Next on our list is the UTG 3-9X32 BugBuster Scope. This 1-inch rifle scope is well designed to not just broaden your vision, but also enhance your shooting accuracy at close and mid-ranges.
This rifle scope is built ready for rugged outdoor use. It is sealed to lock out moisture and dirt from entering the optics and offer reliable rainproof performance. Additionally, it is 100% nitrogen filled to keep the lenses fog free even when rapid humid and temperature change occurs. It also comes with a 2-inch sunshade for glare protection and a quality flip-open lens cap that shields the exterior lenses from dirt and scratches.
Moreover, the scope features premium locking and resettable turrets that allow for crisp, consistent and accurate windage and elevation adjustments. It is parallax free from 3 yards to infinity and with the range estimating mil-dot reticle, you are guaranteed of greater shooting accuracy across a wide range of shooting environments.
Lastly, the scope has ample eye relief for quick target acquisition and comfortable shooting,  and an Emerald lens coating that optimize transmission of light for bright, vivid and color accurate image views.
Features
Built on a true strength platform
Waterproof, nitrogen filled and shockproof
Emerald lens coatings
1-inch main tube
Quick detachable rings
Range estimating Mil-Dot reticle
Premium zero locking and resettable turrets
Pros
Long eye relief
Sunshade and lens cover included
Red and green reticle illumination
Affordable
Excellent fit and finish
Cons
#4) Athlon Optics Ares ETR 1-10 x 28 mm FFP Rifle Scope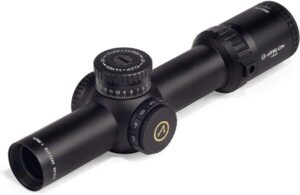 If you are looking for an LPVO scope that has a first focal place reticle, look no further than the Ares ETR 1-10 x 28 mm Rifle Scope. This scope is designed equally for convenient close quarter engagements as well as precise long-distance shots.
Featuring an adjustable magnification from 1x to 10x, the scope provides the perfect balance of wide field of view and fast target acquisition. Furthermore, it boasts extra-low dispersion glass that minimizes chromatic aberration to provide exceptionally bright and sharp image views with true color representation. On top of that, it has fully multi-coated optics that provide high-quality and crisp images even in low lighting conditions.
Weighing just 26.9oz, this rifle scope is relatively light and portable. Though lightweight, it is made with high-quality materials that enhance its durability. Furthermore, the reticle is glass-etched to stand up to recoil and with the exterior XPL coating, the exterior lenses get extra-protection from dirt, oil and scratches.
The scope also offers a generous eye relief for quick target acquisition and a precision zero stop system that helps you get back to your initial zero position swiftly.
Features
34mm main tube
XPL lens coating
Precision zero stop system
Glass-etched FFP reticle
Extra-low dispersion glass
Variable 1-10x magnification
Advanced fully multi-coated optics
Pros
Generous eye relief
Lightweight
Illuminated reticle
Solid glass, reticle and lenses
Durable housing
Cons
No lens cover included
Costly
No throw lever included
#5) EOTECH Vudu 1-6x24mm Precision Rifle Scope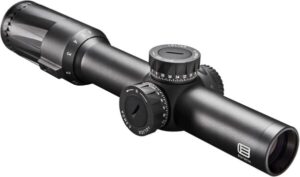 If what you are looking for in an LPVO scope is speed and precision, the EOTECH Vudu 1-6x24mm Precision Rifle Scope suits you. It is specially designed to meet the most rugged demands of serious hunters and precision shooters out there.
This rifle scope has a first focal plane reticle that is illuminated for maximum performance even in low light settings. This reticle design allows for quick target acquisition through the speed ring that is on the low power settings. It also has an adjustable magnification from 1x up to 6x for short and medium range applications.
Another outstanding feature about this scope is the durable housing. It has a single-piece tube that is ruggedized to prevent mechanical damage from rough handling and high recoil. Additionally, it is water resistant to stand harsh weather conditions and nitrogen purged to drive out internal moisture while keeping the lenses fog free.
The scope also features XC high density glass that offers high resolution and exceptional image clarity. It also boasts anti-reflective lens coatings that offer efficient light transmission for bright and unmatched edge-to-edge image clarity.
Features
30mm single-piece main tube
First focal plane reticle
1-6x magnification range
XC high density glass
Waterproof, fog proof and shock resistant
Anti-reflective lens coatings
Illuminated speed ring
Pros
Lightweight construction
Push-button illuminated reticle
High durability
Backed by a 2-year warranty
Exceptional accuracy
Easy to use
Cons
#6) Monstrum G2 1-4×24 First Focal Plane FFP Rifle Scope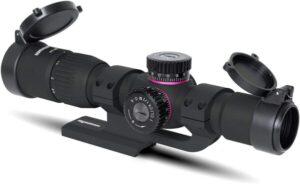 As one of the best LPVO scopes, Monstrum G2 1-4×24 First Focal Plane rifle scope offers a wide selection of quality features at a remarkably inexpensive cost. With all the top-performing features is harbors, it is arguably one of the best LPVO scopes for the money.
The scope is made with ease of use in mind. Firstly, it weighs just 1lb for easy carrying in the field. Secondly, it has a compact size that measures 9.6 inches for convenient portability and packability. Better yet, it offers a generous eye relief for comfortable observation and a wide field of view that aids in quick and simple target scanning and identification.
Furthermore, this scope has a first focal plane rangefinder reticle that delivers lightning-fast range estimation as well as holdover correction. The etched black reticle stays visible with or without illumination for greater visibility when the sun sets or in low light environments. Also, the scope has an adjustable objective for parallax adjustment, range estimation and precise focus of images.
This LPVO scope is built to be nearly indestructible. It has a 30mm tube made from aircraft grade aluminum which is sturdy and rigid enough to handle any punishment you throw at it. Besides, it is sealed and charged with nitrogen to be resistant to rain, fog and mist.
Overall, this is an excellent LPVO optic that offers the greatest value for money.
Features
First focal plane rangefinder reticle
30mm main tube
Waterproof and fog proof
Adjustable objective lens
Robust aircraft grade aluminum housing
Fully multi-coated lenses
Type II anodized finish
Pros
Illuminated reticle
Long eye relief
Lightweight and portable
Excellent value for money
Multiple accessories included
Cons
Turrets don't hold their position very well
#7) NightForce ATACR 1-8×24 F1 Rifle Scope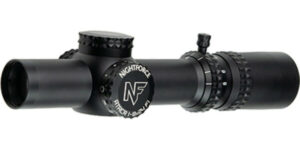 Another best LPVO scope on our list is the NightForce ATACR 1-8×24. This F1 rifle scope is designed and made to the best low-power variable scope. It offers crisp image views from dawn till dusk, and reliable performance in a wide range of environments.
This NightForce rifle is built to be almost indestructible. It has capped turrets for added protection from bumps and impacts that come with hunting and shooting. It also features a 34mm tube that is crafted using high-grade materials to withstand rough handling, accidental falls and weather elements.
The scope provides up to 8x zoom to help you scan, locate and identify targets at longer distances with ease. It also has a first focal reticle that stays true at every magnification and low profile turrets that are capped to avoid accidental dialing.
More importantly, this F1 rifle scope is made to be easy to use. It has an integrated power throw lever that makes magnification adjustment a breeze and a streamlined and lightweight design for convenient portability. To top it all, it utilizes ED glass which enhances resolution and color contrast.
Features
1-8x magnification range
Intelligent first focal plane reticle
34mm tube diameter
Capped low-profile turrets
ED glass
Built-in power throw lever
24mm objective lens
Pros
Stellar daylight illumination
Bomb-proof reliability
Excellent accuracy
Faster target acquisition
Wide and more precise field of view
Cons
Read Also
Criteria for Choosing the Best LPVO Scopes
Here is a buying guide on the important features you should always look out for when shopping for the best LPVO scopes.
Image Clarity
You will want your LPVO scope to deliver high-quality image views that are bright and clear as crystal as well. If the images the scope produces are blur, with little to no color contrast, you will have a difficult time making an accurate shot placement. Such as scope will be of no help whether you are hunting or shooting targets in the range.
To avoid such problems, make sure that you pick a model that utilizes high-grade glass such as ED and HD glass. Such scopes enhance resolution as well as color contrast. Also ensure that the lenses of the scope are fully-coated to enhance transmission of light.
Durability
To ensure that you get value for money, the scope you get should offer long-term durability. This is only achieved when the scope is made with high strength materials that make it impact resistant and shockproof. A durable scope will also take as much abuse as the firearm itself takes and it will give you many years use.
Another thing to consider here is how weather resistant the scope is. Ensure that you get an LPVO scope that is not just waterproof, but also fog proof and dustproof.
Field of View
Field of view is another important factor you should consider. This is how much of an area you will be able to see through your scope without moving it. It is measured in feet at 1000 yards or in degrees.
Get a scope that offers you a wider field of view. It will help you scan for targets quickly, with ease. It will also help you monitor the moving game as fast as they move.
Eye Relief
The best LPVO scopes offer a large amount of eye relief to ensure comfortable viewing even for those people that put on eye glasses. A long eye relief also aids in rapid acquisition of targets and minimizes eye fatigue when you are hunting or shooting for many hours. Look for a scope that offers not less than 3.5 inches eye relief.
Best LPVO Scopes FAQs
How much should I spend on an LPVO scope?
It depends. The cost of a mid-tier LPVO, a budget LPVO and a top-tier LPVO varies widely, so in the end you must decide how much you are willing to spend and what features will you get for that price. In most cases, this will depend on what you plan to use the scope for and your individual preference as well.
LPVO are highly versatile scopes suitable for shooting and hunting at both short and medium range targets. With an LPVO scope, you get an added advantage of hitting the nearest possible target with no parallax distortion at all.
An LVPO scope is a scope that offers lower magnification power. Generally, the best LPVO scopes have a variable optical power that spans from 1x up to 4x, 6x or 8x at the maximum.
Final Thoughts
LPVO scopes are known to be flexible, reliable and highly functional as well. Hopefully, you have found this article enlightening and helpful. With so many options to choose from, consider what things you will be doing with your firearm, then select a scope that meets your preference and specific needs in the best manner possible. Whatever you have planned, there is an LPVO scope out there waiting for you.