Are you looking for the best spotting scope for hunting? If yes, look no further as you are in the right place. This is your ultimate guide on the best spotting scopes for hunting that are available on the market currently.
A spotting scope is an indispensable tool for hunting, especially at long ranges. Given their high magnification power and large objective lens, a spotting scope will help you find the target with ease and ensure that you place the shot accurately. It will also aids in accurate target identification which is important when hunting.
However, finding a spotting scope that is right for your hunting needs is not an easy task. Today, the market is flooded with so many models from different brands which make the selection process taxing and time consuming, particularly for the first-time buyers. But worry not as we are here to help.
If you are having a hard time finding the right spotting scope for your hunting needs, we have taken our time and put up this detailed review of some of the best hunting spotting scopes which make a handy companion for every hunting enthusiast out there.
8 Best Spotting Scopes for Hunting
Whether you are looking to purchase your first spotting scope for hunting or you are in the market for an upgrade, below are some of the best models you can choose from. Let's take a look.
1) Vortex Viper HD 15-45x 65mm Spotting Scope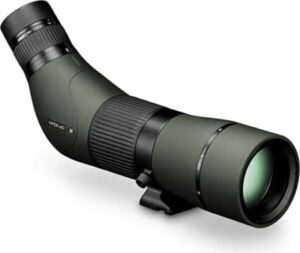 Carrying the prestigious Vortex name, the Viper HD 15-45x 65mm Spotting Scope is by far the best spotting scope for hunting available out there. It is a great option for long range spotting of medium and large game in any environment.
This spotting scope is built ready for hunting. It is completely waterproof, dust proof and fog proof for use even in extreme weather conditions. Better yet, it has a scratch-resistant Armortek coating for greater protection in the fields, and a ruggedized housing that weathers whatever you subject it to.
Another facet that makes the spotting scope stand out is its optical finesse. It possesses HD lens elements that guarantee starling clarity, resolution and color accuracy. In addition, this spotting scope has XR fully multi-coated lens that maximize transfer of light for low light performance and unmatched image brightness.
Best of all, the spotting scope brings to the table a built-in sunshade for extra glare protection when you are hunting in broad daylight and a helical-style focus knob that allows for fast image focusing.
Features
15-65x magnification range
XR fully multi-coated optics
Water, fog and dust proof
Twist-up eyecups
Angled body design
HD lens elements
Porro prism
Built-in sun shade
Pros
Great glass quality
Easy to use
Sturdy and durable construction
Backed by unconditional lifetime warranty
Performs admirably well in low light settings
Cons
2) Leupold SX-4 Pro Guide 20-60x85HD Spotting Scope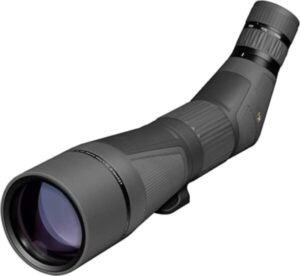 Leupold optics are known for their unmatched performance and quality construction and the SX-4 Pro Guide 20-60x85HD Spotting Scope is not any different. Built to stand up to the harshest conditions, this optic is a true asset for every avid hunter out there.
The scope features a vast 20-60x magnification to help you find game effortlessly at any distance. It also features a large 85mm objective lens that maximize optical performance in the hunting grounds even in low light settings. Even better, the optic utilizes a Twilight Max HD Light Management System that yields bright views in low light settings.
This spotting scope is made with user comfort in mind. It has an oversized eyepiece to ensure comfortable glassing. It also has a generous eye box that eliminates eye strain and fatigue and an ultra-smooth eye focus which provides tack-sharp image views.
For all-weather reliability, the scope is fully waterproof and fog free. It also possesses a Guard-ion lens coating that sheds dirt, water and dust to ensure that the field of view is clear and clean all through.
Above all, you can pick either an angled or straight eyepiece model based on your viewing preference and hunting tactics.
Features
Premium high definition lens
Ultra-smooth focus
Guard-ion lens coating
Built-in sunshade
Twilight Max HD Light Management System
Waterproof and fog resistant design
Matte finish
Massive 20-60x magnification
Pros
American quality
Comfortable eye relief
Rugged and reliable construction
Clear and bright image views
Excellent low light performance
Cons
Pricey but worth the investment
3) Swarovski Optik HD-ATS-80 HD Spotting Scope with 20×60 Eyepiece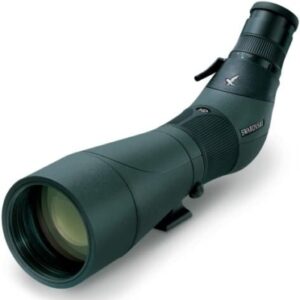 The Swarovski HD-ATS-80 is a high end spotting scope built to help you hone your hunting skills. It is built with an array of impressive features that are easy to use and offer brilliant performance in any situation.
Firstly, the spotting scope is built to last. It features a ruggedized aluminum housing that is rigid enough to withstand the rough handling that comes with hunting. Furthermore, it boasts a rugged rubber armoring that shields it from shock, scratches and dent as you traverse the fields looking for game.
Another admirable feature about the scope is the unmatched optical performance. It employs Fluoride-containing HD lenses that alleviate color fringing to produce high-contrast image view. The coating also extends the lens lifespan by shedding off water marks from condensation, tree resin and insect repellents.
To top it all, the scope is dustproof, waterproof and fog resistant to provide a lifetime of reliable performance under any environment.
Features
High-definition objective lens
Waterproof, dust proof and fog resistant
Durable aluminum housing
Fluoride-containing HD lenses
Twist-in eyecup
Robust rubber armoring
Angled eyepiece design
Pros
Outstanding picture quality
Decent field of view
Superb build quality
Crystal clear optics
Cons
4) Celestron Regal M2 80ED Spotting Scope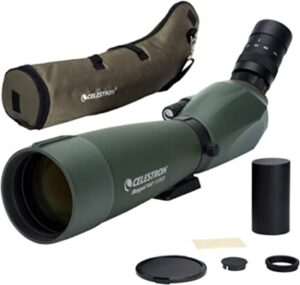 If you are in the hunt for an all-round hunting spotting scope, look no further than the Celestron Regal M2 80ED Spotting Scope. This spotting scope has nearly every feature that you need to turn all your hunting expeditions into a success.
Featuring quality ED objective lens, the scope yields superb color correction, resolution and enhanced contrast. On top of that, the lenses are fully multi-coated with Celestron's proprietary XLT coatings to maximize light transmission for bright, vivid and detailed image views.
Moreover, the spotting scope is made with comfort in mind. It has a rotating tripod mount that gives you the flexibility to position the eyepiece at an angle that is most comfortable. Besides, you can use it with the 20-60x zoom eyepiece included or with any 1.25" astronomical eyepiece of your choice.
In terms of construction, this model has a magnesium alloy chassis that is strong and durable, yet lightweight for convenient portability. It is also fully waterproof and fog proof to be usable under any weather.
Features
Dual speed focus mechanism
Extra low dispersion glass
Fully waterproof and fog proof
XLT lens coatings
T-adapter ring for Digiscoping
Armored magnesium alloy body
Pros
Performs well for multiple applications
Dependable performance in low light settings
Well-constructed to last long
Easy to operate
Cons
5) Zeiss Conquest Gavia 85 Spotting Scope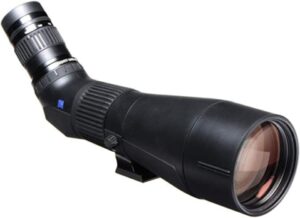 Another best spotting scope for hunting on our list is the Zeiss Conquest Gavia 85 Spotting Scope. This compact yet high-end spotting scope makes a valuable companion for hunters looking to take their hunting skills a notch higher.
It features a vast zoom range that makes target identification faster and easier even at extended ranges. To complement the high zoom, the scope has a wide-angle field of view which helps ensure that nothing is left undiscovered. It also comes with a massive 85mm objective lens that offers superb low light performance.
Construction-wise, the scope is made to be virtually indestructible. It has a robust housing whose durability is second to none. Furthermore, you can go hunting under any environment and get reliable performance thanks to the waterproof and fog proof construction.
In terms of the optical features, the Conquest Gavia 85 Spotting Scope features multi-layered, anti-reflection coatings that enhance transmission and minimize light loss through reflection. This increases color rendition and contrast from dawn to dusk.
Other noteworthy features included are a LotuTec water repellent coating and a 45-degree eyepiece that allows for comfortable viewing.
Features
Waterproof and fog resistant
HD optics
Sighting line on the objective bell
LotuTec water repellent coating
Removable eyepiece
Compact roof prism optical path
Fully multi-coated lens
Vast 30-60x zoom
Pros
Tripod ready base
Very easy to use
Lightweight design
Excellent fit and finish
Cons
6) Gosky 20-60×80 Dual Focusing ED Spotting Scope
Next up is the Gosky 20-60×80 Dual Focusing ED Spotting Scope. Having this optic in your hunting arsenal will provide you with a better hunting experience irrespective of the distance or environment you will be hunting in.
This spotting scope is built ready for outdoor use. It has a durable Magnalium framework that is sturdy enough to stand up to anything you subject it to. Additionally, it has a high-end rubber armor that provides a secure, anti-slip grip while cushioning the optics from shock and impacts. It is also fully waterproof and fog proof for use in all weather conditions.
Furthermore, the scope has coaxial two-speed focusing wheels that ensure smooth and accurate focusing. It also employs ultra-HD optics that yield ultra-bright and crisp clear image views even in dismal environments. Best of all, it comes with a retractable sunshade that helps reduce glare and shield the objective lens from elements of glare.
Features
Hard wearing Magnalium framework
Waterproof, fog proof and shockproof
45-degress angled eyepiece
Ultra high definition optics
Coaxial two-speed focusing wheels
High-quality rubber armor
Retractable sunshade
Smartphone Digiscoping adapter included
Pros
Manageable weight
Ideal for multiple applications
Good build quality
Bright, crisp and sharp image views
Cons
Poor image quality at maximum magnification power
7) Bushnell Trophy Xtreme Spotting Scope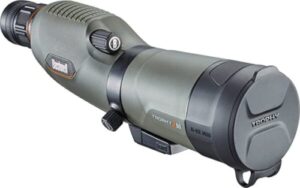 Next on our list is the Bushnell Trophy Xtreme Spotting Scope. If you are looking for the best spotting scope for hunting for the money, this model is your ideal option.
While this spotting scope is remarkably affordable, it doesn't cut any corners on durability and quality. It is well-made to offer reliable performance. In terms of construction, it features a sturdy housing coating with shock-absorbing rubber armor. This enhances its durability while ensuring that you get a secure grip all-through.
The scope is built to offer unmatched optical performance under any light condition. Thanks to the fully multi-coated optics, it optimizes light transmission so the sight pictures generates retain brightness and detail even at the highest magnification level. Further, the scope has a compact and lightweight design for comfortable carrying in the field.
Last but not least, this spotting scope is fully waterproof and fog proof to be operable in rain, fog, precipitation and in a wide temperature range.
Features
Rubber armored housing
Porro prism design
Waterproof and fog proof
Zoom magnification up to 60x
Multi-coated optics
Compact tripod w/window mount included
Pros
Compact and lightweight design
Waterproof hard-side case included
Easy to use
Bright and clear image views
Easy on the wallet
Cons
The tripod design is a little shaky
8) Vortex Optics Razor HD Spotting Scopes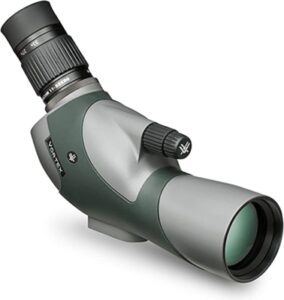 Lastly on our list of the best spotting scope for hunting is the Vortex Razor HD Spotting Scope. This high-end spotting scope is here to sharpen and take your hunting skills to the next big level.
It possesses index-matched lenses which correct color across the whole visual spectrum . Besides, the lenses are fully multi-coated to reduce glare and light loss through reflection. This results to maximum light transmission, even in low light settings for bright and clear views.
Furthermore, the spotting scope brings to the table a tripod mounting collar that is rotatable. This gives you the flexibility to turn it into different directions for optimal user comfort. It is also equipped with an extendable sunshade that not only blocks disturbing stray light, but also protects the objective lens from scratches and damage.
In addition to everything else, the spotting scope is O-ring sealed to be waterproof and dust proof, and argon purged to keep the optics free of fog all through.
Features
Extendable sunshade
Rotatable tripod mounting collar
Waterproof and fog proof
Premium HD glass lens
Angled eyepiece design
Fully multi-coated lens
Eyepiece lock ring
27-60x magnification range
85mm aperture
Pros
High definition views
Smooth magnification adjustment
Great eye comfort
Excellent performance in low light settings
Cons
Costly for the budget buyer
Read Also
How to Choose a Spotting Scope for Hunting
Choosing the best spotting for your hunting needs isn't something you do on a whip. Below are the key factors to put into consideration when making your selection.
Magnification
The magnification in spotting scopes varies greatly from one model to the other. Most models have variable magnification power that ranges from 12x to 60x.
Your hunting distance, environment and the type of game you will be hunting will play a huge role in determining the magnification that you select. If you plan to hunt in open areas, go for a model with the highest magnification to ensure that it covers the longest distance.
Objective Lens Diameter
The the objective lens plays an important role of collecting light into the scope. Generally, bigger lenses collect more light which translates to brighter image views even at the highest zoom power. A large objective lens also maximizes performance in low light settings.
Durability
A durable spotting scope for hunting is a reliable optic. Whether you will be hunting in familiar or unfamiliar terrains, a robust spotting scope will stand up to any rough handling you subject it to.
Furthermore, a scope that is well-built with high-quality materials will weather anything nature throws at it and give you many years of field use. Also ensure that you pick a spotting scope that is shock resistant for greater durability.
Weight
If your hunting involves hiking for miles hunting, ensure that you get a lightweight spotting scope. It will be simple to carry and it won't interfere with your movement. Besides, a light spotting scope is easy to use irrespective of whether you are using it hand-held or mounted on a tripod.
Weatherproof Construction
The best spotting scope for hunting should be operable in all weather conditions. It should be sealed with strong O-rings to lock out moisture, dust and debris. Additionally, it should be purged with argon or filled with nitrogen to prevent fog build up when you go hunting in areas with large temperature gradients.
Price
Spotting scopes for hunting come in varying price tags to meet the budget needs of all hunters out there. If you are looking for a high-quality product that will last for generations to come, be ready to spend more.
However, if you are on a budget there are plenty of budget spotting scopes that you can choose from. Just make sure that you are getting a product that is dependable, reliable and functional.
Advantages of Spotting Scopes for Hunting
Better image quality of distance targets, even in low light hunting environment
With the high magnification that spotting scopes offer, you get the flexibility to look for and acquire game at any distance
Versatility. Majority of the best spotting scopes for hunting are ideal for other outdoor applications not just hunting
Spotting scopes cause less eye strain and fatigue during lengthy glassing sessions
Easier to share when you are hunting with other hunters
FAQs
What is the best spotting scope for hunting?
The best spotting scope for hunting is one that meets your hunting needs and preference. Given the plethora of models out there, it is hard to say that there is a scope that fits all. Consider the type of hunting you purpose to use the spotting scope for and get the best model for your needs.
Are spotting scopes worth it for hunting?
Absolutely. For many hunters, a spotting scope is their go-to optic for long range hunting. They have a higher zoom power which is an important feature when finding and evaluating game at extended ranges.
Which is better, a straight or angled spotting scope?
In most cases, an angled spotting scope is the best for hunting. It is more comfortable on the eye and neck especially when you are glassing for a prolonged period of time. An angled spotting scope is also more ideal for group sharing.
Final Thoughts
We hope that this post has given you the insight you need to make the right buying decision. All the spotting scopes listed above are built to offer the essential features hunters need for hunting. Look at the features that make each scope unique then settle on the model that is best for hunting style and needs.