When it comes to elk hunting, the best spotting scope for elk hunting is a handy tool to have if you are looking to turn your trip into a success. This is particularly the case when you are hunting at long ranges where it is hard to locate and see the target clearly with your bare eyes.
Today, a spotting scope is a handy piece of gear to have for elk hunting. It will help you pursue elks at distances where binoculars or scopes can't reach so you get the true enjoyment of hunting at extended ranges. A high performance spotting scope will also ensure that you place the shot ethically which is vital when hunting elks.
However, finding the best spotting scope for elk hunting is no easy feat. The market is flooded with options which make the selection process challenging especially for the first-time buyers. To offer a helping hand, we have done an in-depth research and put up this list of the best elk hunting spotting scopes available on the market currently.
7 Best Spotting Scope for Elk Hunting
In this review you will find the best spotting scopes for elk hunting, their pros and cons as well as the features that make each model unique. Without wasting any more time, let's get started.
1) Vortex Optics Razor HD Spotting Scope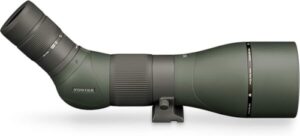 First up is the Vortex Razor HD Spotting Scope. Vortex makes a plethora of high-quality optics and this is clear in the Razor HD Spotting Scope. It is built with the finest features to offer high level of performance.
Having this spotting scope will guarantee instant target finding and accurate identification in virtually any hunting ground. This is thanks to the HD extra-low dispersion glass lens elements that are precision crafted to offer true-to-life images from dawn till dusk. Besides, the lenses are fully multi-coated to enhance light transmission for bright and color accurate image views.
More importantly, the spotting scope is built ready for hunting. It has a scratch-resistant Armortek coating that provides added protection from  scratches, dirt and oil. It is also 100% waterproof, fog proof, dust proof and shock resistant for use in any environment.
Best of all, the scope comes with an extendable sunshade for glare protection and you can choose between the angled or straight eyepiece model based on your preference and hunting style.
Features
Fully multi-coated XR lens coatings
100% waterproof, fog proof and dust proof
Die-cast magnesium alloy body
Armortek scratch-resistant lens coating
HD extra-low dispersion glass
Eyepiece cap and objective lens covers included
Pros
Flexible viewing angle
Extendable sunshade
Robust construction
Crisp clear optics
Great level of viewing comfort
Cons
2) Leupold GR 10-20x40mm Gold Ring Compact Spotting Scope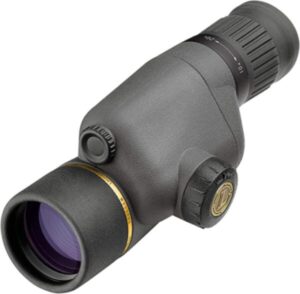 If you are in the market for an elk hunting spotting scope that is compact, light and easy to use, look no further than the Leupold GR 10-20x40mm Gold Ring spotting scope. It is built to offer relentless performance regardless of the hunting fields you use it in.
The scope is built to yield unmatched optical performance. It employs a Twilight Max HD Light Management System which delivers crisp image views even in twilight conditions. Better yet, it has a fully multi-coated lens system that guarantees maximum image brightness, clarity and sharpness.
When it comes to construction, the scope has a durable and abrasion-resistant carbon fiber construction that gives it the compact size. Moreover, the external lenses are scratch proof to offer added protection in the field.  The spotting scope is also fully waterproof and fog free to offer a lifetime of all-weather reliability.
Features
10-20x magnification range
Twilight Max HD Light Management System
Waterproof and fog free
Fully multi-coated lens system
Carbon fiber construction
Scratch resistant lens
Straight eyepiece
Pros
Compact and ultra-light design
American quality
Clear glass
Soft carry case included
Cons
Smaller magnification power
3) Sig Sauer SOO82001 Oscar8 Spotting Scope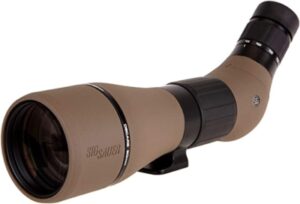 If you are looking to take your elk hunting skills to the next big level, the Sig Sauer Oscar8 Spotting Scope is your ideal option. This high-end spotting scope comes with virtually every feature a hunter needs for hunting at extended ranges.
It features an industry-leading HDX optical design that combines extra-low dispersion glass and high light transmittance glass. This yields unmatched resolution and color accuracy even in the poorest lighting conditions. On top of that, the lenses are fully multi-coated for low light resolution and bright image production.
More importantly, the spotting scope is built to last. It features a robust housing that is rigid enough to take in any abuse. It also comes with a durable anti-slip rubber armor for added protection and a weatherproof housing for use under any environment.
To top it all, it has an angled eyepiece with a rotating tripod collar that gives you the flexibility to observe targets with utmost comfort through multiple viewing angles.
Features
Vast 27-55x magnification
Fully multi-coated lenses
High definition ED glass
Angled eyepiece
High light transmittance glass
Anti-slip rubber armor
Schmidt-Pechan prism
Waterproof and fog proof
Pros
Great glass quality
Tripod adaptable
Robust construction
Superb light transmission
Cons
4) Maven CS.1 15-45X65 Spotting Scope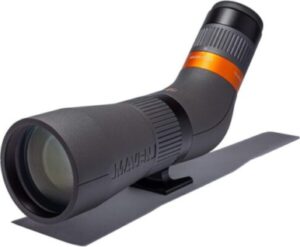 Elk hunting gets better and simpler when you use a high-quality optic like the Maven CS.1 15-45X65 Spotting Scope. It is built with crisp clear ED glass and fully multi-coated lenses that make it a perfect companion for hunters looking to see targets in rich detail even at extended distances.
The spotting scope is dependable, solid and powerful. It has a variable 15-45x zoom power that gives you the flexibility to pursue game at any distance and environment. It also features a durable magnesium frame that is sturdy enough to stand up to whatever punishment you take it through.
For unimpeded field use, this top-performing spotting scope is fully waterproof and fog resistant. It also has a compact size to ensure that it won't get in your way while on the hunting field and lightweight for mobility convenience.
Features
Extra-low dispersion glass
Angled eyepiece design
15-45x magnification range
Fully waterproof and fog proof
Robust magnesium housing
Schmidt-Pechan prism
Pros
Good glass
Admirably clear and bright image views
Solid construction
Easy to focus
Light and compact design
Cons
5) Celestron – Ultima 80 Angled Spotting Scope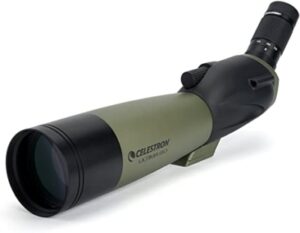 The Celestron Ultima 80 is by far the best spotting scope for elk hunting for the money. It is easy on the wallet, yet well-made to offer unmatched performance in any situation.
This ultra-versatile spotting scope has a comfortable 45-degree viewing angle perfect for lengthy hunting sessions. For added comfort during use, it comes with a zoom eyepiece with built-in T adapter and a snug rubber eyecup that is removable. Additionally, you can mount it on a tripod and use your hands for other uses.
Another impressive thing about the spotting scope is its ideal for both close and long-range use. It has a focus range that ranges from 27 feet to the horizon. Additionally, it provides a decent field of view through the whole zoom range for rapid target finding. It also possesses premium BaK4 prisms and multi-coated lens for bright, sharp and detailed image views.
Above all, the scope is fully waterproof and fog proof so you can hunt with greater confidence even in adverse weather conditions.
Features
20-60x magnification
Ultra-snug angled eyepiece
Multi-coated optics
Removable rubber eyecup
High-quality BaK-4 prisms
Integrated T-adapter for Digiscoping
Sharp zoom eyepiece function
Pros
Versatility
Easy on the pocket
Manageable weight
The zooming is super smooth
Cons
Inferior image resolution
6) Vortex Optics Viper 85mm Spotting Scope Angled-HD V502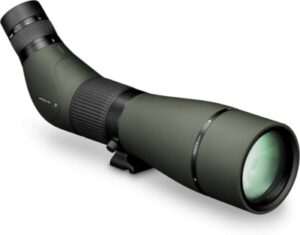 Another best spotting scope for elk hunting from Vortex is the Viper HD 85mm Spotting Scope. Built with the long range hunter in mind, this model is packed with a multitude of impressive features that you will certainly find handy in your next hunting trip.
First, the spotting scope has an angled eyepiece design. This makes it comfortable to use particularly during prolonged hunting sessions. It also possesses a multi-position eyecup that provides a comfortable eye relief and a rotating collar that gives your multiple viewing angles.
Another feature that makes the spotting scope stand out is its superb optical performance. The large 85mm aperture optimizes low light resolution, while the HD optical system generates vivid high-definition images. It also has an XR anti-reflective lens coating that increases transmission of light for bright and clear image views even in low light settings.
Furthermore, the scope brings to the table a built-in sunshade for glare protection and a smooth helical focus that will help you put the image into sharp focus swiftly. It is also O-ring sealed and argon purged to be fully waterproof and fog proof.
Features
Massive 85 objective lens
Armortek lens coating
Multi-position eyecup
XR anti-reflective lens coating
20-60x magnification range
Extendable sunshade
Fluid and sleek helical-style focus
Waterproof and fog proof
Pros
Flexible viewing angled
HD optical clarity
Rock solid build quality
Excellent low light performance
Cons
7) Athlon Optics Argos HD 20-60×85 Spotting Scope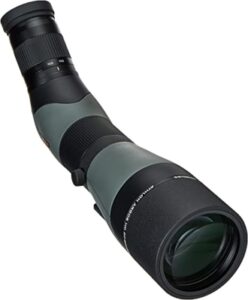 Lastly on our list is the Argos HD 20-60×85 Spotting Scope from Athlon optics. The scope is designed with ease of use in mind making it the ideal option for the beginners.
Featuring a vast 20-60x magnification, the spotting scope will help you find targets with ease even at long ranges. It also offers a wide field of view even at the highest magnification setting to ensure that nothing is left undiscovered.
Furthermore, the scope utilizes HD glass that provides better light transmission for clearer and sharper image views. It also comes with a built-in extendable sunshade to minimize glare and give you better image views when you are hunting in direct sunlight.
More importantly, this spotting scope is built to be operable in any weather condition. It is argon purged to keep the lens free of fog and sealed to protect the optics from water and dust damage. It also possesses a rubber armor which provides a more secure grip.
In addition to everything else, the scope comes with a rotating ring that you can use to rotate it into different angles until you achieve a viewing angle that is most comfortable.
Features
Premium HD glass
Waterproof and fog proof
Built-in extendable sunshade
Vast 20-60x magnification
Rotating tripod ring
Durable composite chassis
Rugged rubber armor
Pros
Tripod adaptable
Lightweight design
Multipurpose application
Excellent resolution
Cons
The field of view is narrower
Spotting Scope or Binoculars for Elk Hunting
For elk hunting, you can either use binoculars or a spotting scope depending on the hunting distance, environment, hunting tactics and individual preference.
The former is more ideal for close and medium range hunting mostly in forested areas where a wide field of view is vital. It also better to use binoculars in situations where you need to do quick movements to spot the target.
The latter on the other hand is a great option for back country hunting where the elks are far away. With the higher zoom power, you will get a better view of the target at extended ranges and be able to plan and place the shot accurately and ethically.
Read Also
Factors to Consider when Choosing the Best Spotting Scope for Elk Hunting
Magnification
Different spotting scopes have different magnification ranges to meet the needs of various hunters out there. A spotting scope with the right magnification will be really helpful for elk hunting especially at extended ranges.
Moreover, a spotting scope with a vast magnification range will give you different levels of zooming within their magnification range. This gives you the flexibility to acquire targets easily at varying ranges.
Objective Lens Diameter
Just like binoculars and rifle scopes, the objective lens is an important part of a spotting scope. The bigger the objective lens, the more light the scope lets in and the brighter the images it generates.
But extra-big objective lens can be a hinderance in the hunting field as they make the scope big and bulky. So, consider getting a unit that offers the best balance of weight, functionality and portability.
Durability
Durability is key in a spotting scope for elk hunting. You will be hunting in various terrains and your expeditions won't be smooth all the time.
With a durable and well-made spotting scope, you can rest assured that it will take in any punishment you subject it to. With plenty of models to pick from, a sturdy and robust model made of aluminum, magnesium or any other sturdy metal will offer the best durability. In addition, a durable scope will do a better job at withstanding anything nature throws at it.
Weight
Weight should be a big concern if your hunting involves carrying lots of other hunting gear and walking for miles looking for game. A light and compact spotting scope that weighs less than 3 pounds will be portable and easy to use. It won't come in your way as you look for game and it will be easier to pack as well.
Weatherproof
The best spotting scope for elk hunting is not just durable, but also weatherproof. With a weatherproof construction, you will be able to use it confidently in any weather condition.
It should be sealed to prevent entry of moisture and dust, both of which are a big threat to the internal optics. Additionally, the scope should be fog resistant to ensure that your field of view stays clean and clear in any environment.
Price
Lastly, consider the price. You will want a quality spotting scope that has all the features that you need at a price that is friendly to your wallet.
If you are on a budget, there are plenty of decent-quality spotting scopes that are budget-friendly. However, if you are looking to make a one-time worthwhile investment, it is best to invest in a high-end spotting even if it's heavy on the wallet.
Best Spotting Scope for Elk Hunting FAQs
What size spotting scope is best for elk hunting?
It depends on the hunting range, hunting style and individual preference. However, the best models have a magnification that ranges from 15x to 60x and an aperture whose diameter ranges from 40mm to 80mm.
Is a sunshade important for a spotting scope?
Absolutely. A sunshade is a very important feature when hunting under direct sunlight in particular. It will help reduce the glare so you have a comfortable hunting expedition. Glare reduction also helps ensure that the images generated are crisp clear.
What do numbers on a spotting scope mean?
The numbers found in a spotting scope configuration represent the magnification power and the diameter of the objective lens. In a 15-45×60 model for example, it means that the magnification of that scope is adjustable from 15x to 45x. 60mm on the other hand is the diameter of the objective lens/aperture in millimeters.
Final Thoughts
The right spotting scope for elk hunting can change how you hunt for the better. Knowing your hunting tactics, needs and the features that you need the spotting scope to have will help make your selection and purchasing process simpler. Regardless of the spotting scope that you end up purchasing, we do hope that this guide has been insightful and it has helped point you in the right direction.