Are you in the market for the best marine binoculars with image stabilization? If yes, you have stumbled upon the right article. We have put together this comprehensive guide to walk you through the best marine binoculars with stabilization and help you find the right model for your needs.
Marine binoculars come in different designs and features to enhance safety for sailors. The more features a pair of binoculars has, the better especially for those who sail regularly. Image stabilization is one of the important features that marine binoculars should have.
Marine binoculars with image stabilization are designed to alleviate vibration caused by movement and provide clear, shake-free images views of the ocean's wonders. With steady views, you are guaranteed of a better glassing experience which is essential if you don't want to leave anything undiscovered.
What Makes a Great Marine Binocular?
There is a wide variety of features that make a binocular great for marine use. They include:
Large Field of View
The first thing that a great marine binocular should have is a large field of view which translates to quick target finding. A spacious field of view is also important as it maximizes glassing comfort during long glassing periods.
Durable Make
Durability is the other important feature that marine binoculars should have. Sailing is often rough on any optic so you need to have a binocular that is built with durability in mind. Solid and sturdy construction is also important in ensuring that the binoculars is usable for a long period of time.
Weatherproof Construction
Another feature that the best marine binoculars with image stabilization should have is weatherproof construction. The binocular should be sealed against water, dust and debris that can damage the optics easily.  Additionally, it should be 100% fog proof to maintain a clear field of view.
Long Eye Relief
Long eye relief is another feature that a great binocular for marine application should have. It is essential in that it adds on glassing comfort with or without eyewear.
Best Marine Binoculars with Image Stabilization -Top Picks
Not all marine binoculars come with image stabilization technology. We have done the legwork for you and put together a list of models with  image stabilization that are ideal for marine applications.
Without any further delays, let's jump right in.
1) Sig Sauer ZULU6 16x42mm Schmidt-Pechan Prism Binoculars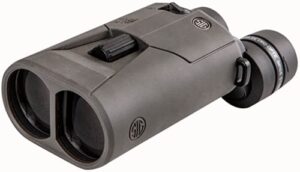 Sig Sauer is a brand that has built a name in the world of optics thanks to the top-tier optical devices it makes. The ZULU6 16x42mm Schmidt-Pechan Prism Binoculars are not built any different. This high-powered binoculars are multifunctional and great for a wide range of applications including marine use.
The binocular features optical image stabilization technology that cancels any vibration caused by wind, chop and waves on water. Even with the high 16x magnification, it becomes easy to hold steady without the need to use a tripod. Other than that, it boasts a wide field of view with zero chromatic aberrations for quick target scanning.
Another feature that makes this optic one of the best marine binoculars with image stabilization is lightweight construction. Even with the image stabilizing technology, it weighs 20oz only so it is comfortable on the hands during use.
Moreover, the binocular has an IPX4 waterproof rating for use in all weather conditions. It also boasts spectra coat, lens shield and lens armor coatings to enhance light transmission and provide bright, clear and ultra-sharp sight pictures.
Features
Advanced image stabilization technology
IPX4 waterproof rating
16x magnification power
Spectra coat lens coating
Motion activated illumination, MOTAC
Schmidt-Pechan prism
Pros
Lightweight design
Zero chromatic aberration
Excellent image stabilization
Stunning picture quality
Cons
Cheap accessories included
2) APC STABILIZED 12×42 Binocular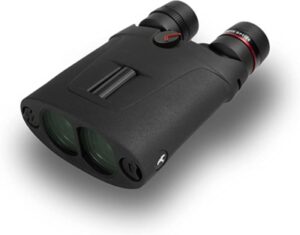 The APC STABILIZED 12×42 Binocular offers the perfect balance between value and performance. It is made with the latest image stabilization, 12x magnification power and a ton of other user-friendly features that make it a powerful sighting tool for marine applications.
The selling point of this binocular is the compact design. It is ultra-small and lightweight for ease of use and portability convenience. And though compact, it is engineered with durability in mind. It is made with high quality materials to stand up to rough use.
Moreover, this compact pair of binoculars is designed with attention of user ergonomics. The large correction capability of 2° ensures that the images generated are shake-free in all environments. Besides that, it has continuous lag free response for added convenience.
In addition to everything else, the APC STABILIZED 12×42 Binocular is waterproofed and gas filled to prevent internal fogging.
Features
12x magnification power
2° correction angle
Waterproof and nitrogen filled
42mm objective lens
Electric stabilization system
Pros
Extreme power efficiency
Unmatched accuracy
Compact, lightweight and portable
Spectacular image quality and range
3) Steiner Commander Series 7×50 Marine Binoculars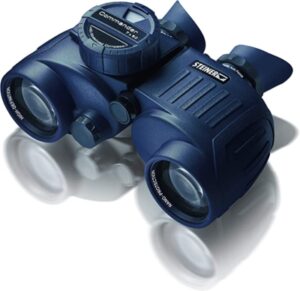 Steiner is a big name in the optics industry. It is widely known for impeccable design and ferocious toughness and this is clear in the Commander 7×50 Marine Binoculars. This compact and lightweight pair of binoculars is an ideal choice for those who make their living or like spending time on water.
The binocular is built to last. It has a Makrolon housing and a rugged polycarbonate chassis to withstand rough handling. On top of that, it has NBR long life rubber armoring that is able to withstands 11 G's of impact while providing an anti-slip grip in all environments.
To complement the solid construction, the binocular has a waterproof and fog proof design that guarantees clarity in any condition. It also features Steiner Nano-Protection, a unique type of finish that is so smooth that water sheets off and dirt, fingerprints and snow are seamlessly repelled for easy cleaning.
Furthermore, the binocular's is designed with high quality glass elements that provide crystal clear views in low light, heavy glare and deep cold  conditions. It also comes with a HD stabilized compass for navigation purposes.
Features
7x magnification power
HD optics
Sports auto focus system
Durable polycarbonate housing
Ruggedized NBR rubber armoring
Waterproof and fog proof
HD stabilized compass
Hydrophobic molecular protection
Pros
Lightweight and compact
Easy to use
Bright and clear optics
Large field of view
Cons
The built-in compass does not turn smoothly
4) Canon Camera US 10×32 is Image Stabilizing Binocular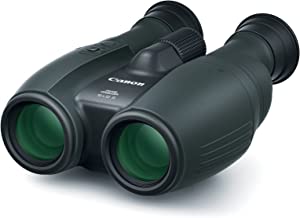 As one of the best marine binoculars with image stabilization, the Canon 10×32 IS binocular has a high magnification power of 10x that is perfect for bringing distant details up close. Thanks to the image stabilization technology, the binocular also provides impressively steady images without the need to use a tripod.
A defining facet of this binocular is the ergonomic design. It is compact enough to be easy to hold with one hand and very comfortable to use during extended glassing sessions. Over and above that, it employs high-end optics that yield stunningly bright and clear image views.
To suppress color bias and lens flare, this optical instrument has spectra coat les coatings that is also responsible for ensuring high levels of light transmission. Furthermore, it has 6.6ft/2m minimum focusing distance that when combined with the 10x zoom power make it an ideal tool for close to long range glassing.
Features
Lens shift image stabilization
10x magnification power
6ft/2m minimum focusing distance
Field flattener lens
Super spectra lens coating
Pros
Improved design with comfortable grip
Stunning picture quality
Highly effective image stabilization
Cons
5) Fujinon 12×28 Techno-Stabi Binoculars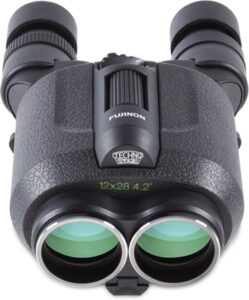 Next up, we have the Fujinon 12×28 Techno-Stabi Binoculars. It is compact, lightweight and ideal for on the go use. It is also an ideal companion in a variety of settings such as bird watching and concerts, not just marine use.
This pair of binoculars has a stabilization correction of +3 degrees. Even with the high 12x magnification, you will be able to see details of far-off objects without any shake. The stabilization activates instantly with a shift switch for effortless control during use.
This version of the Techno-Stabi Binoculars is built ready of use in any environment. It is waterproof and submersible to 33' for up to 30 minutes. Other than that, it is built with 16mm eye relief and twist-up eyecups to ensure great glassing comfort with or without eye wear.
Optically, the binocular has multi-coated optics that minimize glare and internal light reflection. The end result is high light transmission for bright and crisp clear image views.
With all these handy features, the Fujinon 12×28 Techno-Stabi Binoculars make an invaluable sighting tool when running a boat or any other water vessel across choppy seas/oceans.
Features
Waterproof and submersible to 33'
Multi-coated lenses
Twist-up eyecups
±3° stabilization
Auto shutoff after 10 minutes of inactivity
Pros
Compact and lightweight
Versatile
Long eye relief
Long battery life
Cons
6) Canon 10×42 L IS WP Image Stabilized Binoculars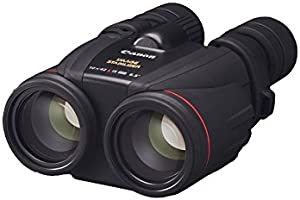 Canon 10×42 L IS WP Image Stabilized Binoculars are optimized for versatility. They are an ideal sighting tool for marine and astronomical use, in addition to wildlife viewing and nature/bird watching.
Featuring quick-response time and ±0.8° correction angle, the binocular easily compensates for the common hand shake to provide better views of targets. It is easy to activate the stabilization using the single-activation button put where the right forefinger naturally rests on binoculars. Additionally, the binocular boasts optional 5-minute activation mode that enables one to concentrate on the views without any distractions.
Another thing that makes it one of the best marine binoculars with image stabilization is stunning picture quality. It is built with ultra-low dispersion glass elements and matching doublet field-flatteners to enhance image quality and resolution. The lenses also feature super spectra-coat anti-reflection coatings to limit glare and ensure that more light volume is transmitted.
The other noteworthy features included are twist-up eyecups, front filter threads and standard 1/4″-20 tripod mount socket.
Features
10x magnification power
Twist-up eyecups
Electronic image stabilization
Porro prism optical path
Large center focusing knob
Super spectra coatings
Waterproof and fog proof
Ultra-low dispersion lead-free glass
Pros
Tripod ready
Easy to use
Multifunctional
Great image quality
Cons
7) Zeiss 20×60 Classic S Image Stabilization Binoculars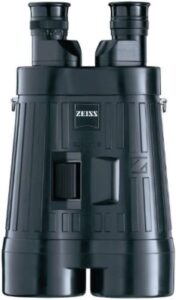 Our last marine binocular with image stabilization recommendation is Zeiss 20×60 Classic S Image Stabilization Binoculars. This high-end binocular is packed with a ton of top-tier features that make it an ideal choice for virtually any application.
First, the binocular boasts a large 20x magnification power that is ideal for long and extreme-long range observation. Furthermore, it has an oversized 60mm objective lens that offers superior light gathering ability, especially in low light settings. It also comes with a mechanical image stabilizer that compensates for naturally occurring hand wobbles so the images generated are crisp clear even with the high zoom power.
This pair of binoculars is designed for use in all environments. It is water resistant and fog proof for use in the less-than-ideal weather conditions. On top of that, the geometric bright of 9 and twilight factor of 34.6 make it an ideal sighting tool for both daylight and twilight conditions.
In terms of construction, the binocular is made to be nearly indestructible. It has an ultra-sturdy chassis that is rubber armored to provide secure, anti-slip grip in all environments. Additionally, it is built with rubber eyecups and a right eye diopter that come in handy when you need to customize it to suit your glassing needs.
Features
Rugged rubber armoring
Large 57-73mm interpupillary distance
Waterproof and fog proof
Rubber eyecups
Right eye diopter
Mechanical image stabilization
Porro prism optical path
High 20x magnification power
Pros
Unmatched resolution and picture quality
Solid construction
Highly effective image stabilizer that doesn't require battery
Portable and easy to use
Cons
Read Also
Why Image Stabilization is Essential for Marine Binoculars
When you are on a boat, ship or any other water vessel cruising, the waves of the sea/ocean make it hard to hold binoculars steadily. As a result, it to gets difficult to get clear views of your surroundings through the binoculars.
With an image stabilized marine binocular, the effects of wind, waves and boat movements are reduced, allowing you to have clear views of the objects you are observing.
Other than alleviating shakiness, the best marine binoculars with image stabilization go a long way to reduce eye strain during long glassing periods. This makes the binoculars more comfortable to use.
How to Choose a Marine Binocular with Image Stabilization
Listed below are the important factors you should consider when purchasing an image stabilized binocular for marine use.
Objective Lens
The size of the objective lens is one of the most important things to consider when choosing binoculars for marine use. It is measured in millimeters and its primary role it to collect light inside the optics. For most marine applications, we recommend that you get a binocular with an objective lens between 32mm and 42mm. Such binoculars strike the perfect balance between good light gathering ability and portability.
Stabilization Type
There are four types of image stabilization in binoculars. They include mechanical, optical, digital and hybrid image stabilization.
Binoculars with optical image stabilization are the most effective of the four. However, they tend to cost more so be ready to pay more for one.
Digital image stabilized binoculars are less effective, but the cheapest of the four. If you are on a tight budget, they are your best option.
Mechanical image stabilized binoculars are also affordable but more effective than the digital counterparts. They however have a drawback of having a limited range.
Hybrid image stabilization combines optical and digital stabilization technology to offer the best overall performance.
Build Quality
The next important thing to consider is build quality. The best marine binoculars with image stabilization don't come cheap. As such, you will want to invest in a product that is optimized for durability. Look at the nature of construction and pick a binocular that is made to last. Also ensure that the product you choose is resistant to water, fog and shock.
Lens Coating
The quality of lens coatings that is used on any pair of binocular is responsible for determining the clarity and brightness of the sight pictures. It also affects edge to edge sharpness and color, both of which are vital for marine use. We recommend that you get a unit that is built with premium glass elements and employs high quality lens coatings.
Weight and Portability
Last but not least, consider size and weight. Try and find a binocular that is lightweight but durable. That way, you will have an easy time holding it on your hands during use. The best marine binoculars should also be compact and easy to pack and carry around.
Advantages of Image Stabilization in Marine Binoculars
Better Image Quality. The main advantage of image stabilization technology in marine binoculars is it improves the quality of images generated by eliminating shakiness and blur
Reduced Eye Strain. It is more comfortable to use image stabilized binoculars than standard binoculars for marine applications. The IS technology alleviates eye strain during lengthy glassing periods to optimize viewing comfort
Image stabilization goes a long way to make marine binoculars versatile. As a result, the binoculars become ideal for use in a wide range of conditions and situations, without sacrificing on image quality
Conclusion
Image stabilization technology has significantly improved the performance of marine binoculars, making them more functional and versatile. With reduced eye strain, better image quality and greater low light performance, these binoculars make a great investment for anyone who often spends time on water bodies. Hopefully, the information in this post has been informative and you are now able to find the right binocular for your needs.