As the optics industry continues to advance, the market is now saturated with spotting scopes from so many brands. Each spotting scope comes with a range of unique features which makes it suitable for certain applications. In our post today, we take a look at the best spotting scope under $500 available out there.
Spotting scopes are one of the most versatile optical equipment available on the market today. Typically, these sighting tools have a broad zoom power packed in a compact form for easy maneuverability. So, if you are fond of spending time enjoying the great outdoors, this is an important sighting tool to have.
To find the best spotting scope under $500, you need to factor in the activity you will be using it for and look for the right model for that. But with the sea of products available on the market, the task becomes a chore especially for the first-time buyers. Below you will find a fine selection of the very best spotting scopes that are available under the $500 price range.
But before we take a detailed look of each spotting scope, let's begin by looking at the attributes that make a great spotting scope.
Attributes of a Great Spotting Scope
A great spotting scope is made of a wide range of attributes and the first one is quality construction. No matter the budget, it is vital to get a tool that is built with durability in mind. That way, it will last for a long period of time and get you many years of reliable performance.
Secondly, the spotting scope should have high-quality glass elements to enhance resolution and color accuracy. It should also boast several layers of anti-reflection lens coatings to limit glare and maximize light transfer.
The other vital features that the best spotting scope under $500 should have include:
A smooth focusing mechanism
Magnification power that is broad enough to cover different ranges with ease
Comfortable eyecup and long eye relief
A housing that is fully waterproof, fog proof and dustproof for use in all weather conditions
Large field of view
Best Spotting Scopes under $500
The optics market is so diverse and so are spotting scopes. With a budget of under $500, here is a list of the best-rated spotting scopes you can choose from. Let's have a look.
1) Vanguard Endeavor HD 82A Angled Eyepiece Spotting Scope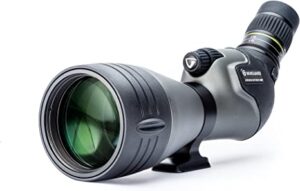 Vanguard Endeavor HD 82A is our best overall spotting scope under $500. It is engineered with the latest technology and a ton of advanced features that make it a reliable sighting tool for a wide range of outdoor expeditions.
Firstly, the spotting scope features an impressive field of view which coupled with long range visibility makes it ideal for avid birders and nature enthusiast. Furthermore, it employs premium ED glass that yields great detail of targets even in the low lighting environments.
Another facet that makes it the best spotting scope under $500 is the solid build. The spotting scope has a rubber armored magnesium chassis that is rugged enough to take in the beating. The armoring provides added shield from elements, shock and impact when outdoors.
Moreover, the spotting scope boasts a stacked, dual-focus control for making quick and fine-tuned adjustments. It also brings to the table a built-in sunshade, detachable angled eyepiece and an optical tube that is fully waterproof and fog proof.
Features
Fully multi-coated optical system
Waterproof and fog proof
Phase-coated BaK4 prisms
Extra-low dispersion glass
Rubber armored body
Detachable angled eyepiece
Rugged magnesium chassis
Dual focus wheel
Pros
Large field of view
Generous eye relief
Ease of use
Bright and crisp optics
Cons
Image quality declines with increase in magnification
2) Kowa TSN-600 Series Angled Body Spotting Scope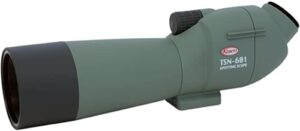 The Kowa TSN-600 Series Angled Body Spotting Scope is created using the most advanced optical technology. This makes it a handy companion for a wide range of outdoor expeditions including hunting, birding and wildlife viewing.
A defining feature of the spotting scope is premium build quality. It boasts an extremely durable housing made of strong, yet ultra-light polycarbonate material. Additionally, this housing is waterproof and filled with nitrogen gas to keep the internal optics free of fog.
For added convenience, the spotting scope has an eyepiece set at an angle to ensure ultimate comfort during long glassing periods. Over and above that, it has an option of several eyepieces sold separately to fit any spotting need or preference.
When it comes to the optical features, the scope features a large 60mm objective lens that is vital for enhancing low light performance. It is also manufactured with the highest optical technology to offer all users the ultimate viewing experience.
Features
Multi-layered lens coatings
Rugged polycarbonate construction
Angled eyepiece
Waterproof and nitrogen filled
Rugged rubberized coating
Removable eyepiece
Pros
Crystal clear optics
Lightweight, compact and portable
Durable and reliable construction
Cons
3) Celestron – Ultima 80 Angled Spotting Scope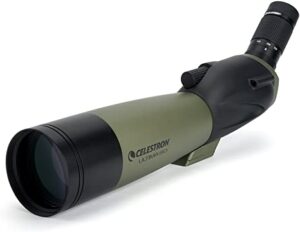 Celestron is synonymous with optical quality and the Ultima 80 Angled Spotting Scope is not built any different. This is an all-round spotting scope that is compact, lightweight and easy to transport from one point to the other.
The spotting scope boasts a 45-degree viewing angle suitable for all long range observations. Its rugged, armored exterior provides added protection against elements and hard use in the field. On top of that, the optical tube is waterproofed and filled with dry nitrogen gas to provide a lifetime of reliable performance in all kinds of weather conditions.
Another feature that makes the spotting scope stand out is the admirable optical performance. It has fully multi-coated lenses which provide high levels of light transmission for bright and clear image production. The superior lens coatings are also beneficial in protecting the delicate glass from scratches.
In addition to everything, the spotting scope is built with a large focus dial for quick image focusing and includes a T-mount adapter for Digiscoping.
Features
Large focus dial
Waterproof and fog proof
Built-in T-adapter
Fully multi-coated lenses
Rugged rubber armored exterior
Angled body design
20-60x zoom eyepiece
Pros
Sharp zoom eyepiece function
Clear and sharp images
Easy to use
Good price point
Cons
Slightly heavy
Chromatic aberrations
4) Vortex Optics Diamondback 20-60×60 Spotting Scope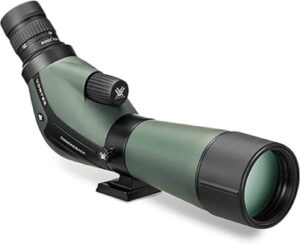 Another best spotting scope under $500 on our list is the Vortex Diamondback 20-60×60 Spotting Scope. This optical equipment offers the best balance between value and performance. It delivers outstanding performance in a light, compact package ideal for outdoor enthusiasts who are always on the go.
The spotting scope features a versatile zoom range from 20x to 60x for observing targets at different ranges. Through the whole magnification range, it guarantees great optical performance thanks to the oversized 60mm objective lens. Besides, it is made with XR fully multi-coated lenses that offer excellent light transmission.
When it comes to construction, the spotting scope is built with long term durability in mind. It has a robust chassis that is rubber armored to enhance durability and grip for the user. Additionally, the scope is O-ring sealed and nitrogen purged to provide a lifetime of waterproof and fog proof performance.
The other essential features included are a smooth, easy to use focus wheel, adjustable eyecup and twist-and-lock collar.
Features
XR fully multi-coated lenses
20feet close focus distance
Waterproof and fog proof
Rubber armored body
Built-in sunshade
Adjustable eyecup
20-60x magnification range
Pros
Lightweight and compact design
Bright, clear and sharp optics
Easy to use
Versatile
Cons
5) Leupold 10-20x40mm Golden Ring Spotting Scope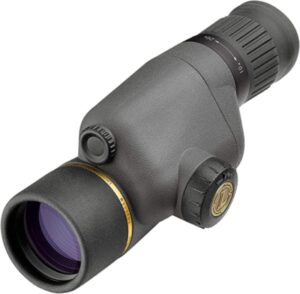 The Golden Ring Spotting Scope from Leupold is another premium-grade spotting scope that is optimized for portability. With a weight of 15.8 ounces only and a compact length of 7.5", the spotting scope is very easy to carry anywhere you go.
Built around Leupold's Advanced Optical System, the spotting scope offer high levels of light transmission for extended glassing sessions. Besides, it boasts fully multi-coated lenses that offer the best-in-class glare reduction in harsh light and unmatched low light performance.
The spotting scope is compact but built tough as nail. It has a carbon fiber construction that is incredibly rigid to stand up to anything you throw at it. Over and above that, the scope is waterproof, fog proof and guaranteed for life.
Features
Fully multi-coated optics
Straight eyepiece design
Waterproof and fog resistant
Robust carbon fiber construction
Side-mounted focusing knob
Pros
Precise, crisp and easy to adjust focus
Light and compact
Crisp clear optics
Generous eye relief
Cons
Limited observation range
6) Bushnell Engage DX 20-60×80 Spotting Scope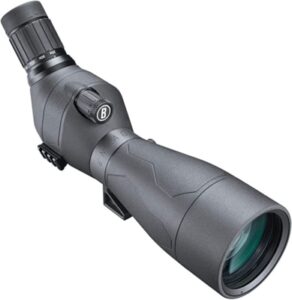 If you are in the hunt for the best spotting scope under $500 for hunting, look no further than the Bushnell Engage DX 20-60×80. It offers excellent range clarity in a package that is fairly lightweight, portable and simple to use.
Hunting is always rough on sighting tools especially when you are pursuing game in unfamiliar terrains. With this in mind, Bushnell built this spotting scope ready for use in any environment. It has a durable aluminum chassis with a rubber armor that provides great shield against tough outdoor environments.
To complement the robust construction, the spotting scope features an angled eyepiece that makes long range glassing comfortable. Furthermore, it has fully multi-coated optics and dielectric-coated prisms that work together to deliver crisp and vibrant image views even in low light environments.
In addition to everything else, the Engage DX 20-60×80 Spotting Scope features a EXO barrier hydrophobic lens coating that is molecularly bonded to the glass to repel water, oil, fog, debris and dirt.
Features
Powerful 20-60x magnification
Fully multi-coated optics
Durable aluminum chassis
EXO barrier lens protection coating
Shock absorbing rubber armor
Angled body design
Pros
Great value
Stunning low light visibility
Solid build
Cons
7) Athlon Optics Talos 20-60×80 Spotter Scope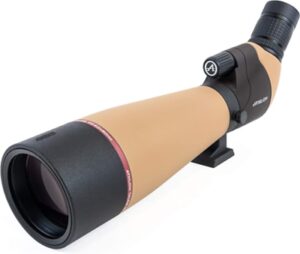 Next up we have the Athlon Optics Talos 20-60×80 Spotter Scope. This model features a broad 20-60x magnification range and a large 80mm objective lens that makes magnification useful even at the highest settings.
The eyepiece design of the spotting scope is angled. This optimizes its multifunctionality and makes it an ideal choice for group sharing. Furthermore, it boasts a sturdy and durable magnesium chassis that reduces weight as much as 30% and increases strength up to 40% more than counterparts made from aluminum alloy.
When it comes to the optical features, the spotting scope has UHD glass lenses and high-quality BaK4 prisms which work in tandem to produce brightly colored image views. It also boasts fully multi-coated optics to maximize low light performance by ensuring high levels of light transfer.
Above all, the spotting scope is waterproofed and purged with high grade argon gas which provides better thermal stability than nitrogen gas.
Features
Magnesium chassis base
Adjustable eyecup
Fully multi-coated optics
45-degree angled eyepiece
20-60x magnification power
UHD glass elements
Pros
Simple to make adjustments
Quality construction
Ease of viewing
Clear and high-quality glass
Cons
Hard to focus at highest zoom setting
8) Gosky 20-60×60 HD Spotting Scope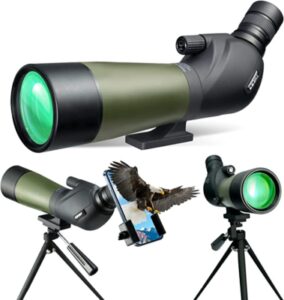 Lastly on our list of the best spotting under 500 is the Gosky 20-60×60 HD Spotting Scope. If you are new in the field of spotting scopes, this model suits you. It is not just affordable, but also very simple to use.
This spotting scope has an angled body design and a powerful 20-60x zoom eyepiece that makes it ideal for observing objects across different ranges. The 45-degree eyepiece guarantees great glassing comfort and is ideal for Digiscoping using the smartphone Digiscoping adapter included.
And that's not all. This optical equipment is built with durability in mind. It has a durable framework and high-quality rubber armor which not only provides a non-slip grip in wet environments, but also shields the optics from elements and abuse.
Moreover, the spotting scope is built ready for use in any environment. It is O-ring sealed to prevent moisture, dust and debris from getting inside. The optical tube is charged with nitrogen to be fully fog proof and with the eyepiece shield included, the eyepiece is protected from snow, rain and scratches.
Features
Fully multi-coated lens
High-quality rubber armor
Retractable eyepiece shield
Waterproof and fog proof
45-degree angled eyepiece
Adjustable 20-60x zoom magnification
Pros
High definition in low light
Full range of accessories included
Easy to use
Lightweight and portable
Read Also
Things to Look for in the Best Spotting Scope under $500
Build Quality
The overall build quality of a spotting scope is the first major factor to consider as it determines how durable and dependable the scope will be. Try and look for a product that has its chassis built with magnesium alloy or aircraft quality aluminum. Such spotting scopes are light yet sturdy enough to endure rough use and last for long.
Additionally, the best spotting scope under $500 should be have a rubber armoring to provide added shield from impacts. It should also be fully waterproof, fog proof and guaranteed for life.
Weight
Overall weight in spotting scopes varies from one product to the other. Irrespective of the kind of activity that you will using the scope for, it is important that you get a model that is lightweight. Lightweight spotting scopes are not just easy to use, but also great for travel as they are simple to carry around.
Lens Coatings
Lens coatings play an important role in all optical equipment and spotting scopes are not any different. If you take a scope that uses cheap lens coatings, you will find that the images generated are dark and blurry.
To avoid that, get a spotting scope that has fully-coated or multi-coated lenses. With proper lens coatings, the scope will maximize light transmission and result to production of bright and crisp image views.
Eyepiece Design
Spotting scopes have two eyepiece designs, straight and angled. Each design has its pros, cons and the activities its best suited for.
An angled spotting scope has the eyepiece placed at an angle with the objective lens. Such scopes are multifunctional and great for group sharing. They are also more comfortable on the neck and eyes when one is observing objects for long sessions.
On the other hand, straight spotting scopes have the eyepiece in line with the objective lens. Generally, straight spotting scopes are ideal for hunting as they allow the hunter to scout for game easily from any position.
FAQs
How much should I spend on a spotting scope?
The amount of money you spend on a spotting scope will largely depend on the features you need as well as your budget. For any outdoor activity, look at the features the spotting scope brings to the table and choose accordingly.
What is the best size for a spotting scope?
The best size of a spotting scope depends on several factors such as portability and the activity you will using it for. If you want to do a lot of long-range observations, get a product that has an objective lens of at least 80mm and a broad zoom power up to 60x. If portability is what you are after, a compact scope with not more than 60mm objective lens will suffice.
Final Thoughts
Finding the best spotting scope under $500 doesn't have to be a hard task. When you are well informed, it becomes a simple task to find a product that blends perfectly with your needs. No matter the spotting scope that you end up getting, it is my hope that you have found this post to be helpful.