Are you in the hunt for the best Vortex Binoculars? Look, no further as you are in the right place. This post will guide you on the best binoculars from the renowned and highly-respected Vortex brand.
When it comes to quality, reliability and functionality, Vortex binoculars are hard to beat. Built with versatility in mind, Vortex binoculars are ideal for hunting, birding, wildlife watching, ocean viewing, hiking and any other outdoor application. They are simple to use and ideal for all outdoor enthusiasts, beginners and professionals alike.
If you are a seasoned outdoorsy kind of person or you are just starting your new hobby, a quality pair of binoculars is an important item to have. It will bring you closer to the objects you are observing and let you see them in greater detail than you could have seen them with your naked eyes.
However, the biggest task is to find the right binoculars for your needs. The market is flooded with Vortex binoculars that finding your ideal pair can be overwhelming.
In this post, we have an in-depth review of eight of the best Vortex binoculars available on the market today. We will also give you a detailed buyer's guide to help you make the right selection based on your needs.
With all that said, lets jump right in.
8 Best Vortex Binoculars
1) Vortex Optics Razor UHD Binoculars 8×42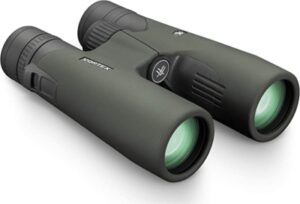 The Razor UHD Binoculars 8×42 is by far the best Vortex binoculars available out there. Built with high-end features and advanced technology, this pair of binoculars has virtually everything you will need in a pair of binoculars.
It has a versatile 8x magnification power and a 42mm aperture. With this configuration, you can use it to pick up a target at densely packed hills or observe an object in ultra-fine detail at close distances. It also possesses index-matched lenses that correct color across the whole visual spectrum and anti-reflective lens coatings for peak clarity and brightness of image views even in low light settings.
Another feature that makes this pair of binoculars shine is the robust construction. It has a magnesium chassis that brings greater strength with minimal weight. Further, the exterior lenses are protected from scratches and dust by an Armortek coating that is ultra-durable and scratch resistant. This unit also comes with a rubber armor which provides a durable external protection and a secure non-slip grip.
Moreover, the binocular has a right eye diopter to accommodate the differences in every user's eye and a smooth center focus wheel which provides fine focus control. It also has twist-up eyecups that make it eyeglass-friendly and you can mount it on a tripod for hands-free viewing.
Best of all, the binocular is argon purged and O-ring sealed to provide a lifetime of fog proof and waterproof performance.
Features
8x magnification
Index-matched lenses
Rugged rubber armor
Ultra-hard scratch proof Armortek lens coating
True open hinge design
Anti-reflective lens coatings
Twist-up eyecups
Smooth, center focus wheel
Pros
Lightweight yet durable design
Solid and sleek design
Tripod mountable
Crisp clear optics
Cons
2) Vortex Optics Viper HD Roof Prism Binoculars 8×42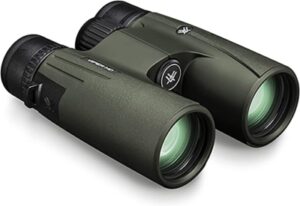 The Viper HD Roof Prism Binoculars have a nearly all the best and handy features built in an extremely compact and lightweight body. This makes them a perfect choice for hunters, birders and any other outdoor enthusiast.
Superb optical performance awaits you when you get this model. It employs a HD optical system that yields stunning resolution, color accuracy and edge-to-edge clarity. Better yet, the optics have an XR anti-reflective coating which provides bright and tack-sharp views of targets from dawn to dusk.
Moreover, this pair of binoculars is built ready for outdoor use. It has a rubber armored body that provides superior ergonomics and scratch-resistant Armortek lens coating that shields the exterior lenses from scratches, dirt, dust and oil stains. It is also purged with Argon and O-ring sealed to be fully waterproof and fog resistant.
Other noteworthy features included are twist-up eyecups, smooth center focus wheel and a locking, right eye diopter.
Features
Waterproof and fog proof construction
XR-anti-reflective lens coatings
Easy-to grip, rubber armored body
Twist-up eyecups
Roof prism
High density optical system
8x magnification
Smooth center focus wheel
Pros
GlassPak chest harness included
Lightweight design
Large field of view
Comfortable eye relief
Cons
Slightly stiff adjustments
3) Vortex Optics Fury HD 5000 10×42 Laser Rangefinding Binoculars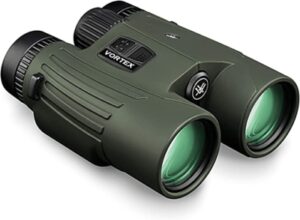 If you are in the market for the best Vortex binoculars for hunting, look no further than the Fury HD 5000 10×42 Laser Rangefinding Binoculars. It doubles as a long range rangefinder to help you make the most out of your hunting trips.
The binocular provides two target modes: best mode that displays the strongest range result and last mode that displays the furthest distance. It also brings to the table an advanced LOS mode that gives you the option to calculate high angle shots with higher precision and a primary HCD mode that shows the angle compensated distance.
More importantly, the Fury is fully waterproof to prevent moisture from interfering with your viewing experience and nitrogen purged to prevent build of fog on the lenses. It also possesses an ultra-durable rubber armor which provides a solid grip even when wearing gloves.
This pair of binoculars employs XR fully multi-coated HD lenses which deliver clear, bright and admirable views from sunrise till when the sun sets. It also has a lightweight design for ease of portability and a tripod adapt for use on either a tripod or car window mount.
Features
10x magnification
XR fully multi-coated HD lenses
Fully waterproof and fog proof
Advanced LOS mode
Two target modes
HCD mode
42mm objective
Pros
Doubles as a range finder
Tripod adaptable
User-friendly controls
Illuminated right barrel
Lightweight and portable
Cons
Only suitable for rangefinding
4) Vortex Optics Diamondback HD Binoculars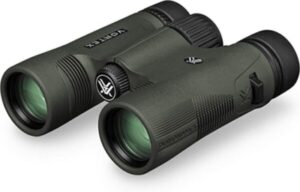 The Diamondback HD 10×42 binoculars are the best Vortex binoculars for the money. They offer the best balance of performance and value for money.
Featuring 10x magnification and a 42mm objective lens, this model offers reliable performance at long ranges no matter the light or weather condition. It also comes with a generous field of view for rapid target location and a comfortable eye relief for fast target acquisition.
Like any other Vortex Optic, the Diamondback binocular is fully waterproof and fog proof. It also possesses a rugged construction to weather recoil and impacts, and a rugged rubber armor that provides a secure, slip-resistant grip.
Moreover, this model has fully multi-coated lenses that enhance light transmission for bright, vivid and detailed image views. It also has a right eyepiece diopter that adjusts for differences in the user's eye and a center focus wheel that is easy to access and use even when you are on the move.
Features
Fully multi-coated lenses
Adjustable eyecups
Armortek lens coating
Waterproof and fog proof
Rubber armored housing
Easily accessible center focus wheel
10x magnification
Pros
GlassPak harness included
Budget-friendly
Crystal clear optics
Tripod adaptable
Long eye relief
Cons
5) Vortex Optics Kaibab HD Binoculars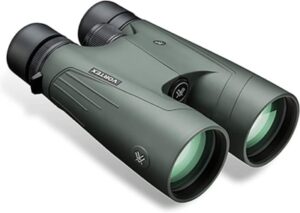 Next up is the Kaibab HD Binoculars. This roof prism binocular has a massive 18x magnification and a large 56mm aperture. This combination makes it ideal for astronomy as well as long-range bird watching and hunting.
The binoculars is fully waterproof for use even in adverse weather conditions. Better yet, the lenses are purged to prevent fog build up when you move between two locations with a noticeable temperature gradient.
Furthermore, the Kaibab employs premium-quality optics and fully multi-coated lenses to deliver bright, clear and high-quality image views in near any lighting condition. It also comes with ultra-snug twist-up eyecups that are perfect for lengthy glassing sessions and a hard-wearing rubber armor that provides a secure grip in all environments.
Features
High 18x magnification
APO optical system
Durable rubber armor
Fully multi-coated lenses
Right eye diopter
Waterproof and fog proof
23feet close focus
Ultra-hard and scratch proof Armortek lens coatings
Pros
Multi-position eyecups
Great for long range applications
Superb low light performance
Extremely bright and clear images
Cons
Heavier
Narrower field of view
6) Vortex Optics Crossfire HD Binoculars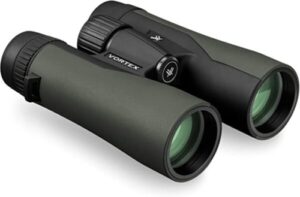 The Crossfire HD Binoculars are arguably the best Vortex binoculars for beginners and the budget buyers. They are reasonably affordable, simple to use and ideal for a wide range of applications.
This set of binoculars is built to be nearly indestructible. It has a ruggedized body designed to stand up to recoil, impact and shock. It also has a rubber armor that not only provides additional external protection, but also offers a secure, slip-resistant grip.
Furthermore, its body is sealed with O-rings to prevent entry of moisture and dirt, and nitrogen purged to keep the lenses fog-free all through. Other than that, this model has a roof prism design which is valued for greater durability, compactness and ease of use. It also comes with a center focus wheel that is easy to access in any situation.
To top it all, it utilizes fully multi-coated lenses that yield bright and crisp image views even in low light settings.
Features
Fully multi-coated lenses
Adjustable eyecups
Waterproof and fog proof
Center focus wheel
10x magnification
Right eyepiece diopter
Rugged rubber armor
Durable roof prism design
Pros
Easy on the wallet
Compact and portable design
Extra-wide field of view
Ideal for multiple applications
Good for both long and close-range applications
Cons
7) Vortex Optics Razor HD Roof Prism Binoculars
As one of the best Vortex binoculars, the Razor HD Roof Prism Binoculars offers the best combination of advanced optical technologies and high-end components at a light, compact and ergonomic package.
This model has 10x magnification power and a 42mm objective lens. The high magnification comes in handy when hunting, birding or observing wildlife at extended ranges. Better yet, it has premium anti-reflective coatings with a cutting edge plasma tech application that guarantees optimal image brightness and crispness in any light conditions.
Furthermore, the binocular has a true open hinge mechanism chassis that provides a strong, light and ergonomic design. On top of that, it has strategically placed indents which provide a comfortable grip even in the wettest weather conditions and an Armortek lens coating that shields the lenses from oil, dirt and scratches.
Last but not least, the Razor HD Roof Prism Binoculars bring to the table multi-position eyecups which are adjustable for comfortable viewing even with your eyeglasses on.
Features
Multi-position eyecups
True open hinge magnesium chassis
Locking right eye diopter
Waterproof and fog proof
Premium high-density glass
Armortek lens coatings
Fully multi-coated lens
10x magnification
Pros
Lightweight and ergonomic design
Crystal clear optics
Ideal for both long range and close-range use
Generous eye relief
Cons
8) Vortex Optics Raptor Porro Prism Binoculars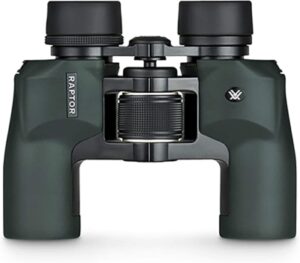 Lastly, we have the Raptor Porro Prism 10×32 Binoculars. This is a medium sized binocular whose compact and lightweight design makes it ideal for both adults and kids. It is also a quality optic whose versatility is second to none.
Featuring fully multi-coated optics, this pair of binoculars yields bright, clear and color accurate sight pictures even in poor light conditions. The wide interpupillary distance makes it easy to use even for kids and with the twist up eyecups, it can be used comfortably by all people with or without eyeglasses.
More importantly, this optic is sturdy enough to take in the beating. It has an ultra-durable rubber armor that protects the optics from weather elements while ensuring that you get a secure, slip-resistant grip. It is also fully waterproof and fog proof for use even in extreme weather conditions.
Features
Twist up eyecups
15feer close focus
Rubber armored body
Fully multi-coated lenses
10x magnification
A wide range of interpupillary distance
Pros
Pocket-friendly
Ideal for both adults and kids
Easy to use
Lightweight design
A relatively large field of view
Cons
Read Also
Factors to Consider when Choosing the Best Vortex Binoculars
Vortex offers a multitude of binoculars and each model is unique in its set of features and how it performs. Here are some of the key factors you should take into consideration when making your selection.
Model
Vortex binoculars are available in different models with the most popular ones being the Razor UHD and HD, Viper, Crossfire, Diamondback and others. The Viper and Razor models are two of their greatest product lines whose versatility and performance is second to none. If you need a high-end pair of binoculars, the UHD  models are the best. They compete with other high-end models from other brands like Swarovski and Zeiss where they stand out thanks to the precision and ultra-high resolution as well.
On the other hand, the Crossfire and Diamondback models are the best options for the budget buyers.
Magnification
The next important factor to consider is magnification. It determines how far you will be able to glass and see the target clearly.
For close range applications where a wide field of view is essential, it is best to go for model with 8x magnification. For hunting in large open spaces, get a 10x model. But for long range use especially astronomy, look for a model with an upwards of 12x magnification.
Objective Lens Size
The size of the objective lens determines how much light the binoculars collects. For most outdoor applications, binoculars with a diameter  that ranges from 32mm to 42mm are the best. They will optimize light collection, offer a decent field of view and stay light for convenient carrying in the field.
Eye Relief
If the binoculars have a poor eye relief, you will have a hard time glassing comfortably. This is particularly the case if you put on eyeglasses.
Eye relief is the distance from the eyepiece of the binoculars to your eye and it is what determines the comfort of glassing. Try and look for a model that offers a long eye relief of between 15mm and 19mm. Also consider getting a pair that has adjustable eyecups so you will have the flexibility to customize the eye relief based on your preference
Weight
You should also take into account the weight of the binoculars. Lightweight binoculars are the best for most applications due to their portability. Additionally, light binoculars are simpler to use even for the beginners and more comfortable on the hands during long glassing sessions.
Price
Lastly, consider the price. The good thing about Vortex is it offers a plethora of quality binoculars at varying price tags to meet the budget needs of every user out there. You can spend up to $1000 or more for the high-end models are less than $200 for the budget binoculars. It all trickles down to the features that you need and your budget.
Advantages of Vortex Binoculars
Affordable yet quality binoculars
Unconditional, transferrable lifetime warranty
A wide range of good entry-level models to choose from
All-weather reliability
High-quality construction which maximizes durability
Lesser chromatic aberration
Best Vortex Binoculars FAQs
Are Vortex binoculars any good?
Absolutely. Vortex binoculars are some of the best binoculars available on the market today. They yield reliable performance in any situation and great durability. Most Vortex binoculars are also ultra-versatile and ideal for more than one outdoor application.
Which Vortex binoculars are the best?
Given the plethora of models available, it is hard to say that there is a particular Vortex Binocular that is ideal for all users out there. You have to consider your intended usage, needs and preferences then find a model that suits you best.
Where are Vortex binoculars made?
The company that sells Vortex optical instruments including binoculars is based in Wisconsin. However the actual manufacturing takes place in Japan, China and the Philippines.
Final Thoughts
The best Vortex binoculars largely depends on the intended usage, your individual needs and preference as well. All the models listed above make a handy accessory for any outdoor enthusiasts looking to better their views of the great outdoors.
With plenty of models out there, choosing the right model can be taxing and time-consuming, but irrespective of what your needs are, there is a binocular out there for you.