Are you in the market for the best binoculars for hunting? If yes, look no further. In our post today, we are going to take you through the best binoculars for hunting available on the market currently and make your selection and buying process less taxing.
The single most vital tool every hunter should have other than their hunting weapon is an optic to improve their vision and the speed of target identification. In this day and age, binoculars are one of the indispensable optics one can have when hunting.
A good pair of binoculars for hunting will ensure that you see the target more clearly. With good image clarity, you will be able to plan the shot and increase your odds of placing it accurately and ethically. If you are scouting game at longer ranges, you will be able to spot the game with ease and make shoot accurately even in difficult situations.
In this post, we are going to help you understand the qualities that the best binoculars for hunting have and then explore the best models that make a handy and valuable companion for every modern hunter out there.
What Makes a Great Pair of Binoculars for Hunting?
Hunting at any distance and environment can be thrilling but it is no easy task. To have a rewarding hunting expedition, you should have a pair of binoculars that us up to the task.
For a set of binoculars to be great for hunting, it should have quality lenses that yield bright and clear image views. This is regardless of whether you are hunting in broad daylight or in low light settings of dusk and dawn.
Secondly, the binoculars should have the correct magnification and a large objective lens. Magnification brings you close to distant targets without having to move to close to them. A large objective lens on the other hand maximizes light collection and offers a wide viewing angle.
A great pair of hunting binoculars should be waterproof, dustproof and fog proof for use in all weather conditions. It should also have a lightweight design so it is easy to hold and carry as you move around searching for game. Lastly, the binoculars should have a durable construction to withstand rough handling that comes with hunting.
7 Best Binoculars for Hunting – Our Top Picks
With too many options out there, choosing the best binoculars for hunting can be overwhelming. We will walk you through the best models and the unique features that make them magnificent. Let's get started.
1) Nikon 7576 Monarch 5 8×42 Binocular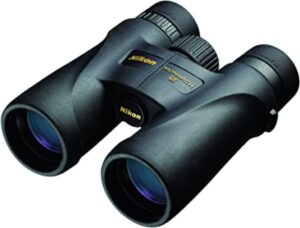 First up is the Nikon Monarch 5 8×42 Binocular. Nikon is a highly-respected name in the optics industry. It makes high quality optics and this is clear in this model . Made with all hunters in mind, the binocular will help boost you hunting confidence and elevate your hunting skills.
Unmatched optical clarity awaits you when you get this pair of binoculars. Built with ED glass lenses, it offers high resolution and unmatched color accuracy. Besides, the Eco-glass incorporated are fully multi-coated to optimize light transfer for bright, detailed and color accurate image views.
With a weight of just 1.3 pounds, the unit is super lightweight for mobility convenience. It also boasts a rubber armored body which provides a non-slip grip and greater durability. Furthermore, it is O-ring sealed and filled with nitrogen to offer total waterproof and fog proof performance.
The other essential features the binoculars boast are a smooth central focus knob, Nikon's high-eye point design and turn and slide rubber eyecups.
Features
ED glass lens
Waterproof and fog proof design
Rubber armored body
Fully multi-coated Eco-glass lens
Smooth central focus knob
8x magnification
Turn and slide rubber eyecups
42mm aperture
Pros
Compact and ultra-lightweight design
Eyeglass-friendly
Non-slip grip
Simple and intuitive design
Solid construction
Cons
The focus wheel is squeaky
2) Steiner Predator Series Hunting Binoculars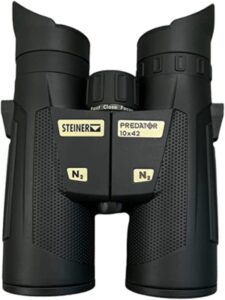 The Steiner Predator AF Binoculars are built with a host of features to make your hunting trip a success. It has an intuitive and simple design that makes it appropriate for use by all hunters even beginners.
This binocular keeps prey in focus at any distance from 20 yards to infinity. It has an advanced optical design which yields unmatched optical clarity and advanced CAT lenses which reveal game hidden in cover or shadow.
In terms of construction, the binocular is made to be virtually indestructible. The rugged Makrolon housing maximizes its strength and durability to give you many years of field use. The laser textured body provides a firm grip in all weather conditions and with the waterproof and fog proof design, you can go hunting even in extreme weather conditions.
Above all, this unit has a wheel-free open bridge design which makes it lightweight and comfortable to hold securely.
Features
10x magnification
Porro prism design
Wheel-free open bridge design
Ergonomic silicone eyecups
Waterproof and fog proof
CAT game sensing lens coatings
Fast-close-focus central focusing wheel
Pros
Lightweight design
German quality
Ergonomic, non-slip grip
Large field of view
Great value for money
Cons
Takes a while to get used to it
3) Leupold BX-4 Pro Guide HD 10x42mm Binocular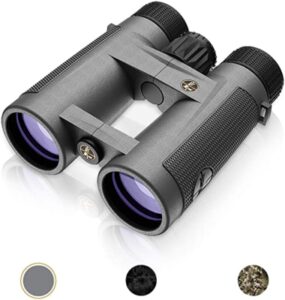 Carrying the well-respected Leupold name, the BX-4 Pro Guide HD 10x42mm Binocular is a great choice for long range hunting in open fields. Whether you are hunting deer, elk or any big or small-sized game, this binocular up to the task.
The optical clarity the binocular yields in unparalleled. Utilizing Twilight Max HD Light Management System, it produces bright and high contrast views of targets even in twilight conditions. It also features HD calcium-fluoride lenses that yield outstanding image crispness and a large 42mm aperture that enhances low light performance.
For optimal user comfort, the binoculars boast a long eye relief for use with or without eyeglasses and an extremely lightweight and ergonomic open-bridge, dual-hinge design for convenient portability. Construction-wise, the binocular's body has a rubber armor coating which provides a positive grasp even in wet hunting environments or when you are wearing gloves
Best of all, this set of binoculars is fully waterproof and fog resistant for performance in all weather conditions.
Features
Twilight Max HD Light Management System
100% waterproof, fog proof and shockproof
Premium BaK-4 prisms
Open-bridge, dual-hinge design
HD calcium-fluoride lenses
Twist-up eyecups
10x magnification
42mm objective lens
Pros
Outstanding low light performance
Field replaceable eyecups
Precision focus adjustment
Secure, non-slip grip
Lightweight and ergonomic design
Cons
Can be difficult to make adjustments
4) Vortex Optics Fury HD 5000 10×42 Laser Rangefinding Binoculars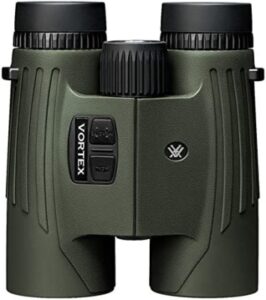 Next up is the Fury HD 5000 10×42 Laser Rangefinding Binoculars. Having this model as your primary hunting optic will make glassing and distance measurement rapid and efficient.
Featuring a built-in laser rangefinder, you will be able to calculate the distance to the target swiftly and plan the shot. It also has an LOS mode which provides a higher degree of shooting accuracy and two target modes that make your hunting trip more enjoyable and rewarding.
Besides that, this product is made to withstand whatever you throw at it. It has a shockproof design that makes it recoil proof and impact resistant. It also has a compact yet hard-wearing roof prism design that adds on durability and Armortek lens coatings that shied the exterior lens from oil stains, dust and scratches.
Another feature that makes the binocular a favorite for many hunters is the outstanding optical clarity. It has XR fully multi-coated HD lenses that enhance light transmission to provide admirably bright and clear views of targets under virtually any lighting environment. It also possesses a decent eye relief that enhances eye comfort during lengthy hunting sessions.
Other essential features you will find in the binoculars are a center focus wheel, clean illuminated display and a weatherproof design.
Features
Rubber armored housing
XR fully multi-coated HD lenses
10x magnification
Waterproof and fog proof design
Armortek coating
Two target modes
Integrated laser rangefinder
Pros
Easy to use menu
Crisp clear views
Compact yet durable design
Tripod adaptable
Fast and accurate ranging
Cons
5) Vortex Optics Crossfire HD Binoculars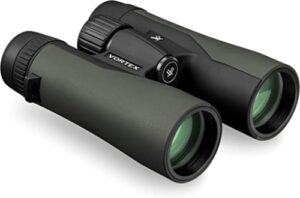 If you are in the market for the best binoculars for hunting for the money, this is it. The Crossfire HD 10×42 roof prism binoculars is designed to offer HD image clarity and reliable performance in any hunting environment at a cost that is budget-friendly.
Whether you prefer to hunting during the day, early in the morning or late in the evening, the binocular got you covered. It delivers bright, clear and sharp image views under any lighting environment. This is thanks to the fully multi-coated lenses  and the large 42mm objective lens.
Furthermore, this optic is made with simplicity in mind. It has a lightweight design for snug handling and convenient carrying in the field. The right eyepiece diopter adjusts for the focal differences in every user's eye and with the center focus wheel, focusing the optic becomes a walk in the park.
When it comes to construction, the binocular has a robust aluminum body wrapped with a rubber armor. The armoring enhances durability and also provides a secure, anti-slip grip. To top it all, it sealed with O-rings to lock out dirt and moisture, and nitrogen purged to counter internal fog build up.
Features
10x magnification
Rubber armored body
Adjustable eyecups
Fully multi-coated lenses
Center focus wheel
Right eyepiece diopter
Waterproof and fog proof
Pros
Best value for money
Rugged and reliable construction
Smooth focus
Excellent low light performance
Cons
6) Maven B1.2 42mm ED Binoculars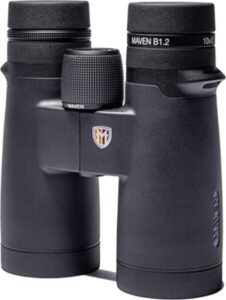 Next on our list is the Maven B1.2 42mm ED Binoculars. It features 10×42 configuration which is perfect for multiple hunting applications in different environments.
This set of binoculars brings to the table a wide field of view which is what every hunter desires in an optic. It also boasts a wider Schmidt-Pechan prism that offers excellent light transmission for bright and clear image views. Further, this unique prism design and the large 42mm aperture both work together to optimize low light performance and ensure that you find game with ease from dawn till dusk.
Weighing about 1.68 pounds, the binocular is fairly lightweight and portable. It comes with a neoprene neck strap for convenient carrying in the field and a double-layered microfiber storage bag as well. Additionally, it boasts a smooth focus mechanism that makes image focusing a snap.
In addition to everything else, this is an all-round pair of binoculars suitable for birding, wildlife viewing and other activities not just hunting.
Features
Wide-angle Schmidt-Pechan prism
Magnesium frame
ED glass
10x magnification
Center focus system
42mm aperture
Fully coated lens
Pros
Smooth focus mechanism
Wide field of view
Superior low light performance
Suitable for multiple applications
Cons
7) Leica 10×42 Noctivid Binoculars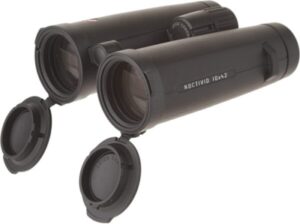 Lastly, we have the Leica 10×42 Noctivid Binoculars. If you are a seasoned hunter looking to take your hunting skills to the next big level, this high-end and top-performing binocular from Leica is what you need. It harbors an array of functional and shooter-friendly features that can help you be a better hunter and turn your hunting excursions into a success every time you go hunting.
You can use the binoculars with or without eyeglasses. This is thanks to the generous eye relief it presents. To ensure that you get high-quality image views, the lens elements are positioned with absolute precision which prevents degradation of image quality by light. The binocular also comes with a centrally placed focus wheel for smooth focusing.
Another remarkable feature about the binoculars is the superb built quality. You can use in rough hunting environments and it will still offer reliable performance. It is also waterproof and weather resistant to ensure that bad weather condition don't stop you from going out to hunt.
To top it all, the device comes with a slip resistant rubber armoring which maximizes durability and provides a positive grasp even in wet and humid environments.
Features
Non-slip rubber armoring
Schott HT glass
P40 phase corrected roof prism
Central focusing system
Waterproof and weatherproof design
Pros
Fast and precise focusing
Crystal clear views in all weather conditions
Generous eye relief
Perfect color brightness and contrast
Good build quality
Cons
Read Also
Factors to Consider When Choosing the Best Binoculars for Hunting
With so many binoculars to choose from, here are the key factors you should consider when making your selection.
Magnification
Magnification also known as zoom power is the first number before the "x" in binoculars configuration. It is an important factor to consider as it determines the distance you can glass targets at.
The best magnification for binoculars is either 8x or 10x. 8x models offer a wide field of view which is essential when hunting in densely forested areas. Such models are also more compact, lightweight and affordable.
10x magnification on the other hand it ideal for hunting at longer ranges. It gives you a much closer and detailed view of the target but sacrifices the field of view.
Objective Lens
Like in any other optic, the objective lens in binoculars is responsible for collecting light. The larger it is, the more light it collects. This means that the images generated will be brighter and richer in detail even in low light settings.
For hunting, a pair of binoculars with an objective lens that spans from 40mm to 50mm will do. It will offer good optical performance while maintaining a low profile so it is not too big to interfere with the way you move and carry it.
Build Quality
The next important feature to consider is the binocular's build quality. Hunting is rough and any fragile unit will end up getting destroyed after a few hunting excursions.
Get a unit that is made with premium quality materials like aluminum and magnesium. The binoculars should also come with a rubber armoring. It will maximize durability by absorbing shock and also give you a secure, slip-resistant grip.
Lens Coatings
Lens coatings are an important part of every pair of binoculars. The best binoculars for hunting have their optics fully coated. Lens coatings assist in light transmission and also cut on light loss which is caused by glare and light reflection. Additionally, they help protect the lenses from scratches.
Weight
Choose binoculars that are light in weight. This will enhance your mobility convenience and ensure that you glass comfortably even during long hunting sessions. Lightweight binoculars are also easy to carry by hand and comfortable on the neck when you carry them with a neck strap. They also eliminate the need to use a tripod.
Weather Resistant
The other important feature you should take into account is whether or not the binoculars are weatherproof. The best binoculars for hunting are built to be operable under any weather condition.
When making your selection, ensure that the pair you get is built is fully waterproof and fog resistant. It should be sealed to lock out moisture, dirt and dust. On top of that, it should be usable in a wide range of temperatures and filled with argon or nitrogen gas to be fog resistant.
Best Binoculars for Hunting FAQs
What size binoculars do I need for hunting?
This will depend on your preference, hunting distance and environment. 8x is a great choice for all-round hunting at close ranges and in densely forested areas. On the other, 10x is better when hunting at long ranges in more open plains.
Do I need binoculars for hunting?
Yes. Having a good pair of binoculars can change how you hunt for the better. Modern hunting binoculars provide ultra-clear views of target and excellent performance in virtually all lighting and environmental conditions.
What do numbers on binoculars mean?
Model numbers in binoculars represent the magnification power and the size of the objective lens. In an 8×42 model for example, 8 is the magnification/zoom power and 42 is the diameter of the objective lens/aperture in millimeter.
Final Thoughts
A good pair of binoculars is an important tool to have when hunting. It will greatly increase your shooting accuracy and ensure that the shot is placed ethically. We hope that this guide has given you the information you require on the best binoculars for hunting. Pick the model that matches your preference and hunting style, and use it to better your hunting expeditions this season.