Rangefinder binoculars are incredible. You can use them to observe targets at longer distances and measure how far they are from you simultaneously. Such functionality comes in handy for hunters, golfers and mariners in addition to wildlife watchers and avid nature and outdoor enthusiasts.
Laser rangefinder binoculars make an important tool in every outdoor enthusiast tool kit. This is largely because they save you the hassle of purchasing and using two devices separately. But finding the best model can be a tough and time-consuming task given the wide selection of options available on the market currently.
If you are in the hunt for a pair of rangefinder binoculars, you are in the right place. We have taken our time and put up this review on the best rangefinder binoculars worth the money to help make your selection process less daunting. But before we dive into the models in detail, let us begin by looking at the attributes that a make a great rangefinder binocular set.
Features of a Great Pair of Rangefinder Binoculars
There are numerous attributes that makes a pair of rangefinder binoculars great. To start with, the rangefinder binoculars should have quality optics that deliver excellent image brightness and clarity, even in low light conditions.
Secondly, the binoculars should have a decent detection range for viewing targets at varying distance. It should also have the appropriate zoom range depending on the activity you purpose to use it for, and ample eye relief for comfortable observation. Moreover, the binoculars should be rugged and tough enough to take the beating and be both waterproof and fog resistant so you will be able to use them even in inclement weather.
Above all, it should have a lightweight and ergonomic body design that fits perfectly in your hands for comfortable carrying.
Best Rangefinder Binoculars Worth the Money – Our Top Picks
Rangefinder binoculars are high end optical tools ideal for a wide range of outdoor applications. Wherever you go and whatever activity you engage yourself in, these binoculars make the perfect companion
Without further ado, let's take a look at what we have for you.
1) Vortex Optics Fury HD 5000 10×42 Laser Rangefinding Binoculars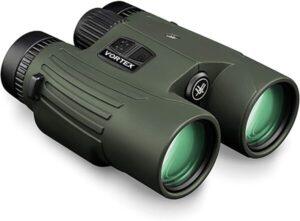 The FuryHD 5000 Laser Rangefinding Binoculars offer a wide range of high-quality and outstanding features which make it one of the best rangefinder binoculars worth the money out there. Whether you are hunting, watching wildlife or engaging in any other outdoor fun activity, this pair of range finding binoculars will help you get the absolute best out of your outdoor excursion
It is designed to offer two target modes; Best mode and Last mode. The former provides the distance measurement of subject with the strongest range result, while the latter shows the farthest distance when scanning and panning. To add on that, the binocular has a HCD mode, a mode that is indispensable for rifle and archery shooting.
Another best thing about this set of binoculars is rugged make that makes it robust and reliable. It has shockproof housing to stand up the highest levels of both impact and recoil. It also possesses an Armortek lens coating that shields the lens from scratches, a non-slip rubber armor which provides a sure grip and a waterproof design for use even under the most extreme weather conditions.
Furthermore, this range finding binoculars set features XR fully multi-coated lenses which optimize transfer of light to deliver exceptional clarity from sunrise till dusk. Other useful features included are multi-position eyecups and a center focus wheel.
Features
Two target modes
XR fully multi-coated lenses
Rubber armored housing
Dielectric phase-corrected prism
Multi-position eyecups
Yards or meters ranging format
Armortek lens coating
Waterproof and fog proof
Pros
Rugged and well-built
Quick to focus
Lifetime warranty
Comes with multiple accessories
Easy to use
Cons
2) Nikon LASERFORCE RANGEFINDER Binocular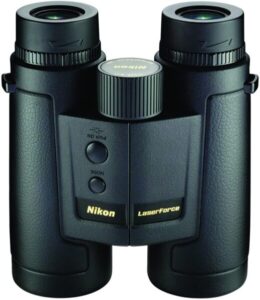 Nikon makes responsive and excellent quality optical devices and this is clear in the Nikon LASERFORCE RANGEFINDER Binocular. This binocular is admirably simple to use and a handy companion when you are out enjoying the great outdoors.
This rangefinder binocular is made with serious hunters in mind. With it, you will be able to pick out subjects that are as far as 1,900 yards away and get an accurate distance reading. This will help you make more accurate shots even in the toughest hunting conditions. Also, it has a very bright and clear OLED display that is readable even under low lighting conditions.
Moreover, the binocular has a rugged design that is sturdy enough to take harsh beating. It also has a waterproof and fog proof construction to ensure that you use it even under harsh weather conditions. Better yet, it boasts full multi-layer lens coatings and ED glass that work together to deliver sharp, bright and color-accurate sight images regardless of the lighting and weather conditions.
Features
10 to 1,900 yards detection range
Incline and decline technology
Flip-down objective lens covers
Full multi-layer lens coatings
Waterproof and fog proof construction
Rugged aluminum alloy body
Rugged rubber armoring
Pros
Lightweight design
Long battery life
Good glass quality
Fast and accurate rangefinder
Backed by a lifetime warranty
Cons
The binocular at times experiences slight delay in reading display
3) Swarovski 10×42 EL Range Binocular/Laser Rangefinder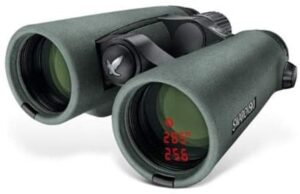 The 10×42 EL is one of Swarovski top notch laser rangefinders. Carrying this laser rangefinder binocular on your next hunting trip will make your expedition more fun and rewarding.
Featuring a large 42mm objective lens, the binocular offers superb resolution and outstanding optical performance in poor light conditions. It also comes with an accommodating eye relief for snug observation and twist-up eyecups which makes the binoculars friendly for all users with or without eye glasses.
Furthermore, this range binocular offers a generous viewing angle and a ranging distance out to 1,500 yards. Construction-wise, it is well-built with high-grade materials to offer long-lasting durability. It is also fully waterproof so it is safe to use when it is misty or there is a heavy down pour.
In addition to everything else, this Swarovski laser rangefinder binocular also comes with fully multi-coated lens system that offers excellent transfer of light for brighter and clear image views.
Features
Fully multi-coated optics
Manual focus
Weather resistant body
Twist-up eyecups
10x magnification
Dual locking diopter
1,500 yards detection range
Pros
Tripod adaptable
High-quality optics and roof prisms
Pure color rendition
Spectacular image views
Cons
Battery not long lasting
Slightly bulky
4) Sig Sauer 5270-1296 Binoculars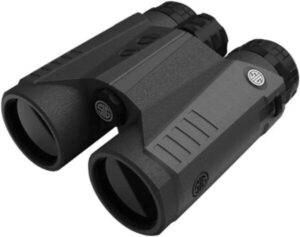 These 10×42 binoculars from Sig Sauer are by far the best range finding binoculars for hunting out there. They provide outstanding image clarity even in low light settings and superior performance as well.
One of the best things about the binoculars is the lightweight design. They have an ergonomic and slim design that fits on your hands nicely such that you won't feel fatigued even when you hold them for an extremely lengthy period of time. Besides, the whole binocular is weatherproof so you can use it with confidence that it won't get damages in rainy and wet conditions.
Furthermore, these rangefinder binoculars have a ranging distance out to 5000 yards. This long detection range is more than sufficient for a wide range of outdoor applications not just hunting. They are also equipped with high-end internal applied ballistics and a nice and clear display that remains visible even in low light settings.
Features
Weather resistant construction
Ergonomic and well-made body
5000 yards detection range
10x magnification
42mm objective lens
High-quality optics
Clear and impressive display
Pros
Great accuracy
Top-notch internal applied ballistics
Fairy simple to use
Solid built
Cons
Less suitable for use in twilight conditions
Lacks lens covers
5) Leica 8×56 Geovid HD-B 3000 Rangefinder Binoculars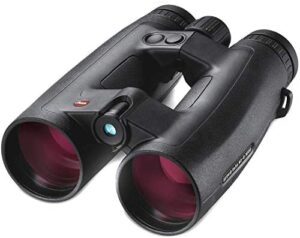 Next on our list of the best rangefinder binoculars worth the money is the Leica Geovid HD-B 3000 binoculars. It is one of the best pairs of binoculars from Leica that has a built-in rangefinder.
This binocular has an effective detection range of about 3000 yards. This ultra-long detection range is what makes it ideal for long distance viewing. Better yet, it is designed with an LED display which provides excellent readability of the data measured in any lighting and weather conditions. It also features HD lenses with ED glass that offer excellent resolution and color fidelity.
The HD-B binocular also comes equipped with eyepiece covers and lens caps for added outdoor safety. Last but not least, it has a waterproof construction for use on any weather and an ergonomic design that ensures comfortable carrying and use in the field.
Features
Decent 8x magnification
Waterproof construction
Powerful IR laser
Large 56mm objective lens
ABC ballistics
3000-yard ranging distance
Pros
High-quality optics
Ergonomic design
Solid construction
Night vision
Fast and accurate readings
Cons
Bulky design
No autofocus
6) Bushnell Fusion 1-Mile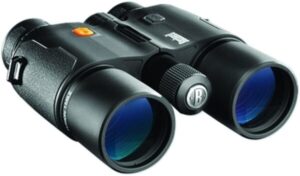 When it comes to efficiency and versatility, it is hard to go wrong with the Bushnell Fusion 1-Mile binoculars. As one of the best rangefinder binoculars worth the money, it offers the world-leading laser range finding abilities so you can spot and determine how far your subject is efficiently and with ease.
With this binocular, you are assured of stunning image clarity and edge-to-edge sharpness. This is thanks to premium fully multi-coated optics that optimize transmission of light and the BaK-4 prisms that enhance resolution and color fidelity. For extra convenience, the binocular displays accurate distance readings to target from 10 yards out to 1,760 yards with a simple press of a button. Plus, it is has a compact and light design for easy carrying in the field.
Bushnell made these binoculars to be nearly indestructible. With the ruggedized construction, you can expect it to take in any beating. Plus, it is fully waterproof and fog resistant to ensure reliable performance in any weather condition. The other handy features included are an integrated ARC Bow Mode, a center focus system and twist up eye cups.
Features
Fully multi-coated lens system
RainGuard HD water repellent coating
Waterproof and fog resistant
BaK-4 prisms with PC-3 phase corrective coatings
Center focus system
Twist up eye cups
Integrated ARC Bow Mode
Pros
Battery included
Excellent low light performance
Great value for money
Light, compact and easy to carry around
Cons
Less accurate at close distances
Poorly designed eyecups
7) SYNPEX Knight LRF1800 8×42 Laser Rangefinder Binoculars
Lastly we have the SYNPEX Knight LRF1800 8×42 Laser Rangefinder Binoculars. This binocular has an advanced 1800 laser-based rangefinder that makes it perfect for hunting, law enforcement and military applications and more. Plus, it provides accurate range measurements at each and every range from 116.4 feet up to 1.12 miles.
Outstanding optical clarity and resolution awaits you when you purchase this pair of rangefinder binoculars. It is designed with multi-coated optics that deliver HD clarity and large 42mm objective lens which delivers outstanding low light performance.
Moreover, this Knight LRF1800 is filled with nitrogen to ensure that internal lens fogging doesn't happen. It is also  O-ring sealed to avoid intrusion of water, dust, dirt and debris that can damage the optics. With this construction, you get reliable performance even under the harshest weather conditions.
Construction-wise, it has an aluminum alloy body that is covered with a rugged rubber armor. This armor not only absorbs shock, but also provides a sure, non-slip grip especially in wet conditions. To top it all, you will get a clear digital display and a scan mode for ranging tiny and moving targets.
Features
Class 1 eye safe laser
Scan mode for continuous ranging of moving targets
Shock absorbing rubber armor
Waterproof and fog proof
Durable aluminum alloy body
BaK-4 phase coated roof prisms
Modern 1800 laser-based rangefinder
Pros
High precision
Easy to use
Superb low light performance
Ideal for multiple outdoor applications
Technology for focusing on the moon and stars
Cons
Could have a better warranty
Bulky at 6 pounds
Read Also
Rangefinder Vs Rangefinder Binoculars
The chief benefit of using rangefinder binoculars is that it saves you from carrying two optical devices separately. This is particularly helpful when hunting as it reduces the number of tools that you carry around. Furthermore, rangefinder binoculars offer a longer ranging distance almost double of what rangefinders provides. Not to mention that rangefinder binoculars offer almost double zoom range compared with rangefinders and they are also more versatile.
However, rangefinder binoculars have some down sides. First, they are way more expensive than rangefinders. Secondly, they are bulky and less compact. So, if you are after portability, you can consider getting a rangefinder.
But at the end of it all, the choice will trickle down to your needs and individual preference.
Best Rangefinder Binoculars Worth the Money Buyer's Guide
Maximum Ranging Distance
The first thing to consider is the binocular's maximum ranging distance. This dictates how far you will be able to extend your visuals and measure the distance accurately.
Modern rangefinder binoculars have a ranging distance of about 1,700 meters for reflective targets and about 1,000m for non-reflective targets. Put into consideration what you intend to use the binoculars for, then find a set that offers the most appropriate ranging distance.
Data Accuracy
Data accuracy is vital when you are using rangefinder binoculars. Whether you are using the binoculars for hunting, wildlife watching, military applications or any other activity, the data you receive should be accurate.
Today, rangefinder binoculars have powerful optics and advanced ballistic calculators to ensure that the distance measurements you get have a small error of not more than half a yard. With such data accuracy, you are guaranteed more successful in all your expeditions especially when shooting and hunting.
Optics Quality
Ensure that the binoculars set you go for boasts the highest quality glass and lenses you can afford. For the quality of glass, go for ED, HD or any other top-notch glass quality. It will guarantee superior resolution as well as admirable color fidelity. For the lenses, ensure that they are fully coated or multi-coated for brilliant and clear views of the target.
Durability
Rangefinder binoculars are not cheap. So, as you invest in a model that works perfectly for your needs, ensure that it is strongly built to provide long-lasting durability. Go for a model that is built using high-grade materials like aluminum alloy or any other better material. On top of that, make sure that the pair you choose is made to perform under rain, fog and mist in addition to a wide range of temperatures.
Eye Relief
Another thing you should consider is eye relief. The best rangefinder binoculars worth the money is one that offers an accommodating eye relief. It will be more comfortable to use such a binocular regardless of whether you wear glasses or not. Besides, a long eye relief is useful when you are observing long range objects for long hours as it minimizes eye fatigue.
Best Rangefinder Binoculars Worth the Money FAQs
Are rangefinding binoculars any good?
Absolutely. Rangefinding binoculars let you spot objects and know how far they are using just one optical device. This saves you money and the hassle of having to carry two separate devices wherever you go.
How far can Rangefinding binoculars see?
This majorly depends on the specific binoculars you are using and its specific ranging distances. But in general, modern Rangefinding binoculars can cover up to 1000 yards for non-reflective objects and more than 1000 yards for reflective objects.
Which rangefinder binoculars is the best?
When it comes to rangefinder binoculars, there is no one model fit all. This is because our needs are different. To make the right and informed selection, consider what you are going to use the binoculars for, your needs and individual preference and then pick one that is able to meet the capability of the specific features you require.
Final Thoughts
We do hope that this guide has offered you some insight into the best rangefinder binoculars worth the money. You will find a wide selection of models out there but not all are ideal for you. Focus on your specific needs and be sure that the model you pick is one that aligns with your preference and needs.