When it comes to deer hunting, binoculars are an important equipment to have in your hunting gear. They make a handy companion regardless of whether you are hunting in densely forested areas or in large, open savannahs. Binoculars are also more affordable, easy to use and versatile compared to other optics.
In the world of optics today, one of the most respected brands is Vortex. While it is relatively new in the market with only a few decades in operation, it has grown to become one of the most trusted names in the industry. It strives to provide quality products that match the needs of different users in every part of the globe.
If you are looking for a quality pair of deer hunting binoculars, this post takes you through the best models from the Vortex brands. Whether you are a professional in the hunting field, a beginner or anyone in between, a pair of binoculars from Vortex will help make you a better hunter.
7 Best Vortex Binoculars for Deer Hunting – Our Top Picks
While Vortex makes a wide range of good-quality binoculars, not every pair out there is ideal for deer hunting. Here are the best Vortex binoculars for deer hunting you will find on the market today. Let's take a look.
1) Vortex Optics Razor UHD Binoculars 8×42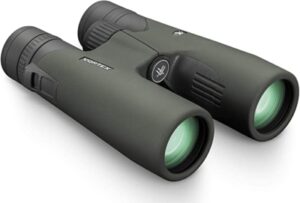 The Razor UHD 8×42 Binoculars are arguably the best Vortex binoculars for deer hunting out there. Having this set of binoculars as you hunting optic will always guarantee a higher chance of getting home with meat in your hands.
Built with index-matched lenses, the binocular provides superb optical clarity from dawn till dusk. It also has anti-reflective lens coatings which maximize light transmission for optimal low light performance and ultra-bright image views.
Another impressive feature about the binoculars is that it is built ready for hunting. It has scratch-resistant lens coatings that offer added protection when you are maneuvering the hunting field. It is also sealed with O-rings to lock out dust, dirt and moisture and argon purged to ensure that the lenses stay fog free.
Furthermore, the binocular features a magnesium chassis that is durable yet lightweight. For optimal user-comfort during lengthy hunting sessions, you can mount it on a tripod and take the weight off your hands. Besides, the eyecups  twist-up and down to provide an comfortable eye relief.
Other essential features included are a rubber armor, center focus wheel and a right eye diopter.
Features
Waterproof and fog proof design
Robust magnesium chassis
Index-matched lenses
8x magnification
Rubber armored body
Smooth, center focus wheel
Twist-up eyecups
Pros
Bright and crisp image views
Superior low light performance
Tripod adaptable
Comfortable, non-slip grip
Wide field of view
Cons
2) Vortex Optics Viper HD Roof Prism Binoculars 10×42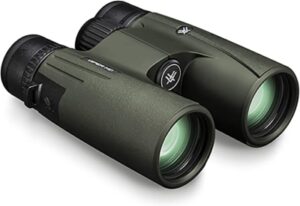 For deer hunting at longer ranges in open fields, the Viper HD Roof Prism Binoculars 10×42 are your ideal option. They harbor a multitude of shooter-friendly and highly practical features in a tremendously compact and lightweight design.
The 10x magnification is suited for any hunting situation, while the 42mm complements this zoom by optimizing low light performance. Further, the binocular is equipped with a central focus wheel that is smooth to operate for fast image focusing. It also comes with a locking right-eye diopter that accommodates every user's eye and twist-up eyecups which provide a customized eye relief.
For all-weather reliability, this product deploys O-rings that make it waterproof and dustproof. On top of that, it is purged with Argon to be fog resistant. This ensures that you get a clean and clear field of view all the time.
The binoculars also boasts XR anti-reflective coatings that maximize light transmission for bright and vivid full views of the game even in low light settings. Above all, it has an Armortek coating which guards the exterior lenses from scratches, dirt and oil stains and an armored chassis which provides comfortable and secure grip.
Features
10x magnification
Locking, right eye diopter
42mm aperture
XR anti-reflective lens coatings
Waterproof and fog proof
Center focus wheel
Rubber armored chassis
Pros
HD optical clarity
Tripod adaptable
Light and easy to use
Wide field of view
Cons
Some quality control issues
3) Vortex Optics Crossfire HD Binoculars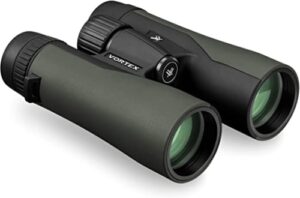 When it comes to versatility, it is hard to beat the Crossfire HD 10×42 Binoculars. If you are an outdoor enthusiast, you can use the for a multitude applications like birding, safari and wildlife watching among others not just hunting.
This set of binoculars is built to offer superb optical clarity from when the sun rises to when it sets. The lenses are fully multi-coated to enhance light transmission and reduce loss of light through glare and reflection. It also features a roof prism design that is valued for much more durability and compactness.
More importantly, this product is built with ease of use in mind. The focus wheel is placed on the center for ease of access and there is a diopter located on the right eyepiece to accommodate the differences in every user's eyes. It also brings to the table adjustable eyecups to ensure that you observe targets comfortably even with your eyeglasses on.
In terms of construction, this set of binoculars has a rugged construction that maximizes durability. You can subject to harsh punishment and it will still perform. It also boasts a rubber armor which provides a secure, anti-slip grip and a waterproof and fog proof construction for operability in all environments.
To top it all, the binoculars are tripod adaptable so you can use them on either a tripod or car window mount.
Features
Adjustable eyecups
Rubber armored body
Waterproof and fog resistant construction
Fully multi-coated lenses
10x magnification range
Roof prism design
Center focus wheel
42mm aperture
Pros
Eyeglass-friendly
Ruggedized construction
Crisp clear image views
Tripod mountable
Cost-effective
Cons
4) Vortex Optics Diamondback HD Binoculars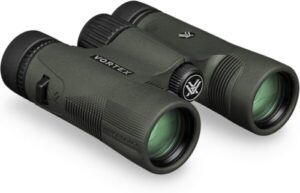 The Diamondback HD Binoculars is your ideal pair if you are looking for the best Vortex binoculars for deer hunting for the money. It is friendly to the wallet but well-made to offer reliable performance.
The binocular is built to be operable in all weather conditions. It is O-ring sealed and nitrogen filled to be fully waterproof and fog proof as well. It also has a rugger rubber armored body that shields the optics from elements of weather which ensuring that the grip is secure and slip-resistant even in wet weather conditions.
Moreover, the binoculars offer bright and crisp clear views of targets even in poor lighting conditions such as dawn or dusk. This is thanks to the fully multi-coated lenses. It also has dielectric prism coating that guarantee clear and color accurate image views.
Another feature that makes the binoculars shine is the ease of use. With a mere weight of 21.3oz, they are light, portable and easy to use. They also offer a customizable eye relief to accommodate every user and a center focus wheel that is easy to access single-handedly.
Features
10x magnification
42m objective lens
Waterproof and fog proof
Rubber armor
Twist-up eyecups
Fully multi-coated lenses
Right eyepiece diopter
Pros
Sharp, bright and clear views
Rugged construction
Budget-friendly
Large field of view
Focuses quickly and smoothly
Compact and easy to hold
5) Vortex Optics Fury HD 5000 10×42 Laser Rangefinding Binoculars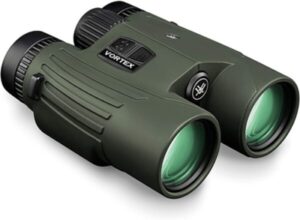 Next up is the Fury HD 5000 10×42 Laser Rangefinding Binoculars. This optic is perfect for deer hunting and all-round hunting as well. It makes glassing and ranging quick and efficient which is what hunters want in an optic. It is also easy to use and is designed to allow for quick target finding in any situation.
With the built-in laser rangefinder, it will be easier for you to gauge the distance to the target and plan how to take the shot. Besides, the binocular comes equipped with an LOS mode which provides a higher degree of shooting accuracy and two target modes to help turn your deer hunting trip into a success.
Furthermore, this pair of binoculars is well-crafted to handle whatever you throw at it. It is shockproof to withstand high levels of impact and accidental falls. It also has a compact yet durable roof prism design that optimizes durability, and an Armortek coating that keeps the exterior lens oil, dirt and scratches-free.
When it comes to the optical features, it boasts XR fully multi-coated HD lenses that yield brilliant, vivid and color accurate views of targets from sunrise till sunset. It also offers a long eye relief that makes it eyeglass-friendly and a wide field of view for rapid target acquisition.
Features
Rubber armored housing
XR fully multi-coated HD lenses
Integrated laser rangefinder
10x magnification
Armortek coating
HCD and LOS modes
Waterproof and fog proof design
Pros
Compact yet durable design
Easy to use menu
Fast and accurate ranging
Crisp clear views
Tripod adaptable
Cons
6) Vortex Optics Viper HD Roof Prism Binoculars 10×50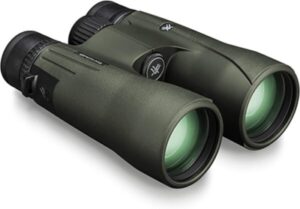 For deer hunting in low light settings, the Viper HD Roof Prism Binoculars 10×50 is the best option. It optimizes low light performance and resolution thanks to the large 50mm objective lens and HD optical system.
Like any other Vortex optic, the Viper HD binoculars are fully waterproof and fog proof to be usable under any weather. They also have a rubber armored chassis that guarantees comfortable and secure grip even in wet hunting environments as well as greater durability.
With a weight of 0.8kgs, this product is light and portable. It will be comfortable to carry as you look for game even for long hours. Moreover, it comes with multi-position eyecups to ensure comfortable viewing with or without eyeglasses and a right eye diopter that adjusts for any focal differences between your eyes.
Features
Dielectric multi-layer prism coatings
Multi-position eyecups
Waterproof and fog proof
10x magnification
Right eye diopter
Rubber armored chassis
Large 50mm aperture
Pros
Compact and lightweight design
Eyeglass friendly
Numerous accessories included
High-quality image views
Cons
7) Vortex Optics Vulture HD Binoculars 8×56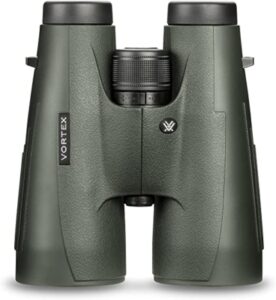 Last but not least we have the Vulture 8×56 HD Binoculars. If you are looking for the best binoculars for low light hunting, this is it.
Firstly, it features a large 56mm aperture that maximizes low light performance without causing any hinderance to ease of use and mobility. It also boasts dielectric multi-layer prism coatings that provide crisp and bright images, and fully multi-coated lenses which increase transmission of light for maximum brightness.
Furthermore, this set of binoculars features a roof prism design which is valued for greater durability and compactness. It also offers a generous field of view that is essential for rapid target finding and easy tracking of the moving game.
Above all, the binocular has a waterproof and fog proof design for use even in adverse weather conditions, and a hard-wearing rubber armor that provides a secure, non-slip grip.
Features
8x magnification
Fully multi-coated lenses
High density ED glass
Roof prisms
Dielectric multi-layer prism coatings
Waterproof and fog proof construction
Rubber armored body
Pros
Superior low light performance
Great value for money
Easy to use
Decent field of view
Cons
Read Also
How to Choose the Best Vortex Binoculars for Deer Hunting
Whether you are purchasing your first pair of binoculars for deer hunting or you are in the market looking for a newer model, here are some of the key factors you should consider.
Magnification
Magnification power is the first thing you should put into consideration. Generally, the best binocular magnification for deer hunting is either 8x or 10x.
For close range hunting in dense forest or thick bushes, consider a unit with 8x magnification. On the other hand, consider a 10x model for long range hunting in open fields.
Lens Diameter
The size of the objective lens dictates how much lights gets inside the binoculars. The larger the lens, the more light is collected and vice versa.
For deer hunting, choose a set of binoculars with 40mm to 50mm objective lens. It will optimize low light performance and offer a wide field of view while maintaining a low profile.
Weight
The best Vortex binoculars for deer hunting are those that are portable and easy to use. A tip is to get a unit that weighs between 15 to 30 ounces. The more lightweight the binocular is, the more comfortable it will be to carry in the field and convenient to use. You won't get fatigued even during lengthy hunting sessions.
Eye Relief
You should also take into account the amount of eye relief the binocular offers. This is the maximum distance from the binocular's eyepiece from where you can see the image clearly without moving the binoculars around.
Eye relief is very critical especially for those users who wear eyeglass. For comfortable observation with or without the eyeglasses, consider getting a model with adjustable eyecups and a long eye relief of 15mm or more.
Advantages of Vortex Binoculars for Hunting
Here are some of the benefits you get from investing in Vortex binoculars for hunting.
Superior image brightness and clarity even in low light settings
Good quality optics at a more affordable price tag
Unconditional and transferrable warranty
Less chromatic aberration
Multi-purpose. You can use the binoculars for other activities like birding, wildlife observation and more in addition to hunting
FAQs
Are Vortex binoculars any good?
Absolutely. Vortex is highly-respected for its quality optical devices and the binoculars are not any different. Whether you a beginner or seasoned hunter, it is hard to go wrong with Vortex binoculars.
Where are Vortex optics made?
The company the sells Vortex optics including binoculars is based in Wisconsin. However the actual design and manufacturing is done in Japan, Philippines and China.
Final Thoughts
The best Vortex binoculars for deer hunting will in a large way depend on your hunting style and preference. All the models listed above offer virtually every feature you require for deer hunter regardless of whether you are a beginner or professional. No matter the model that you pick, we hope that this post has helped point you to the right direction.