Looking for the best binoculars for nature observation? You have come to the right place. Nature watching is not just fascinating, but also therapeutic. Exposure to nature is known to reduce anger and stress, and improve pleasant feelings. Additionally, observing thrilling nature scenes regularly can help contribute positively to your overall well-being.
If you are a lover of nature, a quality pair of binoculars is an indispensable tool to have. Binoculars will help you get more closer to nature than ever before. They will help you get better and richer views of different objects compared to when you use your naked eyes only.
However, choosing the best binoculars for nature observation is easier said than done. Binoculars are extremely distinctive in their designs and features, and it can be challenging to pick the right set especially if you are a first-time buyer. But we are here to help.
In our post today, we will outline the best qualities of binoculars for nature watching and also share some of the best models that make perfect companion of every one that loves to get closer to nature.
What Makes Great Binoculars for Nature Observation?
If you are buying your first pair of binoculars for nature observation, you are probably wondering what features make a great unit. Well, there are numerous attributes that make binoculars great for nature observation.
Firstly, good binoculars for nature observation are built to be operable under all sorts of weather. You should be able to use them under light or heavy rain, low light conditions and in both rain forest canopies and open savannahs.
Secondly, the binoculars should be built with tougher use in mind. They should have an armoring that shields them from impacts while offering a positive grasp. Additionally, the body should be built using high-quality materials to offer long term durability.
The binoculars should also be made with high-quality optics to ensure that they deliver bright, vivid and color accurate sight pictures in any lighting environment. Lastly, binoculars for nature watching should be easy to use. lightweight and comfortable to carry and use all day long.
7 Best Binoculars for Nature Observation -Our Top Picks
1) Athlon Optics Midas Binoculars for Adults and Kids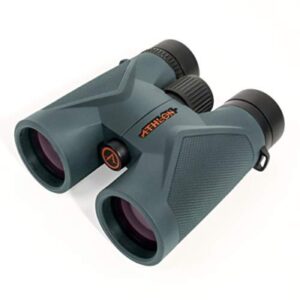 The Midas UHD Binoculars are some of the best binoculars for nature observation available out there. These binoculars are well-built to offer outstanding performance in any environment. They are simple to use and ideal for both adults and kids.
This set of binoculars provides excellent optical clarity from dawn to dusk. It is built with UHD glass lenses which produce high resolution and brilliant color fidelity. Further, the binoculars possess fully multi-coated optics which maximize light transmission to provide bright and clear image views.
With a weight of just 23.3oz, the binoculars are lightweight and comfortable to carry all-day long. Moreover, the long eye relief accommodates all users with or without eyeglasses and with the massive field of view, you will have an easy time finding various targets in different environments.
In terms of construction, this set of binoculars has a robust magnesium chassis that provides unmatched strength and durability. It also has a rubber armor which provides a secure and soft non-slip grip in any weather. Above all, the Midas UHD Binoculars are argon purged to provide reliable waterproof integrity and thermal stability.
Features
ED glass
Waterproof and fog proof construction
Advanced fully multi-coated lenses
ESP dielectric coating
2m/6.5ft close focus
Durable magnesium chassis
Rubber armor
Pros
Long eye relief
Massive field of view
Great optics
Suitable for both adults and kids
Relatively affordable
Cons
Grinding noise when focusing
#2) Zeiss Terra ED 10×42 Binoculars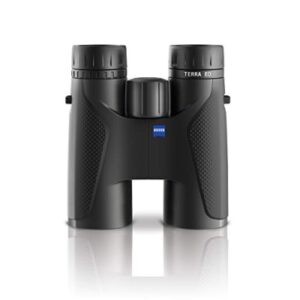 Zeiss Terra ED 10×42 are a perfect pair of binoculars for virtually every outdoor trip. You can use them for birding, watching wildlife, hunting and other outdoor activities not just nature observation.
One thing that makes the binoculars shine is the fast focusing they provide. They have a large, smooth and easy to grip focus wheel which makes focusing a snap. Further, they boast a compact size that fits perfectly on the palm of your hand and a low weight yet robust construction which guarantees readiness in any condition.
This pair of binoculars is made ready for outdoor use. It has a hydrophobic Zeiss MC coating which sheds off dirt, dust and moisture on the lenses to provide clear views. Moreover, it is fully waterproof and fog proof for use under any weather, and operable in temperature ranging from 24 to 140℉.
To top it all, the Terra ED 10×42 binoculars offer steady views, a large viewing angle and high optical precision making it a reliable companion for every outdoor fanatic out there.
Features
Waterproof and fog proof
10x magnification
Hydrophobic lens coating
Schmidt-Pechan roof prism design
Large, smooth and easy to grip focus wheel
Robust body construction
Pros
Compact and lightweight
Excellent optical precision even in adverse light settings
Magnificent clarity and resolution
Excellent fit and finish
Cons
#3) Nikon Prostaff 3S 10×42 Binoculars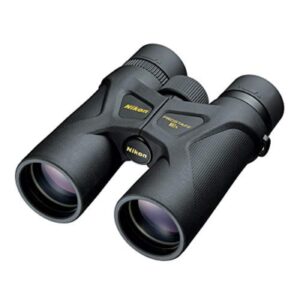 Carrying the highly respected Nikon name, the Prostaff 3S 10×42 are the best binoculars for nature observation for the money. They are extremely compact, lightweight, easy to use and a perfect choice for virtually all outdoor activities.
The 42mm aperture optimizes low light performance and also provides a wider field of view which makes finding objects much simpler. Furthermore, the binoculars feature multilayer-coated lenses that enhance transmission of light so you get clear and bright views of targets even in dismal environments. On top of that, the prism are coated to deliver sharp and clear sight pictures.
This set of binoculars is suitable for use in all weather conditions. They are designed to be fully waterproof and fog-free. Additionally, they come with a rugged rubber armoring that provides a firm, comfortable grip while also shielding the optics from shock and elements of weather.
Features
Turn and slide multi-click rubber eyecups
Multilayer coated lenses
10x magnification power
High-reflectivity silver-alloy mirror coatings
Lead and arsenic-free Eco-glass
Durable rubber armoring
Pros
Excellent optics
Crisp clear images
Wide field of view
Compact and lightweight design
Budget-friendly
Cons
Some chromatic aberrations
#4) Canon 10×30 Image stabilization II Binoculars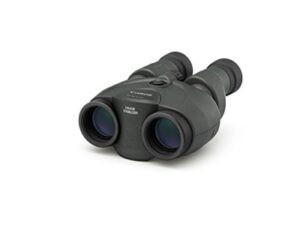 To bring nature views closer in a steady and consistent way, you need a quality optic like the Canon 10×30 Image stabilization II Binoculars. This pair of image stabilized binoculars is compact, lightweight and ideal for travel, nature observation, bird watching, concerts and sports among others.
With 10x magnification power, the binoculars will help you get up close views of targets even when they are far away. The image stabilization technology allows for smooth and comfortable viewing without the need to use a tripod, while the low reflective exterior helps alleviate reflection so you stay inconspicuous.
Furthermore, the binoculars are made to provide comfortable viewing all-day long. They offer an accommodating eye relief that is comfortable even for eyeglass wearers and a large viewing angle for quick target finding. They also possess a rubberized coating on the focus adjustment ring for improved control.
Features
10x magnification
Nikon's advanced image stabilization technology
High-end Porro II prisms
Lead-free glass
Low reflective exterior
Doublet field-flattener
Rubberized focus adjustment ring
Pros
Long eye relief
Compact in size and lightweight
Generous field of view
Excellent clarity
Reliable performance in all lighting conditions
Cons
Not fully fog proof and waterproof
#5) Bushnell Legend Ultra HD Roof Prism Binoculars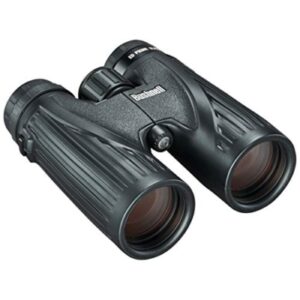 Next up is the Bushnell Legend Ultra HD Roof Prism Binoculars. Whether you are a nature enthusiast or just a beginner, this roof prism binoculars are an ideal option. They are remarkably affordable and simple to use as well.
The binoculars offer admirably optical finesse under any lighting condition. This is thanks to the ED prime glass that delivers superior color resolution and the ultra wide band coating that enhances image brightness, clarity and sharpness. Furthermore, this unit comes with a rain guard HD coating to ensure that you get a clear field of view even when it is raining.
Construction-wise, the binoculars feature a lightweight yet durable magnesium chassis. On the exterior surface are soft touch grips for comfortable and secure handling. They are also O-ring sealed and nitrogen purged to offer complete moisture, dust and fog protection.
Features
ED prime glass
Fully waterproof and fog proof
10x magnification
Rain guard HD water repellent lens coating
Ultra-wide band coatings
Robust magnesium chassis
Pros
Long eye relief
Ultra-wide field of view
Bright and clear images
Great value for money
Comfortable to carry for extended periods
Cons
#6) Celestron – TrailSeeker ED 8×42 Binoculars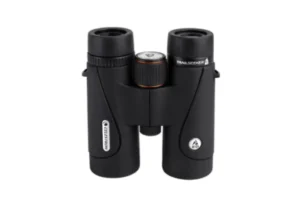 As one of the best binoculars for nature observation, the TrailSeeker ED 8×42 Binoculars deliver vibrant and razor-sharp image views that are free of defects like chromatic aberration. They make a handy companion for every serious birder, nature observer and outdoor fanatic out there.
Featuring ED objective lens, the binocular delivers stunning resolution and color fidelity. All air-to-glass surfaces are fully multi-coated to enhance transmission of light for bright image views. Furthermore, this unit features a 6.5 feet close focus which is perfect for watching birds and viewing objects like butterflies and insects in close proximity.
Another feature that makes these binoculars suitable for nature observation is that the user comfort they are made with. The eye cups have a twist mechanism which lets you customize the eye relief to the most comfortable viewing position. Better yet, they are feather-light for comfortable handling and you can also mount them on a tripod and take the weight off your hands.
Last but not least, the binoculars are fully waterproof and fog proof for operability under any weather.
Features
Twist-up eyecups
8x magnification
Fully multi-coated optics
Durable full body armoring
Fully waterproof and fog proof chassis
ED objective lens
Pros
Tripod adaptable
Bright and clear images
Comfortable ergonomics
Easy to use
Cons
#7) Carson VP 8×42 Binoculars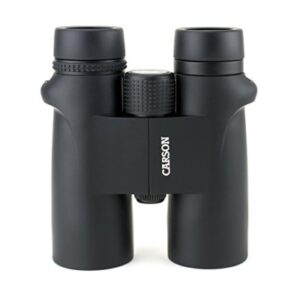 Lastly on our list is the Carson VP 8×42 Binoculars. These are high quality binoculars available at a remarkably affordable cost. They are sleek, functional and suitable for a wide range of both indoor and outdoor applications including nature observation, birding, camping, hiking and other outdoor sports and adventure activities.
Weighing just 0.8lbs, this unit is ultralight for comfortable handling and mobility convenience. Furthermore, it is fully waterproof and fog proof to ensure that you get clear nature views even when it is raining or cloudy and foggy. It also comes with lens covers which shield the lenses from dust and scratches.
The minimum focus distance of this set of binoculars is 6.6 feet. This makes it suitable for watching birds and viewing objects like butterflies and insects in close proximity. Moreover, it offers a wide field of view for quick target finding and an accommodating eye relief to ensure that you get comfortable views of the objects you are observing.
Above all, the unit brings to the table phase coated prims and fully multi-coated optics that offer outstandingly bright and vivid image views.
Features
8x magnification
Fully multi-coated optics
Waterproof and fog proof
6 feet close focus
Premium BaK-4 prism
Pros
Comes with a cleaning cloth, neck strap and carrying case
Plenty of comfortable grip
Excellent fit and finish
Friendly on the wallet
Cons
 The adjustment knob is a little brittle
Read Also
Criteria for Choosing Best Binoculars for Nature Observation
Whether you are purchasing your first set of binoculars for nature observation or you are in the market for a newer model, here are the key factors you should put into consideration.
Aperture
The aperture is also known as the objective lens and it is measured in millimeters. Larger apertures capture in more light, making objects to appear brighter even in low lighting conditions. A unit with 40 or 42mm objective lens will suffice. It will optimize light collection and still maintaining a low profile which is key in nature observation.
Field of View
Field of view refers to the total area you will be able to see at once without moving the binoculars around. Try and look for a unit that offers a large field of view of at least 300feet @1000 yards. It will make target finding a snap and help you keep track of the moving and flying objects with ease.
Build Quality
To get many years out of the binoculars, they should have a ruggedized housing that stands anything you throw at them. The most sought-after binoculars for nature viewing and observation are made from aluminum, magnesium and any other high-grade material. These materials offer the benefit of being durable yet lightweight.
The best binoculars for nature observation should also have a rubber armoring. It will optimize durability and provide a secure, non-slip grip even in wet environments.
Weight
When it comes to nature observation, a light weight pair of binoculars is a must have. You will be moving from one place to another trying to get the best views of the great outdoor. If the binoculars are large and bulky, they might end up making your entire hunting trip less enjoyable. On the other hand, a lightweight unit will be comfortable to carry on your hands and easy on your eyes.
Weatherproof Construction
The binoculars you choose to buy should be weather resistant. They should be sealed with O-rings to prevent entry of moisture and dust inside the optics. They should also employ nitrogen or argon purging to keep the lenses fog free even when you move between two locations that have a huge temperature and humidity gradient.
Lens Coatings
Quality coatings on the binocular's lenses help enhance the brightness and clarity of the images. This is critical for nature observation if you are looking to get the best detail of targets. Invest is a pair that possesses either multi-coated or fully-coated lenses.
Eye Relief
Eye relief is the distance from your eye to the binocular's eyepiece. The longer the eye relief the more comfortable the binoculars will be for the eyes with or without eye glasses. Most binoculars have adjustable eyecups that allow for eye relief customization. For optimal eye comfort, look for a unit that offers at least 15mm of eye relief.
Benefits of Using Binoculars for Nature Observation
Mobility Convenience. Binoculars are light and more portable than spotting scopes and big telephoto camera lenses
Richer Detail of Subjects. Binoculars have a close focusing distance that helps you see close range targets in richer details
Binoculars provide 3D view of subjects you are observing
versatility. You can use the binoculars for other outdoor activities not just nature watching
Best Binoculars for Nature Observation FAQs
Which is better, 8×42 or 10×42 binoculars?
It depends on individual preference. For nature observation, both 8×42 and 10×42 binoculars are appropriate. Nevertheless, 8x are often cheaper than the 10x counterparts, but they are less powerful for observing objects at a distance and producing finer target details.
What do the binocular numbers mean?
The two numbers on the binocular's configuration represent the magnification and the objective lens diameter. So, a pair of 8×42 binoculars has 8x magnification power and 42mm objective lens.
How far can binoculars see?
This depends on the binocular's magnification, quality of optics and other factors like the weather condition. Some binoculars will offer clear views of targets from several hundred yards to multiple miles away.
Final Thoughts
Hopefully, you have gained all the information you need about the best binoculars for nature observation. A quality set of binoculars will give you a better view of the subjects you are observing and help you enjoy the great outdoors to the fullest. As you have seen, there are plenty of binoculars that you can use to have an ultimate nature viewing experience. Whatever you have planned, there is a pair of binoculars out there waiting for you.