Are you in the market for the best vortex scope for long range? If yes, you have stumbled upon the right place. In this post, we review the best long-range scopes from Vortex, taking into account their features and performance.
Shooting at long ranges is both exciting and intimidating. If you are an avid gun enthusiast, investing in the right long-range scope is important for long range shooting. Vortex, a brand that has built its name in the optics industry offers a wide range of long-range scopes to match the needs and demands of every shooter out there.
Crafted with a ton of superb features, Vortex long range scopes make a handy addition to every hunter/shooter's toolkit. To help you compare the options available out there, we have complied a list of seven best vortex scopes for long range, listed from the low level to top-notch models.
But before all that, let us begin by looking at the features that make a great scope for long range use.
What Makes a Great Scope for Long Range?
There are a multitude of features that make a scope great for long range shooting or hunting. These includes:
High Magnification
The first thing that a great scope for long range should have is high magnification power. It is imperative to get a high-powered scope that brings the distant targets closer for accurate identification.
Large Objective Diameter
Furthermore, a long-range scope should have a large objective diameter of 40mm and above. The further you shoot, the more light the scope needs to collect and this can only be achieved by a large ocular lens. A large objective diameter is also important in ensuring that the scope's magnification range is useful even at the highest settings.
Premium Lens Coating
Another important feature that the best vortex scope for long range should come with is premium anti-reflective coatings on the lenses. Lens coatings are important in limiting glare and reducing internal reflection that causes light loss.
Solid Construction
Last but not least, a great scope for long range applications should have a solid construction. It should be built from high-quality materials to endure extreme use. Additionally, the scope has to be fully waterproof, fog proof and safe to use in a wide range of temperatures.
7 Best Vortex Scopes for Long Range – Top Picks
In this comprehensive post, we have put together 7 of the best Vortex scopes designed for long range applications. So, if you want to take your shooting to extended ranges, we have your back.
Without any further delays, let's have a look.
1) Vortex Optics Viper HST 6-24x50mm Rifle Scope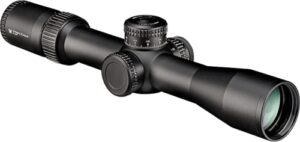 The Viper HST 6-24x50mm Rifle Scope is arguably the best Vortex scope for long range available on the market today. This hunting, shooting and tactical rifle scope is designed to help you get on target quickly and easily, no matter the nature of the shooting environment.
A defining feature of the scope is the premium optical features. It utilizes XD lens elements that enhance color accuracy and maximize resolution. In addition to that, the scope has XR fully multi-coated lenses for reducing glare and limiting internal reflection. This enhances light transfer especially when one is shooting in low light environments.
Built on a 30mm body tube, the scope offers plentiful room for adjustments and reticle movement. Construction-wise, it has an aircraft grade aluminum body that is anodized for added shield from scratches. Further, the scope is shockproof, fog proof and waterproof.
Another highlight of the scope is the durable, repeatable windage and elevation turrets. It is also equipped with a hashmark-based reticle that enhances precision in long range targeting and a fast focus eyepiece for quick reticle adjustment.
Features
Second focal plane reticle
Hard anodized finish
Fast focus eyepiece
Waterproof, fog proof and shock proof
XR fully multi-coated optics
Exposed tactical style turrets
CRS zero stop
Precision-glide erector system
 Pros
Long 4" eye relief
Easy to use
Premium build
Cons
Poorly designed zero stop
2) Vortex Strike Eagle 5-25×56 EBR-7C MOA Riflescope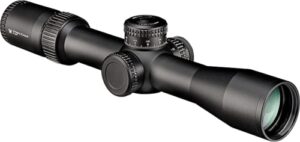 With an oversized objective lens, high magnification power and a front focal plane reticle, the Strike Eagle 5-25×56 EBR-7C MOA Riflescope will boost your confidence when taking long range shots and make all shooting expeditions fun and more rewarding.
The impact point adjusts at 0.25 MOA to fine tune your accuracy at all ranges. Furthermore, the scope is built on a 34mm diameter main tube which provides more than enough room for a wide range of adjustments. It also boasts extra-low dispersion glass elements and fully multi-coated optics to ensure high levels of light transmission.
To prevent accidental adjustments in the field, the scope has locking exposed turrets. Over and above that, it has a RevStop Zero System on elevation turret for easy return to zero. It also boasts a fast focus eyepiece with removable throw lever for easy magnification adjustments.
Above all, the scope is built with a ruggedized aluminum body that is nitrogen filled and sealed with advanced methods to provide a lifetime of waterproof, fog proof and dustproof performance.
Features
First focal plane reticle
1/4 MOA impact point correction
34mm single-piece main tube
Exposed locking turrets
Fast focus eyepiece
Waterproof and nitrogen filled
Fully multi0coated optics
Parallax correction from 15 yards to infinity
Pros
Illuminated reticle
Great low light performance
Built to last
Cons
3) Vortex Viper PST Gen II 5-25×50 EBR-7C MOA Riflescope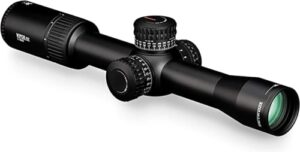 The Viper PST Gen II 5-25×50 EBR-7C MOA Riflescope is packed with rock solid features to take your shooting skills to new heights. It is incredibly versatile and ideal for all shooting applications at medium to long range.
Solid construction is the selling point of this rifle scope. All the high-end features are packed in a rugged aircraft grade aluminum body that provides a durable platform. Besides, the scope is O-ring sealed and purged with argon gas to be fully waterproof and fog free.
Not only is the scope built to last, but also ideal for use in nearly all lighting conditions. It has an illuminated reticle that highly functional, intuitive and accurate. On top of that, the scope has extra-low dispersion glass that increases resolution and color accuracy. It also brings to the table fully multi-coated lenses that are responsible for ensuring high levels of light transmission.
The other essential features included are adjustable parallax, RZR zero stop and a fiber optic rotation indicator.
Features
First focal plane reticle
Fiber optic rotation indicator
Waterproof and nitrogen purged
Extra-low dispersion glass
Armortek lens coating
Aircraft grade aluminum housing
Adjustable parallax
Pros
Clear glass
Extremely accurate
Good build quality
Reticle illumination
Cons
Narrow eye relief
The zero stop locking system could be better
4) Vortex Venom 5-25x56mm Rifle Scope
Another best vortex scope for long range on our list is the Venom 5-25x56mm Rifle Scope. If you are a beginner in long range shooting applications, this scope suits you. It is loaded with a ton of shooter-friendly features to hone your skills and make you a better shooter.
The scope has a versatile 5x zoom range built into a 34mm body tube. The large body tube design provides room for turret travel and adjustments. Besides that, the scope has a first focal plane EBR-7C reticle that provides accurate holds at every magnification setting.
For fast transitions between the magnifications, the scope employs a power throw level that is removable. Moreover, it has a fast focus eyepiece that allows for quick reticle focusing and a tool less zero stop that allows for easy return to zero after turret adjustment.
Vortex scopes are known for solid build and this model is not built any different. It has a single piece tube made from aircraft grade aluminum. The quality construction guarantees unmatched strength as well as durability. The scope is also built with tactical style turrets for fast and accurate elevation and windage adjustments.
Features
Waterproof and fog proof
Scratch resistant Armortek coating
Exposed tactical-style turrets
Fast focus eyepiece
RevStop zero system
Aircraft grade aluminum construction
Fully multi-coated lenses
Glass-etched FFP reticle
Pros
Great magnification range
Extremely clear glass
Sturdy and durable construction
Comfortable eye relief
Cons
5) Vortex Diamondback Tactical 6-24x50mm Rifle Scope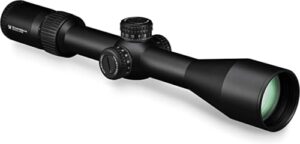 Vortex designed and built the Diamondback Tactical 6-24x50mm Rifle Scope with versatility in mind. It has the features that tactical professionals need for long range use and with the easy usability, it is an ideal choice for hunting.
The broad 6-24x magnification is ideal for mid to long-range use. It is complemented by a large 50mm objective that collects a large amount of light needed to keep views bright and clear. Other than that, the rifle scope boasts extra-low dispersion glass and anti-reflection lens coatings to enhance image clarity and improve edge-to-edge contrast.
Construction-wise, its sturdy 30mm mono-piece body tube is made from a lightweight and durable aluminum alloy that provides a solid platform for the internal mechanism. Moreover, the entire body is anodized so it is rust proof and scratch resistant.
To endure the rigors of heavy outdoor use in different environments, the scope is waterproofed and filled with nitrogen gas which prevents internal build up of fog. Besides, it has a large slip-resistant zoom collar and exposed tactical turrets for convenient use and handling.
Features
Side parallax adjustment
Single-piece 30mm main tube
Durable aluminum housing
Corrosion resistant hard anodized finish
Waterproof and fog proof
Large slip-resistant zoom collar
XD extra-low dispersion glass
Pros
Generous eye relief
Entry-level price point
Great magnification range
Excellent optics quality and clarity
Versatile
Cons
6) Vortex Optics Razor HD LHT 4.5-22×50 Riflescope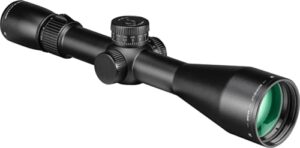 If you are looking for the best Vortex scope for long range hunting, look no further than the Razor HD LHT 4.5-22×50. This rifle scope meets the demands of every long-range hunter out there, while still being one of the lightest in its class.
The optical performance of the scope is impressive. Built with HD optics and premium XR lens coatings, it generates unmatched image quality and brightness even in the less-than-ideal lighting conditions. The lenses are also index-matched to correct color aberrations across the whole visual spectrum.
Long range hunters will also appropriate the scopes' RevStop zero system that offers a reliable way to return to zero after dialing. Even better, the reticle is put on the first focal plane to remain true through the whole magnification. It is also illuminated to meet the needs of hunters who prefer to go hunting in the low light settings of dawn and dusk.
Last but not least, the Razor HD LHT 4.5-22×50 rifle scope has a long eye relief of 4" to ensure great glassing comfort even with eyewear on.
Features
30mm body tube
RevStop zero system
FFP XLR-2 reticle
HD optical system
Armortek lens coatings
O-ring sealed and argon purged optical tube
Aircraft grade aluminum construction
Pros
Lightweight design
Generous eye relief
Illuminated reticle
Quality glass
Cons
7) Vortex Optics Crossfire II 6-24×50 AO BDC Riflescope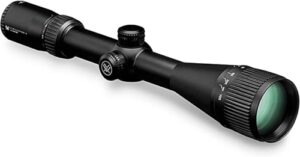 Designed for discerning hunters and shooters, the Crossfire II 6-24×50 AO BDC Riflescope offers high levels of performance in all environments. It is this reliability that makes it a handy tool for long range applications.
The scope is made with durability in mind. It has a hard anodized aircraft grade aluminum tube that is rigid enough to stand up to any punishment. The solid build coupled with the waterproof and fog proof design guarantee longevity and reliable performance in all environments.
To maximize lenses durability, the scope has anti-reflective coatings that also enhance light transfer. Besides that, it has a fast focus eyepiece that aids in quick and simple focusing of the reticle. The scope also boasts a long eye relief that is essential for rapid target acquisition.
And that's not all. The Crossfire II 6-24×50 Riflescope has a Dead-Hold BDC reticle good for hunting and shooting at varying ranges where estimating holder is a concern. It is also built with an adjustable objective for quick parallax removal and easy parallax adjustment.
Features
Capped reset turrets
Aircraft grade aluminum housing
Adjustable objective
Anti-reflective lens coatings
Fast focus eyepiece
Waterproof and fog proof
Second focal plane Dead-Hold BDC reticle
30mm main tube
Pros
Long eye relief
Great value for money
Crisp and clear glass
Easy to use
Cons
Image clarity reduces with increase in magnification
Read Also
First Focal Plane Vs Second Focal Plane
In rifle scopes, a reticle provides a simplified point of aim and it can either be housed in the first focal plane or second focal plane.
With a first focal plane scope, the reticle changes in size as you change the magnification. This keeps the estimation hash marks accurate through the entire zoom range.
Second focal plane reticles on the other hand maintain a constant size even with change in magnification. This means that the reticle is fixed on one magnification, usually the highest on a given scope. The design also makes estimation points on the reticle accurate for one zoom level only.
For long range shooting, most seasoned shooters prefer first focal plane scopes over second focal planes as they stay true at each zoom setting. But in the long run, the reticle you end up choosing will largely depend on your individual preference.
Factors to Consider Before Buying a Vortex Long Range Scope
While Vortex offer a multitude of long-range scopes, each rifle scope is unique in terms of features and construction. Here are the key things to consider when making your selection.
Magnification
The most significant part of a long-range scope is magnification. The magnification settings a scope has will drastically impact accuracy when taking shots at extended ranges.
We recommended that you get a variable power scope with more than 10x magnification for long range use and at least 15x magnification for extreme long-range use.
Objective Lens
In rifle scopes, the work of the objective lens is to collect light inside the optics. For long range hunting and shooting applications, the scope has to collect a large volume of light to enhance the brightness and quality of the sight picture.
However, scopes with extra big objective lenses are bulky and cumbersome to carry around. Try and balance between the two so you are able to maximize performance in the field.
Durability
Investing in the best Vortex scope for long range is not something you do in a hurry. Most of these scopes cost hundreds if not thousands of dollars. So, be sure that the model you get is built to last. It should have a ruggedized construction that is shockproof and impact resistant. The optical tube should also be waterproofed and fog proofed for all weather use.
Eye Relief
Whether you wear eyeglasses or not, it is important that you get a scope that boasts long eye relief. It is incredibly frustrating to use a scope with a short eye relief. It not only strains the eye, but also keeps it at risk of being hit by the recoiling rifle. To avoid all that, go for a scope with a long eye relief of 3.5" and above.
Weight
Weight matters as well when you are shopping for the best Vortex scope for long range. My advice here is to find the lightest scope possible. This way, you will have an easy time carrying the scope from point A to point B. A light scope will also scatter recoil effectively compared to a bulky one and maximize durability.
Conclusion
Vortex has grown to become the go-to optics brand for many long-range hunters and shooters, and the scopes we have mentioned above are a clear representation of why. When making your purchase, look at the specs and feature of each scope and see if they blend with your needs. No matter the model you end up choosing, I do hope that you have found this guide to be insightful.