Are you in the market for the best Vortex scope for coyote hunting? If yes, this article is for you. We have scoured the market and put together a list of the best scopes for coyote hunting from the highly respected Vortex brand.
As a hunter, you already know that having the right equipment is key to turning every hunting trip into a success. While it is not easy to choose a scope for hunting, Vortex offers some of the best models out there. It is one of the highly respected optics brands that focuses on making quality optics for all hunters no matter their skills or level of experience.
The best vortex scopes for coyote hunting deliver superior performance while still remaining sturdy enough to be a practical option for every hunt. As a result, every avid hunter is able to revolutionize their hunting. In this post, we will provide you with all the information you need to choose the correct scope for your hunting needs and become a better hunter.
But prior to all that, let's check out the attributes that make a great scope for coyote hunting.
What Makes a Great Scope for Coyote Hunting?
Only a few number of rifle scopes is able to meet the needs of avid coyote hunters out there. If you are wondering what makes a great scope for coyote hunting, the following are the features that make one great.
Versatile Zoom Range
Versatile zoom range is the first feature that every scope for coyote hunting should have. It is important in that it gives the hunter the flexibility to hunt down these creatures at any distance across vast hunting environments.
Durable Construction
Secondly, a great scope for coyote hunting must be durable enough to take in any abuse. Premium build quality is also important in ensuring reliable performance in all environments.
Premium Glass Elements
Premium glass elements it the other important feature that a great scope for coyote hunting should have. It guarantees high-quality views in any hunting environment. It is also important for the scope to have good lens coatings to ensure high levels of light transfer.
Lightweight Design
Last but not least, the best Vortex scope for coyote hunting should be lightweight but durable. A light scope is not just easy to maneuver around with, but also simple to use.
Best Vortex Scopes for Coyote Hunting – Top Picks
From top-notch models to the budget-friendly units, here is a list of the best Vortex scopes ideal for coyote hunting. Let's take a look.
1) Vortex Optics Viper PST Gen II 3-15×44 FFP Rifle Scope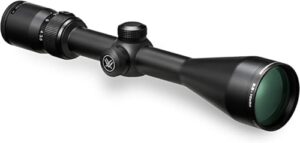 Viper PST Gen II 3-15×44 is by far the best Vortex scope for coyote hunting. It is designed with the latest features and technology to give every hunter an upper hand in every hunting situation from close to long ranges.
The selling point of this scope is the EBR-7C MRAD reticle. Designed to maximize ranging abilities, the reticle helps with determining ranges, holdovers and windage corrections all of which are essential for enhancing accuracy. Besides, this reticle is put on the front focal plane and illuminated to strike an optimum balance between low light visibility and precision aiming.
Solid construction is another facet that makes this rifle scope outstanding. It has a shockproof construction to withstand recoil and impact. It is also built with exposed tactical-style turrets and a hard anodized finish that is scratch proof and anti-reflective.
For quick and simple reticle focusing, the scope has a fast focus eyepiece that also aids in rapid target acquisition. Over and above that, it has extra-low dispersion glass for increasing color and resolution. The lenses are also coated to boost light transmission and enhance low light performance.
Features
3-15x magnification range
Extra-low dispersion glass
Waterproof and argon purged
Hard anodized finish
Precision-glide erector system
First focal plane reticle
Fast focus eyepiece
Fiber optic turret rotation indicator
Pros
Illuminated reticle
Exceptionally accurate
Bright and great low light visibility
Quality construction
Cons
2) Vortex Diamondback 3-9×40 BDC (MOA) Riflescope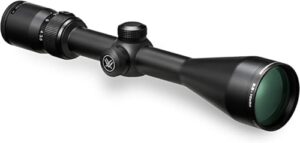 Built for maximum durability in a robust 1-inch body, the Diamondback 3-9×40 rifle scope is the best coyote hunting scope for beginners. It is remarkably simple to use and loaded with features every hunter will truly appreciate.
The scope has a variable 3-9x magnification power. Through the entire zoom range, it provides a wide field of view for quick target finding. The versatile zoom power is then complemented by a Dead-Hold BDC reticle that is good for hunting coyotes at varying ranges where there would be a concern with estimating holdover.
Moreover, the scope is built with fully multi-coated lenses that are responsible for yielding bright and crisp clear images from sunrise to sunset. Over and above that, the optical tube is O-ring sealed and argon purged to provide reliable waterproof and fog proof performance.
This rifle scope is shock proof and anodized against scratches, rust and corrosion. It is also equipped with metal on metal precision and a fast focus eyepiece for quick reticle focusing.
Features
Precision glide erector system
1-piece body tube
Hard anodized finish
Waterproof, fog proof and shockproof
Dead-Hold BDC reticle
Fully multi-coated lenses
Metal on metal precision turrets
Pros
Accurate
Easy to use
Premium construction
Clear glass at a decent price
Good eye relief
Cons
Unusable at higher magnification
3) Vortex Strike Eagle 3-18×44 SFP Riflescope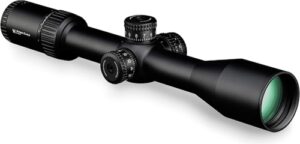 The Strike Eagle 3-18×44 is a versatile rifle scope with rock-solid build quality. It boasts a powerful 3-18x magnification that lets shooters engage targets from point-black out to long ranges with stunning precision.
The incredibly versatile 6x zoom is complemented by the 44m aperture that yields high quality images even at the highest 18x zoom setting. This coupled with the fully multi-coated lenses enhance low light performance and produce crisp clear image views which is essential for optimal viewing.
Moreover, the scope has built-in illumination to keep the reticle optimally visible. While out in the field hunting, you can customize the reticle into 11 brightness levels and boost your precision depending on the lighting condition you are in. Further, the scope has tactical style turrets that are zero resettable.
Construction-wise, the scope has a 30mm body tube that is ruggedly built to take in the abuse. On top of that, it is 100% waterproof and fog proof to outlast all elements.
Features
Zero resettable tactical style turrets
1-piece 30mm tube
Highly versatile 6x zoom range
Fully multi-coated lenses
Waterproof and fog proof
Glass-etched second focal plane reticle
Pros
Illuminated reticle
Sturdy and well built
Good clarity
Generous eye relief
The adjustment clicks are crisp
4) Vortex Crossfire II 4-12x44mm Rifle Scope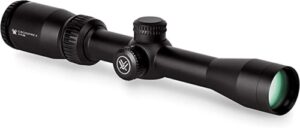 The Crossfire II 4-12x44mm is the best Vortex scope for coyote hunting for the budget conscious buyers. It is available at a cost that is hard to pass. Besides, it is optimized for hunting so it offers the highest levels of performance and reliability.
This rifle scope is built with ease of use in mind. First, it has an extremely long eye relief to ensure that your glassing comfort is enhanced with or without spectacles. In addition to that, it comes with a fast focus eyepiece for easy reticle focusing and a lightweight construction for ease of portability.
The scope has resettable MOA turrets to ensure reliable performance in the field. Other than that, its lenses feature quality anti-reflective coatings that boost light transmission for bright and sharp image production.
Another highlight of this scope is the reticle. It is put on the rear focal plane so it always maintains the same appearance when hunting across different ranges. Besides that, the scope has a single-piece aircraft grade aluminum body that is unbeatable in terms of durability and longevity.
Features
Fully multi-coated lenses
Fast focus eyepiece
Waterproof and nitrogen purged body tube
Second focal plane V-plex reticle
Resettable MOA turrets
4-12x magnification power
Hard anodized finish
Pros
Long eye relief
Budget friendly
Crisp clear glass
Tracks well in all situations
Cons
5) Vortex Viper HS-T 4-16×44 SFP Riflescope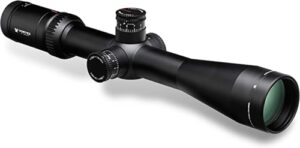 If you want to take your coyote hunting a notch higher, the Viper HS-T 4-16×44 SFP Riflescope suits you. It blends many of the facets that hunters require to make every hunting trip a success.
The durability of this rifle is a force to reckon with. It is built on an ultra-sturdy 30mm one-piece aluminum tube to take in any punishment you subject it to. Over and above that, the rifle scope is 100% waterproof and fog proof to be ready for anything Nature will have in store for your hunt.
A forgiving eye box is another thing that is impressive of the scope. It gets shooters on target quickly and guarantees great glassing comfort with or without eye wear. Moreover, the scope boasts an advanced optical system that makes the magnification useful up to 16x.
For added convenience, the Viper HS-T 4-16×44 SFP Riflescope comes with a MAG-View fiber optic that provides a highly visible reference point for the zoom setting. The other essential features included are a fast focus eyepiece and radius optic turret rotation indicator.
Features
Precision-glide erector system
Fully multi-coated lenses
Exposed tactical-style turrets
CRS Zero stop
Versatile 4x zoom system
Side focus parallax
Fast focus eyepiece
1-piece 30mm body tube
Pros
Clear optics
Versatile
Excellent fit and finish
Generous eye relief
Cons
6) Vortex Razor HD Gen III 1-10×24 First Focal Plane Riflescope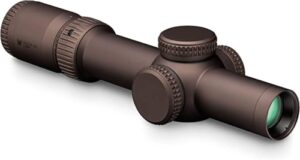 Our last Vortex rifle scope recommendation for coyote hunting is the Razor HD Gen III 1-10×24. This high-end rifle scopes brings the highest level of versatility and optical performance for those looking to take hone their hunting skills.
Optimized for hunting, the scope comes with a HD optical system that guarantees bright and super clear views of targets in any lighting environment.  Additionally, it boasts a crisp reticle that is illuminated to provide a precise point of aim in the poor lighting environments.
Hunting can be rough on an optic especially when you are looking for game in the less familiar terrains. With this in mind, Vortex designed this rifle scope to be virtually indestructible. On top of that, it is fog proofed and designed to meet IPX7 waterproofing standards to outlast elements.
Another thing that makes it the best Vortex scope for coyote hunting is lightweight construction. It weighs 21.5oz only so it will not add any extra bulk on your hunting rifle. This versatile rifle scope also features low-profile turrets that are capped to halt accidental adjustments in the field.
Features
34mm body tube
Capped low profile turrets
Fog proof and IPX7 water resistant
First focal plane reticle
HD optical system
Low glare matte finish
Index-matched lenses
Pros
Lightweight
Generous eye relief
Premium build quality
Cons
Tight eye box at max power
Read Also
Why Vortex Scopes for Coyote Hunting?
Vortex is a brand that has built a name in the optics world and it is for a good reason. Since its inception, it has grown to become one of the most highly-respected and go-to brands by hunting enthusiast.
Investing in one of the best Vortex scopes for coyote hunting comes with multiple benefits which include:
Fast focusing design. All vortex scopes have a fast-focusing design which is essential for quick and seamless target acquisition
Sturdy construction. When it comes to build quality, you can never go wrong with a Vortex rifle scope. This brand specializes on making rifle scopes that are shockproof to handle rough use and any recoil impact that comes their way
Efficient lens design. Another benefit of choosing a Vortex rifle scope for hunting is the premium quality lenses and top-notch lens coatings. As a result, using the scope in low light conditions won't be an issue
All vortex scopes are optimized for versatility. You will be able to use the scope for a wide variety of hunting and shooting applications not just coyote hunting
How to Choose a Scope for Coyote Hunting
Regardless of whether you are buying a coyote hunting scope for the first time or not, the following are the important things to consider before you settle on any particular product.
Magnification Range
Magnification range is the first thing consider when shopping for the best Vortex scope for coyote hunting. Without proper magnification range, it will be hard to pursue targets at the distance that you want. We recommend that you get a scope that offers a broad zoom range up to about 14x. Such scopes give you the flexibility to acquire targets at any range with ease.
Fast Focusing Design
If you want to get the most out of your coyote hunting expeditions, go for a scope that offers a fast-focusing design. With fast focusing and versatile magnification, it becomes an easy task to acquire targets in virtually all hunting environments.
Image Quality
The next important thing to take into account is the picture quality a scope yields. For a scope to be good for coyote hunting, it should have these two things; premium glass elements and good lens coatings.
High performance glass elements are responsible for maximizing resolution and color both of which are vital for accurate target identification. Lens coatings on the hand are important for enhancing light transmission especially when you are hunting in the less ideal lighting conditions.
Sturdy Construction
You will want to get a scope that has a sturdy construction. Look at the main tube and what it is made of. The best Vortex scope for coyote hunting will have a sturdily built body tube that is not just shockproof, but also impact proof and recoil resistant.
Furthermore, the body tube should be filled with nitrogen or argon gas to prevent fog from building up inside the optics. It should also have O-ring seals to prevent water and dust from penetrating.
Weight
The scope you choose to buy should be built light without compromising on optical quality. Lightweight scopes under 2 pounds are not only easy to carry around, but also more efficient at scattering heavy recoil.
Eye Relief
Last but not least, consider the amount of eye relief the scope offers. Whether you wear eyeglasses when hunting or you don't, it is essential to get a scope that has a decent amount eye relief. The longer the eye relief is, the more comfortable the scope is to use. Scopes with long eye relief are also the safest when using high recoiling calibers.
FAQs
What is the best Vortex scope for coyote hunting?
When shopping for the best Vortex scope for coyote hunting, your choice will trickle down to your hunting needs and personal preference. So, factor in the two things and pick the scope that will better your odds of having a successful excursion every time you go out hunting.
What is the best caliber for coyote hunting?
.223 is by far one of the best all-round calibers for hunting. It is popularly used for predator hunting including coyote hunting where it excels at.
Conclusion
When hunting coyotes, the sighting tool you use determines how successful your hunting expedition will be. Vortex rifle scopes hardly disappoint. Look at the facets and specs that each of the Vortex scope we have mentioned above brings to the table and use this guide to pick the unit that will work best for your hunting needs.