If you are avid hunter, you know how fascinating deer hunting is. You also know that deer hunting demands great precision if you want to have a successful hunting trip. This is where the best riflescopes for deer hunting come in handy. A quality riflescope is indispensable for a successful deer hunting expedition. It helps unleash better performance which is essential for a rewarding hunting expedition.
Given the multitude of riflescopes available on the market, finding the best scope for your rifle is often taxing and time consuming especially for the uninformed buyers. To help, we have a comprehensive review of 8 best riflescopes for deer hunting which will not just fit your hunting style, but your budget as well. Let's take a look.
Best Riflescopes for Deer Hunting
1)Vortex Crossfire II 4-12×44 Rifle Scope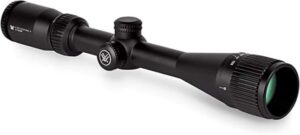 The Crossfire II 4-12×44 Rifle Scope provides great precision that deer hunters need. It offers high performance at an economical price and it's built to exceed other scopes with a similar price tag in terms of performance and reliability.
This riflescope provides excellent optical performance in any situation. This makes it a favorite among avid deer hunters and hunters in general. The fully multi-coated lenses facilitate excellent light transmission in low light situations to give you bright and vivid images from dawn to dusk.
The riflescope boasts a Dead-Hold BDC reticle that's housed on the second focal plane. It's great for hunting at different ranges where there is a concern on estimating holdover. Besides that, this product is sturdily built to give you unbeatable durability. It has an aircraft grade aluminum construction which provides great durability without adding any unnecessary weight. It's fully waterproof and fog proof so you can use it in any weather conditions. Besides, it has a hard anodized finish that reduces glare during the day and camouflages your hunting position.
For your convenience, the riflescope comes with a fast focus eye piece which facilitates smooth and quick reticle focusing. Above all, it's lightweight, portable and convenient for deer hunting in different environments.
Features
100% waterproof and fog proof
Fast focus eyepiece
Fully multi-coated lenses
Variable and versatile 4-12x magnification
Dead-Hold BDC reticle
Robust aircraft grade aluminum construction
Hard anodized finish
Capped reset turrets
1-inch single-piece tube
2) Nikon Prostaff 3-9×40 Black Matte Riflescope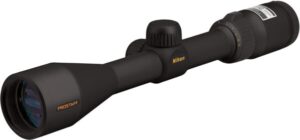 The Nikon Prostaff 3-9×40 Riflescope is your best deer hunting scope if you are on a tight budget. It's equipped with an array of excellent features at a price that's pocket-friendly. It features a versatile 3-9x magnification suitable for both close and long-range deer hunting. You can use the 3x when hunting in thick woods and then ramp up the zoom to 9x when hunting in wide open fields.
This product provides high quality images in any situation. The wide 40mm objective lens paired with the fully multi-coated optics facilitate maximum light transmission for brilliant and clear images even in dismal environments. Moreover, it has a quick-focus eyepiece for rapid reticle focusing and a generous 3.6-inches eye relief which will boost your confidence when hunting. It also has a parallax setting from 100 yards for greater long-range accuracy.
More importantly, this riflescope is built to handle anything that comes its way. It has a tough housing for rugged strength and durability. It's also nitrogen filled to prevent internal fogging and O-ring sealed for total waterproof performance. To top it all, the Prostaff weighs just 13.7 Oz for easy portability.
Features
3-9x magnification
40mm objective lens
Compact, light and convenient for hunting
BDC reticle
Fast focus eyepiece
Generous eye relief
Fully multi-coated optical system
Waterproof and fog-resistant
Parallax setting from 100 yards
Zero-reset turret
3)Athlon Optics Talos 4-16×40 Second Focal Plane Riflescope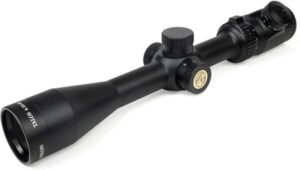 The Athlon Talos 4-16×40 is another deer hunting scope that offers good value for the money. This riflescope is designed to be compatible with a wide range of rifles. It offers clear as crystal views in low light settings thanks to the fully multi-coated optics that enhance light transmission. It's also nitrogen purged to provide clear views all through while maintaining reliable fog proof and waterproof performance.
This riflescope is made with hunters in mind. It has a single-piece main tube that's heat treated to provide better strength than multi-piece tubes. The aircraft grade aluminum construction enhances strength and durability, so it will handle anything you throw at it. Besides, the reticle is etched on the glass to provide higher recoil resistance and enhance durability. Overall, it's a great scope available at a decent price tag.
Features
Waterproof, fog proof and shockproof
Glass-etched reticle
Fully multi-coated lenses
Aircraft-grade aluminum construction
1-inch heat treated main tube
Parallax adjustment from 15 yards to infinity
Recoil resistant
4) Simmons 510513 Truplex Riflescope, Matte 3-9×40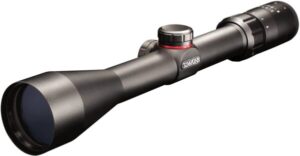 If you are looking for a quality deer hunting riflescope that's easy on the wallet, look no further than the Simmons 510513 Truplex Riflescope. Even at its budget-friendly price, this scope offers high-quality and reliable features than other expensive scopes in its class. Moreover, its simple to use and beginner-friendly too.
Featuring an eye relief of 3.75-inches, this scope gives you snug viewing and keeps your eye safe from high-recoiling calibers. The fully coated optics facilitate superior light transmission for brighter image production even in low light situations. Simmons also brings to the table 0.25 MOA SureGrip audible-click windage and elevation adjustments as well as Truplex reticle that's highly visible and easy to aim.
With the fog proof and waterproof construction, you can use this riflescope even when it's raining. Better yet, the shockproof housing stands up to harsh hunting environments so nothing can stop you from acquiring your target. Lastly, this riflescope has a QTA eyepiece for smooth target acquisition.
Features
Truezero fingertip windage and elevation adjustment
Fully fog proof and waterproof
QTA eyepiece for simple target acquisition
Outstanding precision
Fully coated optics
Truplex reticle
3-9x magnification and 40mm objective lens
5)Bushnell Banner Dusk & Dawn Multi-X Reticle Adjustable Objective Riflescope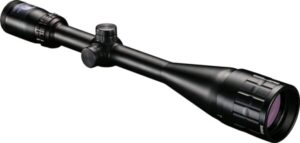 If you are looking for a riflescope for long-range deer hunting, this 6-18×50 riflescope from Bushnell suits you. With up to 18x magnification, this riflescope will help spot deer regardless of how far they are. Even with the high magnification setting, this model provides a decent field of view which is essential for tracking down moving targets. It also provides clear images at all magnification settings.
This riflescope is 100% waterproof and fog proof. All air-to-glass surfaces are fully multi-coated to give you brilliant, clear and high-contrast images. Furthermore, the scope has a one-piece main tube design that's highly durable and 1/4 MOA fingertip windage and elevation adjustments. It also boasts a fast focus eyepiece which adds to its dependability.
Features
5-inches eye relief
Fog proof and waterproof construction
1/4 MOA fingertip windage and elevation adjustments
Fast focus eyepiece
Dusk and Dawn Brightness multi-coated lenses
Superb low-light clarity
Beautiful design and durable construction
High 18x magnification
6)Vortex Optics Diamondback Second Focal Plane Riflescopes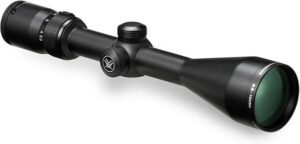 When it comes to durability and excellent optical performance, it's hard to go wrong with the Vortex Diamondback riflescope. This 3-9×40 BDC (MOA) riflescope is specially made to take your hunting skills to the next level. It offers excellent image quality from dusk to dawn and a fast focus eye piece for rapid and simple reticle focusing.
Weighing just 0.85 pounds, this riflescope provides great accuracy without adding any extra weight on your hunting rifle. The metal-on-metal precision turrets help you get back to zero smoothly after sighting in, while the precision glide erector system gives you precise tracking and repeatability.
This riflescope is made to provide unbeatable durability. The solid one-piece main tube is crafted from durable aluminum and has a hard-anodized finish to withstand wear and tear. The anodized finish also helps reduce glare and camouflage your shooting position when you are hunting in broad daylight. In addition to everything else, the riflescope is O-ring sealed and argon purged to deliver a lifetime of all-weather performance.
Features
Lightweight design
Fast focus eyepiece
Fully multi-coated lenses
Dead-Hold BDC reticle
Metal-on-metal precision turrets
Durable and shockproof aluminum construction
Hard-anodized finish
Waterproof and fog proof
3" eye relief
7) NIGHTFORCE SHV C520 4-14x56mm SFP Hunting Scope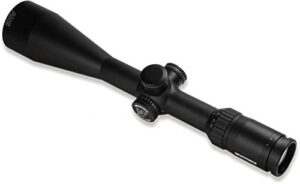 The SHV hunting scope is specially designed to provide great versatility across various shooting disciplines. Whether you like deer hunting, varmint shooting, target shooting, or all of the above, this scope got your back.
Featuring 1 MOA elevation and windage markings, this scope gives you highly accurate range findings at longer ranges. The floating center crosshair makes the reticle fast and easy to use, which is essential for rapid target identification. The reticle also features a center illumination that helps you spot deer different targets easily in low light conditions.
The scope features a 30mm main tube with capped reset turrets. Thanks to the fully multi-coated glass you are assured of excellent light transmission for bright and razor sharp images from dawn to dusk. The fast focus eyepiece provides sharps image details and easy reticle focusing, while the side parallax adjustment knob eliminates parallax for precise shooting at long ranges.
This hunting scope boasts a rugged construction to ensure that it lasts from one hunting season to the other. It's waterproof, fog proof and shockproof as well to provide a lifetime of field use. Moreover, it's crafted with rugged materials and robust mechanics to ensure that it withstands anything that comes its way. Overall, it's an excellent scope that outperforms multiple optics from other brands that cost much more.
Features
Variable and versatile 4-14x magnification
30mm body tube diameter
Waterproof, fog proof and shockproof
Capped, finger-adjustable turrets
Analog center only illumination
6-inch eye relief
Sturdy and durable housing
Fully multi-coated glass
Side parallax adjustment knob
1/4 MOA finger click adjustments
Fast focus eyepiece
8) CVLIFE 3-9×40 Optics R4 Reticle Crosshair Scope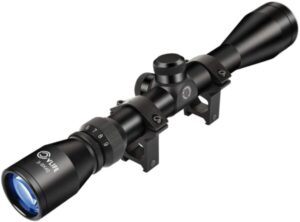 The CVLIFE 3-9×40 scope is another great riflescope suitable for deer hunting and hunting in general. It is designed to perform well in any field and weather condition. It brings to the table a versatile 3-9x magnification power suitable for both close and mid-range hunting. It's simple to use and fits any rifle with standard 20mm/0.79" Picatinny or Weaver rail.
This scope provides excellent optical performance. It boasts a crosshair reticle that's stay's visible in any lighting condition and fully multi-coated lens that facilitates excellent light transmission for HD optical performance. The external lens has a scratch proof coating included to protect it from oil, dirt, scratches and fingerprints.
Another good thing about this scope is the durable make. It's built on an ultra-sturdy 1-inch machined aluminum tube for long-lasting durability. It also has a special inner and outer structure which provides additional durability. Above all, this riflescope is lightweight for easy portability and fully waterproof and fog proof so you can use it under any weather condition.
Features
Fully multi-coated glass
Scratchproof exterior lens coating
Special inner and outer structure
Fully waterproof and fog proof
Lightweight design
Fits standard 20mm/0.79" Picatinny or Weaver rails
User-friendly 3-9x power ring
Second focal plane reticle
Windage and elevation adjustment turret
See Also
How to Choose the Best Riflescopes for Deer Hunting
When shopping for the best riflescopes for deer hunting, it's important that you take your time and look for a model that works best for your hunting habits and needs. Here are the key factors to guide you during the selection process.
Magnification
You'll want a riflescope that provides clear visuals of the target at any distance. A 3-9x model will suffice if you'll be hunting deer in close to mid-ranges under 200 yards. On the other hand, if your hunting involves tracking deer at long ranges, look for a scope with more than 9x magnification. It can be 4-16x or 6-18x. Just make sure that you don't settle for anything less than 9x.
Objective Lens
When it comes to deer hunting, riflescopes with bigger objective lens are the best. The larger diameter means more light is collected for brilliant images. Try to look for a scope whose objective lens diameter range from 40 to 50mm. This way it will collect ample light without being too bulky.
Multi-Coated Lens
The best riflescopes for deer hunting should be able to perform exemplary well from dawn till dusk. Typically, deer are most active early in the morning or late in the evening. Therefore, you'll want your riflescope to provide clear as crystal images in such situations. Riflescopes with fully multi-coated lenses facilitate optimum light transmission for clear and high-quality images in any lighting conditions.
Durability
The materials used in making the riflescope play a huge role in how durable it will be. Go for a model that's crafted from high-quality materials such as aircraft grade aluminum. Such riflescopes offer unbeatable durability and great strength, without adding unnecessary weight. A durable scope will withstand heavy recoil and handle anything that comes its way as you hunt.
Eye Relief
Make sure that the riflescope you are eyeing offers a long eye relief. This is particularly important if you are using a rifle with heavy recoil or you wear eyeglasses. A long eye relief will keep your eyes safe from heavy recoiling rifles and also provide comfortable views even with your eyeglasses on. The best riflescopes for deer hunting should have an eye relief that's at least 3.5-inches long.
Ease of Use
You'll want a riflescope that's not only easy to use, but also easy to mount. The last thing you'll want is a scope that you can't operate when you are already in the field or one that takes a long period of time before you can mount it on your hunting firearm. Also, the riflescope should be easy to remove as it's easy to attach.
FAQs
What size scope is best for deer hunting?
It depends on the hunting conditions and environment as well as individual hunting habits. For close quarters situations and daylight hunting, a basic 3-9×40 riflescope will suffice. In most cases, the 3-9x is the best magnification for deer hunting. If you want to engage targets that are further away, go for a model with a bigger size both in magnification and objective lens size.
What does 3-9x mean in a scope?
This scope has a variable magnification power. It's capable of bringing a target 3 to 9 times closer than when you view it with naked eyes. You can use the 3x for close quarters hunting, the ramp it up to 9x for distant targets.
What is eye relief in a scope?
Eye relief is the maximum distance from your eyes to the outer surface of the eyepiece. A scope with a long eye relief should help you get the whole field of view comfortably, without moving the scope around.
Conclusion
Knowing what your hunting habits and hunting needs are will help you make the right buying decision. The best riflescopes for deer hunting are made differently to meet the needs of different hunters. Use our buying guide above and weigh in the features that each riflescope comes with, then choose the model that works best for your hunting needs.