Are you in the hunt for the best scope for AR-15? You have come to the right place. In this post, we are going to take you through the top-rated scopes for AR-15 available on the market currently.
The AR-15 is one of the most versatile rifles available today. It is extremely popular for hunting and recreational plinking in addition to target shooting and home defense. It also boasts an intuitive and user-friendly design that makes it ultra-simple to use for any application.
Irrespective of the application you use your AR-15 for, you should invest in a quality scope. Having a good scope, in the correct shooting context can enhance your shooting accuracy, speed up the rate of target acquisition and help you acquire objects at extended ranges where the naked eye can't reach.
Best Scope for AR-15 – Our Top Picks
With the endless scope options available on the market today, finding the right one for your AR-15 is easier said than done. If you are having a hard time finding the best scope for your needs, here is a detailed review of the best AR-15 scopes that you can choose from.
Without wasting any more time, let's jump right in.
1) Vortex Optics Diamondback Tactical First Focal Plane Riflescopes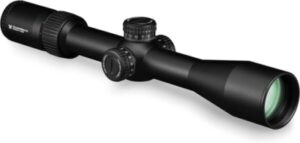 The Diamondback 4-16×44 Tactical riflescope is by far the best scope for AR-15 available on the market currently. It is built with a multitude of admirable and functional features that offer the best balance between precision and value.
When it comes to optical performance, this is a no non-sense scope. It employs extra-low dispersion glass that delivers great resolution and color accuracy. It also has fully multi-coated lenses that enhance transfer of light for bright, crisp and detailed sight pictures even in poor light settings.
Further, the scope has a versatile 4-14x magnification suitable for medium and long range shooting. It also features a glass-etched first focal plane reticle that keeps the sub tensions accurate throughout the whole zoom range. Construction-wise, the scope has exposed tactical turrets, a side parallax knob and a 30mm ruggedized main tube that is both shockproof and recoil resistant.
Best of all, this optic has strong O-rings seals to lock out moisture and dust, a nitrogen purged optics to prevent build-up of fog.
Features
Fast focus eyepiece
Single-piece 30mm main tube
Waterproof and fog resistant design
Extra-low dispersion glass
Glass-etched FFP reticle
4-14x magnification
Hard anodized finish
Side parallax knob
Fully multi-coated lenses
Exposed tactical turrets
Pros
Budget-friendly
Accommodating eye relief
Crystal clear optics
Easy to zero
Cons
2) Leupold VX-Freedom 3-9x40mm Rifle Scope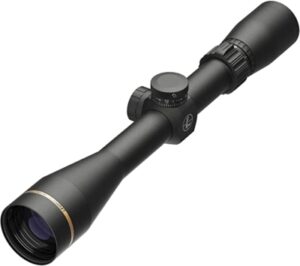 When it comes to versatility, it is hard to beat the Leupold VX-Freedom 3-9x40mm Rifle Scope. With its admirable and top-performing features, this scope can help enhance your shooting accuracy irrespective of the activity you use it for.
Featuring an adjustable 3-9x magnification, the scope is ideal for taking shots at both close and medium ranges. It has a generous eye relief that helps with rapid target acquisition and premium-quality glass optics that yield high-quality sight pictures. Better yet, the scope possesses a Twilight Light Management System that guarantees ultra-bright and detailed images of targets even in low light settings.
The scope is built to last. It is crafted from 6061-T6 aluminum to offer long term durability and impacted tested and verified to be recoil resistant. It also has scratch resistant lenses for additional protection and a matte finish to reduce glare when hunting in broad daylight.
To top it all, this 1-inch scope is fully waterproof, fog proof and shock proof.
Features
1-inch main tube
Second focal plane reticle
Twilight Light Management System
100% waterproof, fog proof and shock proof
3-9x magnification
Matte finish
Scratch resistant lenses
Pros
Great built quality
Cost-effective
Clear glass
Capped turrets
Generous eye relief
Cons
Fixed parallax
Non-illuminated
3) Leapers UTG BugBuster 3-9x32mm Rifle Scope-2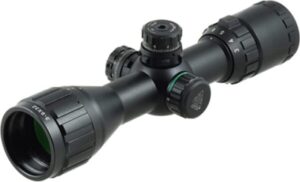 The Leapers UTG BugBuster 3-9x32mm is one of the best budget scopes for AR-15. While the scope is cost-effective, it doesn't cut corners on quality, reliability and durability. It brings to the table a wide range of good features to help achieve the absolute best from your AR-15.
The scope is crafted on a True Strength Platform. It is also shockproof to weather anything you throw at it. Additionally, it is sealed on both ends and nitrogen filled to be rain proof and fog resistant respectively. It also comes with finger adjustable target turrets that are zero-lockable and zero-resettable.
Another admirable feature about the scope is its ease of use. It has an ultra-lightweight design for easy carrying in the field. Further, it features a range-estimating reticle that is illuminated for optimal aiming and accurate shooting even in unfavorable lighting conditions.
The scope also features an adjustable objective for parallax elimination, a large field of view for swift target finding and an ultra-accommodating eye relief for rapid target acquisition.
Features
High-quality flip open lens cap
3-9x magnification range
Range estimating Mil-Dot reticle
1-inch main tube
Premium Zero lockable and Zero resettable target turrets
Waterproof and fog proof
Adjustable objective
Emerald coated lenses
Pros
Large field of view
Accommodating eye relief
Reticle illumination
Easy to use
Cons
Less ideal for use in critically low light settings
4) Bushnell AR Optics 1-4x24mm Rifle Scope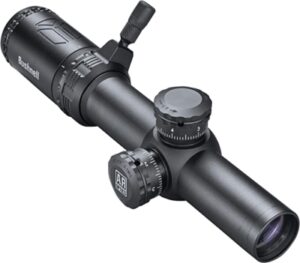 Next up is the Bushnell AR Optics 1-4x24mm Rifle Scope. If you are a beginner looking for the best scope for your AR-15, this is it. It is not only budget-conscious but also easy to operate.
The scope brings to the table a variable 1-4x zoom range ideal for short and mid-range shooting. At every zoom power, it offers a massive field of view to help ensure that nothing is left undiscovered. It also comes with a Drop Zone 223 reticle that offers accurate holdovers out to 500 yards and admirable low-light performance.
For added convenience, the scope has a fast focus eyepiece that aids in simple reticle focusing. In terms of construction, it has a 30mm main tube that is fully waterproof, fog proof and shockproof for all-weather reliability and optimum durability.
Above all, it has a fully multi-coated optics that yield ultra-bright, clear and tack-sharp sight pictures from sunrise till sunset.
Features
Variable 1-4x zoom range
30mm main tube
Fully multi-coated optics
IPX-7 waterproof, fog proof and shockproof
Fast focus eyepiece
Second focal plane reticle
Exposed finger adjustable high turrets
Pros
Easy to operate
Friendly to the wallet
Bright, clear and good-quality optics
Cons
5) NightForce 2.5-10x42mm NXS Compact Rifle Scope

NightForce makes a large number of high-quality optics and the 2.5-10x42mm NXS Compact Rifle Scope is not any different. Adding this top-notch scope on your AR-15 will help you place the shot accurately no matter the situation.
The glass is crystal clear for quick target finding and with the illuminated reticle, you will have an easy time putting the shots accurately even in low light settings. Better yet, it has a large 42mm objective that offers optimal low light performance and night vision compatible settings for greater versatility.
With a mere weight of about 20.5oz, the scope is lightweight, portable and simple to use. In addition to that, it has a compact size so it will not be a hindrance in the hunting/shooting grounds. It also brings to the table a power throw lever for instant magnification adjustment and side parallax adjustment for parallax correction.
Features
5-10x magnification range
Matte finish
30mm body tube
Second focal plane reticle
Built-in power throw lever
DigIllum illumination
Pros
Adjustable parallax
Light and compact design
Numerous accessories included
Night vision compatible settings
Cons
6) Sig Sauer Romeo5 1x20mm Red Dot Sight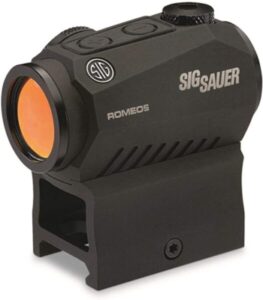 If you use your AR-15 mainly for home defense or hunting and you need an optic that offers instantaneous rapid acquisition. This and more is what you will find in the Sig Sauer Romeo5 1x20mm Red Dot Sight.
The red dot sight is compact in size, but tough as nail. It is built with high-grade materials to offer long lasting durability. Furthermore, it employs an advanced HD optical system that maximizes resolution and optical performance. To add on that, it possesses abrasion-resistant lens coatings that enhance the sharpness, brightness and clarity of the images by enhancing light transmission.
Another feature that makes the red dot stand out is the day and night functionality. It has 10 illumination settings where 8 settings are for day vision and the last 2 settings for night vision. Better yet, this optic has a parallax free design and unlimited eye relief to ensure that you locate your targets with ease and observe them comfortably, even when you are wearing eyeglasses.
Lastly, you can use this red dot sight under any environment thanks to the IPX7 waterproof and fog proof design.
Features
1x magnification
Parallax-free design
IPX-7 waterproof and dust proof
Unlimited eye relief
10 brightness settings
Fog proof and shockproof design
ED and high transmittance glass
Abrasion resistant lens coatings
Motion sensing technology, MOTAC
Pros
Versatility
Compact and lightweight
Budget-friendly
Easy to install and use
Excellent build quality
Cons
The scope is plain looking
7) Bushnell AR Optics 1x25mm TRS-25 HiRise, 3 MOA Red Dot Sight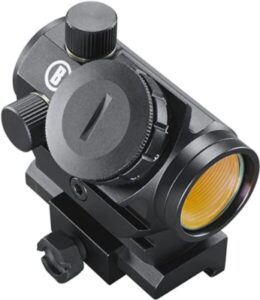 Here is another red dot sight that pairs really well with the AR-15. The Bushnell TRS-25 HiRise Red Dot Sight features virtually everything you need to acquire targets rapidly and accurately at close to medium ranges.
It has a crisp 3 MOA dot that aids in accurate shot placement even at long ranges and multi-coated optics that offer a wide and unobstructed field of view. With a weight of 6.3oz only, the optic  is ultra-light, portable, easy to mount and simple to use. Additionally, it is fully waterproof for use even in rainy and humid environments.
When it comes to the optical features, it is equipped with 11 brightness settings for greater accuracy and easy aiming in various lighting environments. It also has an amber-bright high-contrast lens coating that enhances image brightness in any environment. Best of all, it has unlimited eye relief to ensure comfortable observation even with your glasses on.
Features
3 MOA red dot
Unlimited eye relief
11 brightness settings
Multi-coated optics
100% waterproof, fog proof and shockproof construction
Amber bright high-contrast lens coating
Pros
Compact and ultra-light design
Multiple levels of illumination
Easy to install and use
Excellent fit and finish
Cons
8) Steiner P4Xi 1-4×24 mm Rifle Scope

Last but not least is the Steiner P4Xi 1-4×24 mm Rifle Scope. This tactical rifle scope packs a multitude of practical and dependable features in a compact packable size that looks great and fits well.
This rifle scope has a true 1x zoom power which gives you the capability to aim with both eyes open. This aids in rapid target acquisition. It also help you retain your situational awareness for added safety. Furthermore, the scope has an illuminated reticle with 11 different brightness levels for sighting under any light setting, day and night.
In terms of construction, this product features a ruggedized aircraft grade aluminum housing with low profile turrets. It is shockproof to withstand anything that comes its way and nitrogen filled to be waterproof and fog proof.
In addition to everything else, the scope offers an accommodating eye relief and a generous eye box throughout the entire zoom range.
Features
Matte finish
Low profile turrets
1-4x magnification range
Waterproof, fog proof and shockproof
Second focal plane illuminated reticle
Single-piece 30mm tube
Pros
Robust and excellent build quality
Reticle illumination
Lightweight and compact design
Long battery life
Night vision compatible settings
Cons
Read Also
Factors to Consider when Choosing the Best Scope for AR-15
Finding a reliable scope for your AR-15 is not something to do on a whip. Before you settle on a specific model, below are the most important factors you should put into consideration.
Magnification
Magnification is one of the first things you should consider when making your selection. With the right scope magnification, you will enhance your accuracy depending on the distance you will be shooting at and have a rewarding hunting or shooting excursion.
However, don't overdo the magnification. Any scope with about 10x magnification will be sufficient for most long range applications. You can also get a fixed power scope or red dot sight if you only shoot at close and constant ranges.
Build Quality
While the market offers a multitude of AR-15 scopes with almost similar features, the build quality differs from one model to the other. The most sought-after AR-15 scopes are those built from aluminum alloy or any other sturdier metal.
Such scopes offer unbeatable durability even in the most unforgiving outdoor conditions. Additionally, the scope you choose to purchase should have a waterproof and fog resistant rating for use even in adverse environments.
Objective Lens
Long range shooting is all about light. The further the target is, the more light the scope should gather to create a sight picture that is clear and bright especially in the highest magnification setting. For this to happen, the scope should have a large objective lens.
A large objective lens optimizes low light performance and collects as much light into the scope as possible for bright and clear image generation. It also provides a large viewing angle that is essential for swift target location.
Weight
Weight is another important factor to consider when looking for the best scope for AR-15. Whether you purpose to use your AR for hunting, plinking, home defense or tactical shooting, get a light scope that weighs less than 2lbs.
A light scope will be easy to carry everywhere you go. It will also scatter the AR-15 recoil effectively and enhance the scope's durability.
Eye Relief
Eye relief is an important part of every scope. It dictates how comfortable your shooting will be especially during lengthy sessions. A tip is to look for a scope that offers a longer eye relief of at least 3.5 inches. It will be comfortable to use with or without eyeglasses. A long eye relief can also give you the flexibility to fire the rifle from any shooting angle.
Price
Lastly, consider the price. Luckily, the price tag of all the scopes listed above varies from one model to the other to meet the different budget needs of all the users. After you have identified the features you need in a scope, you should shift your focus on finding a model whose price tag meets your budget needs.
A high-end scope will be expensive however, it will be valuable in the long run. But if you are on a budget, there are plenty of cost-effective yet quality and reliable scopes you can choose from.
Best Scope for AR-15 FAQs
Should I put a scope or a red dot on my AR-15?
This depends on the usage and your personal preference. If you shoot at close quarters only or you are looking for an optic that offers rapid target acquisition, go for a red dot sight. On the other hand, a scope is more ideal for shooting at varying ranges especially at extended ranges.
How far can the AR-15 rifle shoot?
The effective distance at which an AR-15 rifle can shoot in a large way depends on the rifle makeup, the shooter and the ammunition being used. But in general, the AR-15 has an effective range of about 400 to 600 yards.
What size scope is best for AR-15?
The best scope for short and medium range shooting with the AR-15 is one with a 3-9x magnification range. On the other hand, for long range shooting, you need a scope that offers more than 10x magnification.
What does AR 15 stand for?
The AR in AR-15 rifle is an abbreviation for ArmaLite rifle where ArmaLite is the name of the company that makes it.
Final Thoughts
A quality AR-15 scope will help you take full advantage of your rifle irrespective of the shooting application. As you have seen, there are so many optics to pick from. Put into consideration the usage of the scope, your preference and shooting style then select a unit that will have you shooting better under any situation.