When it comes to long range shooting, it is hard to go wrong with the AR-10. It offers impressive accuracy at mid and long ranges which makes it a popular choice among long range hunters, bench shooters and tactical shooters. Additionally, it cost-effectiveness makes it the go-to rifle for many.
Over the last few years, the broad use of the .308 Winchester round has led to an increase in demand of the AR-10. If you use this versatile rifle for hunting or shooting in the range, you need a scope to help you push it to its full potential. The right scope will aid in rapid target finding and enhance your shooting precision.
However, finding the best scope for AR-10 is no easy feat. With the sea of products available out there, the selection process ends up being a daunting and unpleasant task particularly for the first time buyers. But we are here to help.
We have a comprehensive review of the top-rated and best performing scopes for AR-10 available on the market currently. Additionally, we have included a detailed buyers guide to ensure that you make an informed buying decision.
With all that said, let's jump right in.
7 Best Scopes for AR-10 – Our Top Picks
1) Vortex Optics Viper HS-T Second Focal Plane Riflescopes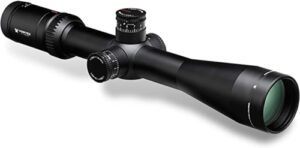 The Viper HS-T 4-16×44 is arguably the best scope for AR-10 available on the market today. It is built with high-end features which make it ideal for long range hunting and tactical shooting.
Featuring an adjustable 4-16x zoom range, the scope gives you the flexibility to take shots at varying ranges. To complement the vast magnification is a second focal plane VMR-1 reticle which is perfect for accurate holds at long ranges.
Furthermore, the scope possesses a large 44mm objective that yields a large visual field at each zoom setting and outstanding low light performance. It also built with extra-low dispersion lenses that offer great resolution and color fidelity which is important for accurate target identification. Even better, the lenses have XR coatings that enhance light transfer for bright and crisp image views.
Another feature that makes the Viper HS-T shine is the ruggedized housing. It has a solid 1-piece body tube that is rigid enough to weather whatever punishment you subject it to. It is also O-ring sealed and purged with argon to ensure a lifetime of waterproof and fog proof performance.
The scope also brings to the table a CRS Zero stop that allows for easy return to zero, a fast focus eyepiece and a side parallax adjustment.
Features
Fully multi-coated lenses
Waterproof and fog proof construction
Extra-low dispersion lenses
Variable 4-14x magnification range
Second focal plane VMR-1 reticle
Fast focus eyepiece
CRS Zero stop
Armortek lens coatings
Pros
Great image clarity
Generous eye relief
The parallax and focus knob spin smoothly
Excellent build quality
Crisp glass
Cons
Not ideal for short range shooting
2) NIGHTFORCE SHV 4-14x50mm F1 Hunting Scope

Nightforce is a highly-respected name in the optics industry. It makes a plethora of high-quality and reliable scopes and this is clear in the SHV 4-14x50mm F1 Hunting Scope. If you chiefly use your AR-10 for hunting, this scope is your best option.
It features a variable 4-14x magnification suitable for mid and long range hunting,  and a 30mm body tube that offers adequate room for adjustments and reticle movement. Additionally, this SHV scope is offered with an option of either the MIL-R or MOAR reticle, both of which are perfect for long range hunting.
The scope is built with ease of use in mind. It has a fast focus eyepiece that allows for simple and rapid reticle focusing and a ZeroSet feature that ensures quick return to zero under any situation. Besides, both reticles are illuminated to enhance accurate shooting under virtually all light settings.
This SHV also brings to the table a large 50mm objective that offers outstanding light transmission no matter the hunting environment. it also yields a large viewing angle to ensure that nothing is left undiscovered. Other noteworthy features included are capped turrets to prevent accidental dialing in the field, adjustable parallax and a power zoom ring that allows quick and accurate magnification adjustment.
Features
4-14x magnification range
50mm objective lens
Capped windage turrets
ZeroSet technology
Fast focus eyepiece
First focal plane reticle
30mm main tube
Parallax adjustment from 25 yards to infinity
Pros
Lightweight design
Reticle illumination
Solid construction
Clear as crystal optics
Cons
3) Sightmark Wraith Digital Night Vision Riflescope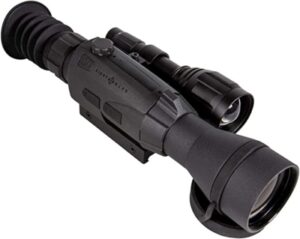 If you are looking for a quality night vision scope for your AR-10, look no further than the Sightmark Wraith Digital Night Vision Riflescope. It is a great scope that offers full color viewing during the day and classic green or black-and-white viewing for night vision.
The scope employs a high definition sensor that detects targets even at extended ranges. It also brings to the table a high resolution imaging with video recording in 1080p HD. If you like to record your hunting expeditions, you will find the video record function really helpful.
Furthermore, this night vision scope features 8x digital zoom and 4-32x optical zoom. The versatile zoom power makes it ideal for hunting at intermediate to long ranges. On top of that, the scope comes with a removable 850nm IR illuminator that provides brighter views of targets even in pitch-dark night settings.
Best of all, you can customize the scope to fit your needs and boost your shooting accuracy using the 10 reticle options and 9 color choices available.
Features
Removable eyecup
Day and night mode
High-definition sensor
8x digital zoom
HD photo and video recording
Removable 850nm IR illuminator
10 reticle options in 9 colors
5 weapon profiles
Pros
Easy on the wallet
Dual day and night functionality
Easy to mount and use
Lightweight
Cons
The battery could be better
4) Vortex Optics Venom 5-25×56 First Focal Plane Riflescope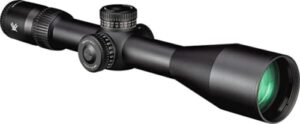 Next up is the Venom 5-25×56 First Focal Plane Riflescope from Vortex. This scope brings to the table nearly every feature that you require to go the distance and become a better shooter.
It is built on a 34mm body tube that offers a massive amount of turret travel and reticle movement. It also features a vast 5-25x zoom power suitable for medium and long range shooting and a 56mm aperture that provides admirable image views at every zoom level.
Furthermore, the scope comes with an EBR-7C reticle that provides accurate holds at each magnification setting. It is also equipped with a fast focus eyepiece for simple reticle focusing and a built-in power throw lever that allows for rapid transition between magnifications.
Construction-wise, the scope is built to last. It is crafted from aircraft-grade aluminum which makes it shockproof, impact resistant and recoil proof. Additionally, the external lenses have an Armortek coating that is scratch proof and resistant to stains, fingerprints and dirt. It is also fully waterproof and fog resistant to be usable in any weather.
To top it all, the scope has fully multi-coated lenses that provide superior light transmission for outstanding image clarity and low light performance.
Features
XD optical system
Waterproof and fog proof
34mm main tube
EBR-7C first focal plane reticle
Fully multi-coated lenses
Massive 5-25x magnification range
Fast focus eyepiece
RevStop Zero system
Pros
Excellent clarity under any light settings
Easy to use reticle
Robust and reliable construction
Reasonable pricing
Cons
5) Burris RT Series Long Range Rifle Scope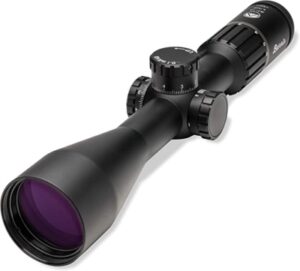 Another best scope for AR-10 on our list is the Burris RT Series Long Range Rifle Scope. This scope is perfect for anyone looking to take their long range shooting skills a notch higher without breaking the bank.
It features a variable 3-15x magnification that is ideal for taking shots at both short and long ranges. All shooters from air gunners to long range rifle enthusiast will also appreciate the featured first focal plane SCR 2 MIL dot reticle that optimizes shooting accuracy at long ranges, and the built-in throw lever that makes magnification adjustment a snap.
When it comes to construction, the scope is built around a rugged 30mm main tube. It is sturdy enough to weather any rough handling and handle recoil from any direction. On top of that, it is nitrogen filled to be fully waterproof and fog proof.
Features
30mm main tube
First focal plane SCR 2 MIL dot reticle
3-15x magnification
Waterproof, fog proof and shockproof construction
Zero click stop turrets
Side parallax adjustment
Adjustable throw lever
Pros
Capable of 80 MOA total elevation travel
Excellent edge to edge image sharpness
Good performer optically
Covered by Burris Forever warranty
Cons
The reticle is not the easiest to use
6) Leupold VX-3i 3.5-10x40m Rifle Scope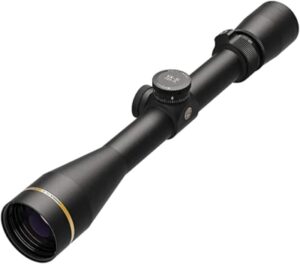 Carrying the highly-respected Leupold name, the VX-3i 3.5-10x40m Rifle Scope can help revolutionize how you hunt or shoot with the AR-10. It is simple to use, lightweight and suitable for both medium and long range shooting.
The optical performance of this scope is what makes it stand out. Thanks to the Twilight Max Light Management System, you are guaranteed of premium edge to edge image sharpness and clarity even in twilight conditions. It also has a DiamondCoat 2 ion assist lens coating that offers high light transmission and the greatest level of resistance to abrasion.
More importantly, the VX-32 is built to offer unparalleled durability. It has a 1-inch main tube made with 6061-T6 aircraft grade aluminum. The tube is punisher tested to perform under the harshest recoil and maximize strength and durability. It is also fully waterproof and fog proof  for all-weather reliability.
Features
Duplex reticle
Precision 1/4 MOA finger click adjustments
Waterproof and fog resistant
DiamondCoat 2 ion assist lens coating
1-inch main tube
Twilight Max Light Management System
Shockproof construction
Pros
Superb low light performance
Lightweight design
Easy to use reticle
Good glass quality
Cons
7) Primary Arms SLX 4-14x44mm FFP Rifle Scope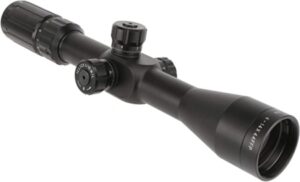 Lastly on our list is the Primary Arms SLX 4-14x44mm FFP Rifle Scope. The scope harbors an array of remarkable features in a compact size  and intuitive design suitable for all users even beginners.
At any range, the scope provides admirable sight pictures for quick target identification. This is thanks to the large 44mm objective that enhances performance even in low light settings. On top of that, it boasts clear and high-quality optics that maximize resolution and color accuracy.
Furthermore, the scope is built to be operable under any environment. It is fully waterproof and fog resistant for use even when it is raining. Construction-wise, it has a 6063 aircraft grade aluminum housing that is durable, shockproof and impact resistant. It also possesses a matte black finish to reduce glare and keep you inconspicuous when hunting under broad daylight.
This scope also brings to the table an illuminated reticle that enhances accurate aiming in low light settings and exposed tactical turrets with Zero Reset for quick and easy return to initial zero.
Features
First focal plane reticle
44m aperture
Fast focus eyepiece
30mm tube diameter
Waterproof and fog resistant
Partial red reticle illumination
Variable 4-14x magnification
Matte black finish
Pros
Reticle illumination
Lightweight yet durable make
Crisp clear optics
Great scope for the price
Cons
Short eye relief
Not ideal for less than 100 yards
Read Also
Factors to Consider when Choosing the Best Scope for AR-10
Intended Use
The first and most important factor to consider before buying a scope for AR-10 is the primary use of the rifle. Being activity-specific will help you find the best scope for your needs.
If you are looking to use the scope for hunting, you will want a scope that performs under any hunting environment. The same thing happens to long range shooting and plinking.
If you need an all-purpose scope, then you should get a scope that is built for a wide range of applications.
Magnification
Now that you know what you purpose to use the scope for, the next thing you should consider is magnification. Generally, your preference and shooting distance will determine your ideal magnification.
Given that the AR-10 is used for long range shooting, you will need a variable scope with more than 10x zoom power.
Objective Lens Size
The size of the objective lens varies from one scope to the other. The further you shoot, the more light the scope should collect to yield bright image views. In such a case, you will need a scope with a large objective lens of 40mm or more.
A large objective lens also provides high-quality image views across the scope's whole zoom range and a wide viewing angle that is highly important when hunting.
Durability
The other important factor you should consider is the scope's build quality. A scope that has a ruggedized housing is not just reliable, but also more ideal for use even in extremely rough outdoor conditions.
Scopes made from aircraft-grade aluminum are the best. They are not only durable, but also lightweight, shockproof and recoil resistant.
Eye Relief
Whether you intend to use the scope for hunting or shooting, ensure that you get a model that offers a long eye relief. Eye relief determines how close you have to be from the scope in order to get a full field of view without moving the scope around.
The best scope for AR-10 should have an eye relief that is not less than 3.5 inches. With a long eye relief, the scope will not injure your eye when it recoils. It will also allows for comfortable glassing from any shooting position.
Clarity
Lastly, consider the clarity of the scope. A scope with a clear field of view can optimize your shooting accuracy in any situation.
Scopes with fully-coated lenses offer clear and bright views of targets even in unfavorable lighting environments. A good scope should also be waterproof and nitrogen/argon purged to keep the lenses moisture and fog free. This guarantees all-weather reliability and ensures that the field of view stays clear all through.
FAQs
How far can the AR-10 shoot?
The effective range of the AR-10 is about 600 yards, However, with a quality rifle and a good scope, you can shoot effectively out to 1,000 yards if the environmental conditions are favorable.
What size scope is best for the AR-10?
This largely depends on the intended usage of the scope. Typically, a variable power scope with 10x or more maximum magnification is ideal for both long range hunting and shooting.
What is an AR-10 good for?
The AR-10 is good for long range hunting, shooting and plinking. Irrespective of the application it is used for, it offers excellent accuracy when taking shots at both medium and long ranges.
Final Thoughts
The best scope for AR-10 largely depends on your skills, preference and intended usage. Purchasing the right scope for your needs can help you reach your goals, hone your shooting skills and make your hunting or shooting expeditions more rewarding.
Selecting the best model for your needs will take time and a bit of research, but irrespective of what your needs are, there is a scope out there for you.