One of the most adventurous outdoor activities is boating. Whether you do it as a sport or just for recreation, it will be more fun and therapeutic when you do it with the right tools in your hands. A pair of good quality binoculars for boating is an indispensable tool to have for any boating activity.
It is essential for safety as it will help you spot oncoming traffic and hazards. It will also come in handy when you want to optimize your on-the-water views and experience whether it is on the sea, ocean, lake or any other water body. With a quality optic, you will be able to get up-close views of birds, whales, shark and other marine creatures that would be harder to see with your naked eyes only.
Attributes to Look for in Binoculars for Boating
If you are buying your first pair of binoculars for boating, you are probably wondering what attributes you should look for. Firstly, the binoculars should be fully waterproof and fog proof. It will an added advantage if you find a pair that is designed to float on water for added protection.
Secondly the binoculars should have adequate magnification. Magnification will help you find targets quickly with ease and bring you close to the faraway targets. To complement the magnification, the binoculars should also come with a larger objective lens for optimum optical performance even in low light conditions.
Furthermore, the binoculars should be easy to use and light enough to allow for comfortable one-hand use. They should also have an accommodating eye relief to ensure comfortable observation with or without eyeglasses. Above all, the best binoculars for boating should have proper lens coatings to increase light transfer and premium quality glass for clear and sharp image views.
Best Binoculars for Boating
Given the plethora of binoculars available on the market today, it is not an easy task to find the best binoculars for boating. This piece of gear is an investment and you will want to invest in the best model possible.
In today's article, we have done our homework and compiled this detailed review of the best binoculars for boating to help you make the right buying decision. Without further ado, let's get started.
1) Canon 15×50 Image Stabilized All Weather Binoculars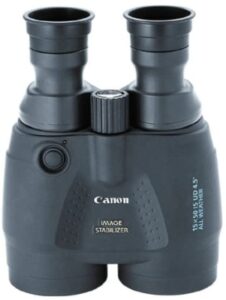 The Canon 15×50 Image Stabilized All Weather Binoculars are arguably the best binoculars for boating available on the market today. This set of binoculars is designed to provide exceptional image brightness, clarity and sharpness in any environment.
Featuring a high 15x magnification, these binoculars will help you observe your targets clearly at any distance. To complement the high zoom power is the large 50mm objective lens that lets in more light for brighter and more detailed image views even in low light situations. Furthermore, the binoculars feature multi-coated lens that optimize light transmission and ultra-low dispersion glass for high resolution and color accuracy.
With the image stabilization technology, these binoculars provide consistent and shake-free image views even in the most adverse boating conditions. This gives you a superb viewing experience and also saves you the hassle of having to carry a tripod to stabilize your views. Additionally, this device is housed in a rugged, water resistant and slip-free rubber body which provides a sure grip under any weather condition.
Above all, all Canon 15×50 IS binoculars come with optional antifog eyepieces and a forgiving eye relief for added eye comfort.
Features
Image stabilizing technology
15x magnification
Multi-coated optics
Weather resistant construction
Rugged, non-slip rubber body
Ultra-low dispersion objective elements
Optional anti-fog eyepieces
Pros
Extra-bright field of view
Superb low light performance
Ergonomic design
Versatility
Image stabilization works exceptionally well
Cons
Eye relief doesn't accommodate eyeglass wearers
High cost
2) Steiner Navigator Pro 7×50 Binoculars with Compass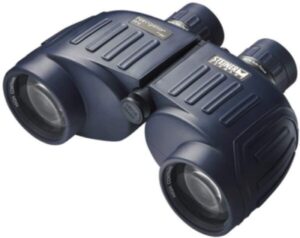 The Steiner Navigator Pro 7×50 is a Porro prism binocular that is packed with virtually every feature you need for boating. It is the perfect choice for recreational boaters, sailing enthusiasts and weekend anglers looking for a quality yet affordable optic.
Featuring 7x magnification, the binoculars provide a wide viewing angle for easy tracking of boats, bridge numbers and marine creatures even in rough water. This marine standard magnification makes the binoculars easy to hold steady and you don't need to use a tripod to stabilize your views. Additionally, the binocular comes with a large 50mm for high light collection and optimal low light performance.
These binoculars are built to last. They have a durable polycarbonate Makrolon housing that is wrapped with a NBR long life rubber armor. The rubber armor absorbs shock and impacts while providing a sure, non-slip grip. For added durability, this device comes with a floating prism system which absorbs severe shock and abuse from rough handling.
For added convenience, the binoculars come with a HD fluid-damped illuminated analog compass that aids in navigation. They also have a lightweight design for easy carrying in the field, and a sports-auto focus system that helps you focus each eyepiece to suit your vision.
Features
7x magnification
High contrast optics
Sports-auto focus system
IPX8 waterproof and fog proof
HD fluid-damped illuminated analog compass
NBR long life rubber armor
50mm objective lens
Robust polycarbonate Makrolon housing
Pros
Impact, shock and abuse resistant
German quality
Crisp clear optics
Excellent light gathering
Sharp image across the whole field of view
Cons
Weak prism coatings
Doesn't float on water
3) Bushnell Marine 7×50 Binocular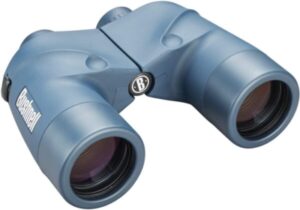 If you are looking for the best binoculars for boating for the money, this is it. These Porro prism binoculars from Bushnell are easy on the wallet yet they harbor a wide array of high-quality and user-friendly features to make your next boating excursion more rewarding.
Built with the latest waterproof and fog proof technology, this pair of marine binoculars delivers reliable performance under any weather condition. Additionally, the binoculars possess a non-slip, non-skid rubber armor which provides a sure, firm grip in wet conditions while cushioning the optics from shock and bumps. They are also designed to be highly resistant to salt water corrosion.
The optical performance of this set of binoculars is incredible. Featuring fully multi-coated optics and high-quality BaK-4 prisms, they maximize transmission of light to deliver bright and vivid image views. Further, the 50mm objective lens collects as much light as possible for optimal low light performance.
Other handy features included are a built-in compass that aids in navigation and a range finder that shows you the size and distance to your targets.
Features
7x magnification
Non-skid rubber armor
Fully multi-coated optics
Wide 50mm aperture
Premium BaK-4 Porro prisms
Built-in compass
Waterproof and fog proof
Pros
Resistant to corrosion from salty water
Budget-friendly
Easy to use
Excellent image clarity
Outstanding low light performance
Cons
4) Hooway 7×50 Waterproof Fogproof Military Marine Binoculars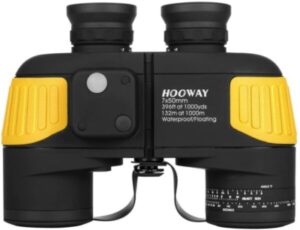 The Hooway 7×50 Marine Binoculars are designed to be used in any weather condition, even under harsh rain storms or highly humid conditions. They are all-round as well and you can use them for activities such as fishing, marine, navigation and water sports among others, not just boating
One thing that makes the binoculars stand out is the robust and reliable construction. They are built with military standards so they can offer long-term durability. On the exterior is a rugged rubber armor which shields the optics from bumps and impacts, while providing a secure grip.
The best thing about using this set of  binoculars is the premium and crisp clear optics which give you superb clarity and brightness. The fully multi-coated lenses increase light transmission and reduces reflection to ensure bright views of targets while the BaK-4 prisms enhance resolution and color fidelity. Also included is an individual focus system, a large ocular vision, illuminated compass and built-in range finder.
Features
Tough rubber armored housing
Fold up and down eyecups
Fully waterproof and fog proof
Illuminated compass
Fully multi-coated lenses
Military standard construction
Individual focus system
Pros
Tripod adaptable
Floatable on water
Wide field of view
Ideal for numerous applications
Cost-effective
Cons
Rangefinder included is optical not laser
Material used is less sturdy
5) Barska Deep Sea 7×50 Waterproof Marine Binoculars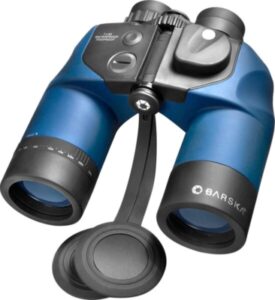 Another best binocular for boating on our list is the Barska Deep Sea 7×50 Waterproof Marine Binoculars. This set of binoculars comes with an internal rangefinder for range estimation and compass that aids in navigation.
Barska designed these binoculars for the boating and nautical fanatics. The 7x magnification helps you get detailed views of targets even at longer distances, while maintaining steady image views. Additionally, they provide a wide and clear field of view for swift target scanning.
The Deep Sea binoculars are built to offer reliable performance under any weather. They are sealed with O-rings to be 100% waterproof and also purged with dry nitrogen to prevent fogging on the exterior and interior of the lenses. They also have a slip resistant rubber armor which provides added protection from bumps and impacts.
Another impressive feature about the binoculars is the incredible optical features. The large 50mm objective lens offers good low light performance, while the fully multi-coated lenses give you exceptionally clear views from sunrise to sunset. Above all, the binoculars weigh 1 pound only for mobility convenience.
Features
Waterproof, fog proof and shockproof
7x magnification
Built-in range finder
Fully multi-coated lenses
Integrated directional compass
Heavy-duty duty rubber armor
Pros
Easy handling
Crisp image views from sunrise till sunset
Lightweight design
Easy to use
Cons
Not ideal for eyeglass wearers
6) Vortex Optics Crossfire HD Binoculars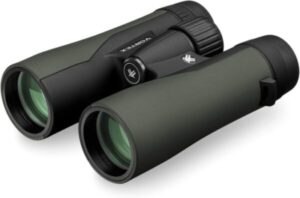 Next up is the Vortex Crossfire 10x50mm HD Binoculars. These binoculars are optimized with high-end glass elements to offer exceptional resolution and superior image crispness and clarity. You can use them for a wide range of outdoor recreational activities among them boating and sailing.
These Vortex binoculars are built to perform under fog, rain and mist. They are nitrogen purged to prevent internal fog build up and O-ring sealed to lock out dirt, moisture and dust. They also feature a rugged construction that maximizes durability and a rubber armor which provide a secure, slip-resistant grip.
Moreover, this set of binoculars boasts fully multi-coated lenses which increase light transmission for brilliant image clarity and sharpness. The roof prism design adds on durability and also makes the binoculars portable and easier to use by being compact. Furthermore, the eyecups twist up and down to ensure that you observe the targets comfortably. Also included is a right eyepiece diopter that accommodates the differences in any user's eye for added user comfort.
Features
Robust aluminum housing
Waterproof and fog proof
Right eyepiece diopter
Fully multi-coated lenses
Rugged rubber armor
10x magnification
Premium roof prism
Center focus system
Pros
HD image quality
Lightweight, compact and portable design
Generous eye relief
Budget-friendly
Clear and crisp lenses
Cons
7) Nikon 7440 OceanPro 7×50 Waterproof Binocular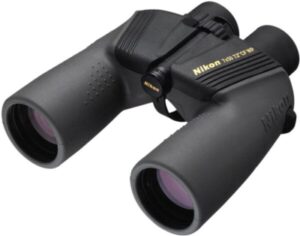 Lastly, we have the Nikon OceanPro 7×50 waterproof Binocular. From the highly-respected Nikon brand, this binocular is a perfect companion for all of your active and water bound activities. It is simple to use, lightweight and ideal for everyday carry.
The OceanPro binocular is built to provide crisp and high-quality image views. It uses precision ground lenses that have multiple layers of anti-reflective coatings for optimal light transmission and image resolution. Additionally, the large 50mm objective lens provides a large 7.1mm exit pupil and a generous field of view for swift target finding.
The binocular is nitrogen filled and O-ring sealed to be fully waterproof and fog resistant. It has a shockproof design that optimizes durability and a rubber-armored exterior which provides an ergonomic, non-slip grip even when your hands are wet.
In terms of construction, it has a tough, lightweight polycarbonate housing that is sturdy enough to withstand any handling. The focus knob is put at the center for ease of access, and with the fold down rubber eyecups, you can customize the eye relief to the most comfortable position.
To top it all, the OceanPro 7×50 Waterproof Binocular comes with a belt that floats on water and an illuminated compass for easy direction finding.
Features
Waterproof, fog proof and shockproof
Rubber-armored exterior
Robust and lightweight polycarbonate housing
Built-in illuminated compass
Fold down rubber eyecups
Multi-coated lenses
7x magnification
Pros
Excellent low light performance
Wide field of view
Easy to use
Clear images in a wide range of conditions
Ergonomic, non-slip grip
Cons
Slightly heavy
Stiff focus wheel
Read Also
Criteria for Choosing the Best Binoculars for Boating
When shopping for the best binoculars for boating, here are some of the important factors you should put into consideration.
Weatherproof
This is the first feature you should take into account. The greatest enemies to both your vision and the optics of your binoculars are fog and water respectively. Therefore, the binoculars you choose to buy should be built to perform reliably even under the most extreme weather conditions.
It is best that you invest in a set of binoculars that is argon/nitrogen filled and O-ring sealed for total waterproof and fog proof integrity. It will also be an added advantage if the unit you get is designed to float on water.
Durability
A vital feature for many years of use is durability. Binoculars for boating that are made with high-quality materials offer long-term durability. Such materials included aluminum, magnesium alloy and any other premium-grade material.
For enhanced durability and sturdiness, get a model that has a rubber armoring. It will shield the delicate binocular's optics from shock, bumps and impacts, and also give you a comfortable and non-slip grip.
Lens Quality
The quality of lens in binoculars can make or break your boating experience. Make sure that you pick a binocular that is designed to offer superb image clarity and brightness no matter the lighting conditions. It should have high-quality lens coatings that enhance light transmission and alleviate light reflection. The binocular should also come with premium prisms, preferably BaK-4 prisms that offer superior image quality and resolution.
Eye Relief
Eye relief is a vital feature for optimal viewing comfort. This is the maximum distance between the eye and the eyepiece of the binoculars. A model with an ample amount of eye relief of 3.5 inches or more is vital for comfortable observation. If you wear eyeglasses, look for a binocular that offers longer eye relief.
Weight
The other thing to consider is the weight. The best binoculars for boating are light and comfortable to use single-handedly. They are comfortable on the hands chest and neck when you are carrying them with a strap. Besides, with a lightweight binocular you don't need to invest in a tripod to take the heavy weight off your hands.
Additional Features
Today, modern boating binoculars come with numerous features that help make your expedition more exhilarating . It will be an additional advantage if you select a model that comes with image stabilization, floating strap, built-in range finder and navigational compass among others.
Best Binoculars for Boating FAQs
What are the best binoculars for boating?
The best binoculars for boating vary from one user to the other, depending on personal preference and intended use. However, for a binocular to be ideal for boating, it should have a robust and reliable housing, built-in navigation tools, large field of view and accommodating eye relief.
What is better, 7×50 or 10x50m binoculars?
For boating, sailing and other water-based activities, 7×50 binoculars are better despite having a smaller 7x magnification power which is standard for marine applications. They offer a wide viewing angle and don't compromise on image quality. However, you can still get a 10×50 model if what you are after higher magnification.
Final Thoughts
A quality set of binoculars for boating will help you navigate various of water bodies in all weather conditions. We hope that you have gained some insights into the best binoculars for boating from this post. Remember that your individual preference and what you purpose to use the binocular for will play a huge role in determining which model you buy. Whatever you have in mind, there is a set of boating binoculars out there for you.