Nikon is a household name in the industry of optics. It is widely known for its binoculars which make a handy companion for outdoor lovers.  If you are an avid birder, having a pair of Nikon binoculars is indispensable tool to have. The best Nikon binoculars for bird watching are renowned for their superior optical finesse, ease of use and robust durability. These binoculars are available in different sizes and prices to suit the needs of different users.
There are so many Nikon binoculars that finding the best pair for birdwatching becomes overwhelming especially for the first-time buyers. To help, we have done our homework and put up a comprehensive review of best Nikon binoculars for bird watching available on the market. Without wasting any more time, let's dive right in.
Best Nikon Binoculars for Bird Watching
1) Nikon MONARCH 7 10×42 Binoculars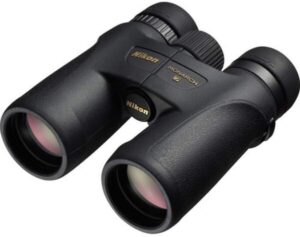 Top on our list is the MONARCH 7 10×42 Binoculars. This pair of binoculars has an array of impressive features suitable for watching birds in their different habitats. The binoculars are user-friendly and suitable for seasoned birders and beginners as well.
The binoculars offer the best optical performance. They feature a wide field of view for comfortable viewing and easy birds' identification on land, thick bushes or on the sky. The 42mm objective lens gathers optimum light which is needed for bright image views. The lenses are also fully multi-coated to produce bright and clear bird views even viewing birds under low light situations.
Given that most birdwatching takes place outdoor, this pair of binoculars is made to for the outdoor environment. The robust housing provides long-lasting durability. The whole unit is covered with a rubber armor to absorb shock and impact.
Another impressive feature about the binoculars is the multi-setting click stop eyecups. They allow you to custom the eye relief to fit your eyes whether or not you wear eyeglasses. Besides, the binoculars are lightweight and easy to carry around. You can also hang them around the neck and enjoy long viewing session.
Features
Robust, solid construction
Shock-absorbing rubber armored coating
Incredibly lightweight and portable
Comfortable eye relief
Fully multicoated lens
Weatherproof
Smooth central focus knob
Dielectric high-reflective multilayer prism coatings
2) Nikon 16002 Prostaff 7S 8×42 Binoculars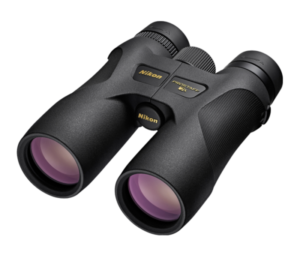 If you are always on the go, the Nikon Prostaff 7S 8×42 Binoculars is your best Nikon binoculars for bird watching. This is an all-terrain pair of binoculars capable of withstanding the harshest outdoor conditions. Weighing about 1.43 pounds, the binoculars are light, compact and highly portable. The lightweight design makes the snug to hold during long bird watching sessions.
The 42mm objective lens paired with the versatile 8x magnification make the binoculars suitable for all-round bird watching. They provide the clearest and brightest bird views in open fields, in thickly wooded areas and on the sky. Furthermore, the lenses are fully multi-coated to provide brilliant and natural images under different lighting conditions.
The binoculars feature a rugged housing design to provide a lifetime of field performance. Besides, the whole unit has a shock-absorbing rubber coating which provides a comfortable, non-slip grip even in wet conditions
Besides bird watching, these user-friendly binoculars are also suitable for multiple outdoor activities including hiking, camping, safaris and wildlife viewing among others.
Features
Cost-effective
Compact, lightweight and portable
Adjustable eyecups
Non-slip rubber armored coating
Fully multilayer coated lenses
Fully waterproof and fog free
Robust and durable construction
Intuitive and user-friendly
Multipurpose application
3) Nikon 7579 MONARCH 7 8×30 Binoculars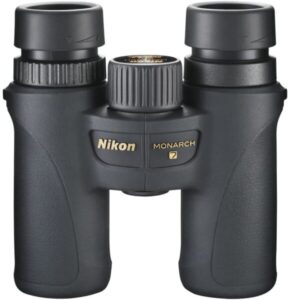 The Nikon Monarch 7 8×30 Binoculars is your ideal option if you are looking for budget binoculars for bird watching. These mid-priced binoculars feature a versatile 8x magnification perfect for all-round bird watching. They are easy use and very comfortable on your hands.
This pair of binoculars features a unique body design that's lighter, compact and easy to carry. The whole unit weighs about 0.98 pounds making it comfortable to hold even for long hours.
The optical performance of this compact pair of binoculars is commendable. For starters, it has a wide apparent field of view of more than 60 degrees. This makes it easy for you to find your targets. All the lenses feature a dielectric high-reflective multi-layer coatings to provide bright and true-to-life image views.
All Nikon Monarch 7 8×30 Binoculars feature a polycarbonate housing that's sturdy and durable. The binoculars are also fully waterproof, so you can use them even when it's raining. They make the perfect outdoor companion when bird watching, hunting and taking nature walks.
Features
Waterproof
User-friendly
Distortion free viewing
Lightweight, compact and easy to carry
Wide apparent field of view
Extra-low dispersion glass lenses
Accurate color reproduction
Robust polycarbonate housing
4) Nikon Aculon A211 10×42 Binoculars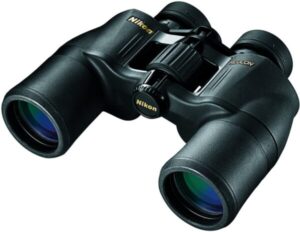 If you are in the hunt for compact and ultralight Nikon binoculars, you can hardly go wrong with the Aculon A211 10×42 binoculars. These cost-effective binoculars are lightweight and easy to carry wherever you go.
The binoculars are made to provide unparalleled optical finesse under any lighting conditions. The Aspherical multicoated eco-glass combined with the BaK4 Porro prism system provide bright, clear and sharp images in most lighting conditions.
When it comes to construction, this unit has been built to last for generations. It has a durable rubber armored coating which absorbs shock and ensures that you get a secure, non-slip grip. For all-weather reliability, this binoculars set is fully waterproof to prevent accidental water damage and fog-free to prevent internal fogging that occurs as a result of temperature changes.
More importantly, the binoculars are eyeglass-friendly. They have turn-and-slide rubber eyecups which provide snug viewing with or without eye glasses.
Features
Excellent optical finesse under all lighting conditions
Durable rubber-armored coating
Light design that's easy to carry everywhere
Secure, non-slip grip
Turn and slide eyecups
Weatherproof
Solid and durable construction
5) Nikon MONARCH 5 10×42 Binoculars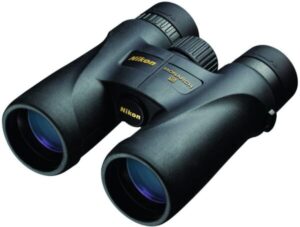 The MONARCH 5 10×42 is the go-to bird watching binoculars when it comes to optical finesse and ease of use. These binoculars are user-friendly and suitable for both adults and kids.
The Eco-glass lenses are fully multicoated to enhance light transmission and reduce light reflection. This results to production of bright and clear image views even in low light conditions.
Another big plus about the binoculars is that they have a smooth and easy to adjust large center knob needed for fast viewing. This is an important feature when it comes to bird watching either in open spaces or thickly wooded areas.
Furthermore, the binoculars are sturdily made to handle everything thrown at them. They have a shock-absorbing rubber armored coating that adds on durability while ensuring that you get a snug, non-slip grip. Plus, they are fully waterproof and fog free for all-weather reliability.
All these impressive features are packed in a compact and lightweight size that's comfortable to hold and carry in the field.
Features
100% water resistant and fog proof
Robust construction
Lightweight and portable
User-friendly design
Fully multicoated eco-glass lenses
Multipurpose application
Smooth and easy to adjust large center knob
Rubber armored body
Adjustable, twist-up eyecups
6) Nikon ProStaff 3s 10×42 Binocular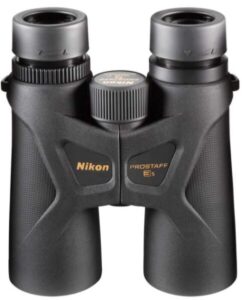 The Nikon ProStaff 3S binoculars are compact, ultralight and easy to carry. These binoculars are reasonably affordable and suitable for watching birds in different habitats. The make the best outdoor companion when taking a nature walk or during travel safaris.
The binoculars provide decent image views. The multilayer coated lenses provide brighter and clear images under different lighting conditions. Besides, the highly reflective mirror coated prism deliver true-to-life image views all through.
Like any other Nikon optic, the ProStaff 3S binoculars are fully waterproof and fog proof. This makes them suitable for all weather conditions. The whole unit is covered in a shock-absorbing rubber armor that gives you a comfortable, non-slip grip even in wet conditions.
For you to find distant objects with ease, this 10×42 binoculars offers a wide field of view without compromising on the length of the eye relief. This means that users get a generous eye relief that also fits eyeglass wearers.
Features
100% waterproof and fog proof
Multilayer coated lenses
7mm eye relief
Eco-glass optics on all lenses and prisms
Shock-absorbing rubber armoring
Suitable for casual outdoor activities
Comfortable, non-slip grip.
Compact and lightweight.
7) Nikon Action 7×35 EX Extreme All-Terrain Binocular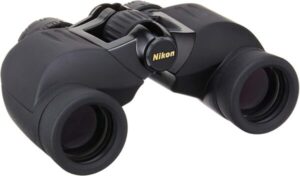 Nikon made the 7×35 ATB binoculars with birders in mind. Weighing just 1.8 pounds, these all-terrain binoculars are built to handle anything thrown at them. They are also extremely lightweight and suitable for birders who like to travel a lot.
Built on a true strength platform, the binoculars provide the ultimate strength and durability. They are designed to withstand accidental falls and impacts when outdoors. They are also fully waterproof and fog free so you can use them in extreme weather conditions.
The optical performance of these binoculars is imposing. The fully multicoated lenses combined with the high reflective multilayer prism coating provide superb image brightness, clarity and sharpness under different light conditions.
The unit is eyeglass-friendly. It has a long eye relief that gives you comfortable viewing with or without eyeglasses. The long eye relief also reduces eye fatigue during long viewing sessions. You can also mount the binoculars on a tripod and enjoy snug, hands-free viewing.
Every Nikon 7×35 ATB binoculars are backed by 25years Nikon limited warranty. This is enough assurance that the device is top-notch and worth your investment.
Features
Tripod adaptable
Long eye relief
BaK4 High Index roof prisms
Unparalleled strength and durability
Multi-layer lens coatings
Superb optical clarity and brightness
Waterproof and fog proof
Secure, non-slip grip even in wet conditions
Shock-absorbing rubber armor
See Also
How to Choose the Best Nikon Binoculars for Birdwatching
Bird watching binoculars are long term investments that people make. As a result, finding a long-lasting pair is important in ensuring value for money. Here are the important factors you should consider when looking for the best Nikon binoculars for bird watching.
Durable Construction
When looking for the best Nikon binoculars for bird watching, ensure that they are made from the highest quality materials for long-lasting durability. Try to look for a pair that's not only durable but also resistant to harsh impacts. Better yet, go for a pair that has multiple protection features. This way, you are guaranteed of a multiple years of field use. Binoculars that are O-ring sealed lock out moisture to prevent internal damages. They are also nitrogen purged to deliver fog free properties. To add on durability, most Nikon binoculars have a rubber armor that absorbs shock and enhances durability.
Eye Relief
Eye relief is the distance between your eyes and the binocular's objective lens. Nikon binoculars with a long eye relief provide comfortable viewing with or without eye glasses. Such binoculars are perfect for bird watching because they also reduce eye fatigue by providing a large field of view. If you put on spectacles, make sure that you get a pair of binoculars with at least 15mm eye relief.
Usability
The best Nikon binoculars for bird watching are those that are lightweight, portable and easy to use. A compact binocular is easy to slide even in the pocket and perfect for birders who travel a lot. On top of that, lightweight binoculars are comfortable to hand around the neck when hiking and comfortable to hold for long periods of time without causing hand fatigue.
Magnification
8x or 10x binoculars offer the best magnification for bird watching. They offer the best balance between magnification and practicality. Anything more or less than that and you'll find it difficult to have steady views. For short to medium range bird watching, 8x magnification will do. 10x binoculars are suitable for long range viewing over large open fields or thickly wooded areas.
Ease of Focus
Birds hop and fly very fast. An easy to focus pair of binoculars is pretty much essential because most birds are either moving from one point to another or flying. The best Nikon binoculars for bird watching should provide quick and sharp image focus. You don't have to turn the knob multiple times in order to bring the birds into sharp focus.
Frequently Asked Questions
How much magnification do I need?
Well, it depends. You can choose either 8x or 10x magnification. 10x is ideal for long range bird watching such as shorebird, raptors in open field or flying birds during a safari. 8x magnification is ideal for all-round birdwatching across short or medium ranges.
What does the numbers on the binoculars mean?
With 8×42 binoculars set, 8x shows the magnification strength while 42 represents the size of the objective lens. 8x means that the object you are viewing will appear 8 times closer.
Are Nikon binoculars for bird watching worth it?
Absolutely yes. Nikon is among the leading optics manufacturers. It is well-known to manufacture top quality products and all its bird watching binoculars are no exception. You'll be amazed by their durable construction and unparalleled optical performance.
Conclusion
It's my hope that the buying guide above has given you the information needed to make the right buying decision. Remember that where you intend to use the binoculars at will largely determine which models perfectly suits your birdwatching needs. All of the binoculars listed above are high quality products suitable for birdwatching and other outdoor sports as well. Grab any one of them and enjoy the best bird views this season.