In a world where the optics industry continues to evolve day in day out, you will want to invest in an LPVO that offers you the best value for your money. In today's post, we shed light on the best LPVO under 1000 to help you find a model that best fits all your shooting or hunting needs.
When it comes to versatility and functionality, LPVOs are hard to beat. They are designed with all avid shooters in mind to meet their shooting needs in all situations. These optics vary in terms of features, design, build quality and technology to meet the varying needs of hunters, avid gun enthusiasts, law enforcement officers and other users out there.
With so many options to choose from, it is important to consider your budget and shooting needs when buying an LPVO. With a specific budget in mind, you will have an easy time finding a model that has all the features you need to get more from your hunting or shooting applications. We have put together a round up of the best LPVOs under $1000 that are exceptional in terms of performance, value and versatility.
But before we take a look at each of the scope in detail, let's begin with looking at the design features that make a great LPVO.
Attributes of a Great LPVO
A great low power variable optic is one that comes with all the features you need for your hunting and shooting expeditions. First and foremost, it should have a heavy-duty construction that guarantees unmatched durability and longevity.
Secondly, the scope should have high transmission optics and quality anti-reflective lens coatings to enhance transmission of light for bright and crisp image views.
Furthermore, a great LPVO should be operable in all kinds of weather conditions. It should have reliable protection from water, dust, mist and any other elements that can damage the optics.
Ease of use is another important attribute that a great LPVO should have. It should be easy to install, make adjustments and carry from one point to the other.
Lastly, the best LPVO under 1000 should feature a sufficient eye relief to be comfortable to use with or without eye glasses.
Best LPVOs under 1000 – Our Top Picks
A budget under $1000 is a good starting point when shopping for a quality LPVO. Here is our selection of the very best models in this price category. Let's dive right in.
1) Vortex Viper PST Gen II 1-6x24mm Rifle Scope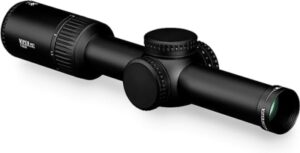 Our first LPVO recommendation under $1000 is the Vortex Viper PST Gen II 1-6x24mm Rifle Scope. This optic is updated, upgraded and upscaled to meet and surpass your hunting and tactical shooting needs in all situations.
It has a versatile 1x to 6x magnification power built in a second focal plane reticle. The sub tensions in the reticle help with range estimation, holdover and windage correction in the field. Besides, there are multiple brightness settings that you can use to tailor the illumination intensity of the reticle to match your needs.
Another attribute that makes this optic the best LPVO under 1000 is optical features. It brings to the table XD lens elements which are responsible for increasing color fidelity and image detail. Additionally, the lenses have anti-reflective coatings to maximize transfer of light in low level light settings.
In terms of construction, this LPVO has a 30mm diameter tube which provides maximized internal adjustment and strength. The tube is built from aircraft grade aluminum and fully protected from weather elements for all weather use.
Features
Hard anodized finish
1-6x adjustable magnification
Aircraft grade aluminum housing
Second focal plane reticle
XR fully multi-coated lenses
Waterproof, fog proof and shock proof
Fast focus eyepiece
Precision-glide erector system
Pros
Capped turrets
Illuminated reticle
Bright and crisp clear glass
Excellent craftmanship
Cons
2) Trijicon Credo HX CRHX624 1-6x24mm Rifle Scope

Trijicon Credo HX CRHX624 1-6x24mm Rifle Scope is a highly functional, intuitive LPVO for all your hunting and target shooting needs. It is designed specifically for hunting hogs, varmints and whitetail at close to medium ranges.
The scope is built to offer unbeatable durability. It has a tough 30mm body tube that is lightweight enough to scatter heavy recoil and optimized for durability. Besides, it is fully waterproof, fog proof and useable in temperatures ranging from as extreme as -20℉ to as high as 140℉.
Another impressive feature about this LPVO is quick target acquisition. It has a proven reticle design which ensures fast ranging and holdovers. Better yet, it uses Trijicon's Bindon Aiming Concept that allows for both eyes open shooting.
This rifle scope also brings to the table a repositionable magnification lever to accommodate different shooting angles and rifle configurations.
Features
Fully multi-coated lenses
Variable 1-6x magnification
1/4 MOA adjustment click value
Waterproof and fog proof
100 MOA adjustment range
30mm tube diameter
LED reticle illumination
Repositionable magnification lever
Rear focal plane reticle
Pros
Generous eye relief
Excellent reticle illumination
Quick and simple adjustments
Robust and reliable construction
Clear glass
Cons
3) Shepherd Scopes Phantom 1-6x24mm Rifle Scope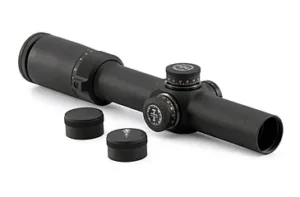 Coming third in our list of the best LPVO under 1000 is Shepherd Scopes Phantom 1-6x24mm Rifle Scope. If you want a hunting scope that excels in close to medium ranges, this model here suits you.
Optimized for hunting, the scope provides unmatched performance in all hunting environments. It is designed with ruggedness, durability and sturdiness to take in any abuse in the field and maximize performance.
Furthermore, the scope has a first focal plane reticle that maintains consistent sub tensions across the 1-6x magnification. The reticle is LED illuminated to ensure that you aim with confidence in any light setting.
What's more, the Shepherd Scopes Phantom 1-6x24mm Rifle Scope is built with an apochromatic objective lens system. This system uses refractive index matching objective to correct color in the entire visible spectrum and yield exceptional picture quality. Over and above that, the scope has a fast focus eyepiece for quick and easy reticle focusing.
Features
High transmission optics
Waterproof and argon gas filled
Fast focus eyepiece
First focal plane reticle
Apochromatic objective lens system
Fully multi-coated lenses
30mm tube size
Broad 140 MOA adjustment range
Pros
Lightweight design
Long eye relief
Excellent build quality
Intuitive and simple to use
Cons
No throw lever integrated
4) Sightmark 1-6x24mm Rifle Scope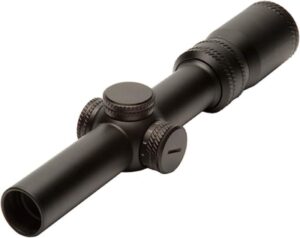 Sitting comfortably in fourth is Sightmark 1-6x24mm Rifle Scope. This LPVO is ideal for both hunting and competitive shooting. It is simple to operate and appropriate for all users, beginners, professionals and anyone in between.
The highlight to this optic is premium build quality. It has a 30mm body made from high grade aluminum. As such, it is tough enough to withstand wear and tear of repetitive use, yet light enough to no add any extra ounces on your rifle.
Not only is the construction quality of this LPVO admirable, but also the optical features. It is built with high-definition optics that offer clear resolution from edge to edge. Furthermore, the reticle has dual red and green illumination to ensure precision aiming in all light settings.
This rifle scope has an ultra-long eye relief which makes it eyeglass friendly. It also has a broad 140 MOA adjustment range for windage and elevation to fine tune your accuracy and enhance your overall shooting performance in all situations.
Features
First focal plane reticle
High grade aluminum construction
Waterproof and fog resistant
30mm tube diameter
High-definition Japanese glass elements
LED illuminated reticle
140 MOA adjustment range
Scratch resistant lenses
6x optical zoom
Pros
Constant and generous eye relief
Excellent value
High quality construction
Crisp clear glass
Versatile
5) Sig Sauer Tango-MSR LPVO 1-10×28 Rifle Scope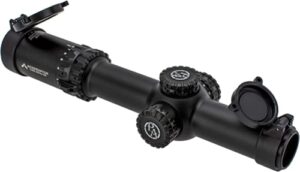 Sig Sauer Tango-MSR LPVO 1-10×28 is the best LPVO under 1000 for AR-15 rifles. It is tailored to provide quick target engagement at close to long ranges in virtually all types of environments.
The versatile 1-10x magnification provides the perfect balance between speed and performance. It is built in a second focal plane reticle which is illuminated to ensure precision aiming in low light. Other than that, the scope has a built-in throw lever for fast magnification changes.
Across the whole 1-10x zoom range, this LPVO provides a significantly spacious field of view for speedy target scanning, finding and monitoring. In terms of construction, it has a 34mm main tube that guarantees great adjustments and reticle movement. The scope is also fog proof, shock proof and IPX-7 rated against moisture and dust.
And that's not all. This LPVO brings industry-leading light transmission and optical clarity in any light setting. As a result, you are promised of accurate target identification no matter how far the target is.
Features
High performance optical system
1-10x total magnification
Second focal plane reticle
Dependable waterproof and fog proof protection
Integrated thread-in throw lever
11 brightness levels for the reticle
34mm tube diameter
Hardcoat anodized finish
Pros
Relatively lightweight
Easy to install and use
Excellent optical clarity
Cons
6) Primary Arms SLx 1-8x24mm Rifle Scope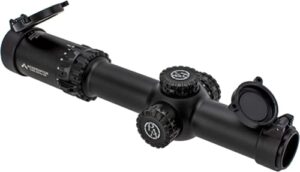 Let's have a closer look at our sixth LPVO recommendation under 1000 which is the primary Arms SLx 1-8x24mm Rifle Scope. One of the most impressive features of this LPVO is the reticle. It is housed in the rear focal plane and combines bullet drop compensation, wind holds and moving target leads to provide the best targeting system.
Across the 1-8x magnification range, the reticle stays the same size. This plus the instinctive and fast design provide accurate ranging out to 800 yards. On top of that, it is illuminated with 12 adjustable brightness settings to choose from.
Another impressive thing about this LPVO is excellent craftmanship. It has a robust 30mm tube made from 6063 aluminum. The solid and sturdy construction coupled with all-weather protection make this rifle scope ideal for use in all environments.
Moreover, the scope has a lightweight construction so it will be easy to maneuver with in the field. It also brings to the table fully multi-coated lenses which are responsible for ramping up light transmission for bright, crisp and tack-sharp sight pictures.
Features
1-8x total magnification
Second focal plane ACSS reticle
30mm tube diameter
Fully multi-coated lenses
Red reticle illumination
12 brightness settings
6063 aluminum construction
Waterproof, shock proof and fog resistant
Pros
Lightweight
Easy to use
Reticle
Solid and sturdy construction
Cons
Cheap glass
Short eye relief at max power
7) Swampfox Arrowhead LPVO 1-10x24mm Rifle Scope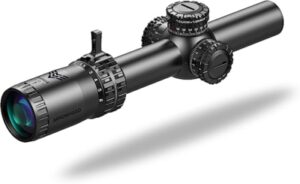 Lastly in our list of the best LPVO under 1000 is Swampfox Arrowhead LPVO 1-10x24mm. Adding this LPVO on your firearm will boost your shooting precision and make your shooting/hunting expeditions not just competitive, but also rewarding.
The locking turrets in this rifle scope require no tools for adjustment. They prevent accidental adjustment during use and are easily accessible from any shooting angle. Besides, the scope has a fast focus diopter for easy diopter adjustment.
Another highlight of the scope is optical features. It is made with top-tier glass elements that create bright sight pictures with excellent resolution. Moreover, the lenses are fully multi-coated to enhance transmission of light and prevent glare and internal loss of light through reflection.
Construction-wise, the scope is built in a 30mm tube. It is rigid and sturdy enough to weather whatever punishment you subject it to. Further, the tube is sealed and filled with an inert gas so it is fully waterproof, dust proof and fog proof.
Features
Fast focus diopter
Locking turrets
IPX7 waterproof, dust proof and fog proof
1-10x variable magnification
30mm tube diameter
Fully multi-coated lenses
LED illumination type
Second focal plane reticle
Non-reflective matte finish
Pros
Great glass quality and clarity
Tactile locking turrets
Great reticle with auto-ranging
Lightweight
Durability
Cons
See Also
Understanding Low Power Variable Optics, LPVO
Low Power Variable Optics, LPVOs are new in the field of optics. Since their introduction, they have taken the optics market by storm to become a favorite amongst many hunters and gun enthusiasts.
LPVOs are similar to traditional rifle scopes in terms of body design and nature of construction. They come in 30mm or 34mm body tubes to enhance strength and rigidity, while ensuring that there is ample room for adjustments and reticle movement.
Furthermore, LPVOs tend to combine the aspects of a traditional rifle scope and red dot sights into a single package. They have variable magnification power that ranges from 1x to 4x, 6x, 8x and 10x.
At 1x, the scope provides the benefits of a red dot sight which include unlimited field of view, rapid target acquisition and precision shooting. When you ramp up the magnification to the highest setting, LPVOs work in the same manner as traditional rifle scopes and bring you closer to the distant targets and maximize shooting precision at long distances.
How to Choose the Best LPVO under 1000
Irrespective of whether you are buying an LPVO scope for the first time or not, the following are the key things to consider before settling on any specific product.
Intended Usage
The first and most important thing to take into consideration in intended usage. How and what do you plan to use the scope for? Is it for hunting, tactical shooting, home defense or any other application. When you are more activity specific, it will be easier to find a scope that is right for your needs.
Build Quality
The build quality of optics is directly proportional to the quality of construction and type of materials used. LPVO scopes are not any different.
Take a look at the nature of construction as well as the type of materials used. For the best LPVO under 1000, go for a model that is made using aircraft grade aluminum. Such optics are not only durable, but also impact resistant, shockproof and lightweight.
Picture Quality
Another important thing to consider is picture quality. The type of glass elements a scope employs go a long way to determine the overall picture quality. So, ensure that you get a scope that employs the best-quality glass elements.
The other thing to also consider is lens coatings. Ensure that you settle for an LPVO that boasts multi-layered lens coatings. Lens coatings are essential in amplifying light transmission and shielding the lenses from scratches.
Weight
Don't forget to look at weight. The heavier the scope is, the more cumbersome it will be to carry in the field. Heavy scopes are also more difficult to shoot with as they tend to come in the way of shooting.
The average weight of the best LPVO under 1000 is 1.2lbs. So, try and look for a model that weighs that or not more than 2lbs.
FAQs
What is the best use for LPVO?
LPVOs are great for a wide range of applications including hunting, tactical operations and home defense. The versatility coupled with multi-platform friendliness makes LPVO a favorite for most gun enthusiasts.
Are LPVOs as fast as red dot sight?
Yes, LPVOs have true 1x which simulates that in red dot sights. If used correctly, a shooter will be able to get on target as quickly as when shooting with a red dot sight.
Final Thoughts
Hopefully, this article on the best LPVO under 1000 has been of great help to you. Whether you are into hunting or tactical shooting, each scope we have mentioned in our list is suitable for you. Take into account your shooting needs and habits and focus on finding the LPVO that will benefit you with more competitive and rewarding shooting expeditions for years to come.