Varmint hunting is an outdoor activity practiced by many. It offers a great way to sharpen your hunting skills particularly during the off-season. It also helps farmers keep the population of damage causing pests under control. The best binoculars for varmint hunting will compliment your firearm, extend your vision and help you take out these small targets at either close or long-range quarters.
There are multiple varmint species that you can hunt. The most common species include coyotes, racoons, squirrel and prairie dogs among others. Since the type of pest species vary from one region to the other, they type of rifles and optics used also varies. So, what works for your neighbor might not work for you as well. We have a detailed review of the best binoculars for varmint hunting to help you make the right selection.
Best Binoculars for Varmint Hunting
If you are having a difficult time trying to find the best binoculars for varmint hunting, here are some of the best models you can choose from. Let's have a look.
1)Vortex Optics Razor HD 10×42 Roof Prism Binoculars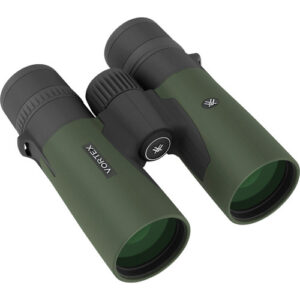 Vortex is a big name in the world of optics. It makes some of the best hunting binoculars and the Razor HD 10×42 Roof Prism Binoculars is no exception. These binoculars have superior HD optics to give you stunning high-definition images. They are easy to use and comfortable to hold and carry.
The 10x magnification extends your vision when hunting varmints at long-range. Since varmints are mainly active at dusk or dawn, the 42mm objective lens gathers optimum light for bright and vivid images in such situations. The premium anti-reflective coatings with cutting edge plasma tech application also provides unmatched brightness and clarity during the critical low light periods.
These Vortex binoculars weigh about 702 grams. This makes them comfortable to hold and carry in the field. The strategically placed indents provide a comfortable grip, while the rugged rubber armor ensures a non-slip grip in any conditions. Other than that, the binoculars feature multi-position eyecups to maximize fit for snug viewing with or without eyeglasses.
The true open hinge magnesium chassis creates a strong and ergonomic design which results to greater durability. The exterior lenses have a durable Armortek coating which offers protection against scratches, oil and dirt. Besides, the binoculars are argon purged to prevent internal fogging and O-ring sealed to provide a lifetime of waterproof performance.
Features
10x magnification
Multi-positions eyecups
Fully waterproof and fog proof
Locking right eye diopter
Ultra-hard scratchproof Armortek lens coating
Shock-absorbing rubber armor
Strategically placed indents to ensure a comfortable grip
True open hinge design
Lightweight yet durable magnesium chassis
Premium high-density glass
High-end anti-reflective coatings
5mm eye relief
6-feet close focus
2)Zeiss Terra ED Binoculars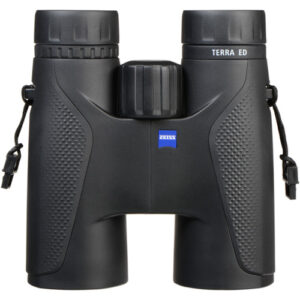 If you are looking for something compact and user-friendly, the Zeiss Terra ED Binoculars are your best option. These binoculars are very snug on your hands and eyes as well. They feature comfortable eyecups for fatigue-free viewing and a large focus wheel for easy access.
Featuring a 5.25-feet close focus and a wide-angle field of vision, these binoculars will help you spot varmints with ease and make an accurate shot placement. Thanks to the 10x magnification, you get to identify targets with ease even at long distances. Plus, these binoculars have an excellent 90 to 95% light intake. They combine SCHOTT ED glass with Zeiss MC coating to provide bright, vivid and sharp images, even in dismal environments.
Another good thing about the binoculars is the sturdy and durable aluminum housing. You can trust them to stand up to the harshest hunting conditions. Better yet, the unit is waterproof and nitrogen filled making it rugged and ready for any weather condition. Above all, these binoculars feature precision focusing which makes them suitable for bird watching and other outdoor activities, not just hunting.
Features
Compact design
Durable aluminum housing
Waterproof and fog proof
Comfortable eyecups for simple viewing
Special grip area
Large focus wheel for convenient access
Precision focusing
Large field of view: 330 feet at 1000 yards
2mm exit pupil
25ft close focus
High-quality lens coating
3)Vortex Optics Diamondback Roof Prism Binoculars 10×42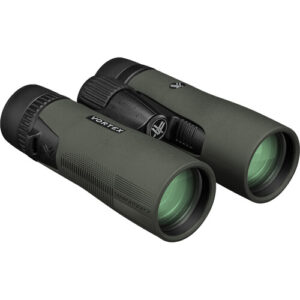 Here is another quality roof prism binoculars from Vortex. The Diamondback 10×42 is highly recommended for varmint hunting. This pair features outstanding low-light performance which is critical when hunting at dusk or dawn. The high-performing optical system with advanced, dielectric fully multi-coated lenses transmit more light to give you bright and crisp image views.
With a 10x magnification and 42mm objective lens, these binoculars are a workhorse of Vortex lineup. They are durably made to provide a lifetime of field use. The stylish, short hinge design with odorless rubber armor and thumb indents creates a comfortable, non-slip grip even when your hands are sweaty or wet.
For added convenience, the binoculars are lightweight, portable and easy to carry in the field. You can easily twist the multi-position eyecups up for adjustable eye relief and snug viewing. The right eye diopter included accommodates for focal differences in your eyes.
Like any other Vortex optic, the Diamondback Roof Prism Binoculars are argon purged and O-ring sealed to provide a lifetime of waterproof and fog proof reliability. You can trust them to work well regardless of the weather conditions.
Features
Lightweight and easy to carry
Waterproof and fog proof
Multi-position eyecups
Sleek, short hinge design
Shock-absorbing rubber armor
Thumb indents which create a secure, non-slip grip
10x magnification
Dielectric, fully multi-coated lenses
Right eye diopter
Long eye relief
7-feet close focus
4)Bushnell Legend Ultra HD Roof Prism Binocular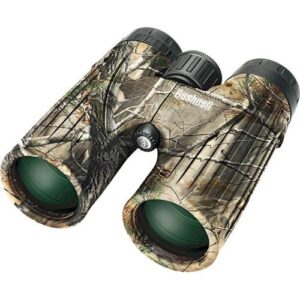 Varmint hunting means exposing your binoculars to harsh weather conditions. This calls for a durable optic that can stand harsh and extreme weather conditions. The Bushnell Legend Ultra HD Roof Prism Binoculars are designed to provide a lifetime of all-weather reliability and unbeatable durability.
These binoculars are fully waterproof and fog proof. You don't have to worry about them getting damaged if the rains catch up with you while still on the field. Furthermore, the binoculars feature water-repellent coating to give you bright and clear imagery when hunting in wet conditions.
Thanks to the high-quality optics and ED prime glass, the binoculars provide bright and vivid images. The ultra-wide band anti-reflective coatings increases light transmission which is essential when hunting in low light situations. Besides, the RealTree AP Camo not only reduces glare when hunting during the day, but also camouflages your hunting position.
At only 0.71kgs, the binoculars are fairly light and easy to transport and carry. A soft case is also included for convenient transportation. Plus, the binoculars can be mounted on a tripod for a hands-free viewing.
Overall, these binoculars are a quality, durable, reliable and a great addition to your hunting gear.
Features
Waterproof and fog-free construction
RainGuard HD water-repellent coatings
ED prime glass
Ultra-wide field of view
Long eye relief
Locking diopter
Lightweight yet durable magnesium chassis
Soft touch grips
Soft case and comfortable neck strap
10x magnification and 42mm objective lens
RealTree AP Camo
Tripod compatible
Twist-up eyecups
5)Bushnell Trophy Roof Prism Binoculars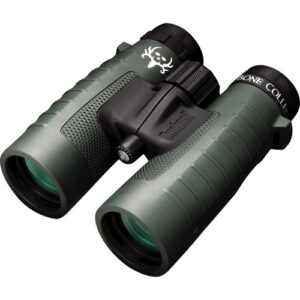 If you are in the hunt for the best binoculars for varmint hunting for the money, look no further than the Bushnell Trophy Roof Binoculars. This budget binocular packs a wide range of features suitable for varmint hunting and hunting in general. It is easy to use, comfortable to hold for long hours and reliable as well.
These binoculars feature the latest waterproof and fog proof technology. They are O-ring sealed for total moisture and dirt protection, and nitrogen purged to get rid of all internal moisture and prevent internal fogging. They also feature a Dura-Grip rubber armored housing which is designed to withstand all weather elements and provide a secure, non-slip grip in wet weather conditions.
If you prefer to hunt at dawn or dusk, the binoculars feature fully multi-coated optics which increase light transmission. The BaK-4 Porro prisms and several layers of anti-reflective coating on all air-to-glass surfaces deliver ultra-bright and clear images even in low-light situations.
The ergonomic and lightweight design makes long hunting sessions bearable. A deluxe harness included minimizes the weight on your neck so you can have an easy time trekking and tracking down the target. For added convenience, these binoculars feature a fast focus center focus wheel for simple access and a long eye relief for snug viewing even with your eyeglass on.
Features
Lightweight design
Long 15.2mm eye relief
2mm exit pupil
Fully multi-coated optics
Waterproof and fog proof construction
Fast focus center focus wheel
BaK-4 Porro prisms
Deluxe binocular harness
Reasonable price tag
Ergonomic thumb grips
Rubber armored housing
6)Steiner Predator Series Hunting Binoculars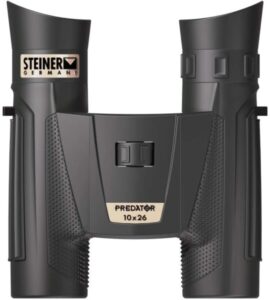 The Steiner Predator Hunting Binoculars is a mid-priced optic suitable for seasoned hunters on the move. It is available in three different sizes, 8×42, 10×26 and 10×42. The 10×42 is your ideal size when it comes to varmint hunting. It is compact, lightweight and highly versatile.
The Steiner Predator binoculars are renowned for their sharp-focus mechanism. You can go from close focus to infinity in a short time using the fast-close-focus central focusing wheel. Moreover, the color adjusted transmission increases color contrast so you can spot game with ease in any environment.
The binoculars are built to last. The sturdy and durable Makrolon housing ensures that they can stand tough and rugged hunting environments. The open-bridge design makes the binoculars lighter and easier to grip. The lightweight design makes them snug to hold for long hours when scouting for game. The whole unit is also nitrogen-filled for reliable fog proof clarity in any condition.
When it comes to the optical features, all Steiner optics have premium lens coatings on all air-to-glass surfaces. This increases light transmission for bright and clear images. This makes hunting in dismal environments effortless and aids in accurate shot placement.
Features
Sturdy and durable Makrolon housing
Wheel-free open-bridge design
Waterproof and fog proof
Sharp-focus mechanism
Lightweight and easy to carry in the field
Color adjusted transmission
Wide field of view: 381 feet at 1000 yards
Ergonomic silicone eyecups
Military-grade Porro prism
Laser-textured non-slip grip
7)Vanguard Endeavor ED 10×42 Binocular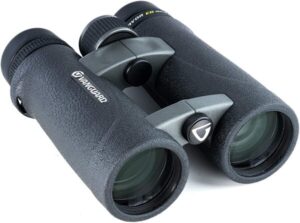 The Vanguard Endeavor ED 10×42 Binocular is another option for people on a budget. It features a wide range of high-performance features at a reasonable price tag. It is intuitive and easy to use, and suitable for both skilled hunters and beginners.
The binoculars feature premium ED glass which significantly minimizes chromatic aberrations for bright and sharp images with high contrast. The MultiGuard coatings several layers of anti-reflective coatings to reduce light reflection and provide a clear field of view. This enhances your shooting accuracy even in low light conditions.
The Vanguard Endeavor ED 10×42 Binoculars are made for rugged outdoor use. They are O-ring sealed and nitrogen purged, so if the rains catch up with you in the field, you'll be at peace knowing that your binoculars are fully waterproof and fog proof.
To top it all, the binoculars feature a three-stage twist out eyecups with a long eye relief suitable for eyeglass wearers. The large focus wheel provides easy access, while the locking diopter accommodates differences between your eyes. You can lock it so you don't have to make adjustments every time.
Features
Wide field of view: 340 feet at 1000 yards
5mm eye relief
Waterproof and fog proof construction
Fairly light
Three-stage twist-out eyecups
10x magnification
Locking diopter
Anti-reflective coatings on all air-to-glass surfaces
Premium ED glass
Bak4 phase-coated prisms
Premium lifetime warranty
See Also
Best Binoculars for Varmint Hunting Buying Guide
A great pair of binoculars can help you take out more varmints and spot more targets easily at different ranges. Here are some of the important factors you should consider when searching for the best binoculars for varmint hunting.
Durability
Durability is one of the most important factors you should consider when shopping for the best binoculars for varmint hunting. A single whack on the rock or tree can damage the binoculars or knock it out of alignment. Make sure that the binoculars are made with high-quality and sturdy materials so you are assured of a many years of field use. They should be shockproof and impact resistant to withstand regular bumps and falls. On top of that, look for binoculars that have a rubber armor as it absorbs pounding and enhances durability.
Type of Glass
Go for binoculars that offer quality glass and high-end lens coatings. Quality glass not only increases light transmission, but also creates bright and sharp images. Try to look for binoculars that feature high-quality HD extra-low-dispersion (ED) glass.
Fairly important to the quality of glass is the quality of coatings. Binoculars with good lens coatings enhance light transmission and reduce light reflection. This gives you bright and sharp images even in low light situations. Go for binoculars that feature fully multi-coated/multi-coated lenses.
Magnification
The other important factor to consider is the magnification. For varmint hunting, your ideal optical power largely depends on your shooting range. You'll need a high magnification if you are hunting varmints at long distances and open fields. A unit with 10x magnification will suffice. However, if you are hunting varmints at close quarters, you need a mid-powered binocular. 7x and 8x is enough for close-range hunting. Besides, binoculars with medium magnification power offer a wider field of view which is essential for fast target acquisition. They also provide a longer eye relief for snug viewing and a larger exit pupil for brighter images.
Weight
You are going to be carrying the binoculars plus your hunting firearm as you look for targets. You'll want your binoculars to be as light as possible so can have an easy time carrying them around. The type and amount of glass used largely determines how heavy the binoculars weigh. Binoculars with bigger objective lens tend to weigh more than their smaller counterparts. However, they have an advantage of being more powerful.
Weatherproof
If you are planning on hunting varmints in various weather conditions, the binoculars you choose to buy should offer all-weather reliability. Even if you don't plan on using the binoculars in wet conditions, Mother Nature is always unpredictable and sometimes the weather can suddenly change when you are still in the field. Having a waterproof and fog proof pair of binoculars will give you peace of mind knowing that they won't get damaged when it starts to pour. They should also have a rubber coating which provides a secure, non-slip grip in wet weather conditions.
Image Quality
Image quality refers to the sharpness and clarity of your targets. Given that varmints are smaller in size, it might be difficult for you to spot them especially at long distances. This calls for binoculars that offer superior image quality in all weather and light conditions. Go for binoculars with high-end glass and fully multi-coated lenses as they offer great image quality.
Tips When Using Binoculars for Varmint Hunting
Keep the lenses clean. Cleaning your binoculars' lenses regularly can make a big difference, especially when you are hunting varmints in thick woodlands or dismal environments. Clean lenses provide clear views which is critical for accurate shot placement.
Check the focus. The focus wheel is very essential feature on your binoculars. Make sure that you adjust it depending on your hunting environment so you can get the best images.
Make use of the magnification. When you get to close to the animals, you are likely to spook them away. To avoid this, use the 8x or 10x magnification and maintain a good distance from the targets you are tracking.
Act fast. Don't spend too much time using the binoculars. Focus on the image and take the shot whenever you get a clear sight picture.
FAQs
What magnification power is best for hunting?
8x or 10x. Binoculars with 10x magnification are ideal for long-range hunting particularly in open spaces. You'll also be able to spot small targets easily as it gives you bigger images. On the other hand, 8x magnification is ideal for glassing game at close quarters and thick bushes.
Are 10×42 binoculars good for varmint hunting?
Yes. 10×42 binoculars are perfect for multiple hunting applications among them varmint hunting. The offer the perfect combination of magnification and objective lens which most hunters find suitable for their hunting needs.
What do numbers mean in binoculars?
Binoculars are measured in magnification/optical power and objective lens diameter. The numbers provided show the magnification power and the size of the objective lens in millimeters. For example, in 10×42 binoculars, 10x is the magnification power while the 42mm is the size of the objective lens.
Conclusion
Hopefully, you have found this buying guide informative. Knowing what you want in binoculars for varmint hunting will help you find the ideal model easily. The good thing is that there are tons of models to choose from. All the binoculars we have reviewed above are quality and worth the investment. Get any one of them and make the most out of your varmint hunting this season.
Related