If you are in the market for an AR-15 scope, narrowing down your options to a Vortex model is already a good start. With the best vortex scopes for AR-15, you are guaranteed of superb performance in the hunting fields or shooting range. Vortex scopes are also hard to beat when it comes to durability and value.
While Vortex is a newer company in the world of optics, it has beaten its predecessors and grown to be the go-to brand for most hunters and tactical shooters. It makes premium-quality yet reasonably affordable scopes that get the job done swiftly no matter the activity you use it for. Besides, there are so many vortex scopes available out there for users to pick models that best fits their hunting/shooting habits and needs.
In our article today, we have taken the large Vortex riflescopes catalog and broken it down its best-rated models that pair well with the  powerful and equally versatile AR-15. These scopes are optimized for hunting and shooting and come with a lifetime warranty which guarantees quality and longevity. We have also attached a comprehensive buyer's guide with all the information you need to choose right.
So, without any further delays, let's get started.
1) Vortex Razor HD Gen II 3-18x50mm Rifle Scope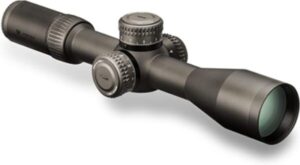 The Razor HD Gen II 3-18x50mm is a premium quality rifle scope engineered for long range shooting. It is packed with a ton of highly reliable features that make it one of the best Vortex scopes for AR-15.
With this rifle scope, users can expect unrivaled ultimate precision at close to long ranges. It has a variable 3-18x zoom power that is functional even at the highest levels and a large objective lens that draws more light into the optics to yield high quality image views at each zoom power.
Furthermore, the scope is built on a 34mm main tube to provide ample room for adjustments and the movement of the reticle. The entire tube is fully waterproof and fog proof for usability even in adverse weather conditions. The scope also features a rugged aircraft grade aluminum construction to ensure durability and rigidity.
Complementing the robust construction is an advanced optical system that yields unmatched image clarity. The APO system, HD lens elements and XR plus fully multi-coated lenses work together to yield bright, clear and color rich image views from dawn till dusk. On top of that, the scope has a glass-etched reticle that is illuminated for visibility in low light settings.
Features
3-18x magnification
Hard anodized finish
34mm single-piece main tube
Fast focus eyepiece
XR plus fully multi-coated optics
Aircraft grade aluminum housing
Waterproof and fog proof
FFP glass-etched reticle
Pros
Generous eye relief
Great long range precision
Easy to zero
Built to last
Illuminated reticle
Cons
2) Vortex Optics Diamondback 4-16x44mm Rifle Scope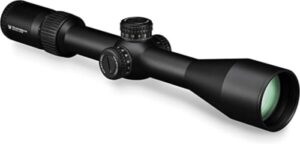 Built with a variable 4-16x magnification power, the Diamondback tactical rifle scope offers all the benefits of a long-range scope without adding any unnecessary bulk. It is ideal for all tactical applications as well as hunting where it helps users unlock the full potential of the AR-15 firearm.
The scope is made with ease of use in mind. It features a fast focus eyepiece that helps you focus the reticle quickly and lock onto to target easily. Additionally, the magnification ring is ribbed for fast and easy adjustments while the eye relief stays constant at each zoom level to ensure comfortable and safe glassing.
Construction-wise, the scope is made from a solid block of aircraft quality aluminum to offer unmatched strength and durability. The tube is purged with nitrogen gas to drive out moisture and prevent internal fogging over a wide range of temperatures. It is also sealed against dirt and moisture, and anodized to prevent scratches and rust.
The reticle on this rifle scope is on the first focal plane. This allows accurate holdovers and ranging through the entire 4-16x zoom range. Besides that, the optics are fully multi-coated to limit glare and ensure high levels of light transmission. This plus the XD lens elements enhance color fidelity as well as image brightness and clarity even in the critically low light settings.
Features
Water, fog and shock proof construction
First focal plane reticle
Fully multi-coated lenses
Hard anodized finish
XD lens elements
Precision glide erector system
30mm main tube diameter
Aircraft quality aluminum construction
Fast focus eyepiece
Pros
Generous and consistent eye relief
Clear and bright optics
Lightweight and durable
Holds zero well
Cons
3) Vortex Strike Eagle 1-8x24mm Rifle Scope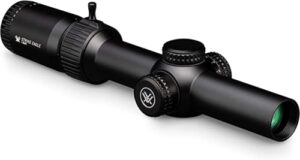 If you are looking for an LPVO for your AR-15, look no further than the Strike Eagle 1-8x24mm Rifle Scope. The scope is optimized for versatility where it provides accurate holdovers through the entire 1-8x magnification range. This helps the user dominate close and medium ranges when hunting or shooting in the range.
Weighing just 1.49lbs, the scope is lightweight, easy to carry and simple to shoot with. It has an illuminated reticle to enhance visibility in different lighting conditions and fully multi-coated lenses which yield bright and clear sight pictures even in the low lighting environments.
Furthermore, the scope is built on a 30mm main tube to provide adequate room for adjustments. Construction-wise, it has a ruggedized body to withstand impact, shock and heavy recoil. It is also waterproofed and fog proofed to offer a lifetime of all-weather performance.
For quick and simple magnification adjustments, the scope comes with a built-in throw lever that is easy to access from any shooting position. This together with the user-friendly and easy to access knobs make the scope intuitive and simple to use even for the beginners.
Features
Aircraft grade aluminum construction
Fully multi-coated optics
First focal plane reticle
30mm body tube
Waterproof and fog proof
Ultra-hard, scratch resistant lens coatings
Built-in throw level
25 MOA adjustment clicks
Pros
Lightweight design
Long eye relief
Hold zero well
Quality construction
Cons
4) Vortex Crossfire II 4-12×44 Plex (MOA) Riflescope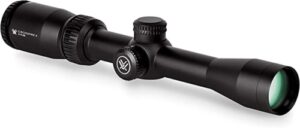 As one of the best vortex scopes for AR-15, the Crossfire II 4-12×44 offers the best balance between high level of performance and affordability. It is built with a variable 4-12x optical power and is ideal for tactical shooting and hunting at close to long ranges.
This rifle scope employs a V-Plex MOA reticle that is ideal for a variety of hunting applications. The reticle is housed on the rear focal plane so it does not change in size when you change the magnification power.
The durability of this rifle scope is outstanding. It has a single-piece 1-inch tube made from aircraft grade aluminum to ensure strength and shockproof performance. The tube is also sealed with O-rings and nitrogen purged to be usable in all kinds of weather conditions.
Furthermore, this rifle scope has capped reset turrets that are resettable to zero after sighting in. The caps provide added shield from bumps and rough use, and also prevent accidental adjustment in the field.
In addition to everything else, the scope features a fast focus eyepiece for quick and simple focusing of the reticle, and a long eye relief to ensure high levels of glassing comfort.
Features
Anti-reflective fully multi-coated lenses
Resettable MOA turrets
Waterproof and nitrogen purged
4-12x adjustable zoom power
Fast focus eyepiece
Aircraft grade aluminum body
1-inch main tube
Second focal plane V-Plex reticle
Pros
Decent price
Bright and clear optics
Stunning accuracy across vast ranges
Good eye relief
Cons
Cheap plastic lens covers
5) Vortex Viper HST 6-24x50mm Rifle Scope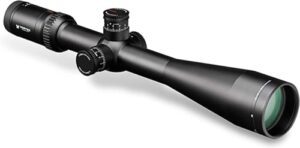 Next up we have the Viper HST 6-24x50mm Rifle Scope. This high-end rifle scope has a vast 6x to 24x magnification power that makes it ideal for medium to long range hunting and tactical shooting.
A defining feature of this rifle scope is that the entire zoom range is fully functional. This is made possible by the large 50mm objective lens that collects as much light as possible into the optics. This ensures that images generated are crisp even at the highest zoom settings. Further, the scope features XD lens elements and XR fully multi-coated that work together with the large objective lens to ensure that the images generated are bright and detail rich even in poor light settings.
Construction-wise, the scope has a 30mm main tube crafted from aircraft grade aluminum. The quality construction combined with the waterproof and fog proof design makes the scope ideal for use in any weather condition. Besides, it is coated with a hard anodized finish that makes it resistant to scratches and rust.
To complementing the quality construction, the scope has a precision glide erector system for accurate tracking and repeatability. On top of that, it features a fast focus eyepiece for easy reticle focusing and an easily accessible side focus knob for parallax adjustment.
Features
XR fully multi-coated optics
30mm main tube diameter
Water, fog and shockproof
Hard anodized finish
Exposed tactical turrets
Second focal plane reticle
Fast focus eyepiece
Precision glide erector system
Pros
Unrivaled long-range accuracy
Excellent glass quality
Solid construction
Long and consistent eye relief
Lightweight
Cons
Pricey for the budget buyer
6) Vortex Optics Viper PST Gen II 1-6x24mm Rifle Scope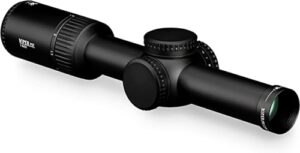 The Viper PST Gen II 1-6x24mm Rifle Scope is another top performing LPVO ideal for the AR-15. Mounting this advanced and upscaled rifle scope onto you AR-15 firearm will boost your shooting accuracy and make your hunting or tactical shooting pursuits more competitive.
The scope features an intuitive reticle put on the second focal plane. At each zoom power, it maintains a constant size that is not just easy to read but also easy to use. On top of that, the reticle is illuminated to provide a precise point of aim in low light conditions.
Solid construction is another impressive feature that makes this LPVO one of the best vortex scopes for AR-15. It has a single-piece 30mm main tube crafted from aircraft quality aluminum. The quality construction enhances strength, rigidity and alignment for optimum visual clarity.
Furthermore, the scope has XR fully multi-coated lenses that work together with the HD lens elements to yield stunning picture quality and clarity in nearly all lighting environments. The entire tube is then sealed with solid O-rings and argon gas purged to offer a lifetime of waterproof and fog proof performance respectively.
Features
XD lens elements
Aircraft quality aluminum construction
Waterproof and fog proof
30mm main tube
XR fully multi-coated lenses
Second focal plane reticle
Hard anodized finish
Fast focus eyepiece
Pros
Illuminated reticles
High build quality
Capped turrets
Incredible glass quality
Cons
7) Vortex Razor HD LHT 3-15×42 Rifle Scope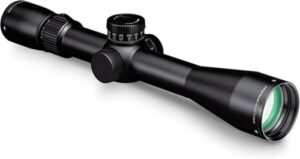 Last but certainly not least, we have the Vortex Razor HD LHT 3-15×42 Rifle Scope. The versatility of this rifle scope is second to none. It is ideal for hunting in different environments from dense timber to large open fields across vast ranges. It also great for long range precision shooting where it yields great precision.
This rifle scope is built to be virtually indestructible. It has a 30mm body tube that is shockproof, recoil resistant and coated with scratch resistant Armortek coatings to provide added protection in the field. In addition, it is O-ring sealed and argon purged to be usable even in adverse weather conditions.
Vortex made this optic with user convenience in mind. It has capped turrets to ensure ease of adjustments from any shooting angle. It also boasts a RevStop zero system for easy return to zero and a locking elevation turret to prevent accidental dialing. Optically, the scope has anti-reflection coatings on every air-to-glass surface to limit glare and minimize loss of light internally. This increases the volume of light transmitted for peak clarity even in low light settings.
The other noteworthy features included are a locking eyepiece for easy reticle focusing and a second focal plane reticle that comes with a variable intensity center illumination.
Features
RevStop zero system
Anti-reflective lens coatings
Locking elevation turrets
Capped windage turrets
Locking eyepiece
Waterproof and fog proof construction
30mm main tube
Second focal plane HSR-5i reticle
Pros
Lightweight yet durable
Great low light visibility
Clear glass
Generous eye relief
Cons
Why Vortex Scopes for AR-15?
Vortex is a household name in the field of optics. Virtually all of their optical devices offer a perfect balance between value and performance. This makes Vortex scopes a popular choice for hunters and recreational sportsmen who are looking for a top-tier scope for their firearms.
Other than quality and affordability, here are the other advantages of investing in the best Vortex scopes for AR-15.
Versatility. Vortex scopes offer unmatched versatility in the hunting fields and shooting range
All-weather reliability. You can use a vortex scope in all weather conditions as they are fully waterproof, dust proof and shockproof
Excellent picture quality. Vortex rifle scopes are known to offer peak image clarity and brightness irrespective of the lighting condition
Lifetime warranty. All optical devices from Vortex come with a lifetime warranty and their scopes are not an exception
Read Also
Best Vortex Scope for AR-15 Buying Guide
Vortex scopes have features and specs that differ from one model from the other. When shopping for the best scope for your AR-15, explained below are the factors one should consider in order to find the best scope for their needs.
Magnification Power
Vortex offers a wide range of rifle scopes with a variety of magnification power. There is no single magnification power that is works for very hunter and shooter out there. It is therefore important to factor in your needs and how far you will shooting, then find a scope with the right magnification.
Usage
The AR-15 is a powerful rifle whose versatility in hard to beat. When getting a scope for it, it is important to be specific about the kind of shooting you will be using the scope for. However, most of the best Vortex scopes for AR-15 have dual hunting and shooting use to complement the versatility of this rifle.
Weight
The next thing to consider is how heavy the scope weighs. For both hunting and tactical use, it is important to find a scope that is lightweight and durable. Lightweight scopes are easy to maneuver with during use together with the firearm and any other gear you carry with you. A light scope under 2lbs will also do a better job of scattering recoil than the bulky counterparts.
Reticle
In scopes, the point of aim in provided by the reticle. It is therefore important to find a scope whose reticle is not just simple to use, but also accurate in all conditions. Different Vortex scopes for the AR-15 come with different reticle designs for you to choose one that is best for your needs.
Eye Relief
Another thing to consider is eye relief which is a measure of how far your eye has to be from the scope's eyepiece during use. The best Vortex scopes for AR-15 have a long eye relief of at least 3.5 inches to offer great glassing comfort even for those who wear eyeglasses. A scope with a long eye relief is also important in keeping the users' eye safe from the rifle during recoil.
FAQs
Are vortex optics good for the AR-15?
Absolutely. Vortex scopes provide a ton of high-quality features that meet and surpass the versatility of the AR-15. Mounting the right scope on it will go a long way to help you push this rifle to its full potential.
What scope magnification do you need for the AR-15?
It depends on how far you will be shooting and the kind of shooting you will be doing. On average, a variable powered scope with up to 12x magnification is sufficient for most hunting and shooting applications at close to long ranges. However, more that 12x zoom power is needed for the extreme long range shooting and hunting applications.
Final Thoughts
Vortex provides a wide range of high-quality rifle scopes at a price range that is friendly to most buyers. Each and every scope mentioned above pairs well with the AR-15 and represent the quality and performance from this highly respected brand. Hopefully, this post steers you to finding a scope that will help you get the most out of your hunting or shooting applications with the AR-15.