Binoculars are available in different sizes and designs, and suitable for a various applications including marine use. If you are a sailor, having a pair of the best marine binoculars with compass will help enhance the safety of the vessel, bring you close to the faraway marine objects and aid in navigation when you are exploring new waters.
However, finding the right pair or marine binoculars with compass is easier said than done. There are countless binoculars from so many brands for you to choose from. These binoculars have unique set of features but the quality, functionality and reliability are different from one product to the other.
Generally, it is wise to invest in a high-quality product even if its expensive, but making the right choice is not a walk in the park. Luckily, we are here to help. In this guide, we take you through the top-rated marine binoculars with compass that are specifically built to make your expedition on the water safe and memorable.
Let's take a look.
7 Best Marine Binoculars with Compass
1) Nikon OceanPro CF 7×50 Binoculars with Compass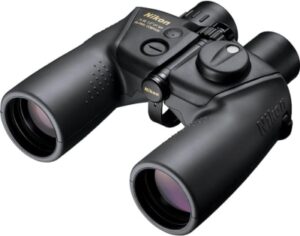 First up we have the Nikon OceanPro CF 7×50 Binoculars with Compass. In the industry of optics, Nikon is a household name. It is well-known for its top-notch and reliable products and this binocular is not any different.
It is uniquely engineered and built to stand up to the rigors of marine use and offer many years of use.  The 7x magnification it possesses helps bring the distant targets closer for easy identification. It also provides a wide field of view to ensure that you leave nothing undiscovered.
To hold up to rough handling, the body of this binocular is made using a corrosion and impact resistant polycarbonate which guarantees longevity as well as durability. It is also covered with a rubber armoring which provides added protection from impacts and salt from the sea while ensuring that you have a secure, slip resistant grip, even when you are wearing gloves.
For added protection in the water, this binocular has its optical tubes filled with nitrogen to drive out moisture and be fog-free. It is also waterproof to 3.3 feet for 5 minutes and comes with a high visibility floating neck strap that will keep the binoculars afloat if you accidentally drop them in water.
This pair of binoculars is also equipped with a global compass designed to operate in both northern and southern hemispheres. The compass is also illuminated for use in all lighting conditions.
Above all, this binocular boasts a highly effective 50mm objective lens and anti-reflection multi-coated optics that yield bright and crisp sight pictures in virtually all lighting conditions.
Features
BaK4 traditional Porro prisms
Fold down rubber eyecups
Waterproof and nitrogen filled
Illuminated global compass
High visibility floating neck strap
Anti-reflection multi-coated optics
Large center focusing knob
Protective rubber armoring
Pros
Tripod mountable
Wide field of view
Inexpensive
Bright and highly accurate compass
Crisp clear optics
Cons
2) Bushnell Marine 7×50 Binocular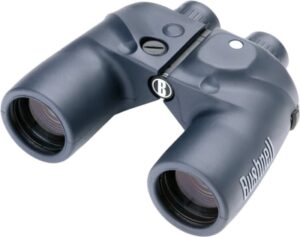 If you are in the market for a quality and reliable all-round set of binoculars, the Bushnell Marine 7×50 Binocular is your ideal option. This optic is suitable for a wide range of outdoor applications including marine and boat use.
It boasts an illuminated compass that makes the ideal for shipboard navigation work and a built-in rangefinder scale to help you estimate the size and range of objects.
This pair of binoculars is made for use in all weather conditions. It has an IPX-7 waterproof rating that makes it safe to use even when it is raining. Better yet, it is built with the latest fog-proof technology to remove all internal moisture and keep the lenses fog free.
Regarding construction, the binoculars is built-well to last long. Also, it is covered with a non-skid rubber armor which provides a firmer grip when your hands are wet or when you have your gloves on. It also shields the optics from bumps, impacts and salty water which causes corrosion.
These binoculars also have premium BaK4 prisms and fully multi-coated lenses that amplify light transmission to deliver clear and true-to-detail sight pictures, even when the lighting conditions are less favorable.
Features
Fully multi-coated optics
IPX-7 waterproof rating
Non-slip rubber armor
BaK-4 Porro prisms
Fog proof
Built-in internal compass
Center focus
Built-in rangefinder
Pros
Large field of view
Easy to use
Low price
Floats on water
Solid construction
Cons
The neck strap included is too thin and uncomfortable
3) Fujinon Mariner 7×50 WPC XL Porro Prism Binocular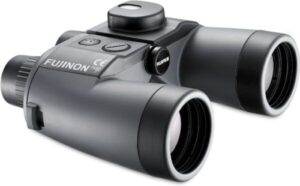 The Fujinon Mariner 7×50 Binoculars are the best marine binoculars with compass for beginners. They offer the perfect balance between value and performance, and are very simple to use.
These binoculars offer outstanding optical performance in virtually all lighting conditions. They possess a large 50mm aperture that optimizes performance in low light environments. Besides, the lenses are fully multi-coated to maximize light transmission and ensure that the images generated are bright and clear.
The compass integrated in these binoculars is a global one so you are able to use it in both the northern or southern hemisphere. It is also illuminated to be easy to read and use even when the sun goes down.
Another highlight about these binoculars is the solid construction. They have a rubber armored polycarbonate body that is sturdy enough to withstand rough handling. They are also fully waterproof and fog proof for operability under any weather condition.
Features
LED illuminated global compass
Peel-down eyecups
Rubber armored body
Waterproof and fog proof
Multi-coated optics
A neck strap that floats on water
Porro prisms
Pros
Durable and reliable housing
Lightweight
Easy on the wallet
A compass that is easy to use
Cons
4) Barska Deep Sea 7×50 Waterproof Marine Binoculars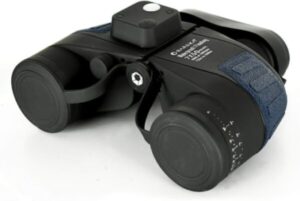 When it comes to versatility, it is hard to beat the Barska Deep Sea 7×50 Waterproof Marine Binoculars. These binoculars are made for all outdoor applications, but designed with boating and nautical fanatics in mind.
It features the standard 7x magnification for marine applications and a large 50mm lens that provides a wide field of view and excellent low light performance. Additionally, these binoculars have fully multi-coated optics which reduce glare and reflection that causes light loss. This amplifies the amount of light transmitted to provide bright and sharp image views.
To broaden the horizon, the binoculars come with a compass that aids in navigation when you are exploring the sea and an internal range finder that comes in handy when you need to determine the distance to a target. They also possess an individual focus system so you will need to focus it once only.
When it comes to construction, the Barska Deep Sea binoculars have a heavy-duty rubber armor which provides additional protection from rough handling, while ensuring that you have a secure grip. They are also O-ring sealed for full waterproof protection and purged with dry nitrogen to prevent fogging and moisture damage.
Features
Individual focus system
BaK-4 Porro prisms
Waterproof and fog proof
Fully multi-coated optics
Built-in compass and rangefinder
Rugged rubber armor
Pros
It floats on water
Compact and lightweight design
Suitable for multiple outdoor applications
Budget-friendly
Cons
5) Steiner Navigator Pro Binoculars with Compass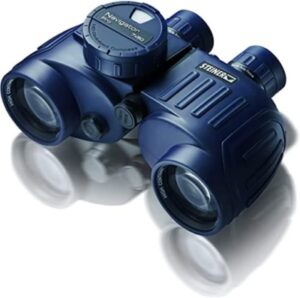 Our next binoculars with compass for marine use is the Steiner Navigator Pro Binoculars. As one of the best marine binoculars with compass, this model offers exceptional optical clarity and consistent reliability that make it a perfect choice for boaters, anglers and sailors.
It is built with a HD fluid-damped illuminated analog compass to help you navigate the sea and oceans with ease. Furthermore, this pair of binoculars possesses a sports-auto focus system which helps you focus each individual eyepiece to your vision and keep the images crisp and tack-sharp from 20 yards to infinity.
These binoculars are not built to military specifications, but they will provide you with a lifetime of use. They boast a durable Makrolon polycarbonate housing that is covered with a NBR Long Life rubber armoring which provides a secure, slip-resistant grip.
Moreover, the binoculars' optical tubes are filled with nitrogen to drive out moisture and be fully fog proof.  The Navigator Pro is also waterproof to 16" for added protection and operable in temperatures ranging from -20 to 60°C/ -4 to 140°F.
Features
Porro prism optical design
Individual focus oculars
Waterproof and fog proof
Fully multi-coated optics
Makrolon polycarbonate housing
Back-lit compass with bearing marks
Twist-up rubber eyecups
Pros
Slip resistant NBR rubber armoring
Large field of view
German quality
Quick and easy to make adjustments
Cons
6) Konus Tornado 7X50 Binocular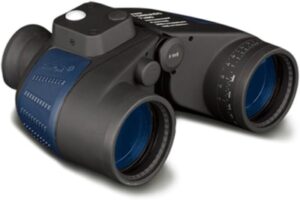 The Konus Tornado 7X50 Binocular is the best marine binoculars with compass for the budget buyers. Though this binocular is easy on the wallet, it offers multiple features to ensure that you get the most out of it.
This pair of binoculars doubles as a navigational tool. It comes with a dampened reticle with a rangefinding reticle to measure the distance and size of the faraway targets. Even better, it provides a massive field of vision to give you an edge in the sea and the compass is illuminated for use even in the dark.
The body of this optic is constructed from highest quality materials to withstand the hazards of marine activity. Furthermore, the tubes are sealed to prevent moisture and dust from getting inside the optics, and charged with dry nitrogen to survive harsh weather, extreme temperatures and on-the-water use.
This set of binoculars also brings to the table premium and extra-bright BaK4 prisms and fully multi-coated optics that work in tandem provide crisp clear sight pictures in nearly all lighting conditions.
Features
Waterproof and fog proof
Illuminated compass with rangefinding reticle
Floating body
Fully multi-coated optics
Individual focus system
Premium BaK4 prisms
Rubber fortified design
Pros
Lightweight design
Floating mechanism
Inexpensive
Tripod mountable
Spacious field of view
Cons
Poor contrast in dismal environments
7) Fujifilm Fujinon Polaris 7×50 FMTRC-SX Binoculars with Compass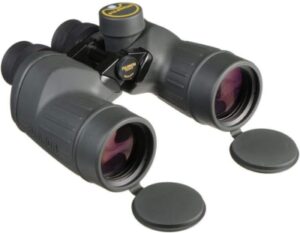 Last but not least, we have the Fujifilm Fujinon Polaris 7×50 Binoculars. Among the world's greatest binoculars, the Fujinon Polaris 7×50 is built with a multitude of military-grade features which make it a perfect companion for marine activities.
It features 7×50 size which is standard for marine use. It also boasts a large 7.5° angle of view that makes target finding a breeze, and a long eye relief to alleviate eye strain and fatigue during lengthy glassing sessions.
Moreover, the views you get from this pair of binoculars are admirably bright, sharp and detailed, even in the not so ideal lighting and weather conditions. This is made possible by the EBC multi-coatings applied on all optical surfaces and the large 50mm objective lens.
Another feature that makes the binocular stand out is the solid construction. It has an all-metal housing that guarantees longevity and durability. The whole body is then covered with a thick and protective rubber armor that shields the optics from shock, and also provides an ergonomic, non-slip grip.
To top it all off, the binocular is 100% waterproof and fog proof to stand up to drastic temperature and humidity changes and provide a lifetime of all-weather reliability.
Features
Peel-down-style rubber eyecups
Built-in compass with rangefinding reticle
Waterproof and nitrogen purged
Thick and protective rubber armor
All-metal housing
Premium Porro prisms
EBC multi-coated lenses
Optional eyepiece filters
Pros
Crystal clear views
Easy to use
Suitable for multiple outdoor applications
Robust and reliable construction
Cons
Expensive for the budget buyer
Heavy
Features to Look for in Marine Binoculars
Explained below are some of the handy features that every marine binocular ought to have to ensure that you enjoy lasting utility.
Image Stabilization
If you have shaky hands or you just want to take your marine views to the next big level, image stabilization is very important. Marine binoculars with image stabilization provides consistent, shake-free image views which make your glassing sessions more enjoyable.
Floating Straps
Binoculars can accidentally fall in the sea or ocean during use. If that happens, floating straps will keep them afloat and save the day. So, ensure that the marine binoculars you choose to buy come with floating straps.
Weatherproof Construction
Water and fog will not just affect your vision accuracy when using marine binoculars, but they will also damage the optics if they get inside the lenses. It is therefore important that you invest in binoculars that are fully waterproof, dustproof and fog proof.
Compass and Rangefinder
A compass with a rangefinder reticle is an indispensable tool for marine applications. The compass will aid in navigation and the rangefinder will help you measure the size and distance of the faraway objects.
Read Also
Criteria for Choosing the Best Marine Binoculars with Compass
Here are the key factors you should take into consideration when shopping for the best marine binoculars with compass.
Magnification
The standard magnification for marine binoculars is 7x. It is easy to hold steady even without the use of a tripod. It also provides a wide field of view which is essential for quick target finding.
Any magnification power more than 7x and you will find it difficult to hold the binocular steady while the boat or ship is moving. If you want a marine binocular that has a higher magnification than 7x, consider getting one with image stabilization.
Check Here
Lens Coatings
Optical coatings are very important in binoculars. They reduce glare and loss of light through reflection. They also protect the optics from scratches and damages. Try and look for a marine binocular that possesses solid lens coatings. A model that has its lenses fully multi-coated will provide stunning image brightness and clarity, even in low lighting conditions and provide adequate protection from scratches.
Eye Relief
Eye relief is the e maximum distance binoculars can be held from the eyes and still function. It is an important factor to consider especially for people who put on eyeglasses. Look for a binocular that provides a sufficient eye relief to ensure comfortable glassing.
Durability
Marine binoculars are an investment. When making your selection, look at the quality of construction and opt for a model that is well-made using premium-quality materials. The best marine binoculars with compass also possess a rugged rubber armor that shields the optics from impacts, absorbs shock and provides a secure, anti-slip grip.
Weight
Weight is another important factor to consider. If you plan to use the binoculars for a lengthy period of time, or you are using them one-handed as you steer the boat, a lightweight pair is the best. It will be comfortable on your hands and easy to use as well.
If the binoculars are heavy, you should invest in a tripod. Mounting the binoculars on the tripod will take the heavy weight off your hands and also stabilize the binoculars.
Cost
Lastly, consider the cost. The price of marine binoculars varies from one product to the other, depending on the brand and the features it possesses. Look for a product that has high-end and reliable features, even if you have to pay more for it. It will give you a stunning performance in the waters and in the long run, give you great value for money.
FAQs
Which are better, 7×50 or 10×50 binoculars?
For marine activities, 7×50 is the standard size. Binoculars with this configuration are easy to hold steady and effortless to focus. They also provide a spacious field of view which is essential for swift target finding.
Are 7×50 binoculars any good?
Absolutely. 7×50 binoculars offer excellent performance under various lighting conditions. They are also easy to use and suitable for a variety of outdoor activities including birding, wildlife observation, hunting and marine applications among others.
Final Thoughts
It is our hope that you have found this post to be enlightening and helpful. All the binoculars we have mentioned above offer the vital features you need for marine applications. They are easy to use, versatile and reliable as well.
Finding the right pair for your individual marine needs will take some time, but no matter what your budget is, there is an option for you.