Are you in the market for the best night vision monocular? If so, you are in the right place. This is your ultimate guide to purchasing the best night vision monocular.
When it comes to military applications, home surveillance and wildlife watching in the dark, a night vision monocular is one handy tool that you should always have by your side. Unlike the traditional monocular, night vision monocular detect infrared light to help you see objects with great clarity in the dark, even when it is pitch dark and hard to see anything in front of you.
The best night vision monocular will work in any light settings and increase your situational awareness when you want to keep an eye on what is going on around you at night. However, finding the right model for your needs is not an easy task. The market is flooded with so many products from different brands which make the selection process daunting and unpleasant, particularly for the first time buyers.
In this post, we have a in-depth review of the top-rated night vision monocular to help you find a model that suits both your needs and preference. Without further ado, let's dive right in.
7 Best Night Vision Monocular – Our Top Picks
1) Bushnell Equinox Z2 3×30 Night Vision Monocular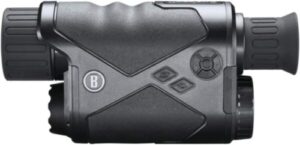 The Bushnell Equinox Z2 3×30 is a high-quality, durable and reliable night vision monocular ideal for virtually any application. It employs a powerful built-in infrared illuminator and high-end optics which enable clear viewing in the dark.
This compact monocular is ideal for viewing objects even at a distance. It features a fixed 3x optical magnification and a digital zoom up to 9x which brings the distant subjects closer. Furthermore, it provides a wide field of view to help you locate different targets with ease and ensure effortless glassing.
Another feature that makes the monocular stand out is the stunning optical clarity. The infrared illuminator included helps advance its light gathering ability. This yields ultra-bright sight pictures even in dark, moon-less nights. Besides, the optics are fully multi-coated to enhance the transmission of light for bright and crisp image views.
Best of all, you can use the monocular to record videos in 1080p HD and upload them quickly to your tablet, smartphone or computer via Wi-Fi.
Features
3x optical magnification
Fully multi-coated optics
Digital zoom up to 9x
Micro-LCD screen display
Infrared-sensitive CMOS sensor
Built-in IR illuminator
Pros
Easy to operate
Works great
Compact and lightweight design
Easy on the wallet
Cons
2) Luna Optics 6-36×50 G-3 Digital Day/Night Full HD CMOS WiFi Monocular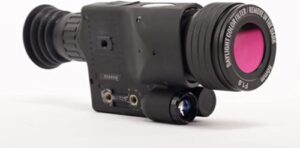 If you are in the hunt for a long range night vision monocular, look no further than the Luna 6-36×50 G-3 Digital Day/Night Monocular. It features an ultra-versatile 6x optical image magnification coupled with an electronic image zoom system that provides up to 36x magnification. This vast and powerful magnification makes target identification a breeze no matter the distance.
To complement the high magnification power, the monocular also features an ultra-powerful IR illuminator that offers an effective viewing distance up to 400m  in total darkness. It also employs precision all-glass optics that provide superior image quality in all conditions and a widescreen AMOLED-Q display that offer outstanding resolution and contrast.
Other noteworthy features included are a multi-controller that ensures quick and simple menu selection, an IPX-4 water resistance rating and a built-in Blu-ray quality video recording.
Features
All glass optics
6x optical image magnification
Ultra-powerful IR illumination
36x electronic zoom
IPX-4 water resistant
AMOLED-Q display
Built-in video record
Pros
Dual day and night functionality
Long detection range
Easy to use
Lightweight
Cons
3) ATN PVS14-3 1x27mm Night Vision Monocular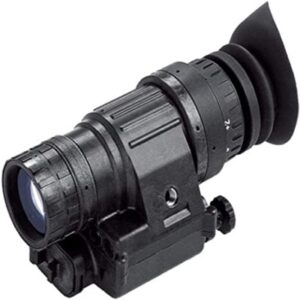 ATN is a leading brand in the industry of night vision optics. It is known for its wide selection of high-end night vision optics and the PVS14-3 1x27mm Night Vision Monocular is not any different.
Built with Gen 3 night vision technology, the monocular is ideal for use in nearly all applications, even in the most demanding night time applications. It is also equipped with a variable gain control to ensure that you achieve the highest quality image resolution irrespective of the lighting condition.
Furthermore, this monocular is built with versatility in mind. You can use it for any application that requires you to observe targets in the dark. Better yet, you can use it as a handheld device or mount it on your head or helmet and use it as a single eye google.
For added convenience, the monocular has an ultra-lightweight design so you will have an easy time carrying it around. It also has a waterproof housing for use in any weather condition and is designed to be operable in different temperatures ranging from -40 to 55 degrees Celsius.
Features
1x fixed magnification
Gen 3 night vision technology
Waterproof construction
Variable gain control
Bright light cut off
Pros
Battery included
Lightweight design
Excellent clarity
Solid construction
Cons
4) Night Owl Lightweight Night vision Monocular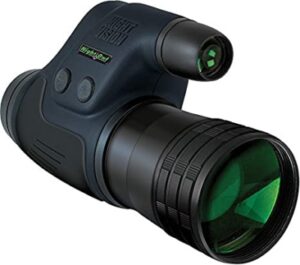 The Night Owl Lightweight Night vision Monocular is the best night vision monocular for the budget buyers. Although this monocular is inexpensive, it doesn't cut any corners on durability and quality. It is loaded with a wide variety of quality and user-friendly features to ensure that you the absolute best from it.
This monocular has a unique design that makes it comfortable to hold in a secure manner. It is easy to operate with a single hand in any situation. This makes it ideal for hunting, security surveillance, camping, wildlife watching and more. Besides, it is lightweight and very small in size for comfortable handling, especially during prolonged viewing sessions.
When it comes to construction, the monocular is made to last. It has a durable aluminum housing with a rubberized finish. The rubber coating provides a secure grip for better handling even in wet environments or when you are wearing gloves.
Furthermore, this model features a powerful infrared illuminator which maximizes image clarity in pitch-dark settings. It also brings to the table high-grade, all glass optics that generate tack-sharp and clear views of the target.
Features
Generation 1 night vision technology
3x magnification
High-grade all glass optics
Powerful IR illuminator
Durable aluminum housing
Rugged rubber coating
Pros
Easy one-hand operation
Lightweight design
American quality
Budget-friendly
Decent field of view
Cons
5) Bushnell Night Vision Equinox Z Monocular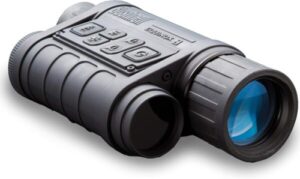 Next up is the 6x Equinox Z digital night vision monocular from Bushnell. This is an all-round monocular suitable for hunting, camping and securing surveillance in addition to law enforcement and stargazing.
Featuring a fixed 6x magnification, the monocular will magnify the small objects you are viewing so you get the best of the best details. Furthermore, the large 50mm multi-coated glass offers outstanding image clarity and sharpness by enhancing light transmission.
The Equinox Z brings to the table an infrared illuminator to maximize your detection range in the dark. It also comes with a built-in accessory mounting rail where you can mount a more powerful IR illuminator or any other accessory of choice. Besides, you can use the monocular to take photos and record videos of the objects you are observing and later share them with your family, friends or on your social media platforms.
To top it all off,  this unit has a rugged water resistant housing to be operable under any weather condition.
Features
6x magnification
50mm objective lens
Rugged water resistant housing
1-3x digital zoom
Multi-coated glass objective lens
Video recording and image capture capability
Pros
Versatility
Good battery life
Lightweight and simple to use
Adjustable IR brightness
Cons
6) Bestguarder Night Vision Monocular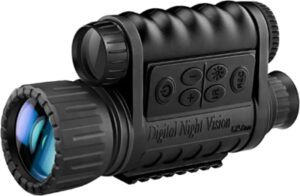 If you are looking for a monocular for wildlife observation, you have found it in the Bestguarder Night Vision Monocular. It has every feature you need to make your wildlife observation sessions for fun and an effective detection range of 350m/1150ft which is long enough to help you see the animals clearly under any situation.
The versatility of this monocular is second to none. It is ideal for use at night and during the day as well. Besides, you can use it as a handheld device or mount it on a tripod for hands-free viewing. When the sun sets, the IR illuminator included will broaden your visibility and help you see clearly in pitch black environments.
More importantly, this model utilizes multi-layer, high-quality optical glass lens which yield crisp clear and detailed imaging. In terms of construction, this high-tech night vision monocular features military-grade construction to maximize durability. It also has an IPX4 waterproof rating for use even in adverse weather conditions.
Features
1-5x digital zoom
Multi-coated lenses
IPX4 waterproof rating
Built-in IR illuminator
Camera and camcorder function
6x magnification
Pros
Tripod mountable
Solid construction
Lightweight
Day and night functionality
Ideal for multiple applications
Cons
7) Zeiss DTI 3/35 Thermal Imaging Night Vision Monocular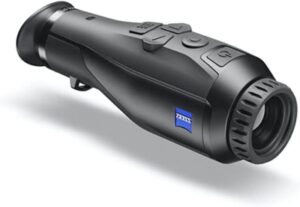 Lastly, we have the Zeiss DTI 3/35 Thermal Imaging Night Vision Monocular. This high-end night vision monocular doubles as a thermal monocular to give you the best of both worlds.
It is designed to provide a large viewing angle which is essential for rapid target identification and effortless tracking fast moving targets. It is also built with unique ergonomics which make it ideal for stalking game in the dark without causing any distractions.
Built with high-resolution HD LCOS display, the monocular delivers detailed sight pictures even in pitch-dark environment. Better yet, it has a fog proof design to ensure that the field of view stays clear in all weather conditions. It also has a unique Contrast Boost feature that maximizes clarity and edge-to-edge sharpness.
Features
Contrast enhancement in foggy conditions
High-resolution HD LCOS display
Fog proof housing
IP66 water resistance rating
5x optical magnification
50Hz image frequency
4x maximum digital zoom
Pros
Lightweight design
Decent battery life
Usable during the day and night
Ambidextrous one-handed operation
Cons
Read Also
Factors to Consider when Choosing the Best Night Vision Monocular
Let's now take a look at the most important factors you should consider when shopping for a night vision monocular.
Magnification
A night vision monocular will have its magnification power listed as the first number before the "x" in its configuration. Normally, this ranges anywhere between 1x to 12x.
The higher the optical magnification strength the monocular has, the better. You will be able to zoom in and out the targets  and bring those that are far closer.
Viewing Distance
Irrespective of the activity you plan to use the monocular for, pick a model that offers a long viewing distance. This way, you can use it to pick targets easily, even at long distances Typically, a model with a maximum viewing distance of about 300m in typical night time environments will be sufficient.
Batteries
Before you purchase a night vision monocular, double-check and see if the battery is included. If not, ensure that it is readily available in the local stores.
Besides that, it is important to check the capacity of the battery. The longer the battery life a monocular has, the longer you can use it in the field. A tip is to settle on a model that offers more hours of continuous operation with the IR light switched on or not.
Weight
Most night vision monoculars weigh between 300 and 800g depending on the size of the lens, materials used and the size. If you intend to use the monocular for hunting or wildlife observation where there is constant movement from one location to the other, ensure that you pick a unit that is lightweight. It will not only be convenient to carry around , but also comfortable on your hands during use.
Durability
You will want to buy a night vision monocular that is well-made using high-quality materials to offer long-term durability. Models made of materials such as aluminum alloy offer great durability, without adding any extra weight. In addition to having a quality construction, the model you choose should be shockproof to stand up to rough handling and recoil resistant as well.
Weather Resistance
Unless you plan to use your night vision monocular indoors, you will want it to be operable in any weather condition. For camping, hunting and wildlife observation, you must pick a model that is waterproof or highly water resistant. The model you get should also be fog proof and dust proof as well.
Cost
Lastly, consider how much the night vision monocular costs. Different night vision monocular have different price tags depending on the brand and the quality of features.
Like any other night vision device, you get what you pay. If money is no object, it is best to get a high-end model that will last long. The expensive monocular also have top-notch features that yield better performance.
FAQs
What is a night vision monocular?
A night vision monocular is a monocular that is designed to be operable in the dark.  It collects the available light present and amplifies it to provide a clear and quality views of the targets in typical nighttime environments.
How far can you see with a night vision monocular?
This will depend on the quality of the night vision monocular you are using and the night vision technology is uses. Majority of the quality and modern models provide an effective viewing range of between 200 and 300m in the night.
Can civilians buy night vision monocular?
Yes. There are no restrictions on civilian ownership of night vision monocular irrespective of the activity you purpose to use it for.
Final Thoughts
A quality night vision monocular will change how you observe objects in the dark and make your outdoor expeditions more fun. As you can see, there are plenty of good-quality night vision monocular you can pick from. All the models listed above offer reliable performance in the field and are suitable for a wide range of applications. Irrespective of which model you end up buying, we do hope that you have found this guide to be both enlightening and useful.