Getting your safari gear ready and looking for the best binoculars for safari? Look no further. In this post, we will take you through some of the best binoculars for safari that are available on the market currently.
If you are serious about getting the absolute best from your safari trip, a pair of quality binoculars is a valuable tool that you can't afford leave behind. With binoculars at hand, you will be able to have a clear view of the wildlife even when they are far away. If you are an avid birder, binoculars will help you get an up-close and detailed view of the birds and insects compared to when you watch them with your bare eyes.
Selecting the most ideal binoculars for your next safari holiday isn't a walk in the park, especially if its your first safari holiday. The market is flooded with options from different brands which make the selection process a daunting and time-consuming. But we are here to help.
7 Best Binoculars for Safari – Our Top Picks
In our guide today, we have taken our time and compiled a review of the top-rated binoculars for safari. We have also included a detailed buying guide to help you find the right binoculars for your upcoming safari adventures.
Without wasting any more time, let's get started.
1) Nikon 7576 Monarch 5 8×42 Binocular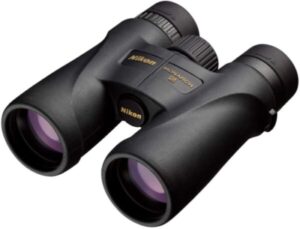 Carrying the well known and highly-respected Nikon name, the Monarch 5 8×42 Binocular is by far the best binocular for safari available on the market today. Nikon binoculars have uncontested heritage of performance in all conditions and this model takes its performance a notch higher with enhanced agility and unmatched low light brilliance.
With a mere weight of 1.3 pounds, the binocular is ultra-light, simple to use and convenient to carry everywhere you go. Better yet, it has a sleek easy-to-grip body design for secure handling even when your hands are sweaty or wet. It also features turn and slide rubber eyecups which give you the flexibility to adjust the eye relief for a custom fit.
Another facet that makes the binocular stand out is its durability. Made to be usable in any environment, the Monarch 5 has a rugged rubber armored coating to endure extreme use and render an ergonomic, non-slip grip in all conditions. It is also equipped with a smooth central focus knob that has a simple and intuitive design.
Furthermore, the binocular features fully multi-coated Eco-Glass lenses which provide higher light transmission. This gives you bright, clear and more natural image views, no matter the lighting condition.
Best of all, this pair of binoculars is nitrogen filled and O-ring sealed for total waterproof and fog proof performance.
Features
Durable rubber armored body
8x magnification
Waterproof and fog proof
Fully multi-coated Eco-Glass lenses
Smooth central focus knob
Turn and slide rubber eyecups
Dielectric high-reflective multi-layer prism coating
Pros
Comfortable viewing
Lightweight design
Rugged and reliable construction
Bright and clear
Great price
Cons
2) Celestron – Nature DX 8×42 Binoculars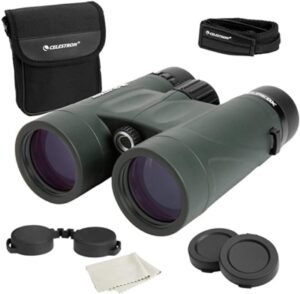 If you are looking for the best budget binoculars for safari, look no further than the Celestron Nature DX 8×42 Binoculars. This model is built with a multitude of quality features that will help make your safari trip more memorable, at a cost that is remarkably affordable.
The binocular offers the best combination of magnification, field of view and close focus distance. This makes it ideal for wildlife viewing and bird watching as well. Furthermore, it features fully multi-coated optics that provide ultra-vivid and bright images by enhancing the light transferred through the whole optical path.
Construction-wise, this pair of binoculars has a lightweight polycarbonate housing which is durable enough to endure any outdoor conditions. Additionally, it has a durable and shock-absorbing rubber armor that provides a secure grip in all conditions. The binocular is also fully waterproof and fog proof for use even in the not so ideal weather conditions.
Features
8x magnification
Fully multi-coated lenses
Waterproof and fog proof construction
Snug twist-up eyecups
Premium quality glass optics
High-quality BaK-4 prism
Rubber armored body
Pros
Lightweight design
Easy on the pocket
Fast and easy focus adjustment
Impressively bright and clear images
Cons
The neck strap included could be better
Images get blur at high magnification power
3) Vortex Optics Viper HD Roof Prism Binoculars 10×42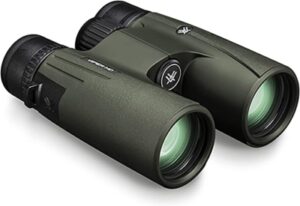 As one of the leading brands in the optics industry, Vortex makes a multitude of good quality optics and the Viper HD Roof Prism Binoculars is not any different. Carrying this binocular in your next safari trip will guarantee better and detailed viewed of wildlife and the surroundings.
It has a high 10x magnification suitable for observing wildlife even at long ranges. Furthermore, it is a full-size binocular that is not just compact to save on space, but also lightweight for convenient carrying.
In the field, you will have an easy time using the binocular under any weather condition. It is argon purged to ensure that the lenses stay free of fog when you move between two locations that have a big humidity and temperature gradient. On top of that, it is O-ring sealed to be fully waterproof and dust proof. It is also equipped with a rubber armored chassis which provides a secure, anti-slip grip.
Other noteworthy features included are a scratch resistant Armortek coating, locking, right-eye diopter and twist-up eyecups.
Features
Waterproof and fog proof
High-density optical system
Easy-to-grip rubber armored chassis
Scratch resistant Armortek coating
XR anti-reflective lens coatings
Locking, right-eye diopter
10x magnification
Twist-up eyecups.
Pros
Comfortable all-day carry
Superior image clarity
Smooth focus wheel
Multi-purpose application
Cons
4) Zeiss Terra ED Binoculars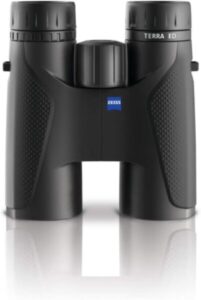 As one of the best binoculars for safari, Zeiss Terra ED Binoculars are suitable for every adventure. This high-quality pair of binoculars is simple to use and has a lightweight design to ensure optimal user comfort even during long glassing sessions.
Featuring a large, easy to access focus wheel, the binocular ensures fast and straightforward image focusing for all users. It also has a powerful 8x magnification that helps brings the distant targets closer without sacrificing on the field of view.
In terms of construction, this model is built to last long. It has a ruggedized housing that is virtually indestructible. Furthermore, the binocular has Schott ED glass that employ a water-repellent multi-coating. This coating goes a long way in ensuring that optical clarity and precision is maintained under any situation or weather condition.
To top it all off, this pair of binoculars is water resistant and nitrogen filled to be fog proof and operable under rain, mist and any other precipitation.
Features
8x magnification
Waterproof and fog proof
Hydrophobic multi-coated lens
Large and easy to grip focus wheel
Pros
Superior image brightness and clarity
Compact and lightweight design
Comfortable eye relief
Easy to use
Cons
5) Steiner Safari UltraSharp Binoculars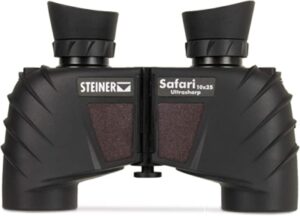 Steiner makes a plethora of quality optics and this is clear in the Safari UltraSharp Binoculars. With this set of binoculars, you will get more enjoyment from your safari trip and any other outdoor adventure pursuit.
Weighing just 10.5oz, this set of binoculars is ultra-light, portable and very easy to use. Additionally, it yields a decent field of view of 312ft @1000 yards to ensure that nothing is left undiscovered.
When it comes to construction, the binocular has a Makrolon housing with NBR long life rubber armoring. The armoring is impervious to shock and impacts to enhance durability. It also provides a comfortable, secure and non-slip grip in all weather conditions. Furthermore, the binocular is fully waterproof and fog resistant to deliver flawless performance even in the toughest weather conditions.
These binoculars also feature premium lens optics and multi-layer coatings on all air-to-glass surfaces to ensure optimal image brightness, clarity and edge-to-edge sharpness.
Features
10x magnification
Fast close focus
Fold down eyecups
Rubber armored housing
Multi-coated lens
Durable polycarbonate frame
42mm objective lens
Pros
Eyeglass friendly
Great image brightness and clarity
Lightweight construction
Field proven toughness
Decent field of view
Cons
6) Hawke Endurance ED Binocular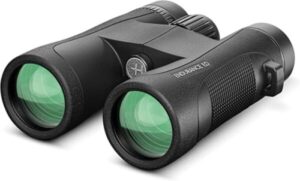 Next up is the Hawke Endurance ED Binocular. This pair of full-size binoculars harbors a multitude of high-end features that you need for every outdoor pursuit, not just safari. It will give you a close and detailed look of wildlife at a distance and up-close views of close birds and insects as well.
Featuring high-quality extra-low dispersion glass, the binocular yields admirable resolution and color accuracy in nearly all lighting conditions. It also has phase-coated BaK-4 roof prism that optimizes the quality of the image and fully multi-coated optics which enhance light transmission to yield bright, crisp and sharp image views.
More importantly, this set of binoculars is built to last. It has a magnesium alloy body that is durable yet lightweight. It is also rubber coated to ensures that the grip it provides is ergonomic and non-slip. Lastly, the binocular is fully waterproof for use even when it is raining.
Features
High resolution phase-coated BaK-4 roof prism
Waterproof construction
Fully multi-coated optics
Rubber coating
Robust magnesium alloy body
Extra low dispersion glass
Twist up eyecups with position stops
Pros
Lightweight, portable and compact design
Easy to use
Ultra-clear and bright images
Great for a variety of outdoor pursuits
Budget-friendly
Cons
Lacks anti-glare features
7) Swarovski NL Pure 10×32 Binocular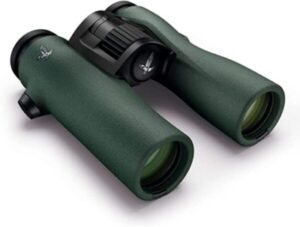 Lastly on our list of the best binoculars for safari, we have the Swarovski NL Pure 10×32 Binocular. This high-end binocular is built to offer ultra-sharp views that are also bright and crisp clear. It is also designed with an ergonomic revolutionary size that fits into your hand perfectly for secure handling and comfortable carrying all-day long.
One feature that makes it stand out among the rest of the binoculars listed above is the ultra-wide field of view. This makes the observation of the wildlife effortless. It also yields admirable views of the target so you experience nature like never before and immerse yourself at the moment.
Furthermore, the binocular features innovative lens coatings which offer high light transmission and minimize glare and light reflection. This gives you color accurate sight pictures with pin-sharp edge-to-edge clarity.
This set of binoculars also has an ultra-compact design so it won't take up much of your space when you are packing for a safari.
Features
10x magnification
32mm objective lens
Innovative lens coatings
Large field of view
Waterproof construction
Pros
Amazing clarity and color accuracy
Lightweight and compact design
Excellent craftmanship
Easy to hold and focus
Excellent brightness irrespective of the lighting condition
Cons
Read Also
What is the Best Binoculars Magnification for Safari?
Magnification in binoculars refers to how big the image will appear when you view it through the lens compared to when you view it with your naked eyes. It is represented by the number before the "x" in the binocular configuration.
On safari, the best binocular magnification is either 8x or 10x. A model with 8x magnification will offer a larger field of view. This translates to fast target finding and effortless observation. On the other hand, a pair of binoculars with 10x magnification will be more suitable for viewing wildlife at extended ranges.
Avoid binoculars with higher magnification of 12x or more. They will be difficult to focus or hold steady, especially when you are walking and cumbersome to carry around.
Factors to Consider when Choosing the Best Binoculars for Safari
When you are shopping for a set of binoculars for safari, here are some of the features you should consider.
Size and Weight
Comfort, portability and practicality are essential facets that every pair of binoculars for safari should possess. While full size binoculars offer higher magnification which is better for bringing the distant targets closer, they might not be the best for safari. They can be heavy and cumbersome to carry.
It is best to get a pair of binoculars that is compact in size and lightweight. This way, it will be easier to pack together with other safari gear and comfortable to carry when in use.
Durability
The best safari binoculars are built tough to stand up to rough handling. With plenty of models to pick from, it is best to get a pair that is made to handle anything nature throws at it.
In addition to having a durable construction, the binoculars should also have a rugged rubber armor to protect it from shock and impacts. The armoring will also give you a secure, anti-slip grip.
Lens Quality
You will want to invest in a pair of binoculars that offers clear views of targets even in inadequate lighting conditions. For this to happen, the binoculars should be built with high-end optics preferably ED or HD glass.
With good glass quality comes optimal resolution and rich color details. The binoculars should also have good lens coatings to enhance the overall brightness and clarity of the images.
Weatherproof Construction
Every safari trip requires a set of binoculars that is designed to be operable in any weather condition. Chances are that the weather conditions might change when you are out there in the field, and a model that is weather resistant goes a long way in ensuring that it offers reliable performance irrespective of what Mother Nature throws at you.
Get a par of binoculars that is O-ring sealed to be fully waterproof and dustproof. Alongside that, make sure that the model you pick has anti-fog qualities. This will stop the build of fog on the exterior and interior side of the lens and ensure that the field of view stays clear all through.
Eye Relief
The other important thing you should consider is the eye relief. The longer the eye relief is, the more comfortable your viewing expeditions will be.
In most cases, you will be wearing sunglasses to shield your eyes from the harmful UV rays. In such an event, a binocular will a long eye relief will ensure that you observe the wildlife and birds comfortably even with your sunglasses or eyeglasses on.
FAQs
Do I need binoculars on a safari?
Yes, you do. Without doubt, binoculars are the most essential piece of gear you can carry on safari. Whether you are on foot drives or game drives, binoculars will enhance your views and ensure that your safari trip is more enjoyable and memorable.
Which is better for safari, 8x or 10x binoculars?
Both 10x and 8x binoculars are ideal for safari. While 10x models have a narrower field of view compared to 8x models, they do a better job at bringing the distant targets closer. But in the end, it all trickles down to individual needs and preference.
What size of binoculars do I need for safari?
8×42 is the best all-round binocular size for safari. It offers a large field of view for rapid target finding and effortless observation. 8×42 binoculars are also lightweight, easy to carry around comfortably and simpler to hold steady.
Conclusion
We do hope that this post has given you the insight into the best binoculars for safari. With any of the models listed above, you will be able to get fantastic views of the different objects while on safari.
Choosing the best pair of binoculars will take you some time and research, but irrespective of what your needs or budget is, there is a model out there for you.