Looking for the best binoculars for shaky hands? You are in the right place. This post sheds light on the best binoculars for seniors and people with shaky hands.
Binoculars are important tools that improve our views when outdoors. Whether you are birding, hunting, stargazing or out on a safari, a of quality pair of binoculars will improve your visibility and help you get better detail of targets that are far away. However, if your hands shake a lot, it might be hard to get a good focus through the binoculars.
To address this issue, you need to use binoculars that are specifically made for people with shaky hands or mount the binoculars on a tripod. If you have been hunting for the best binoculars for shaky hands to no avail, we are here to help. We have a list of the best binoculars that are made for users with shaky hands.
Let's have a look.
Best Binoculars for Shaky Hands
#1) Canon 10×42 L Image Stabilization Waterproof Binoculars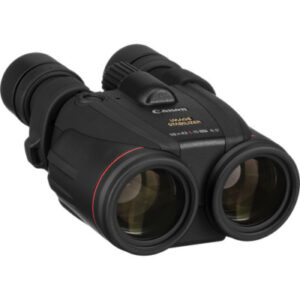 The Canon 10×42 L Image Stabilization Binoculars are expensive but perfect for virtually all outdoor adventure activities. They are very easy to use and harbor a wide range of high-quality features which make them the best binoculars for shaky hands.
This pair of image stabilized binoculars is Canon's first waterproof IS binocular. It is therefore operable under heavy downpour, mist and any other precipitation. Besides, it's body component feature a metallic coating to prevent fogging when you move to a location where the humidity and temperature gradient is higher.
Another feature that makes the binoculars stand out is the stunning optical performance. It boasts 2 ultra-low dispersion (UD) lens elements which delivers unmatched chromatic correction. Additionally, it features a large lens diameter which collects as much light as possible to provide ultra-bright image views, even in poor lighting conditions.
The 10×42 L  binoculars also feature one touch IS usage and a distinctive, easy grip to ensure steady, shake-free viewing even when you are wearing gloves.
Features
10x magnification
42mm objective lens
4.2mm exit pupil
One touch IS usage
Doublet field flattener lenses
Ultra-low dispersion glass
Electronic image stabilization
Waterproof and fog proof
1-piece push-on objective lens cap
Pros
Excellent waterproof capabilities
Distinctive, easy grip design
Bright and wide field of view
Suitable for a host of activities
Exceptional image stabilization
Cons
#2) Fujinon 14×40 TSX1440 Techno-Stabi Image Stabilized Binoculars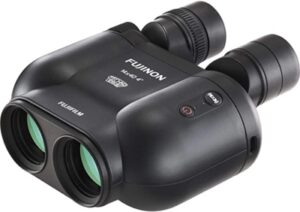 Fujifilm uses its superior optical and mechanical design technologies to make high-end and high-performance products, and the the 14×40 TSX1440 Techno-Stabi Image Stabilized Binoculars are not any different. It is well-built to offer an outstanding optical performance which makes it great for use in a variety of applications.
Featuring a remarkable vibration correction of +/- 6 degrees, this set of binoculars offers stabilized views, even when your hands shake excessively. Better yet, it has an easy-to hold design combined with a slip-resistant rubber coating to ensure that you enjoy a firm, ergonomic grip with both hands.
Moreover, the binoculars employ an effective luminous flex diameter of 40mm which gives it an advanced level of light gathering ability. It also boasts unique EBC multi-coating which is applied on the lenses to control flare and chromatic aberration. This enhance light transmittance for bright and clear views.
These binoculars are built to last. They have a robust housing that is sturdy enough to stand up to whatever you throw at them. They are also O-ring sealed to be moisture resistant and dustproof, and nitrogen purged to prevent fog formation on the exterior and interior lenses.
Features
+/- 6 degrees vibration correction
EBC multi-coated lenses
Moisture resistant construction
Rubber armored body
Nitrogen filled
Luminous flex diameter of 40mm
On/Off switches for power and image stabilization
High 14x magnification power
Pros
Stylish, easy-to-hold design
Stunning edge-to-edge sharpness
Crystal clear optics
The image stabilization works great
Cons
#3) Celestron – Nature DX 8×42 Binoculars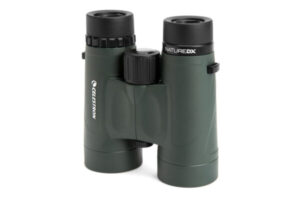 Celestron is a leading name in the optics industry. It makes high-quality optical instruments and the Nature DX 8×42 Binoculars are no different. These full-size binoculars are perfect for every adventure. They are lightweight for easy portability and very easy to use.
These binoculars are designed to fit perfectly in your hands. This way, you get a firm and secure grip that solves the problem that is brought by shaky hands. Besides, they feature a rubber armor that provides a slip-resistant grip even in wet conditions.
Another noteworthy feature about this pair of binoculars is that it offers the perfect combination of optical performance and premium build. It is made with high-quality glass which provides premium-quality views. The lenses are fully multi-coated to guarantee bright and clear images and with the BaK-4 prism, you are assured of more contrast and higher resolution.
In terms of construction, the binoculars are durably made to handle the rough outdoor handling. They feature a robust polycarbonate housing that is waterproof, fog proof and shockproof. Moreover, they provides a close focus distance for viewing close distance objects and a spacious field of view that is essential for smooth target identification. Above all, this device brings to the table comfortable twist-up eyecups that ensure comfortable viewing for all users, with or without eyeglasses.
Features
Long eye relief
Waterproof, fog proof and shockproof
Wide field of view
Phase coated BaK4 prisms
Fully multi-coated optics
Robust rubber armor
Lightweight polycarbonate housing
Twist-up eyecups
5-foot close focus
Firm and secure grip
#4) Athlon Optics Midas Roof Prism UHD Binoculars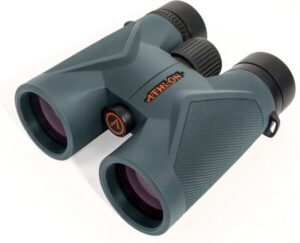 As one of the best binoculars for shaky hands, the Athlon Optics Midas UHD binoculars offer great versatility and best value for money. These binoculars are perfect for family use. They have a light and slim design that makes them easy to use and comfortable to hold steady. Even if you are a senior with shaky hands, you will find these binoculars very comfortable to use.
Featuring UHD glass lenses and high-quality BaK-4 prisms, these binoculars produce high-quality images with better color reproduction. Even better, the optics are fully multi-coated to maximize light transmission for bright, vivid and tack0sharp images. Moreover, they offer an ultra-wide field of view of 426ft at 1,000 yards that makes target identification a walk in the park.
Another good thing about these Midas binoculars is that they are built-tough to handle anything you throw at them. They have a magnesium chassis that is both durable and lightweight. Also, they come with a rubber armor which provides a soft textured and slip-resistant grip in any weather condition.
Features
Advanced fully multi-coated lenses
Long eye relief
Rugged rubber armor
Ultra-wide field of view
Lightweight magnesium chassis
Waterproof and argon purged
2m close foot focus
ED glass
ESP Dielectric multi-layer prism coating
#5) Gosky 10×42 Roof Prism Binoculars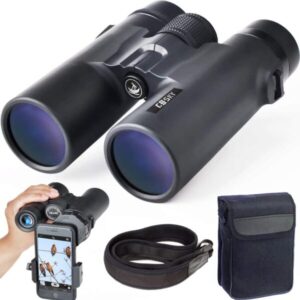 The Gosky 10×42 Roof Prism Binoculars is another great pair ideal for people with shaky hands. It has a durable and sturdy body that is covered with a rubber armor which guarantees firm grip even in the wettest conditions. The rubber armor also shields the optics from weather elements and acts as shock absorber.
If you wear eyeglasses, this pair of binoculars is perfect for you. It has adjustable eyecups that twist up and down for comfortable glassing even with your eyeglasses or sunglasses on. The eyecups are also ergonomically placed to make glassing snug and natural. Furthermore, it is light as feather for easy carrying and comes with a large center focus knob that makes focusing quick and easy.
And that's not all. This compact roof prism binocular brings to the table fully multi-coated objective lens which provides bright and clear views even in dismal environments. Even better, it has a large, phase-corrected BaK-4 prism that provides ultra-clear images full of color contrast. Other noteworthy features include a wide field of view, rubber lens covers, smartphone adapter and a tripod interface for easy mounting on a tripod.
Features
Advanced FMC objective lens
10x magnification power
Rainproof, fog proof and shockproof
Robust, non-slip rubber armor
Lightweight design
Large center focus knob
Adjustable twist-up eyecups
Tripod compactible
Smart phase corrected BaK-4 prism
#6) Swarovski EL 8×32 Binoculars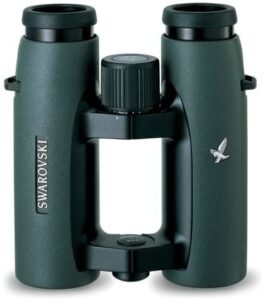 Swarovski is one of the leading optics manufactures across the globe. They make good quality optics and the Swarovski EL 8×32 Binoculars is no different. It is lightweight and compact in size for easy carrying and has a twin bridge design that makes it easy for people with shaky hands to hold steady.
It features SwaroBright high contrast lens coating that guarantees superior edge-to-edge image sharpness. To add on that, the three-lens objective has a fluoride coating that maximizes light transmission for bright, clear images full of color contrast. The binocular also boasts a large eye relief for comfortable glassing and a wide field of view that helps you identify your targets with ease.
When it comes to construction, the binocular features a high-strength magnesium alloy housing that endures all rough outdoor handling. It is also wrapped with a rubber armor that has ergonomic thumb dents for comfortable and secure grip even in wet conditions. Furthermore, it is waterproof, fog proof and submersible to 13feet/4meters.
Features
Phase-coated roof prisms
Twin-bridge design
Fully waterproof and fog proof
Lightweight magnesium housing
SwaroBright high contrast coating
8x magnification
Three-lens objective
Rugged rubber armor
Large, grooved center focus
Long eye relief
#7) Zeiss Carl Victory FL Binoculars (8×32)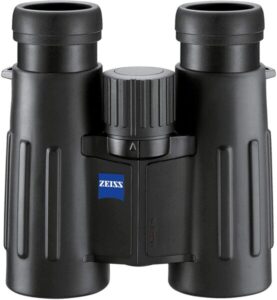 Another best binoculars for shaky hands on our list is the the Zeiss Carl Victory FL Binoculars which provide exceptional performance regardless of the activity you are engaged in. It is an all-purpose pair of binoculars designed to provide comfortable views even during lengthy glassing sessions.
The binocular is sturdily built so you will get many years from it. It is made with high-quality materials that maximize its strength and rigidity. It is also fully waterproof to prevent water damage and nitrogen filled to prevent internal fogging of the lenses which is occurs when you move between environments with a large temperature and humidity gradient.
Another noteworthy thing about this pair of binoculars is the exceptional optical performance it delivers. It has an optical system that uses fluoride glass to deliver unmatched outstanding optical clarity. It guarantees bright, clear as crystal and sharp sight pictures with saturated, vivid colors even in low light settings. Moreover, it has a protective LotuTec lens coating that repels water, dirt and grime. This keeps the lenses clean and clear even when it's raining heavily.
Features
8x magnification
LotuTec water-repellent lens coating
Waterproof and nitrogen filled
Lightweight and compact in size
32mm objective lens
Top-tier fluoride glass
Twist-up eyecups
Ergonomically designed for comfortable handling
Durable construction
See Also
Criteria for Choosing the Best Binoculars for Shaky Hands
Durability
Whether you are buying your first binoculars or looking to upgrade your old and worn-out pair, it is important that you look at the type of material used to make the binoculars as it affects their overall durability. The best binoculars for shaky hands are made with either aluminum or magnesium alloy. These high-quality materials are durable but feather light. This makes the easier to hold steady even when your hands are shaky.
Grip
To get the most out of the outdoor activity you intend to engage in, it's best to get a pair of binoculars that offers excellent grip. Most binoculars for shaky hands are wrapped with a rubber armor that enhances friction and slip-resistant grip. This gives you a firmer grip that minimizes the effect of your shaky hands. In some cases, the rubber armor is either textured or has deep grooves that allow you to hold onto them more firmly.
Tripod Mountable
If your hands are excessively shaky, you should consider getting a binocular that is tripod compatible. This way, you can mount it on your tripod and take the weight of the hands. Mounting a binocular on a tripod provides more stable views and guarantees more comfortable viewing during extended glassing sessions.
Magnification
Another important thing to consider the magnification power. For shaky hands, its best to get a binocular that has a moderate magnification power. Binoculars with high magnification are difficult to hold steady even when you are hands are not shaky. So, they will be more difficult to hold steady if your hands shake a lot. Go for binoculars that have 8x or 10x magnification. They are not only easy to hold steady, but also highly versatile.
Weight
The best binoculars for shaky hands are feather-light, compact and portable. With a lightweight pair of binoculars, you will be able to hold it steadily without too much hassle. This will help reduce the effect of your hands shaking. Also, you will be able to hold onto it with ease during lengthy viewing sessions. A bulky binocular will not just slow you down, it will also affect your grip throughout the whole glassing session.
Weatherproof
Make sure that you choose binoculars that are fully waterproof and fog-resistant. This way, they will be able to function well even in wet weather conditions. Water can cause unrepairable damage to the optics if it gets in. In addition to that, make sure that the binoculars are fully protected from dust, different heat conditions and any other debris.
FAQs
Is there a way to reduce hands shaking while using binoculars?
You can reduce shaking while using binoculars by making sure that the grip is firm and sturdy enough to reduce the effect of shaking. You can also get a feather light binocular that minimizes the likelihood of your hands shaking while using them.
Alternatively, you can use a tripod. A tripod works best if your hands shake excessively. Once you mount the binoculars on the tripod, you will take the weight off your hands, get more steady views and forget about your shaky hands.
Which is better, 8x or 10x?
For users with shaky hands, it is better to use 8x binoculars. 10x binoculars are difficult to hold steady because of the high magnification. This makes them more difficult to use with shaky hands.
What makes a great binocular for shaky hands?
There are several features that make a binocular great for users with shaky hands. First, it should have a moderate magnification of not more than 10x. Increase in magnification makes binoculars hard to hold steady. Besides that, the binocular should be lightweight and must have a rubber armor that guarantees secure, non-slip grip.
Final Thoughts
We hope that through this guide, you are now able to find binoculars that are comfortable to use even with your shaky hands. As you can see, you have multiple options to choose from. Make sure that you choose a pair that fits into your individual needs. This way, you will be able to get them most out of the activity you will be engaged in.