Are you in the market for a new pair of the best lightweight binoculars? You have come to the right place. We have put up this buying guide to help you find the perfect pair of binoculars for your needs.
If your hobby or passion involves spending time outdoors, having a lightweight pair of binoculars is essential. Whether it is birding, wildlife watching, boating, hiking or general travel, there are so many situations that binoculars make a handy companion.
In majority of this outdoor adventure activities, a lightweight pair of binoculars will make everything smoother and simple. With the low weight, the binocular will be easy to carry around wherever you go and be comfortable to hold during use. Lightweight binoculars are also easy to pack inside your backpack, car or in your pocket and carry them wherever you want.
It is however thought that the quality of lightweight binoculars is lower compared to that in big and bulky models. In this post, we have put up a list of lightweight binoculars that don't compromise on quality, performance or durability. They are built tough to weather anything you subject them to and offer stellar performance in all sorts of environments.
Without wasting any more time, let's jump right in.
8 Best Lightweight Binoculars
1) Zeiss Terra ED Pocket Binoculars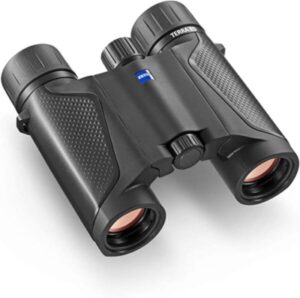 Zeiss prides itself in making premium quality binoculars and this reputation is well maintained in the Terra ED Pocket Binoculars. They are simple to use and built with virtually every feature that you require to meet all your active outdoor lifestyle needs.
With a mere weight of 310g only, this pair of binoculars is easy to carry everywhere you want. It has a powerful 8x magnification that delivers razor sharp images of far-away objects and brings you closer to the action. Better yet, the extra-large field of view it yields makes it easy for you to locate your subjects and monitor the fast-moving targets effortlessly.
Another facet that makes this set of binoculars stand out is the high optical precision. It employs top-tier glass and hydrophobic Zeiss MC coating that yields outstanding image brightness and clarity by cutting on glare and internal light loss.
Furthermore, the binocular has a folding design that makes it extremely compact and great for travel. The body is waterproofed for reliable operation under extreme conditions and also designed to operate in a wide temperature range of -20 to 63°C.
Features
8x magnification power
Large, smooth and easy-to-grip focus
Weatherproof
Hydrophobic multi-coating
Foldable design
Pros
Extremely compact and lightweight
Outstanding durability
Comfortable eye relief
Easy to use
Great clarity
Cons
The focus wheel is quite small
2) Celestron – Nature DX ED 8×42 Premium Binoculars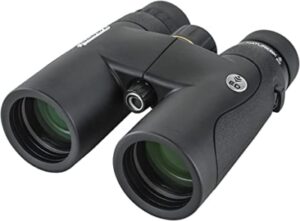 If you are looking a pair of lightweight binoculars that is not just versatile, but also budget-friendly, look no further than the Celestron Nature DX ED 8×42 Premium Binoculars. It offers the best combination of value, solid construction and multifunctionality.
Built with extra-low dispersion glass, the binoculars provide vivid and tack-sharp sight pictures that are free of any optical defects including color fringing. The proprietary multi-coatings of every air-to-glass surface maximizes light transmission, while the phase-coated BaK4 prisms ensure sharp, true-to-life color of targets even in critically low light settings.
This premium binocular has offers 8x magnification power and maintains a close focus of 6.5 feet. This makes it ideal for glassing subjects at close ranges as well as longer distances. For all-weather reliability, it is filled with dry nitrogen gas and O-ring sealed. It also features a comfortable and eyeglass-friendly eye relief, and a tripod adapter to mount it on a tripod or monocular.
Features
Fully multi-coated optics
8x magnification
Waterproof and fog proof
Phase-coated BaK4 prisms
Superior quality ED glass
Twist-up eyecups
Pros
Tripod adaptable
Decent price
Generous eye relief
Stunning picture quality
Cons
3) Vortex Optics Diamondback 10×42 Roof Prism Binoculars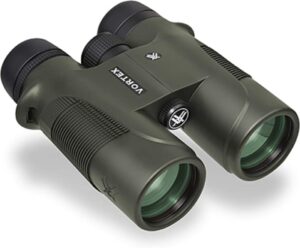 The Diamondback 10×42 Roof Prism Binoculars are the best lightweight binoculars for hunting. Having this optic as your hunting companion will enhance your speed of finding game across vast environments and turn your hunting trips into a success.
The striking feature of this lightweight roof prism binocular is how well it detects life in low light. This makes it ideal for hunting game early in the morning or late in the evening when the sun is setting. Besides, it has fully multi-coated optics to reduce glare and enhance light transfer.
Like any other Vortex optic, the binocular is built to be usable in any weather condition. It has a waterproof and fog proof protection so it is safe to use in rain, mist and cold conditions. Besides, it has a rugged rubber armor that offers added protection from elements and gives you a sure, anti-slip grip.
Features
10x magnification power
Fully multi-coated optics
RainGuard, tethered objective lens covers
Phase-corrected prisms
Waterproof and fog proof
Shock absorbing rubber armor
Twist-up eyecup
Pros
Budget friendly
Ease of use
Durable and reliable construction
Great eye relief
Clear glass
4) Leica Trinovid HD 8×42 Binoculars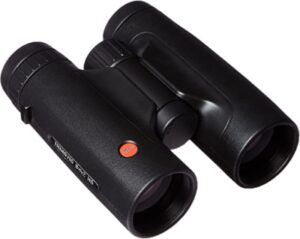 Next up, we have the Leica Trinovid HD 8×42 Binoculars. This is a rugged pair of high-end binoculars that is ready for use in any outdoor application no matter the environment.
The binocular is made to survive almost anything. It has a robust chassis that is wrapped with a rugged rubber armored coating. The armoring is impact resistant to add on durability and shockproof. It also gives you a steady, slip-resistant grip even when your hands are wet or you are wearing gloves in cold weather conditions. This plus the compact form and lightweight design ensures intuitive handling for precise focusing.
Another highlight of the binocular is the optical performance. It offers outstanding color fidelity and image sharpness no matter the lighting conditions. Besides, the large 42mm objective lens that draws in as much light as possible to enhance low light resolution.
To top it all off, this full-size binocular comes with a handy adventure strap which not only makes it easy to carry around, but also offers optimum protection against rain and dirt.
Features
Durable rubber armoring
Removable eyepiece
HD optics
Central focusing system
Waterproof and watertight to a depth of 4m
8x magnification
Pros
Solid construction
Generous eye relief
Multifunctionality
High level of wear comfort
Compact and light design
Cons
5) Nikon 7577 Monarch 5 10×42 Binocular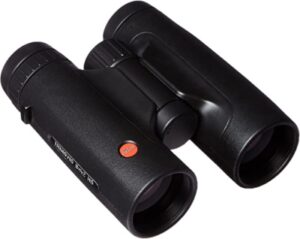 Built with the outdoor enthusiasts in mind, the Nikon Monarch 5 10×42 Binocular has virtually every feature that you need to make outdoor adventure expeditions more enjoyable. It is equipped with a ton of user-friendly features so it is ideal for all users including beginners.
This pair of full-size binoculars is an ounce lighter than its predecessor. This plus the compact form makes it much more convenient to bring along your next adventure. Moreover, it utilizes a state-of-the-art optical system which offer admirably bright and vivid image views in virtually all lighting and weather conditions.
To accommodate all users, even those who wear eyeglasses, the binocular boasts a long eye relief. It has rubber eyecups that turn and slide to help you find the correct position that reduces eye fatigue and strain during extended periods of viewing.
Furthermore, the binocular has Nikon's high-eye point design that provides a clear field of view in all settings. In terms of construction, it has a rubber armored coating that strengthens its durability and ensures that you have a secure grip all through. It is also nitrogen filled and O-ring sealed for all-weather reliability.
Features
Central focus knob
Rubber armored coating
Waterproof and fog proof
Turn and slide rubber eyecups
Nikon's high-eye point design
Fully multi-coated eco-glass lenses
10x magnification
Pros
Lightweight and durable
Great picture quality
Generous eye relief
Easy to hold and use
Cons
Not for extreme field use
6) Wingspan Optics Skyview Ultra HD – 8×42 Binoculars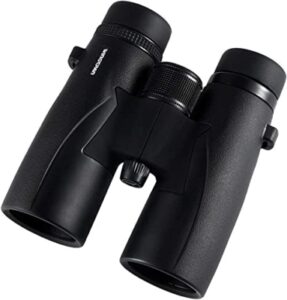 If you are looking for the best lightweight binoculars for birding, look no further than the Wingspan Optics Skyview Ultra HD 8×42 binoculars. It is an all-in-one set for beginners, hobbyists and advanced birders where it gives them spectacular views of these amazing creatures in different habitats.
Boasting 8×42 configuration, this pair of binoculars delivers stunning detail without sacrificing on clarity, steadiness or close focus distance. With the extra-wide field of view of 393ft at 1,000 yards, the binocular provides a panoramic experience to helps you spot the birds easily, even when they are flying.
Furthermore, the binocular is ruggedly built to provide incredible strength and resilience. It has a waterproof and fog proof design for use in all types of weather and across a vast range of temperature and humidity levels. It also brings to the table a cutting-edge close focus technology to help you see the birds in rich retail.
Features
Fully multi-coated lenses
Waterproof and fog proof
8x magnification
Phase correction coated prism
Extra-low dispersion glass
Cutting-edge close focus technology
Pros
Unmatched portability
Rich and incredible detail
Clean and sharp view
Comfortable to hold and easy to use
Cons
7) Bushnell Legend Ultra HD Roof Prism Binoculars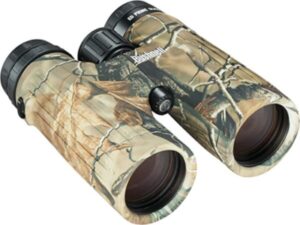 Bushnell is a recognized and reputable sports optics brand that has been making quality optical devices for years. All their optics are versatile, reliable and well-built to last long and the Legend Ultra HD 10×42 Roof Prism Binoculars are not an exception.
This pair of binoculars will enhance your enjoyment of every outdoor pursuit you engage in. It is waterproof and fog proof for use in all kinds of weather conditions. It also has a lightweight, magnesium chassis that is rugged enough to withstand anything you subject it to.
Bushnell made this binocular with user comfort in mind. In addition to being lightweight, it offers a long eye relief for comfortable glassing with or without eyewear. The soft-touch grips make it easy to hold, while the ultra-wide field of view helps you find targets across vast environments without breaking a sweat.
With all these impressive and handy features, the binocular is worth the purchase.
Features
10x magnification
Rain guard HD water repellent lens coating
Robust magnesium chassis
Waterproof and fog proof
ED prime glass
Ultra-wide band lens coatings
Pros
Easy to operate
Incredible picture quality
Inexpensive
Versatility
Cons
The build quality could be better
8) Carson 3D Series 8×42 Binoculars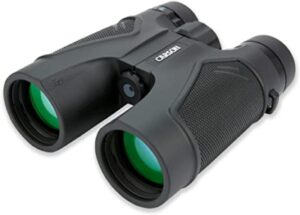 Our last lightweight binocular recommendation is the Carson 3D Series 8×42 Binoculars. It has lightweight body ergonomics and a compact size that make it the ultimate binocular for travel.
The picture quality this pair of binoculars provides is incredible. This is thanks to the ED glass lenses that minimize color fringing and corrects any chromatic aberration. Besides, the prisms are phase-corrected to enhance resolution, contrast and color fidelity.
Regarding construction, the binoculars is built to be virtually indestructible. It has a tough construction that is rubber armored to be shockproof and slip proof. The optical tubes are also filled with nitrogen and O-ring sealed to be fully fog proof and to prevent moisture and dirt from getting inside.
For added convenience, the binocular has precisely placed thumb grooves that make it comfortable to hold during lengthy glassing sessions. It also offers an extra-long eye relief with twist-down eyecups that are perfect for eyeglass wearers.
Features
Tough construction
8x magnification
Rubberized armor coating
Waterproof and fog proof
Twist down eyecups
Ergonomically placed thumb grooves
Phase corrected prisms
ED glass lenses
Pros
Extra-long eye relief
Easy to hold and operate
Spectacular picture quality
Cons
How to Choose the Best Lightweight Binoculars
Other than weight, here are the other important factors to consider when looking for a lightweight pair of binoculars.
Magnification
Magnification is an important feature in every binocular. It tells you how much the images of the targets you are viewing will appear when you look them through the eyepiece of the binocular. It is also beneficial in that it magnifies the smaller targets so you will have a more detailed view compared to when you look at them with your naked eyes.
The best lightweight binoculars have a moderate magnification power of 8x or 10x which are not just versatile, but also simplest to use and hold steady with no need to use a tripod. 8x binoculars offer a wider field of view and are best for close and medium range applications. 10x binoculars on the other hand are suitable for long range observation.
Build Quality
The build quality in binoculars determines the overall durability, reliability and performance. Look for a pair that has a tough construction to weather whatever you subject it to. Moreover, ensure that the binocular has a rubber armoring that guards it from damage and provides a grip that is anti-slip in all conditions.
Lens Type and Coating
The best lightweight binoculars are made with high-quality lenses. This includes ED, HD and any other premium glass lenses. Such binoculars yield spectacular resolution and maximum color detail in the sight pictures.
Coatings are applied to the lenses and every air-to-glass surface to improve image brightness by enhancing light transmission. Solid lens coatings also reduce the issues of scratches on the lenses for added protection. A tip is to get binoculars that has fully multi-coated lenses.
Eye Relief
The distance between the ocular lens of the binocular and your eye is called the eye relief. It is measured in millimeters. If the binocular has a short eye relief, you will have issues using it comfortably. It is therefore important to get a pair that boasts a long eye relief of 15mm and above to ensure snug observation.
Weatherproof
No matter the type of activity you plan to use the binoculars for, ensure that they have a weatherproof construction. When the tiniest bit of moisture gets inside the optics, it will damage the lenses and render the binoculars useless.
Therefore, it is essential to get a pair that has a waterproof construction. Furthermore, ensure that you get a pair that is filled with dry nitrogen or argon gas. Inert gas filling drives out any internal moisture and keeps the lenses fog free.
Objective Lens
In binoculars, the objective lens is responsible for collecting light inside the optics. The larger the lens diameter, the more light it draws in and the brighter the sight pictures will be.
However, binoculars with over-sized objective lenses have the drawback of being big and bulky. They are also more expensive. A tip is to get a model whose objective lens is not more than 42mm. Such binoculars offer the best balance between weight, performance and price.
Price
Price is another important factor to consider. Good-quality binoculars are often expensive given the premium quality materials and expertise used to make them. But they offer reliable performance in any environment and last for many years so you get great value for your money. Factor in your budget and look for a quality pair that is within the budget you have set.
Read Also
Benefits of Lightweight Binoculars
Unmatched portability. The lightweight design and compact form of lightweight binoculars makes the great for travel as they are very easy to carry.
Easy to operate. Majority of the best lightweight binoculars are very easy to use, even for the beginners.
Multifunctionality. When it comes to versatility, it is hard to beat lightweight binoculars. They are perfect for a ton of applications both indoors and outdoors.
Affordability. Compared with the heavy and bulky full-size binoculars, lightweight models are more affordable and they don't compromise on quality and performance.
FAQs
How much do lightweight binoculars weigh?
Most of the lightweight binoculars weigh in at a pound or less. Majorly, the type of materials used to manufacture the binoculars determine how heavy they weigh. The size of the objective lens and glass type also determine how heavy the binoculars weigh.
Are lightweight binoculars any good?
Absolutely. Lightweight binoculars are not just easy to operate, but also the most versatile of all. With a quality pair of lightweight binoculars, you will have an easy time using it in the field. You will also be able to carry it anywhere you go and enjoy spectacular views of the great outdoors.
Final Thoughts
Finding the best lightweight binoculars is key to making your outdoor adventure trips more fun. While some take time to find the best product for their needs, it doesn't have to be a complex task. Knowing the kind of activity you will be using the binoculars for will help you find the right unit for your needs easily. Hopefully, you have found this post to be of great help and you are now able to find a binocular that blends best with your individual needs.