Looking for the best budget spotting scope for target shooting? You have landed in the right place. In today's post, we are going to help you navigate through the most cost-effective spotting scopes suitable for target shooting.
In the last few years, the demand for target shooting spotting scopes has surged. These precision optics bring you closer to the action for accurate shooting. They help you see detail that you can't see with your naked eyes and are excellent for long-distance target shooting. If  you are a professional target shooter or a beginner in target shooting, a spotting scope is an important addition to your shooting kit.
With spotting scopes, the more expensive the model is, the better the quality. So, finding the best budget spotting scope for target shooting is no easy feat. To save you from having to go through hundreds of products available on the market, we have a detailed review of some of the best spotting scopes for target shooting for the budget-conscious buyers. Each model has quality glass and is suitable for shooting at varying ranges.
Without further ado, let's get started.
Best Budget Spotting Scope for Target Shooting
#1) Barska 30-90×90 Waterproof Colorado Spotter Scope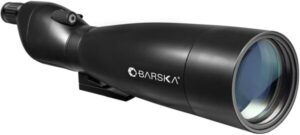 The Barska 30-90×90 Waterproof Colorado Spotter Scope comes with everything that you need for target shooting and long-range observation. It has a variable 30-90x magnification suitable for shooting at varying ranges and a wide 90mm objective that provides the much-needed wide field of view.
This spotting scope performs admirably well in any lighting condition. It boasts fully-coated optics that provide bright and clear as crystal images even in poor lighting conditions. It also comes with an extendable and collapsible sunshade that helps reduce sunlight glare that can negatively affect the quality of the images. Plus, this spotter provides clear images in every magnification setting.
The tripod included provides a solid and steady viewing even at the highest magnification. The spotting scope also features a side-focusing knob for precision focusing and a generous eye relief for comfortable glassing. To top it all, it has a lightweight design for easy portability and a waterproof construction for use in any weather condition.
Features
Compact, lightweight and portable design
Wide 30-90x magnification
Waterproof construction
High-quality optics
Collapsible sunshade
Adjustable tripod
Side-focusing knob
Fully-coated optics
90mm objective lens
#2) Gosky Updated 20-60×80 Spotting Scope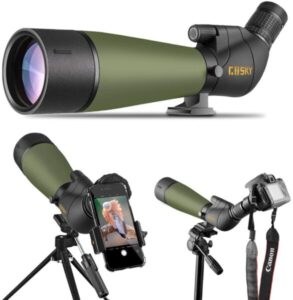 If you are on a tight budget, the Gosky Updated 20-60×80 Spotting Scope is your best option. It offers a multitude of high-quality features at a reasonable affordable price. Besides, it has virtually every feature that you need to make your tactical shooting expedition worthwhile and fun.
This spotting scope offers excellent optical performance and a stable focusing system. The eyepiece lens is fully multi-coated to increase light transmission for bright and clear images. The variable 20x to 60x magnification brings you closer to the action, while the wide field makes target acquisition a breeze.
When it comes to construction, the scope has a durable framework that stands up to anything you throw at it. The high-quality rubber armor provides a non-slip grip and enhances the scopes durability by shielding it from impact and shock. The spotter is also waterproof and fog proof for all-weather reliability and has a retractable sunshade for reducing glare. Lastly, it has a 45-degree angled eyepiece that you can adjust into different angles until you find the most comfortable viewing angle.
Features
Variable 20-60x magnification
45-degree angled eyepiece
Waterproof and fog proof
Sturdy and durable framework
Fully multi-coated eyepiece lens
Retractable sunshade
Premium-quality rubber armor
Smartphone Digiscoping adapter
Generous eye relief
#3) Spotting Scope, Huicocy 20-60x60mm Spotting Scope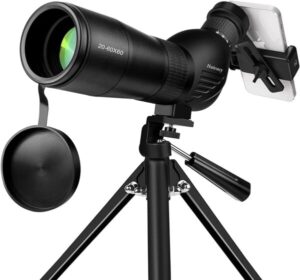 Next on our list is the 20-60x60mm Spotting Scope from Huicocy. It offers a powerful 20-60x magnification that narrows the distance between you and the targets and a 60mm objective lens that provides a wide field of view of 131-66ft at 1000 yards. This wide field of view is vital for easy spotting of targets regardless of how small they are or how far they are.
Featuring a 45-degree angled eyepiece, the spotting scope provides a comfortable glassing experience during extended target shooting sessions. The BaK-4 prism provides high-quality and color-accurate images while the FMC green film lens coating enhances light transmission for bright and vivid images.
The scope comes with a smartphone adapter that supports phone shooting. The retractable sunshade reduces glare when shooting in direct sunlight, while the rubber armor structure provides an positive, non-slip grip. To top it all, the scope has a waterproof and fog proof design so you can use it for target shooting in rainy or foggy conditions.
Features
Large 60mm objective lens
BaK4 high transmission prims
FMC coating
Variable 20x to 60x magnification
Smartphone adapter
Waterproof and fog proof construction
Suitable for multiple applications
Retractable eyepiece
Retractable sunshade
Eyepiece shield
Rubber armor
Durable aluminum framework
#4) Vanguard Endeavor HD 82A Angled Eyepiece Spotting Scope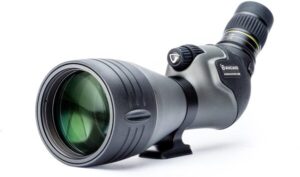 As one of the best budget spotting scopes for target shooting, Vanguard Endeavor HD 82A Angled Eyepiece Spotting Scope provides a wide field of view and superior long-range visibility. It boasts premium ED glass that helps you see your targets in greater detail and advanced multi guard coatings that sheds dirt and moisture to provide bright, clear and color-accurate pictures regardless of lighting and weather conditions.
The scope has a user-friendly interface that makes it easy to operate and a lightweight design for convenient portability. When need arises, you can detach the angled eyepiece for comfortable glassing and customized eye relief. To add on that, the scope comes with a built-in sunshade which keeps your eyes safe by eliminating glare in direct sunlight.
Another good thing about the spotting scope is the durable construction. It's toughly built to withstand anything you thrown at it. It also features a weather-sealed construction for all-weather reliability. Lastly, this spotting scope mounts directly to any Vanguard tripod head that's equipped with a universal mounting plate and it doesn't require the use of a quick shoe.
Features
100% waterproof and fog proof
Detachable angled eyepiece
Extra-low dispersion glass
BaK-4 phase-coated prism and fully multi-coated lenses
19-20mm eye relief
Built-in sunshade
Durable magnesium housing
Fine and coarse focusing wheels
Extendable rubber-covered eyecup
#5) Celestron Ultima 100 Spotting Scope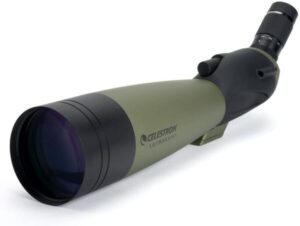 If you are looking for a top-tier spotting scope that will last for generations, look no further than the Celestron Ultima 100 Spotting Scope. This mid-range spotting scope is well-made to provide unbeatable durability. It has a rubber armored housing that cushions it from shock and impacts. Also, it is fully water resistant for all-weather reliability and comes with a soft carrying case for convenient transportation.
This spotting scope is available in a portable and hard-wearing refractor design. It boasts fully multi-coated lenses that enhance light transmission and a green rubber optical tube for subtle observation in any environment. Better yet, it comes with a peep sight for fast initial location of the subject and sight tube for quick targeting.
With the 45-degree viewing angle, you don't have to worry about eye-fatigue during extended glassing sessions. Plus, if you are shooting with your friends or family, everyone will be able to use the scope comfortably. For added convenience, the scope has a long 18mm eye relief that makes it eyeglass-friendly and a wide viewing angle for easy target acquisition.
Features
Smooth focus knob
User-friendly design
Multi-coated optics
Sight tube for fast targeting
Fully multi-coated lenses
Water-resistant construction
Rubber armored housing
Soft carrying case included
45-degree viewing angle
22-66x zoom eyepiece
18mm eye relief
#6) CREATIVE XP Spotting Scope with Tripod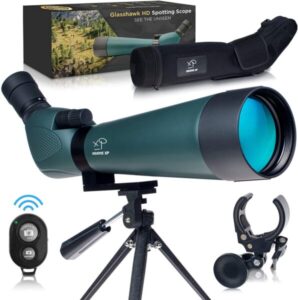 If you are in the market for a spotting scope for target shooting that offers great value for money, this CREATIVE XP Spotting Scope might be what you are looking for. It comes with every feature you need for target shooting including a tripod so you don't have to buy another one separately.
With this spotting scope, you get crisp sight pictures even at high magnification. It features premium HD optic glass that's fully multi-coated to maximize light transmission and eliminate any chromatic aberrations. Besides that, the scope provides a pretty long eye relief for comfortable glassing even for those who put on glasses and comes with an extendable sunshade that minimizes glare under direct sunlight.
Another impressive feature about this scope is the sturdy construction. It is made with high-quality materials that make it ready for outdoor use. It's sealed with O-rings to prevent moisture damage and nitrogen purged to prevent internal fogging caused by changes in temperature and humidity. Moreover, the exterior lenses are scratch-resistant for added durability.
Features
Great 20-60x magnification
Long eye relief
Waterproof, fog proof and shockproof
Top-notch construction
Two-fine adjustment knobs
Fully multi-coated lenses
Tripod included
Dual focus knobs
Premium HD optic glass
Wide field of view
Extendable sunshade
#7) Landove 20-60×80 Spotting Scope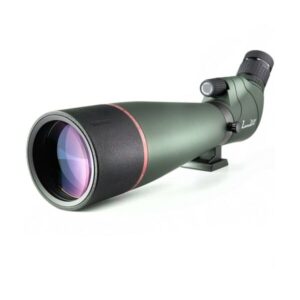 The Landove 20-60×80 Spotting Scope is a multi-purpose spotting scope suitable for a wide range of outdoor activities among them target shooting. It brings to the table a number of high-end features at a reasonably affordable cost. It's simple to operate and ideal for all tactical shooters, beginners and professionals alike.
This spotting scope is designed to provide you with the best optical performance. It features a high-definition 80mm fully multi-coated objective lens which increases light transmission for brighter and clearer images. To add on that, it boasts BaK4 prism which minimize stray light from getting into the scope for high-quality image production.
When it comes to construction, the scope is made from high-quality materials which provide the ultimate durability. With water being the number one enemy for optics, this spotting scope is fully waterproof for added protection. Better yet, its nitrogen filled to prevent internal fogging of the lens. It also comes with a smartphone adapter and a retractable sunshade which eliminates glare when shooting under direct sunlight.
Features
Durable construction
Waterproof and fog free
Built-in retractable sunshade
Digiscoping cell phone adapter
Variable 20-60x magnification
Fully multi-coated green lens
80mm aperture
Superior BaK4 prism
Special design with non-slip grip
Long 22mm eye relief
See Also
How to Choose the Best Budget Spotting Scope for Target Shooting
Knowing what features to look for in a spotting scope for target shooting will help make the selection process simpler. Other than cost, here are some of the key factors you should put into consideration when shopping for the best budget spotting scope for target shooting.
Straight Vs Angled
Spotting scopes have two main eyepiece designs: straight and angled. Each design has its pros and cons.
Angled spotting scopes seem to dominate the market today because of the comfort they provide during extended glassing sessions. They are better for viewing targets at an angle and they offer Digiscoping abilities that you can't find in straight spotting scopes. However, they have a drawback of being difficult to use while on the move. They are much easier to use when mounted on a tripod.
Straight spotting scopes on the other hand are renowned for their versatility. You can use them for just about any occasion. They are perfect for sighting moving targets and you don't have to mount them on a tripod for them to be effective. They are also simpler to store in the backpack. However, they have a drawback of being very uncomfortable to use when shooting targets at an angle.
Magnification
Spotting scopes have a wider magnification than binoculars but a smaller one than that found in telescopes. They also have a variable magnification power which is essential for shooting targets at varying distances. For target shooting, a model with a high magnification is ideal for shooting at high altitudes and in dry environments where targets are highly visible. A spotting scope with 20-60x or 15-45x will be sufficient.
Objective Lens
Like any other optic, the objective lens in a spotting scope dictates how much light gets into the scope. The bigger the objective lens, the more light it collects and the brighter and clearer the images will be. Since target shooting mainly takes place during the day, a model with an objective lens diameter that ranges between 60mm and 100mm will suffice.
Eye Relief
Eye relief is the other important factor you should consider. It's particularly important if you wear eyeglasses or sunglasses when shooting. The last thing you would want is a spotting scope that requires you to take off your glasses every time you want to use it. To avoid that, look for a product that has a long eye relief. This way, you'll be able to shoot comfortably with your glasses on. Look for a model with at least 17mm eye relief.
Durability
Even if you are on a budget, it's important that you look for a spotting scope that's well-constructed with high-quality materials. A durable scope will give you many years of use and great value for your hard-earned money. In addition to that, make sure that you get a product that's fully waterproof and fog proof for all-weather reliability.
Why a Spotting Scope for Target Shooting?
Easier shooting. With a spotting scope, you don't have to walk down range every time you take a shot. Simply set the scope on the bench and zero in safely.
Accurate shot placement. The high magnification in spotting scopes brings you closer to action for better and more accurate shooting.
Longer-range glassing. Spotting scopes will help you glass for longer ranges where binoculars and rifle scopes can't reach.
FAQs about Best Budget Spotting Scope for Target Shooting
Do I need a spotting scope for target shooting?
It depends on how far your targets. If you are shooting close-range targets, spotting scope will be an overkill and you might need a rifle scope or binoculars instead. However, if you are trying to spot groupings on paper or shoot long-range targets, you'll need a spotting scope to see your targets clearly.
What spotting scope magnification do I need for target shooting?
Your ideal magnification largely depends on how far you will be shooting. A scope with quality optics and a variable magnification of 15-45x or 20-60x is sufficient for most tactical shooting activities. Anything less and you might opt for binoculars instead.
How far can you see clearly with a spotting scope?
This will depend on the type of spotting scope, the quality of the optics and the weather condition. A quality spotting scope with high-end optics will provide clear images of targets that are hundreds of yards away.
Are spotting scopes more powerful than binoculars?
Yes. A typical spotting scope is much more powerful than a typical pair of binoculars. Some models have high magnification of up to 100x which makes them suitable for activities like astronomy.
Conclusion
If you have never thought of owning a spotting scope for target shooting, I hope that this post has now changed your mind. Choosing a spotting scope that's right for your style of target shooting will make your expedition more enjoyable and successful. All the scopes listed are quality, budget-friendly and suitable for multiple outdoor applications not just tactical shooting.