If you are in the hunt for the best DMR scope, you have come to the right place. Today's post highlights a selection of the best DMR scopes available on the market.
The Designated Marksman Rifle (DMR) is a unique type of gun that has the qualities of both a long-range rifle and a dedicated sniper rifle. It offers a high rate of fire and superior accuracy which makes it ideal for use in the police enforcement sector and the military.
To push your DMR to its full potential, you need to pair it with a good DMR scope. A scope will help boost your confidence when taking long range shots and enhance your precision. It will also help you find targets effortlessly in virtually any situation. However, finding the best DMR scope is no mean feat. You have to look for an optic that is able to cover the long distance the bullet covers as well as meet the close range needs.
What Makes a Great DMR Scope?
In a market that is flooded with scopes from different brands, you are probably wondering what attributes makes a great DMR scope. There are several facets that you can use to differentiate between a great DMR scope and an ordinary one.
Firstly, a great DMR scope has a versatile zoom power that is capable of covering targets at long ranges as well as short ranges.
The scope should also be well made to ensure long lasting durability and reliable performance in the field. On top of that, it should be able to produce good field results even when the lighting and weather conditions are not in your favor.
Scopes with high-quality glass and proper lens coating are excellent option for the Designated Marksman Rifle. They optimize light transmission in low lighting settings and generate vivid image views in virtually all lighting conditions.
The best DMR scopes should also have bullet drop compensation markings or reticle hashmarks for windage. With these features, you will be able to adjust the point of aim quickly and accurately under any situation.
Last but not least, the scope should pair well with the DMR to ensure that you get the best results from each of them. The scope you get should also blend well with your shooting skills and needs.
7 Best DMR Scopes
We have done our homework and put up this list which entails a review of the best scopes for DMR available on the market. Without wasting any more time, let's get started.
1) Bushnell Xtreme Tactical XTR III 3.3-18x50mm Rifle Scope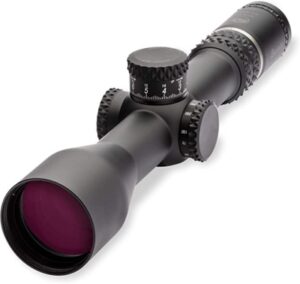 The Xtreme Tactical XTR III 3.3-18x50mm Rifle Scope is by far the best DMR scope available out there. It offers unmatched image clarity and brightness in nearly all settings and this makes it an excellent optic for the DMR.
The scope features a highly versatile 3.3-18x magnification range which gives you the flexibility to engage targets at any distance. Complementing the vast magnification range is a large field of view which makes it easy for you to find and track the target, even at extended ranges.
Another impressive facet about the scope is its durability. It has a shockproof housing which shields the optics from impacts and accidental falls. It is also fully waterproof and fog proof to ensure unimpeded use in any weather condition.
The scope is built on a 34mm main tube which provides abundant room for adjustments as well as reticle movement. It also features an adjustable parallax to enhance your precision at extended ranges and a long eye relief to ensure rapid target acquisition.
This rifle scope also features an illuminated first focal plane reticle to optimize visibility in low light settings and help with range estimation when pursuing targets at long ranges.
Features
Adjustable parallax
Front focal plane reticle
Waterproof, fog proof and shock proof
34mm main tube
120 MOA of elevation
3-18x magnification
Pros
Illuminated reticle
Compact design
Large field of view
Long eye relief
Cons
2) Burris Fullfield E1 4.5-14x42mm Rifle Scope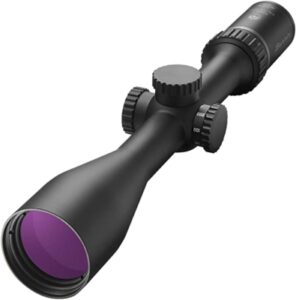 The Burris Fullfield E1 4.5-14x42mm is an excellent tactical optic that makes a great DMR scope. With this scope in the field, you will be able to pursue game at medium ranges effortlessly and extend you long range shooting capability as you develop your skills.
It features a Ballistic Plex E1 reticle which is not just simple to use, but also highly accurate. This reticle has a trajectory-compensating technology and cascading dots which compensate for wind drift to enhance your shooting accuracy at long ranges.
Further, the scope uses high-grade optical glass which provides stunning image brightness and color accuracy. It also features index-matched, Hi-Lume multicoating which eliminates glare and enhances light transmission in low light settings.
To ensure repeatable accuracy, the scope comes with positive steel-on-steel adjustments. Moreover, it is built to last. It has 1-inch tube body made from aircraft-grade aluminum which provide unbeatable durability without being bulky. It is also built to stand up to shock and vibrations from high-recoiling calibers.
With all these features, the scope meets the requirements laid down regarding DMR scope systems.
Features
Ergonomic side focus
High-grade optical glass
Second focal plane Ballistic Plex E1 reticle
Hi-Lume multi-coated lenses
Waterproof and fog proof
Internal sprig tension system
Finger-adjustable windage and elevation turrets
1-inch main tube
Pros
Clear glass
Easy to use reticle
Budget-friendly
Compact and lightweight
Cons
3) Primary Arms SLX 4-14x44mm FFP Rifle Scope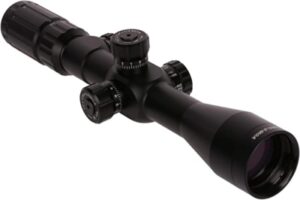 If you are looking for a cost-effective FFP DMR scope, look no further than the Primary Arms SLX 4-14x44mm rifle scope. It is reasonably affordable yet reliable and well-made.
It is built with a front focal plane ACSS Orion reticle that stays true through every magnification level. This reticle also has quick ranging and wind holds that are very essential especially when hunting.
With a variable 4-14x magnification, this rifle scope is an ideal choice for medium to long range shooting. At close and medium ranges, it provides a spacious field of view to ensure that nothing is left undiscovered. It also enhances the speed of target acquisition at extended ranges, thanks to the high 14x zoom power.
Construction-wise, the scope boasts a durable aluminum body which is rigid enough to survive everyday use and rough field handling. It is also designed to be fully waterproof and fog proof for use in all weather conditions.
The scope is also shockproof and more that capable of withstanding fierce recoil. This makes it a flexible choice for a multitude of DMR platforms, including AR-10, M1A and AR-15.
Features
4-14x magnification
Waterproof and nitrogen purged
Durable aluminum body
ACSS FFP reticle
Shockproof
30mm main tube
Pros
Easy to use
Great quality
Inexpensive
Highly accurate range estimates
Crystal clear optics
Cons
4) Leupold VX-Freedom 3-9x40mm Rifle Scope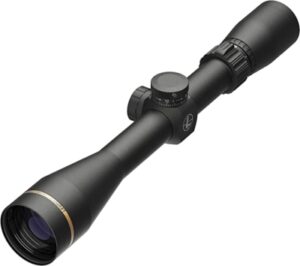 In the field of optics, some of the brightest and clearest rifle scopes are from Leupold. The reputation is well maintained with the VX-Freedom 3-9x40mm which is arguably the best DMR scope for low light settings.
The scope offers stunning low light visibility. This is made possible by the 40mm objective lens which collects sufficient light inside the scope. To make it even better, the scope has a Twilight Light Management System that balances light transmission, glare elimination and image contrast. This ensures that the images generated are crisp clear, even in low lighting condition.
Even though the scope weighs less than 11 ounces, it doesn't compromise on its quality. It has a rugged design that enhances its sturdiness. The 1-inch main tube is crafted from 6061-T6 aircraft quality aluminum to guarantee durability. Furthermore, it boasts scratch resistant lenses which provide additional protection while you are in the field.
This rifle scope is also rigorously tested to ensure that it offers reliable performance under any weather condition and at temperatures as high as 160℉ to as low as -40℉.
Features
Scratch resistant lenses
Waterproof, fog proof and shockproof
Versatile 3:1 zoom ratio
Twilight Light Management System
1/4 MOA finger click
Tactile capped turrets
6061-T6 aircraft quality aluminum
Second focal plane reticle
Matte black finish
Pros
Unmatched accuracy
Rugged design
Lightweight
Generous eye relief
Affordable
Cons
5) NightForce SHV 5-20x56mm Rifle Scope

As one of the best DMR scopes, the NightForce SHV 5-20x56mm Rifle Scope provides exceptional accuracy at medium and extended ranges. The scope is well-built to last long and has a 30mm body which provides a large range of adjustment, while maximizing on strength and rigidity.
With a set up that is in either MOA or MILS, the scope will help you place the shot accurately, even at extended ranges. It is also designed to provide superb brightness, clarity and color contrast throughout the whole zoom range, from minimum to maximum.
Moreover, the scope comes with a ZeroSet feature to help you get back to your chosen zero easily and rapidly. This is irrespective of the number of elevation adjustments you have made. It is also built to be operable in all weather conditions.
Features
Second focal plane reticle
Massive 56mm objective lens
ZeroSet feature
5-20x variable magnification
High-quality optics
30mm body tube
Pros
Stunning image brightness and clarity
Rugged construction
Holds zero well
Superior accuracy
Cons
It is expensive for the budget buyer
6) SIGHTRON SIII 6-24×50 Long Range Riflescope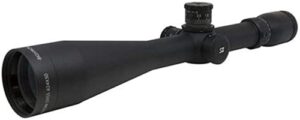 For extreme long-range shooting, you will need a high-quality long-range rifle scope such as the Sightron SIII 6-24×50. This rifle scope is built with a first focal plane and vast 6-24x magnification power which make it a perfect companion for the DMR.
Built with Sightron's patented windage and elevation adjustment technology, the scope maintains its zero accurately even in extreme adjustments. It also employs an exclusive optical design which improves color accuracy and image brightness by amplifying light transmission.
When it comes to construction, the body of this rifle scope is milled from a single-piece of industrial grade aluminum. With the robust construction, the scope is rigid enough to withstand heavy caliber recoil, accidental impact and anything you subject it to.
The scope is also nitrogen purged to keep the lenses from fogging in the rain and cold, and an IPX7 waterproof rating that makes it ideal for use in any weather condition.
Features
Zact-7 Revcoat fully multi-coated lenses
Shockproof and recoil resistant
Rear focal plane reticle
Waterproof and fog proof
High-quality optics
Glass-etched reticle
Adjustable parallax
30mm main tube
Pros
Accommodating eye relief
Lightweight
Clear image views at every magnification level
Illuminated reticle
Cons
7) Vortex Crossfire II 2-7×32 Rifle Scope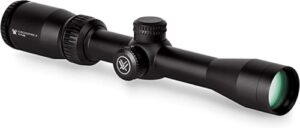 Our last scope recommendation for the DMR is the Crossfire II 2-7×32 Rifle Scope from Vortex. This is a versatile and moderate-powered rifle scope that is perfect for placing shots at close and medium ranges.
It is built with a sunshade for glare elimination and fully multi-coated lenses which provide bright and crisp image views, even in low light settings of dawn and dusk. The lens coatings also shield the optics from scratches during use.
For added convenience, scope comes with a fast focus eyepiece for effortless reticle focusing. It also boasts a generous eye box to help you get a sight picture and acquire your target quickly and a long eye relief to ensure comfortable observation with or without eyeglasses.
Another facet that makes it one of the best DMR scopes is the robust housing. It has a 1-inch, single-piece tube crafted from aircraft-grade aluminum. This enhances its durability when you use it in new and unfamiliar terrains and when you subject it to rough handling.
Furthermore, the windage and elevation turrets have a fast reset to zero function to keep the scope sighted longer. The turrets are also capped to not only prevent accidental adjustments while you are on the field, but also provide additional protection from bumps and impacts.
What's more, this Vortex rifle scope is shockproof so you can mount it on any high caliber firearm and not worry about the recoil. And like any other Vortex optic, the Crossfire II 2-7×322 is O-ring sealed to be fully waterproof and dust proof, and nitrogen filled to prevent the lenses from fogging.
Features
Fast focus eyepiece
Fully multi-coated lenses
Second focal plane reticle
Waterproof, dustproof and fog proof
Capped reset turrets
Shockproof
Hard anodized finish
Aircraft grade aluminum housing
1-inch, single-piece body tube
Pros
Clear optics
Ultra-lightweight
Holds zero well
Low cost
Generous eye relief
Cons
What is a DMR?
DMR stands for Designated Marksman Rifle. This is a semi-automatic rifle designed for shooting at medium and long ranges. In most cases, DMRs incorporate a fixed stock, a long, heavy barrel and a bipod which enhances stability for greater performance.
Designated Marksman Rifles have their roots in the military as well as the law enforcement sector. However, their ability to handle close and faraway threats has made their popularity to grow rapidly and become a favorite among most long range hunters and competitive shooters.
Read Also
Criteria for Choosing a DMR Scope
Magnification
To match the versatility and performance of your Designated Marksman Rifle, you need a scope whose magnification is equally versatile. Go for a variable power scope with a broad magnification level. This way, you will have the flexibility to pursue targets in various ranges and in different environments.
Objective Lens
The objective lens is responsible for collection light into the scope. The larger the lens is, the more light it collects. The best DMR scopes have a large objective lens of at least 40mm. With such a scope, you are guaranteed of crisp and quality image views at every magnification level. A large lens also enhances the scope's low light performance and provides a large field of view.
Durability
A scope meant for hunting, law enforcement or military use has to be durable and well-crafted. It should be made from high-quality materials to stand up to rough handling, harsh impacts and everyday use.
When making your selection, go for a scope that is rated to be shockproof and recoil resistant. With such a scope, you are guaranteed of reliable performance and unbeatable durability.
Furthermore, the scope you get should be waterproof and fog proof. This way, you will be able to use it in any weather condition.
Field of View
The next feature you should consider when selecting the best DMR scopes is the field of view. This is the total you area will be able to see through the scope without moving it around. A large field of view is highly advantageous for the DMR given that most shooters that use the DMR find themselves in situations where they need to transition between several targets at various ranges, or keep track of fast-moving targets when hunting.
Glass Quality
Better glass quality is what differentiates a great DMR scope from a basic one. When making your selection, go for a model that is built with ED, HD or any other higher-quality glass. It will maximize on the image resolution and color fidelity.
Additionally, the scope should have its lenses fully-coated or multi-coated. The more coatings the lenses have, the brighter, clearer and sharper the images generated will be even in poor lighting conditions. The coatings will also shield the optics from scratches.
Precision
Look for a scope that offers the highest precision. DMRs are mostly used for long range shooting and having an accurate scope will help improve your shooting accuracy in such distances.
Many of the best DMR scopes also comes with handy features such as bullet drop compensation, which is really helpful when you are shooting at varying ranges and you don't have the time to make complex holdover adjustments.
Weight
The best DMR scopes are low in weight so as not to interfere with the balance of the rifle and its overall weight. If you add a heavy scope on an already heavy rifle, it will come in your way of use and be difficult to carry.
But with a light scope, it will be much simple to stabilize the balance of your rifle for precise shots. A light scope will also scatter heavy recoil more effectively and be portable.
FAQs
What scope should I use for DMR?
The scope that you use for your DMR should be one that matches your shooting needs. It should have sufficient magnification power depending on how far you will be shooting. The scope should also offer great accuracy at extended ranges and be easy to use.
What caliber should a DMR be?
In the USA and most foreign military forces, the 5.56 and 7.62 NATO are the two calibers that rule the DMR.
What do numbers on a scope mean?
The two numbers found in a scope's configuration represent the level of magnification and the size of the objective lens. In a 6-24×50 model for example, it means that the scope has a variable magnification that spans from 6x to 24x, and an objective lens diameter of 50mm.
What is the different between a DMR and a sniper rifle?
The main difference between a DMR and a sniper rifle is the firing style. A Designated Marksman Rifle will either be semi-automatic or automatic, while sniper rifles are not automatic.
Final Thoughts
Knowing the features that make up a quality DMR scope will help make your buying process simple and pleasant. Whether you are in the military or you are interested in long range hunting and target shooting with the DMR, all the scopes we have mentioned above will perform exceptionally well. They are easy to use, durable, reliable and versatile. Take into account the features that make the scope a great DMR scope, then pick one that that blends well with your needs.