The .308 Winchester is a powerful round that is versatile and remarkably affordable. It is ideal for a ton of hunting and shooting applications and the presence of quality and reliable LPVO makes it better. The best LPVO for 308 makes this round outstanding when hunting or target shooting at close and medium ranges.
When hunting or shooting targets in the range, you might have a gun that is precise and a round that has the range. However, a quality LPVO for 308 connects it all. It fine tunes your shooting accuracy, brings the distant targets closer and enhances your overall shooting confidence. This makes your expeditions more fun and successful even when you encounter the harshest and unforgiving conditions.
What Makes a Great LPVO for 308
If you are looking to buy an LPVO for 308, you are probably wondering what attributes make a great one for this round. In a market that is flooded with LPVO scopes, there are several attributes that differentiate a great LPVO from an ordinary one.
Firstly, a great LPVO for 308 should have a decent magnification power that blends perfectly with your preferred hunting or shooting distance. With a decent zoom power, you will be able to acquire targets easily and make your hunting/target shooting trips more successful.
Furthermore, the scope should come with proper lens coatings that enhance light transmission in low light settings. To complement the lens coatings, the scope should be made with high quality glass such are fluorite,  ED or HD glass elements that are known to yield stunning  image clarity and quality even in the less ideal lighting conditions.
Another attribute that makes a great LPVO for 308 is robust construction. This round scatters a significant amount of recoil that can damage cheaply built scopes after a number of uses. That in mind, it is important to get a scope that is shockproof and built tough to weather recoil, vibrations and accidental falls.
Since the 308 cartridge is mostly used for hunting, you will need a scope that is made for use in all environments. The optical tubes should be sealed to lock out dirt, moisture, dust and any other debris. Additionally, the tube should be filled with an inert gas to drive out any internal moisture and make the scope thermal stable.
The best LPVO for 308 should also have turrets that are simple to dial and a long eye relief to maximize glassing comfort.
7 Best LPVOs for 308 – Our Top Picks
The optics market is vast and the number of LPVOs available out there is overwhelming. We have done the legwork and put up a list of the best LPVOs for 308 to help make your selection process less taxing. Additionally, we have attached a buyer's guide with the important factors to consider when making your selection.
So, without any further delays, let's get started.
1) Vortex Optics Razor HD Gen III 1-10×24 Riflescope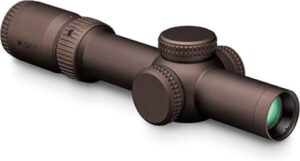 Vortex is a household name in the optics world. It prides itself in making valuable and top performing optics and this is clear in the Razor HD Gen III 1-10×24 Riflescope. The scope is packed with tons of stunning features that make it the best LPVO for 308.
This low power variable scope brings to the table an EBR-8 reticle put on the first focal plane to optimize the versatility of the variable 1-10x magnification power. The reticle provides accurate holdovers in the entire magnification range and features 11 intensity settings to be usable in different lighting conditions.
Complementing the vast optical power is a HD optical system that yields crisp image views at each zoom setting. It cuts virtually all chromatic aberrations to provide outstanding resolution and color fidelity. Furthermore, the optics features quality coatings that yield image that are rich in sharpness and brightness by enhancing light transmission.
Durability is another feature that makes this LPVO outstanding. It has a 34mm body tube made from aluminum which guarantees sturdiness and many years of use. Furthermore, the optical tube is designed to meet IPX7 waterproofing standards for added protection in the field. It is also purged with argon gas to prevent internal fog build up when the scope is used in a wide range of temperatures.
Features
First focal plane EBR-8 reticle
Waterproof and fog proof construction
34mm main tube
HD optical system
Index-matched lenses
Low-glare matte surface
1-10x magnification range
Pros
Illuminated reticle
Compact and lightweight
Outstanding glass quality
Built to last
Cons
2) Primary Arms SLx Series 1-8x24mm Rifle Scope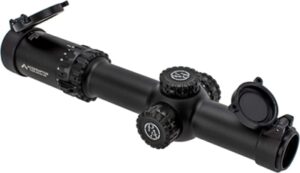 The Primary Arms SLx Series 1-8x24mm is the best LPVO for 308 for hunting. It has a variable 1x to 8x zoom power for hunting game at varying ranges and an optical system that yields stunning picture quality even in the low lighting conditions of dawn or dusk.
With a mere weight of 17.9oz only, this rifle scope is super easy to carry in the field even for long hours. The lightweight design also goes an extra mile to disperse recoil more effectively and enhance the scope's durability. Other than that, the scope has low profile turrets that are capped to not only provide additional shield from impacts, but also prevent accidental adjustments.
More importantly, the scope features an ACSS raptor reticle put on the first focal plane. The reticle is designed for 5.56/5.45/.308 rounds and it stays true at every zoom setting. Furthermore, the scope has fully multi-coated lenses that cut glare and ensure high levels of light transmission. The result is bright and high-quality image views from sunrise till when the sun goes to sleep.
Moreover, the scope has a body that is fully waterproof and fog proof for full protection in the field. It also has lightweight and robust aluminum housing that enhances durability and longevity even with regular use.
Features
30mm main tube
First focal plane ACSS raptor reticle
Fully waterproof and fog proof
1-8x magnification
Sturdy aluminum housing
Fully multi-coated lenses
Low profile capped turrets
Moveable and replaceable magnification ring fin
Pros
Lightweight and durable
Excellent glass clarity
Good eye relief
Easy to use
Cons
3) Monstrum G3 1-6×24 First Focal Plane Rifle Scope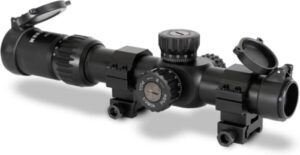 Next up we have the Monstrum G3 1-6×24 Rifle Scope. This high-performance tactical rifle scope is the best LPVO for the budget buyers. It harbors a wide range of features all at an incredibly affordable price.
The scope features a functionally designed first focal plane MOA reticle with easy-to-read ranging information. It changes in size at every zoom level for fast range estimation and hold over correction. It is also illuminated to enhance visibility in low light environments.
Construction-wise, the scope has an aircraft grade aluminum housing to take in any abuse and last long. The optical tube is charged with nitrogen to be fog proof and sealed to prevent dirt and moisture from getting inside the optics. On top of that, all adjustment assemblies are made from metal to ensure that they function smoothly in all conditions.
Another defining feature of this rifle scope is the fully multi-coated lenses that limit glare as well as light loss due to reflection. This allows more light transmission for bright and contrast-rich image views. The scope is also outfitted with 0.5 MOA windage and elevation adjustments with zero setting to ensure easy return to zero.
Features
Hard anodized finish
1-6x magnification
Fully multi-coated lens
Waterproof and fog proof
5 MOA windage and elevation adjustments
All brass mechanics
Locking turrets
30mm tube diameter
Pros
Lightweight design
Long eye relief
Illuminated reticle
Inexpensive price
Cons
Bad chromatic aberration at 6x
4) EOTech Vudu 1-6x24mm Precision Rifle Scope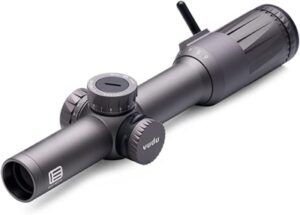 The EOTech Vudu 1-6x24mm Rifle Scope is your ideal glassing tool if you want to take your hunting with the 308 to the next big level. This compact optic is loaded with a wide range of quality features that deliver unrivaled performance in any hunting field.
With the variable 1-6x magnification power, the scope is ideal for hunting game at close to medium ranges. At each zoom setting, it yields stunning picture quality no matter the lighting or weather conditions. Furthermore, it comes with an EOTech zero stop feature for easy return to zero no matter the number of adjustments that have been made.
The reticle in this rifle scope is another one of its selling points. It is put on the first focal plane and illuminated for use in low light settings. At low power, it offers a wide field of view for fast target engagement and when you ramp the zoom up to 6x, it provides the accuracy and resolution needed for long range shooting.
Moreover, this LPVO utilizes XC high-density glass that yields great sight pictures in virtually all lighting environments. It is also waterproof for use in adverse weather conditions and submersible up to 1m for added protection.
Features
Anti-reflective matte black finish
1-6x variable magnification
First focal plane reticle
Waterproof and submersible to 1m
30mm tube diameter
XC high density glass
Broadband anti-reflection coating
Pros
Illuminated reticle
Revolution counter markings
Quality and robust construction
Lightweight design
Cons
Short eye relief at max power
5) Vortex Strike Eagle 1-6x24mm Rifle Scope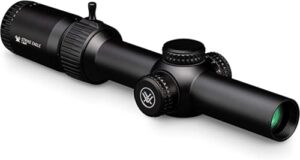 Next on our list of the  best LPVO for 308 is the Vortex Strike Eagle 1-6x24mm Rifle Scope. Vortex designed this LPVO to improve your precision both in the hunting grounds and in the shooting field, and hone your shooting skills.
The durability of this compact LPVO is unparalleled. It has an anodized aluminum tube that is scratch proof and rigid enough to endure rigorous everyday use. In addition, the scope is resistant to elements for use in challenging and unfavorable weather conditions.
To complement the outstanding durability, this LPVO has XD lens elements that increase resolution and color fidelity. Furthermore, the lenses are coated with several layers of anti-reflective coatings to boost light transfer and yield image views that are not just bright, but also sharp and clear from edge to edge.
For added convenience, the scope features a fast focus eye piece for quick and uncomplicated reticle focusing and a lightweight body for easy maneuverability. The other facets that make this LPVO a good purchase include a comfortable eye relief and a reticle that is illuminated and glass-etched to stand up to shock and recoil.
Features
Fully multi-coated optics
Waterproof, fog proof and shockproof
XD lens elements
Aircraft grade aluminum body
Second focal plane glass-etched reticle
30mm main tube
Fast focus eyepiece
Anodized finish
Pros
True 1x
Lightweight and durable
Easy to install and use
Crisp clear glass
Decent eye relief
Illuminated reticle
6) Leupold VX-Freedom 1.5-4x20mm Rifle Scope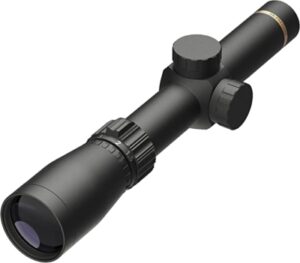 The VX-Freedom 1.5-4x20mm Rifle Scope is the best LPVO for 308 for beginners. It is designed with ease of use in mind and is available at a reasonably affordable price. It also has a compact form and a lightweight design for easy carrying in the field.
Built with a variable 1.5-4x zoom power, the scope provides stunning close and mid-range performance. With the low zoom power comes a spacious field of view that is essential for hunting as it aids in easy target location and smooth tracking of the animals as they move.
Leupold optics are known for their ruggedness and this LPVO is not any different. It is designed, machined and assembled in the USA to guarantee strength, quality and durability. Additionally, it is waterproof, fog proof and shockproof to ensure unimpeded field use.
Optically, the scope uses the best-in-class optics which yield admirable images that are rich in detail, brightness and clarity even in poor light settings. This optic also features a streamlined, rail-less design that takes less of the rail space when mounted on most rifles for you to add any other accessory of your choice.
Features
Versatile 3:1 zoom
Scratch resistant lenses
Fully waterproof and fog proof
Leupold's advanced optical system
Streamlined, rail-less design
1-inch main tube
Second focal plane reticle
Twilight Light Management System
Pros
Easy to use
Budget friendly
Compact and ultra-lightweight design
Long, eyeglass-friendly eye relief
Cons
7) Nightforce ATACR 1-8×24 34mm FFP Rifle Scope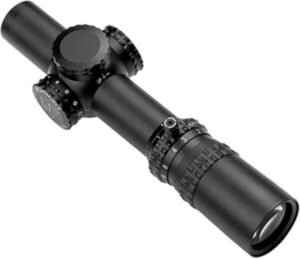 Our last LPVO recommendation for the .308 Winchester cartridge is the Nightforce ATACR 1-8×24. This is a great optic for nearly any hunting or tactical applications. It offers amazing views of targets in different lighting conditions and is ideal for taking shots at close to long ranges.
The scope has a 34mm main tube which provides more than adequate room for adjustments and reticle movements. The tube is made from high strength aluminum to offer greater strength and rigidity. It is also weatherproofed for use in all weather conditions.
Moreover, this high-end LPVO has its reticle housed of the the first focal plane where it provides quick range estimations by staying true through the entire zoom range. On top of that, the reticle is LED illuminated to enhance the contrast between it and the target in low light environments.
What's more is that Nightforce incorporated ZeroStop and Hi-speed technologies inside this low powered variable scope to give you the flexibility to customize it to your preferred preferences. It is also built light to ensure that it doesn't any extra weight on the rifle or get in your way of shooting.
Features
1-8x magnification power
First focal plane reticle
Sturdy and durable aluminum housing
LED reticle illumination
34mm main tube
ZeroStop and Hi-speed technologies
Pros
Crisp clear reticle
Outstanding durability
Stunning glass quality
Good eye relief
Cons
What is an LPVO?
LPVO is the short form of low power variable optic. LPVOs are distinct from the regular rifle scopes in that they have a low magnification that spans from 1x to 10x, and a smaller objective lens. This unique configuration makes them ideal for a wide range of hunting and shooting applications at close to medium ranges.
Why an LPVO is Necessary for 308
The 308 round is a versatile round that is capable of shooting at close to long ranges. Pairing your .308 rifle with an LPVO will maximize this versatility and let you find targets at different ranges as you are able to quickly switch from one zoom power to the another based on the shooting situation.
Other than versatility, LPVOs tend to offer better image quality in any given situation. With better image quality and clear visuals, it becomes easier to place a shot in the right spot whether you are out in the fields hunting or in the range shooting targets.
Read Also
How to Choose the Best LPVO for 308
While all LPVO do the same job, they are all built different. When shopping for the best model for your 308, consider these important features before settling on any specific product.
Glass Quality
The first thing to consider is the quality of glass the LPVO is made with. A product that is made with high quality glass will offer better optical performance than a counterpart made with cheap, low-quality glass. Look for a scope that uses fluoride, HD or ED glass as those are the best in market.
Durability
Durability is an important feature that an LPVO should have. To get the most out of your LPVO, look for a model that is crafted with either magnesium alloy or aluminum alloy. With quality construction, the optic will not just be durable, but also ideal for use even in the most challenging environments. It will withstand whatever abuse you subject it to and give you reliable performance.
Weight
The next thing to consider is weight. The size of the main tube, quality of glass and type of material used during the construction process determine how heavy a scope weighs.
For both hunting and shooting in the fields, it is best to get scope that is less than 2 pounds. A scope with a lightweight design will be easy to carry and maneuver with in the field. Light scopes are also better as scattering heavy recoil than the heavy counterparts.
Weatherproof
Whether you plan to use the LPVO scope for hunting or any other kind of shooting, ensure that it is built to be resistant to elements. The best LPVO for 308 has its tube sealed to keep the optics free of moisture and dust. The scope should also be fog resistant to maintain a clear field of view in all environments.
Price
The cost of LPVOs varies from one product to the other depending on the brand, the quality of construction and features it is packed with. How much your budget is will determine which product you get. If you are on a budget, there are tons of budget-friendly models that are really great in terms of performance and quality. Additionally, there are plenty of high-end LPVOs available for those who prefer the high-end models.
Conclusion
While the market is flooded with rifle scopes from so many brands, only the right model will help you get the most out of the versatile and popular 308 round. All the LPVOs we have on this list are outfitted with the essential features you will need to make the most out of this round and better your shooting or hunting skills. Be activity-specific then use our guide to find a scope that not only matches the versatility of the .308 round, but also blends perfectly with your individual needs.