If you are in the market for the best scope for 300 Win Mag, we've got you covered. We have put up a number of high-quality and top-performing scopes that pair perfectly with this classic cartridge that is widely used for long range hunting and shooting.
Whether you use the 300 Win Mag for hunting, competitive shooting or both, a scope is an indispensable tool to have. A scope will broaden your views, help you find targets more rapidly and make your excursion more fun and fulfilling.
Today, there are dozens of good scopes on the market, but not all are ideal for use with the 300 Win Mag. To push this powerful belted magnum round to its full potential, you need a well-made scope that can handle the high recoil it brings about and the environment you will be using it in.
Best Scope for 300 Win Mag
The following are the best scopes for 300 Win Mag that make a nifty companion for every hunting and shooting ardent out there. Let's take a look.
1) Vortex Optics Viper Parallax Adjustment Second Focal Plane Riflescopes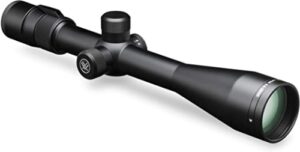 First up is the Viper 6.5-20×44 Riflescope. This is a top-notch optic designed and engineered for anyone looking to hone their shooting and hunting skills with the 300 Win Mag.
It offers incredible optical finesse under any environment. This is thanks to the large 44 aperture that enhances low light resolution and the fully multi-coated, ED lenses that provide excellent color fidelity. Moreover, the scope comes with a second focal plane Mil-Dot reticle that is helpful in estimating range, windage and bullet holdover over a multitude of distances.
This Vortex rifle scope is built to last. It has a ruggedized body that is tough enough to handle the heavy recoil the 300 Win Mag produces. Furthermore, the exterior lenses have an Armortek coating for added protection from scratches and the main tube is coated with hard anodized finish that makes it scratch proof and rust resistant.
For use in any weather condition, the scope is O-ring sealed to be water and dustproof, and argon purged to provide fog proof performance. Besides that, it has a lightweight design that scatters recoil effectively while ensuring that no extra weight is added on the rifle.
Other handy features included are a fast focus eyepiece, side-mounted parallax knob, MAG-bar for rapid changes in magnification and capped reset turrets.
Features
30mm main tube
Fully multi-coated ED lenses
Waterproof and fog proof design
Armortek coating
Capped reset turrets
Fast focus eyepiece
SPF Mil-Dot reticle
5-20x variable magnification range
Pros
Rugged and reliable construction
Excellent image brightness
Crisp adjustment
Great value for money
Cons
2) Leupold VX-Freedom 4-12x40mm Rifle Scope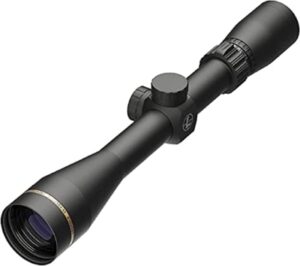 Carrying the much-respected and renowned Leupold name, the VX-Freedom 4-12x40mm Rifle Scope is your ideal option if you are looking for a budget-friendly 300 Win Mag scope. It delivers the legendary Leupold performance and you don't have to spend a fortune to get one.
The scope is rated for use with high calibers. Thanks to the ultra-lightweight design, it will disperse all vibrations caused by heavy recoil and offer superior durability and mobility convenience. Besides, it features a robust aluminum housing that is rigid enough to take in whatever abuse you throw at it.
Another impressive thing about the scope is the superb performance in low light conditions. It boasts a 40mm objective lens that maximizes light collection and a Twilight Light Management System which eliminates 80% of glare to ensure optimal image brightness and clarity.
To top it all, the scope is fully waterproof and fog proof so you can engage in your favorite sport even when it is raining.
Features
4-12x magnification range
1-inch body tube
Second focal plane Tri-MOA reticle
Waterproof and fog proof
Twilight Light Management System
Scratch resistant 40mm aperture
Pros
Ultra-lightweight design
Long eye relief
Cost-effective
Easy to use
Cons
Non-illuminated reticle
It is a 1-inch tube scope
3) Burris Signature HD Scopes 5-25x50mm Rifle Scope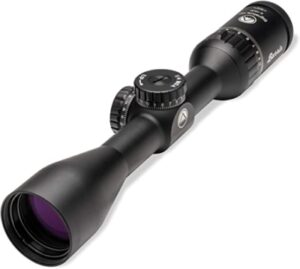 Next on our list is the Burris Signature HD 5-25x50mm Rifle Scope. This rifle scope comes with almost every feature you require to take your hunting or tactical shooting a notch higher.
Firstly, it boasts a broad 5-25x zoom power ideal for medium and long range shooting. At every zoom setting, it generates high-quality image views and a decent visual field to ensure that you find and identify targets swiftly. It also has an adjustable parallax to maximize accuracy when taking long range shots.
Construction-wise, the scope has a 30mm tube made from aircraft grade aluminum. The robust make maximizes strength and durability so you will get to use it for many years. Above all, it has a large 50 objective lens and multi-coated optics that enhance light transfer for generation of bright, vivid and color accurate target views.
Features
Second focal plane reticle
Adjustable parallax
5-25x zoom power
30mm main tube
Fog proof and shockproof
Multi-coated optics
Matte finish
Pros
Solid construction
Lightweight design
Illuminated reticle
Crisp clear optics
Easy to use
Cons
4) Vortex Optics Crossfire II 6-18×44 Rifle Scope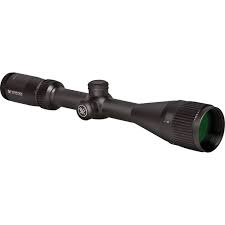 If you are looking for the best scope for 300 Win Mag for the money, look no further than the Crossfire II 6-18×44 Rifle Scope. It harbors a multitude of good-quality features which provide exceptional performance and reliability both in the hunting field and shooting range.
Given the high recoil the 300 Win Mag generates, the scope is made with a long eye relief to keep your eye safe and ensure optimal user comfort. It has resettable MOA turrets that are easy to use and a fast focus eyepiece that ensures reticle focusing is rapid and straightforward.
In terms of construction, the scope is built to offer unbeatable durability. It has a single-piece tube crafted from aircraft-grade aluminum which ensures great strength as well as shockproof performance. It is also sealed with O-rings and nitrogen purged to provide a lifetime of reliable performance in any weather condition.
To add on everything else, this Crossfire II scope has fully multi-coated lenses enhance image brightness and an adjustable objective for parallax removal and image focus.
Features
Capped reset turrets
6-18x magnification range
Anti-reflective, fully multi-coated lenses
Fast focus eyepiece
Waterproof and fog proof
Adjustable objective lens
Dead-Hold BDC reticle
44mm aperture
Pros
Lightweight design
Easy on the wallet
High build quality
Accommodating eye relief
User-friendly
Cons
5) CVLIFE Hunting Rifle Scope 6-24×50 AOE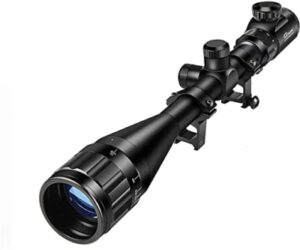 To hone your hunting skills with the 300 Win Mag, you need a quality optic that is up to task. This and much more is what you get from the CVLIFE Hunting Rifle Scope. It is simple to use and a great choice for beginners and professionals alike.
Featuring fully multi-coated lens, the scope yields bright and crisp clear image views from sunrise till sunset. The coatings are made to last and will not peel out or fade with time. Furthermore, the scope boasts an adjustable objective lens that allows for sharp image focus, range estimation and elimination of parallax.
The scope employs an illuminated rangefinder reticle that comes in handy when hunting and with the vast 6-24x zoom range, you get the flexibility to pursue targets at varying ranges. Better yet, the windage and elevation turrets are well-designed to ensure crisp adjustment for greater shooting precision.
Above all, the scope is easy to mount and detach, and it is designed to fit all standard 20mm Picatinny or Weaver rails.
Features
Adjustable eyepiece
6-24x magnification range
Adjustable objective lens
Fully multi-coated lens
Rangefinder reticle
50mm objective lens
Pros
Illuminated reticle with 5 brightness settings
Crystal clear glass
Large field of view
Ultra-lightweight design
Low pricing
Cons
Image gets less clear at highest zoom power
6) Vortex Viper PST GEN II 5-25x50mm Rifle Scope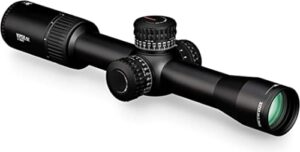 Another best scope for 300 Win Mag from the Vortex brand is the Viper PST GEN II 5-25x50mm. This scope is built with a multitude of high end features to help you gain exceptional performance in the hunting field or shooting range.
The scope is ideal for use in any lighting condition. It comes with an illuminated reticle that offers 10 different intensity levels. This gives you the flexibility to customize it based on the lighting conditions and ensure greater accuracy. Better yet, the scope boasts fully multi-coated optics that enhance image brightness, crispness and sharpness from dawn till dusk.
Like any other Vortex optic, the scope is built ready for outdoor use. It is shockproof and recoil resistant to stand up to whatever punishment you subject it to. It also has a hard anodized finish that shields it from scratches, corrosion and rust for greater durability.
Furthermore, the scope is rated to be ideal for use under any weather. This is thanks to the waterproof and fog proof construction. It is also equipped with a fast focus eyepiece that allows for quick reticle focusing and a Rapid Zero Return which prevents turrets from dialing accidentally when you are in the field.
Features
30mm tube diameter
5-25x magnification
Water, fog and shock proof
Fast focus eyepiece
Fully multi-coated optics
Hard anodized finish
Adjustable parallax
Aircraft-grade aluminum housing
Pros
Reticle illumination
Manageable weight
Built-in accuracy features
Excellent fit and finish
Bright and clear optics
Cons
7) Beileshi 6-24X50 AOEG Optics Hunting Rifle Scope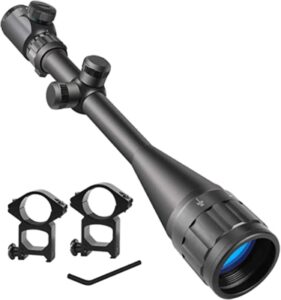 Last but not least we have the Beileshi 6-24X50 AOEG Optics Hunting Rifle Scope. It has a broad 6-24x zoom range suitable for medium and long range applications and a large 50mm aperture which provides quality image views at every magnification setting.
The scope is built ready for hunting. It comes with a rangefinder reticle with 5 levels of illumination. This will boost you shooting precision in low light settings. Moreover, the scope has a waterproof and fog proof design to ensure that you go hunting under any weather condition.
In terms of construction, this rifle scope has a body made from aerospace aluminum alloy. It is shockproof to handle the rigors that come with hunting and has a hard anodized finish to prevent scratching. It also comes with a glass-etched reticle that maximizes durability by ensuring that the reticle won't fall apart.
Above all, the scope has multi-coated lenses that offer clear and brilliant views of the target and an adjustable objective lens for parallax adjustment and range estimation.
Features
Rangefinder reticle
Hard anodized finish
Multi-coated lenses
Adjustable objective lens
Waterproof, fog proof and shockproof
Glass-etched reticle
Pros
Reticle illumination
Broad zoom range
Solid construction
Lightweight design
Free mounts included
Read Also
Criteria for Choosing Best Scope for 300 Win Mag
When you are shopping for the best scope for 300 Win Mag, below are the important things you should take into consideration.
Magnification
The scope you get for your 300 Win Mag should have adequate magnification power based on your hunting/shooting environment and the distance.
The further you intend to shoot, the higher magnification the scope should have. A scope having 10x or more maximum magnification is ideal for shooting over extended distances while one with not more than 10x will be ideal for close and medium range shooting.
Lens Quality
Get a scope that is designed to offer crisp, clear and brilliant image views from dusk to dawn. This will guarantee quick and accurate target identification. Scopes made with ED or XD glass are the best. They not only yield high resolution, but also optimize color accuracy across the entire light spectrum.
The model you choose to buy should also have fully coated or multi-coated lenses to ensure that you have a clear field of view even in low light settings.
Durability
You can't mount just any scope on your 300 Win Mag or it will end up being wrecked after a few hunting/shooting trips.
Whether you purpose to use the scope for hunting, competitive shooting or tactical applications, invest in a unit that is rated for high calibers. This will ensure that it is able to hold zero against high recoil the round generates.
For optimal durability, go for a scope that is crafted with aluminum alloy, magnesium or any other metal. On top of that, ensure that the scope is also waterproof, dust proof and fog resistant.
Reticle
The reticle pattern that you get is largely a matter of individual preference. However, to shoot over extended ranges, a basic reticle won't be enough. Instead, you will need reticles such as BDC, MOA and Mil-Dot that are good with range estimation and holdover correction.
Eye Relief
The other important thing to take into account is the amount of eye relief the scope offers. The high recoil the 300 Win Mag produces calls for a long eye relief scope. This it to keep your eye safe from the recoiling scope.
For optimal eye protection and comfort during lengthy hunting/shooting sessions, it is best to get a scope with at least 3.5 inches if you don't wear eyeglasses and 4 inches and above if you put on eyeglasses.
Weight
The best scope for 300 Win Mag is one with a sturdy yet lightweight design. A light scope optimizes portability when hunting and guarantees greater accuracy given that it won't add unnecessary weight on your rifle. It also helps scatter recoil for greater durability.
Best Scope for 300 Win Mag FAQs
What is a 300 Win Mag good for?
The 300 Win Mag is good for hunting and shooting at long ranges. It is a well-known belted, bottlenecked magnum cartridge ideal for hunting deer, elk and antelopes among other medium sized game.
How hard does the 300 Win Mag kick?
The 300 Win Mag is a heavy recoiling round which generates about 30.5 foot-pounds of recoil.
How far will a 300 Win Mag shoot accurately?
Whilst the 300 Win Mag is a long range round, how far it can shoot accurately will depend on several factors such as the rifle in use, your shooting skills and the environmental factors. But in most cases, it offers an effective range of about 1,210 yards when all the factors are favorable.
Conclusion
We do hope that you have found this article to be helpful and insightful. All of the scopes listed here offer the imperative features you need for use with the 300 Win Mag. They pair well with this popular cartridge to offer greater performance in the field. Pick any one of them and watch it better your hunting or shooting skills with the 300 Win Mag.