Are you looking for the best spotting scope for ocean viewing? You have come come to the right place. We have created this spotting scopes guide to help you navigate different options when looking for a spotting scope for ocean viewing.
Ocean viewing is a breathtaking activity that everybody should experience in their lifetime. It's not only thrilling, but also therapeutic. The ocean is full of amazing things and spectacular creatures that make the viewing activity worthwhile. You can watch the whales as they come out and dive back into the waters, or just spot other ocean creatures such as seabirds and dolphins.
To the get a good glance at everything, you need to have a high-quality spotting scope. With the right spotting scope, you'll be able to see some details that you can't see with your naked eyes. A spotting scope will also bring you closer to the objects that are far away.
Here are the top-rated spotting scopes suitable for ocean viewing. Let's take a look.
Best Spotting Scope for Ocean Viewing
1) Celestron – Ultima 80 Angled Spotting Scope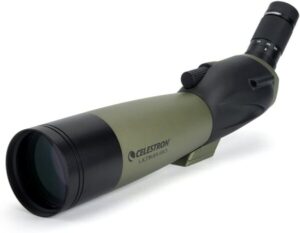 The Ultima 80 Angled Spotting Scope is a versatile spotting scope that's perfect for multiple outdoor activities among them ocean viewing. It comes with an angled eyepiece that makes it perfect for Digiscoping and reduces eye fatigue during long glassing sessions. It is simple to use and you can attach it to the tripod and make your viewing experience more comfortable.
This spotting scope is well-constructed so you will get many years from it. It has a rugged rubber exterior which provides the much-needed protection against the harsh and unforgiving field conditions and a fully waterproof and fog proof design so you can use in both good and bad weather conditions.
Moreover, it is ideal for both close and long-range observation. It has a close focus distance of 8m/26ft which is great for viewing up close subjects and an adjustable 20x to 60x magnification for viewing distant ocean creatures. With the 80mm objective lens, you get a wide field of view for easy target spotting and maximum light collection needed for bright sight pictures. besides, it boasts a zoom eyepiece that allows you to zero in for detailed views of long-range subjects easily and multi-coated optics which provide bright and true-to-life images even in poor light conditions. Above all, it has a lightweight design for easy carrying.
Features
Adjustable 20-60x magnification
Integrated T-adapter for Digiscoping
80mm objective lens
45-degree viewing angle
Tripod mountable
Multi-coated optics
Lightweight
Sharp zoom eyepiece
Waterproof and fog proof
Sturdy and durable construction
Rugged rubber exterior
2) Vortex Optics Viper HD Spotting Scopes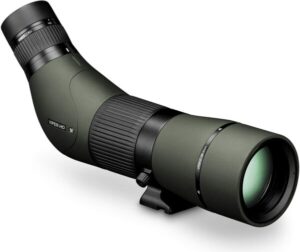 The Viper HD Spotting Scope provides the optical power and features that you need to get the most out of your ocean viewing expedition. It has an angled eyepiece for comfortable long-distance glassing and a variable 20-60x optical power suitable for viewing targets at different distances.
The spotting scope provides excellent optical performance and superior low-light clarity. It has a HD optical system that produces high-definition images and XR anti-reflective coatings that maximize light transmission for bright and clear images in any light condition.
When it comes to construction, it's crafted from high-strength aluminum which enhances durability without adding too much weight. The rubber armor included shields it from shock and impacts and provides a secure, non-slip grip even in wet conditions. Even better, the scope is waterproof and fog free for all-weather performance and boasts an Armortek coating that protects the external lenses from dirt, oil, scratches and more.
For added convenience, the spotting scope is eyeglass-friendly. It has a multi-position eyecup for snug viewing even with sunglasses/eyeglasses on. It also has a built-in sunshade for reducing glare and a locking collar that you can use to rotate it into different viewing positions.
Features
Rubber armor
Armortek lens coatings
Smooth helical focus
Multi-position eyecup
Waterproof and fog free
HD optical system
Locking collar
Durable yet lightweight aluminum construction
20-60x magnification
Angled eyepiece
Built-in sunshade
3) Emarth 20-60×60 AE Spotting Scope with Tripod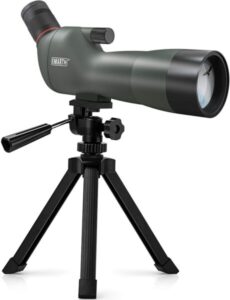 If you are looking for the best spotting scope for ocean viewing for the money, the Emarth 20-60×60 AE suits you. It offers every feature you need for ocean viewing at a cost-effective price. Plus, it comes with a tripod so you don't have to buy a tripod separately.
This product features a variable 20x to 60x magnification for viewing subjects at different distances and a 60mm objective lens which provides a wide field of view for easy target spotting. The fully multi-coated lenses enhance light transmission to give you bright, clear and color-accurate views which is what you need when viewing different ocean creatures like whales, dolphins and more. Moreover, it boasts premium ED glass and BaK-4 prisms for high-quality image production.
The spotting scope is durably made to last from one generation to the other. It has a high-quality rubber armor that provides durable external protection and a non-slip grip even when wearing gloves. It's also sealed with O-rings to prevent entry of dirt, dust and moisture and filled with nitrogen to prevent internal fogging and provide reliable protection from all weather elements.
And that's not all. With the dual focus wheel, you'll be able to lock the target and zoom in so you can get the clearest detail. Lastly, all Emarth 20-60×60 AE spotting scopes comes with a retractable sunshade which reduces glare when glassing in direct sunlight and a 45-degree eyepiece for more comfortable viewing.
Features
Durable construction
Waterproof and fog proof
High-quality rubber armor
Fully multi-coated lens
45-degree eyepiece
Retractable sunshade
High 20x to 60x magnification
Spotting scope phone adapter
60mm objective lens
Tripod included
4) Bushnell Trophy Xtreme Spotting Scope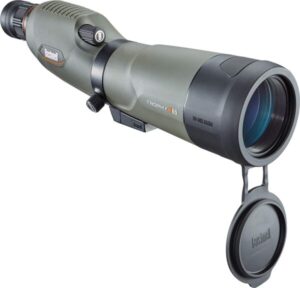 As one of the best spotting scopes for ocean viewing, Bushnell Trophy Xtreme Spotting Scope provides extra power that brings the distant objects closer and brightest images even in low light situations. It makes a perfect tool when viewing whales, dolphins and other ocean creatures at a distance.
It features fully multi-coated optics that increase light transmission for bright and vivid pictures production.  Even at the highest magnification, the spotting scope provides high-quality images so you can see every detail of your subjects. It also brings to the table a 25 feet close focus for viewing close range targets and an adjustable sun-shade that provides comfortable glassing when the sun is shining bright.
The durable housing makes it ready for anything that's thrown at it. It has a rubber armor that not only protects it from weather elements, but also offers you a secure, non-slip grip. Since water is one of the greatest optics' enemy, the scope  is 100% waterproof. Above all, it has a lightweight design for easy portability and  a built-in objective cover that protects the objective lens from scratches, dirt, dust and more.
Features
Ultralightweight design
Adjustable sun shade
100% waterproof
Rubber armor
Compact tripod and window mount
Porro prism design
High-quality fully multi-coated optics
Compact soft-side case and premium waterproof hard-side cases
5) Celestron Regal M2 100ED Spotting Scope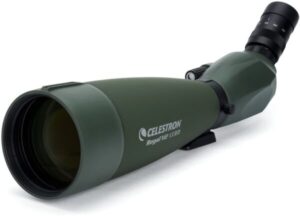 The Celestron Regal M2 100ED Spotting Scope is a high-end spotting scope with high-end features. With this spotting scope, your ocean viewing will never be the same. You will get high-quality and razor-sharp images with excellent color correction.
This model provides the most comfortable viewing angles. You can use it with the included zoom eyepiece or any 1.25" astronomical eyepiece of your choice. Thanks to the rotating tripod mount included, you will be able position the eyepiece into different viewing angles until you achieve an angle that's most comfortable for you.
Featuring a massive 100mm objective lens, the scope provides excellent light gathering abilities and an ultra-wide field of view. It's fully waterproof and fog proof for use in extreme weather conditions and has a magnesium alloy body that enhances durability while remaining lightweight. It is also covered with a rubber armor for added durability.
Features
Dual speed focusing system
Magnesium alloy body
Durable rubber armor
Waterproof and fog proof
XLT lens coatings
Extra-low dispersion glass
100m objective lens
T-adapter ring for Digiscoping
Compatible with 1.25" astronomical eyepiece
22-67x magnification
6) Vanguard Endeavor HD 82A Angled Spotting Scope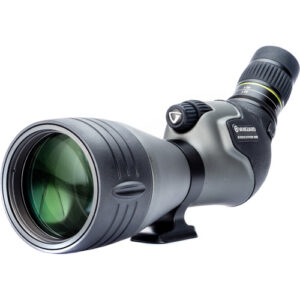 If you are looking to have the best ocean views, you should invest in a quality spotting scope such as the Vanguard Endeavor HD 82A Angled Spotting Scope. It provides excellent long-range visibility and an outstanding field of view for easy target spotting.
The Endeavor ED boast premium ED glass which provides exceptional detail and bright colors. Better yet, the glass is covered with advanced MultiGuard coatings that maximize light transmission for better sight pictures even in low light conditions.
The angled eyepiece is detachable for snug viewing and it has a long eye relief which makes it comfortable for extended viewing. The scope also features fine and coarse focusing wheels that provide the much-needed quick and accurate adjustments.
In terms of construction, it has a magnesium alloy frame that's covered with a rubber armor for greater durability and shockproof performance. Above all, it is O-ring sealed to prevent entry of moisture and dust, and purged with nitrogen to prevent fogging in harsh weather conditions.
Features
Lightweight and ergonomic design
Non-slip grip
Long eye relief
Detachable angled eyepiece
Waterproof and fog proof
Extra-low dispersion glass lenses
Multi guard coatings
Dual focus controls
Rubber armored magnesium body
Scope cover with carrying strap included
7) CREATIVE XP Spotting Scope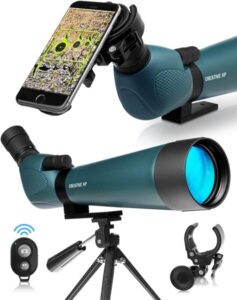 Here is another spotting scope suitable for the budget buyers. The CREATIVE XP Spotting Scope offers every feature you need for viewing objects on the ocean at a price that's easy on the wallet. You can also pair it with your camera or smartphone and capture everything that you see.
With a high optical power of up to 60x and a wide field of view, the scope will help you spot the targets easily capture every creature on the ocean regardless of how far they are. It also comes with fully multi-coated lens which make the whole viewing session more fun and worthwhile by providing the clearest sight pictures.
In terms of construction, this spotting scope is built ready for ocean use. It's O-ring sealed to provide total waterproof protection and fog proof as well. It is also made with high-quality materials for long-lasting durability. Besides that, it has 2 fine focus knobs for easy adjustment and a long eye relief for comfortable viewing. To top it all, it comes with an extendable sunshade which protects your eyes from harmful sun rays when glassing under direct sunlight.
Features
Long eye relief
Waterproof and fog proof
High-quality construction
Wide magnification capability
Two fine adjustment knobs
Fully multi-coated lens
Simple to use
Long field of view
4-1.3mm large exit pupil
BaK4 prisms
Scratch-resistant lenses
Extendable sunshade
See Also
How to Choose the Best Spotting Scope for Ocean Viewing
When shopping for a spotting scope for ocean viewing, here are some of the important factors you should consider in order to get a quality product that gives you the best value for your hard-earned money.
Objective Lens Diameter
This is the size of the spotting scope's front lens. A larger objective lens diameter means that the scope collects more light needed for bright image production. A larger lens also gives you a wide field of view which is more important for easy target spotting. Look for a spotting scope that offers a large objective lens of at least 45mm.
Magnification
Spotting scopes have a broader magnification than binoculars. Having a broad magnification allows you identify small targets easily and bring the distant targets closer. Typically, an adjustable zoom of 15-45x or 20-60x will be sufficient for ocean viewing. Spotting scopes in this zoom range provide excellent performance in both dry and wet environments.
Straight or Angled
The shape of the eyepiece determines whether your eye and the object you are viewing are on the same optical line or not. A spotting scope with a straight eyepiece requires you to turn your head as the object moves. These scopes are perfect for viewing objects on a straight line.
On the other hand, an angled spotting scope gives you a 45-degrees viewing angle. You can use the scope when you are sitting or lying down. Angled spotting scopes are ideal for group viewing and extended glassing sessions.
Glass Quality
The quality of glass that a spotting scope has can either make or break your ocean viewing trip. This is the particularly the case if you are using the spotting scope for professional photography or in low light settings.
If you want the best image quality, get a scope that has either ED or HD glass. They reduce chromatic aberration and fringing especially at high magnification power to provide the best quality sight pictures.  Also, look for a scope with fully multi-coated lenses as this will make the images brighter even in low light conditions.
Build Quality
Check how sturdy the spotting scope is and the type of materials used in making it. You'll want a model that is well-constructed so it will give you many years of use. With so many options available on the market today, go for a unit that made with either magnesium alloy or aluminum as they offer greater durability without adding unnecessary weight. Also make sure that the scope comes with a rubber armor which cushions it from impacts, fall and shock. Moreover, it will be an added advantage if you get a model that's both waterproof and fog proof.
Budget
Budget is another important thing you should consider. Just like any other optics, spotting scopes with higher quality and better specs will have a higher price tag. So, always consider if the specs and features are what you need then choose the model that falls under your budget.
Why a Spotting Scope for Ocean Viewing
Better and brighter sight picture regardless of the lighting condition or how far the objects are
Perfect for group viewing
Higher magnification which brings distant objects closer
More steadiness and clarity
Digiscoping abilities
FAQs about Best Spotting Scope for Ocean Viewing
Do spotting scope work at night?
Yes. You can use a spotting scope at night for astronomy and other applications. You can also attach a camera or smartphone on your spotting scope and use slow shutter to capture more light which is essential for bright sight pictures in low light conditions.
What do numbers in a spotting scope mean?
Generally, spotting scopes have 3 numbers. The first two numbers represent the magnification power, while the last number is the diameter of the objective lens. For instance, in a 20-60×80 scope, the 20-60x is the magnification power of the scope while 80 is the objective lens diameter in millimeters.
How much magnification do I need for ocean viewing?
A wider magnification makes a spotting scope more versatile. Normally, a unit with 15x to 60x is ideal for ocean viewing. It will bring the faraway objects closer and help you spot the small ocean creatures with ease.
What is better: Straight or angled spotting scope?
Straight spotting scopes are perfect for fast focusing as you simply point them to the direction of your subject. On the other hand, angled scopes provide the perfect setup for Digiscoping and are ideal for extended glassing sessions. Which is better will largely depend on your preference and what you plan to use it for.
Conclusion
We do hope that this post has helped you find the best spotting scope for ocean viewing. A good-quality spotting scope will make your ocean viewing better and more fascinating. Be sure to use our guide above as it will help steer you into the perfect spotting scope for your needs.