A quality pair of compact binoculars is very important while on safari. The best compact binoculars for safari are not only packable, but also comfortable to carry and hold during long glassing sessions. They provide the best viewing experience when watching birds and wildlife without dragging around additional weight. Compact binoculars are also simple to use and ideal for both adults and kids.
The best compact binoculars for safari offer excellent range and high-quality and clear views, while staying rugged and durable. However, with so many options available on the market today, finding the right pair can be challenging. To help you choose the right pair, here is our guide to the best compact binoculars for safari. Let's take a look.
Best Compact Binoculars for Safari
1) Zeiss Terra ED Binoculars 8×25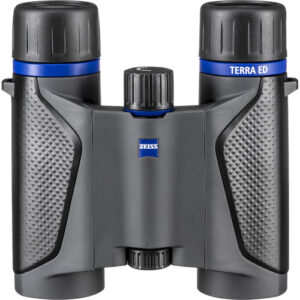 Zeiss Terra ED binoculars are pocket-size binoculars suitable for multiple outdoor adventure activities such as safari, bird watching, hiking and backpacking among others. Though compact, this pair provides excellent and reliable performance. It's simple to use and great for both adults and kids.
Featuring a top-quality and stylish design, these binoculars are not just light but comfortable to carry and easy to pack. A Hydrophobic multi-layer anti-reflective coating applied on the lenses gives you clear views in all weather conditions so you can enjoy every detail of the objects you are watching. They are also waterproof and fog-resistant to provide reliable performance in all weather conditions.
These compact binoculars are made with beginners in mind. They have a large and easy-to-grip focus wheel for snug and fast focusing. When not in use, this pair folds down into a compact size for simple storage. Overall, it's one of the best compact binoculars for safari you can get at an affordable price tag.
Features
Clear views in any weather
Zeiss anti-reflective coating
Compact, light and portable
Fast focusing
Bright and clear views
Waterproof and fog proof
Hydrophobic multicoating
Sleek and beautiful design
Durable construction
2) Occer 12×25 Compact Binoculars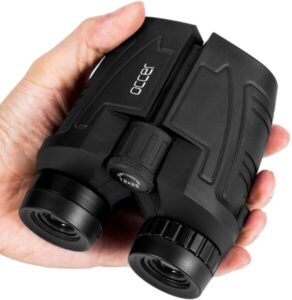 If you are looking for the best compact binoculars for safari for family use, look no further than the Occer 12×25 Compact Binoculars. These high-powered binoculars are simple to use and great for both adults and kids. The compact design makes them easy to hold, pack and carry everywhere.
These binoculars might be compact but they are very sturdy. Besides being crafted from high-quality ABS plastic, they have a rubber armor which cushions them from hard impacts and falls for added durability. The rubber armor also gives you a secure grip all through. Besides, they are waterproof but you shouldn't use them in heavy rains.
All Occer compact binoculars use the FMC multi-layer broadband green film to provide true to life images with no color distortion. The multi-coated lens and BaK-4 prisms maximize light transmission to provide bright and clear images even in low light situations. Moreover, these binoculars have adjustable eyepieces which makes them suitable for all users, with or without eyeglasses.
Features
Wide field of view: 273feet at 1000 yards
Adjustable eyecups
FMC broadband coating technology
One-hand operation
Durable and life waterproof
Durable rubber armor
Premium BaK-4 prisms
High 12x magnification
Compact, lightweight and portable
3) Bushnell H2O Waterproof/Fogproof Compact Roof Prism Binocular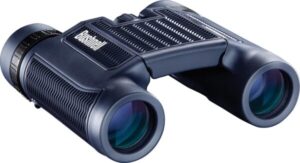 If you are looking for the best compact binoculars for safari for the money, you can hardly go wrong with the Bushnell H2O Waterproof/Fogproof Compact Roof Prism Binocular. It offers an array of excellent features at a price that's very easy on the wallet.
This pair is specifically designed for use in wet weather conditions. It's O-ring sealed so it can withstand heavy rains and being dropped in water. It's also nitrogen filled to prevent internal fogging. Better yet, it has a shock-absorbing rubber armor which cushions it from impacts and falls while giving you a firm grip in dry or wet conditions.
This binocular weighs just 340 grams. It's ultralight and comfortable to hold during long viewing sessions. It also brings to the table a large center focus wheel for simple adjustments and twist up eyecups that give you comfortable viewing even with your eyeglass/sunglasses on. Above all, this pair provides excellent image brightness and clarity thanks to the fully multi-coated optics and BaK-4 prisms.
Features
Bright and sharp images
Ultralight, compact and great for travel
Fully multi-coated optics and premium BaK-4 prisms.
100% waterproof and fog proof
Easy center focus knob
Quick adjusting eyecups
Non-slip and shock-absorbing rubber armor
12mm eye relief
15-feet close focus distance
4) Vortex Optics Vanquish Binoculars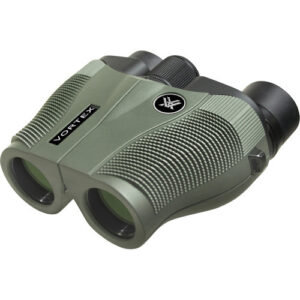 The Vanquish 8×26 reverse Porro prism binoculars is one of the best compact binoculars for safari from vortex. The compact and lightweight design will complement your safari perfectly and make it more enjoyable. Though compact, it provides a wide field of view which gives you the best views of moving wildlife or flying birds.
This device is sturdily built to handle anything that's comes its way. It's crafted with aluminum which is durable yet lightweight. It's also fully covered with a rubber armor to give you extra durability and a secure, non-slip grip. Better yet, all Vanquish binoculars are filled with nitrogen and sealed for all-weather reliability.
With the 8x magnification, you'll be able to enjoy every single detail of the targets regardless of how far they'll be. The eyecups are adjustable so you can easily customize your eye relief to the most comfortable viewing position with or without glasses. More importantly, the binoculars have fully multi-coated lenses which facilitate optimum light transmission in low light settings. This way, you'll be able to enjoy the magical views at the crack of dawn as well as when the sun is setting.
Features
8x magnification and 26mm objective lens
Twist and lock adjustable eyecups
Fully multi-coated lenses
Durable aluminum construction
Shock-absorbing rubber armor
Wide and unobstructed field of view
Compact and lightweight
Non-slip grip
6-feet close focus
Waterproof and fog-resistant
5) Nikon Aculon A30 10×25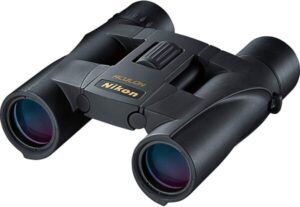 Here is another Nikon compact binocular suitable for the budget buyers. The Aculon 10×25 is extremely affordable yet quality. It weighs less than 10 ounces making it an excellent companion for every outdoor adventure. It's also simple to use and comfortable to hold and carry in long viewing sessions.
Featuring a 10x magnification and a wide field of view, this product is perfect for safari, hunting, tracking and any other outdoor adventure. It utilizes Nikon's high-quality lens coatings to give you excellent image clarity and brightness and has a smooth central focus knob which delivers rapid image focus for the best viewing experience. Overall, it's an excellent optic for viewing birds, wildlife and other objects while on safari.
Features
Multi-coated lenses
Smooth central focus knob
Ultralight, compact and portable
10x magnification and 25mm objective lens
Wide field of view: 262 feet at 1000 yards
Ergonomic body design
Roof prism
6mm eye relief
2-feet close focus distance
6) Steiner Safari Ultrasharp Binoculars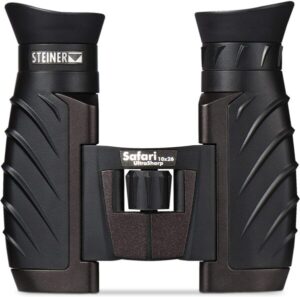 If you are always on safari, these binoculars from Steiner are your perfect option. They provide great durability and excellent clarity in all light conditions. This pair also provides the excellent performance found in mid and full-size binoculars in a compact size that's lightweight and highly portable.
Featuring 10x magnification and 42mm objective lens, these binoculars provide the best views while on safari. The low-light capability gives you clear views of birds and wildlife all day long. Not to mention the proprietary lens coatings paired and the premium glass which provide unparalleled brightness and clarity so you don't miss any detail.
These binoculars offer unmatched durability and reliability. The Makrolon housing combines a robust polycarbonate and NBR long life rubber armoring to give you legendary strength and durability. The pair is also waterproof and fog resistant to stand up to the toughest weather conditions. In addition to everything else, this pair has a fast-close-focus for quick focusing and smooth tracking of moving objects.
Features
All-weather reliability
Legendary durability
Premium glass
UV coated lens
Durable and shock-absorbing rubber armor
Fast close focus
Wide field of view: 302 feet at 1000 yards
Foldable eyecups
Lightweight design
7) Celestron – Nature DX 8×42 Binoculars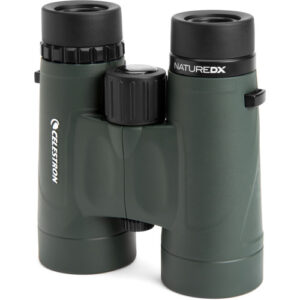 The Celestron Nature DX 8×42 Binoculars is another excellent pair that comes with everything you need to make your safari expedition magical and memorable. It provides the best wildlife views thanks to the high-quality lenses and the wide field of view. It's designed to provide the perfect combination of premium construction, portability and unbeatable cost.
These mid-size travel binoculars provide excellent low light performance. The fully multi-coated lenses maximize light transmission, while the phase-coated BaK-4 prisms deliver bright, clear and more natural image views. This is essential for viewing wildlife early in the morning or late in the evening. The 8x magnification brings the distant targets closer, while the 6.5-foot close focus helps you see every tiny detail of ip close targets such as butterflies and insects.
Moreover, the long eye relief reduces eye-fatigue during long viewing sessions, while the twist-up eyecups make the binoculars eyeglass-friendly. In terms of construction, this pair has a robust polycarbonate housing which is fully waterproof and fog resistant. It's also covered with a non-slip rubber armor which provides protection from outdoor elements and firm grip even when your hands are sweaty.
Features
Phase-coated BaK-4 prisms
5-foot close focus
Robust polycarbonate housing
Twist-up eyecups
Fully multi-coated lenses
Fully waterproof and fog proof
Long eye relief
Secure, non-slip grip
Lightweight and portable
Large exit pupil for better light transmission
Wide field of view
Best Compact Binoculars for Safari Buying Guide
If you are on the market for your first pair of compact binoculars for safari or you are looking to upgrade your old and worn-out pair, here are some of the key factors you should put into consideration.
Durability
Safaris are always rough and bumpy. The best compact binoculars for safari are those that are built to handle anything that comes their way. This includes rough roads, harsh temperatures, frequent movements and accidental falls. Go for a binocular that's built from high-quality materials such as aircraft-grade aluminum, magnesium alloy or polycarbonate. The model should also have a shock-absorbing rubber armor to prevent slippage.
Weatherproof
Mother Nature can be very unpredictable. Different weather conditions can strike when you are out on safari when you least expected it. This calls for a model that's fully weather resistant. The last thing you would want is your safari binoculars getting wet and damaged when the rains catch up with you. Go for a model that's fully waterproof and fog proof.
Eye Relief
During safari, you are probably going to be wearing sunglasses to protect your eyes from the hot sun. In such a situation, you'll want to enjoy comfortable glassing sessions without having to remove the sunglasses every time you are observing an animal. So, make sure that the pair you choose to buy has a long eye relief. Binoculars with 12mm to 18mm eye relief will suffice.
Weight
Going for a safari means packing a lot of things. If you are going to Africa or any other continent, there is weight limitation on planes. So having the lightest pair will save you the hassle of unpacking some essential gear to meet the weight limit. Get a model that's doesn't weigh more than 30 ounces. Besides, lightweight binoculars are easy to hold during long glassing hours.
Magnification
Magnification is the other important thing to look at. Compact binoculars with 10x or 12x magnification are the best for safari. They are versatile and perfect for viewing wildlife at long ranges. Models with 8x magnification are limited to viewing short and mid-range targets. They won't provide great views for animals that are far away.
Lens Coatings
Most wild animals are nocturnal and the best time to see them is early in the morning when they are going to sleep or late in the evening when they are coming out to graze. To have the best views, you need to have quality binoculars that offer excellent low light performance. High-quality lens coatings will facilitate optimal light transmission for bright, clear and sharp images full of color contrast.
See Also
FAQs
Do you need binoculars for safari?
Yes, you do. Binoculars give you better views of the wildlife and birds. They bring distant animals closer so you get to enjoy every detail that you couldn't see with your naked eyes. They also help you to keep track of moving animals with ease.
What type of binoculars is best for safari?
The best binoculars for safari are compact, lightweight and easy to carry around. They have high visual clarity, wide field of view and durable construction. They are also weatherproof so you can use them in any weather condition.
What's the price range of safari binoculars?
With safari binoculars, you can pay $100 or less for the compact models and as high as $500 for the mid and full-size models with better features and performance. Also, you can find high-end model with state-of-the art features that cost more than $1000.
Why Compact Binoculars for Safari?
1)Compact binoculars are extremely light and easy to carry. You'll have an easy time carrying and holding them for long hours.
2)Budget-friendly. Compact binoculars are more affordable than the mid and full-size counterparts.
3)Suitable for family use. Due to their lightweight design, compact binoculars are simple to use and great for both adult and kids.
4)Less likely to slip and bump into hard surfaces during use.
Conclusion
Hopefully, this post has given you the insight into the best compact binoculars for safari. Knowing what to look for will make your selection process simpler and less time consuming. All the binoculars listed above are compact, lightweight and a perfect companion for every outdoorsman who is passionate about safaris.