Every hunt is different and equipping yourself with the correct hunting tools will help increase your chances of having a successful hunting trip. Today, a rifle scope is arguably the most important tool for hunting you should have after your hunting firearm. It makes the challenging hunts simpler by aiding in quick target finding and enhancing accurate shot placement.
When choosing a scope for hunting, there are several factors you should consider and one of them is price. How much you are willing to pay dictates by a huge percentage the type of scope that you get.
In this post, we have taken out time and reviewed the best budget rifle scope for hunting. These scopes are cost effective yet quality. They are ideal for hunting nearly all types of game under virtually any hunting environment. But we before we dive right into the individual models, here is everything you need to know about the attributes that make a great rifle scope for hunting?
What Makes a Great Rifle Scope for Hunting?
If you are purchasing you first hunting rifle scope, you are probably wondering where to start and what to look for. Firstly, the scope you get should have the ideal magnification power depending on your hunting distance and environment. The magnification should then be complemented by a wide objective lens for optimal light collection even in low hunting environments.
Secondly the scope must be weatherproof. It should be fully waterproof, dust proof and fog resistant so it will be operable under any weather. On top of that, the scope should possess a robust housing so it will be able to stand up to anything that comes its way.
A great rifle scope for hunting should  have a lightweight design. This will enhance its portability as you maneuver around the hunting fields looking for game. It should also have quality lens coatings to offer bright and clear image views even when you are hunting in low light settings like dawn and dusk.
Last but not least, the scope should be easy to set up and simple to use.
7 Best Budget Rifle Scope for Hunting – Our Top Picks
With all that said, here are some of the best budget rifle scopes for hunting available on the market currently. Let's have a look.
1) Vortex Diamondback 4-12x40mm Rifle Scope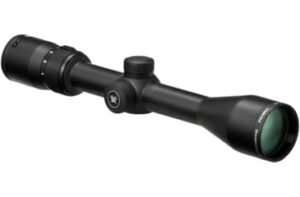 The Diamondback 4-12x40mm Rifle Scope delivers great power for medium and long range hunters. At every zoom power, the scope provides crisp and high image quality, so you identify targets swiftly and place the shots accurately.
This rifle scope is built with versatility in mind. It is compatible with a wide range of rifles, slug shotguns and muzzleloaders. Further, you can use it to hunt big game, varmints, predators and many more. It also comes with a Dead-Hold BDC reticle suitable for hunting at varying ranges where estimating holdovers is a concern.
Another feature that makes the scope shine is the excellent image clarity and resolution. It has a large 40mm aperture and fully multi-coated lenses that offer crystal clear sight pictures in virtually any lighting conditions. Moreover, the scope is waterproof and fog resistant so it will perform under any weather.
In terms of construction, the scope has a solid, 1-piece tube crafted from aluminum. It is shockproof for use even in rough hunting terrains and has a hard anodized finish that keeps its exterior surface rust-free and scratch proof. It also comes with metal on metal precision turrets and fast focus eyepiece that allows for swift reticle focusing.
Features
SFP Dead-Hold BDC MOA reticle
1-inch body tube
Metal on metal precision turrets
Waterproof and fog proof construction
Fully multi-coated lenses
Fast focus eyepiece
4-12x variable magnification
Pros
Solid construction
Easy to access side focus knob
Excellent craftmanship
Clear optics
Warranty
Cons
Less accommodating eye relief
2) Leupold VX-Freedom 3-9x40mm Riflescope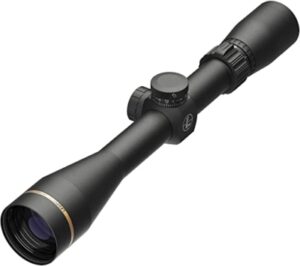 The VX-Freedom 3-9x40mm Riflescope is your ideal optic if you are looking to hone your hunting skills. With the user-friendly design and crisp clear optics, the scope is guaranteed to perform and get the job done every time.
The scope provides unmatched performance in low light settings. It has a Twilight Light Management System which offers excellent image brightness and clarity in nearly any lighting condition. On top of that, it adds 10 extra minutes of shooting light in twilight conditions. To complement the outstanding optical performance, the scope also comes with a Custom Dial System that makes long range shooting a breeze.
This scope is built to last. It is built with 6061-T6 aircraft quality aluminum that is rigid enough to withstand whatever you throw at it. Additionally, it is punisher tested to be shockproof, impact and recoil resistant for greater durability. The whole unit is also 100% waterproof and fog resistant for use under any environment, and operable in temperatures ranging from -40℉ to 160℉.
Above all, it has a weight of just 12.2oz/346g for mobility convenience.
Features
Custom Dial System
3-9x magnification range
Twilight Light Management System
6061-T6 aircraft quality aluminum housing
Waterproof, fog proof and shockproof
1/4 MOA precision finger click adjustment
Pros
Generous eye relief
Lightweight design
Crisp image quality
Excellent low light performance
Cons
3) Vortex Crossfire II AO 6-24x50mm Rifle Scope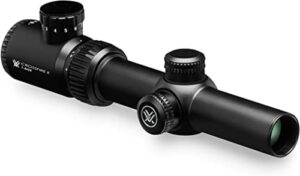 If you are in the market for the best budget rifle scope for long range hunting, this is it. Carrying the renowned and respected Vortex name, the Crossfire II AO 6-24x50mm Rifle Scope is made to help maximize alignment and improve your shooting accuracy.
Featuring a broad 6-24x magnification range, this scope gives you the flexibility engage targets swiftly at varying ranges. It has large 50mm aperture to complement the wide zoom range and an adjustable objective for parallax correction at extended ranges.
The best part about using this scope is the excellent optical clarity it produces. It features high-quality glass lenses that optimize resolution and fully multi-coated optics that offer true light transmission. This results to production of bright and color accurate sight pictures from sunrise to sunset. Also, the scope offers a generous 4-inch eye relief that makes target acquisition a snap.
Construction-wise, it has a shockproof 30mm aircraft quality aluminum body tube that is fully waterproof and fog proof as well. It also comes with a hard anodized external finish that makes it rust proof and scratch resistant.
Features
30mm body tube
Hard anodized finish
SFP Dead-Hold BDC reticle
Fully multi-coated optics
Broad 6-24x magnification range
Adjustable objective
Waterproof, fog proof and shockproof
Pros
Robust aircraft quality aluminum body
Generous eye relief
Great clarity
Lightweight and easy to use
Cons
Large size
Lacks reticle illumination
4) Bushnell Banner Dusk & Dawn Multi-X Reticle Riflescope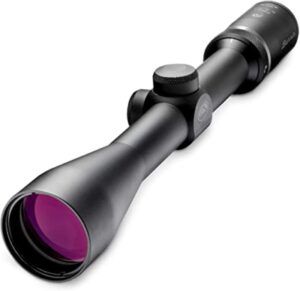 Next up is the Bushnell Banner Dusk & Dawn Multi-X Reticle Riflescope. If you are looking for a low light hunting scope that offers great value for money, this model is a perfect match for you.
It comes with a large 40mm aperture that enhances light collection for optimal low light resolution. Better yet, all the optics are fully multi-coated to ensure true light transfer and to reduce glare and light loss through reflection. This guarantees that you get the brightest and clearest image views even in twilight conditions. On top of that it has a Multi-X reticle that stays visible in all light conditions from sunrise to sunset.
Furthermore, the scope comes with a fast focus eyepiece that makes reticle focusing a breeze and 1/4 MOA fingertip windage and elevation adjustment for precise aiming. In terms of construction, it is built with quality materials to ensure that you get to use it for many years. It also has an IPX4 waterproof rating so it is operable even under heavy downpour.
The scope also boasts a lightweight design so it will be easy to carry in the field as you look for game.
Features
Dusk & Dawn Brightness multi-coated lenses
Fast focus eyepiece
3-9x magnification range
Waterproof and fog proof
High-quality optics
1/4 MOA fingertip windage and elevation adjustment
Multi X reticle
Pros
Durable design
Great value for the price
Easy to use
Lightweight construction
Superb optical clarity
Cons
5) Bushnell Engage 3-9×40 Riflescope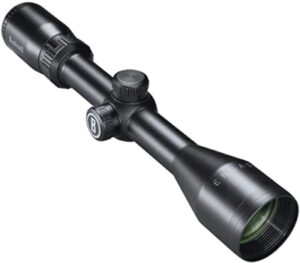 Another best budget rifle scope for hunting on our list is the Bushnell Engage 3-9×40 Riflescope. It is ideal for both close and medium range hunting in different environments from thick woodlands to open savannahs. You can also use it for tactical shooting and other applications no just hunting.
The scope comes with an illuminated multi-x reticle for easier target acquisition in dismal environments. The illuminated reticle has 6 brightness settings to ensure that it stands out even in the most adverse lighting environment. Besides that, the optic has an EXO barrier lens coating which repels water, oil, debris and dust for clear views all through.
With a weight of just 1 pound, you will find the scope light, portable and easy to shoot with. Construction-wise, Bushnell used heavy-duty aluminum to ensure that this rifle scope lasts for generation. It is rigid enough to take in any punishment and recoil from high caliber weapons.
In addition to everything else, this unit comes with fully multi-coated optics for enhanced dusk and dawn performance.
Features
3-9x adjustable magnification
EXO barrier protection
Multi-X reticle
Fully multi-coated optics
Robust aluminum body
Pros
Illuminated reticle with 6 brightness intensities
Lightweight design
Large field of vision
Amazing value for the price
Cons
Short eye relief at max power
6) Burris Fullfield II Hunting Scope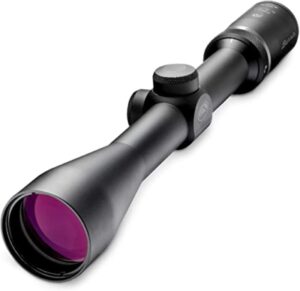 Hunting gets better with the Burris Fullfield II Hunting Scope by your side. In addition to being easy on the wallet, this hunting scope comes with nearly all the features you can ask for to take your hunting skills to the next big level.
The optical performance of this scope is exceptional. It uses high-grade optical glass which provides superb image brightness and crispness with lasting durability. Further, the optics have a Hi-Lume multi-coating which aids in true light transmission and glare elimination.
The scope is built for harsh field conditions. It has a durable and shockproof 1-piece outer tube which stands up to rough handling and vibrations of the heaviest recoiling weapons. Above all, it is nitrogen filled to prevent build up of fog on the lenses and is also waterproof so you can go hunting in any weather.
Features
1-inch body tube
3-9x zoom power
Waterproof, fog proof and shockproof
Mono-piece construction
Positive steel-on-steel adjustments
Hi-Lume multicoating
High grade optical glass
Pros
Excellent brightness and clarity
Lasting durability
Pinpoint accuracy
Forever warranty
Cons
7) Hawke Vantage IR Riflescope 3-9×40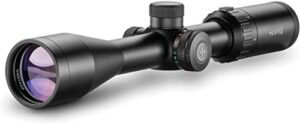 The Vantage IR 3-9×40 Riflescope is a multi-purpose optic ideal for short to long range hunting and shooting. It is built with a wide selection of good and shooter-friendly features that make it highly functional and reliable as well.
The scope brings to the table a partially illuminated crosshair reticle with 5 adjustable brightness intensities. This gives you the flexibility to acquire targets more accurately no matter the lighting conditions. Additionally, it has a 40mm aperture which maximizes low light performance while maintaining a low profile.
To complement the superb optical performance, the scope also comes with a durable aluminum housing that is sturdy enough to handle anything you subject it to. It also has a hard anodized finish that keeps it virtually rust proof and you can use it under any weather as it is fully waterproof and fog resistant.
Furthermore, the scope comes with covered turrets to prevent accidental adjustments in the field and a fast focus collar for rapid target acquisition. It is also lightweight for convenient carrying in the field.
Features
High torque zoom ring
1-inch mono tube chassis
Fast focus eye bell
Waterproof and fog proof
Hard anodized finish
Adjustable objective
Glass-etched reticle
Pros
Durable and reliable housing
Reticle illumination
Lightweight design
Clear optics
Excellent finish
Cons
Eye relief could be better
Read Also
Criteria for Choosing the Best Budget Rifle Scope for Hunting
Now let us take a look at some of the important factors you should consider when shopping for the best budget rifle scope for hunting.
Magnification
Magnification is an integral part of every rifle scope as it determines how far you will be able to take shots. In most cases, scopes with high magnification power tend to be more expensive so, you will need a moderate magnification power now that you are on a budget.
Factor in the distance you will hunting at and the hunting environment, then pick your most ideal magnification power. Typically, a variable power scope with 3-9x magnification will do.
Glass Quality
At a minimum, go for a scope that uses ED, HD or any other good quality glass. It will provide superb resolution, image quality and color accuracy.
Additionally, get a scope that has fully coated or multi-coated lenses. The coatings will maximize transmission of light for bright, clear and sharp image views. They will also protect the lenses from scratches.
Eye Relief
Aim for a scope that provides more than 3.5 inches of eye relief if you don't wear eye glasses and 4 inches or more if you put on eyeglasses. The longer the eye relief, the more comfortable the scope will be on your eye and the safer it will be to use with heavy recoiling rifles. It will protect your eye from getting hit by the recoiling rifle and also ensure that you acquire targets more rapidly.
Durability
Go for a scope that is made with high-quality materials. If you see that the scope is made with aircraft-quality aluminum, such a scope will be offer unmatched durability and reliability. Additionally, look for a scope that is designed to be shockproof as it will offer extra durability and protection.
If you are that avid hunter that doesn't let bad weather stop them from hitting the hunting field, get a scope that is weather resistant. A model that is nitrogen purged and O-ring sealed will offer reliable performance in any weather condition.
Weight
The other thing you should consider is the weight of the scope. It is best to invest in a lightweight scope especially if your hunting involves trekking for miles looking for game. It will be portable and easy to shoot with. Plus, light scopes tend to be more accurate than the big and bulky counterparts.
However, if your hunting involves looking for game from a stationary point, you don't have to worry so much about the weight.
Best Budget Rifle Scope for Hunting FAQs
How much should you spend on a rifle scope?
This will depend on what you are looking for in a scope as well as how much you are willing to pay. If money is not an object, you can spend as much as thousands of dollars and get a high-end optic. But if you are on a budget. you should look for a scope that meets both your needs in terms of budget and performance.
What size scope is best for hunting?
It depends. For all-round hunting, a scope with 3-9x size will suffice. It will be flexible enough to help you find targets at varying ranges while also providing a large field of view in different hunting environments. But for long range hunting, it is best to get a scope with 10x magnification or more.
Final Thoughts
Hopefully you have found this post enlightening and useful. Whether you are buying your first hunting scope or you are looking to get another newer model, all the scopes listed above are proof that you can get a quality scope without having to spend a fortune. Make a list of the features you need in your hunting scope, then use our guide to find a unit that works best for you.