If you are in the market for the best budget monocular, you have landed in the right place.
A monocular is a perfect equipment for avid outdoorsmen/women who are always on the move. The lightweight and compact design gives them an added advantage over binoculars and spotting scopes when it comes to portability. You can simply put them inside your pocket or backpack and carry them wherever you go.
Monocular are highly versatile. They are perfect for bird watching, hunting, hiking and other outdoor adventure activities. Besides, they are the perfect alternative for activities where binoculars, spotting scopes and telescopes are expensive, heavy and cumbersome.
If you are tired of looking for a quality yet budget-friendly monocular to no avail, we are here to help. In this post, we have a detailed review of the best budget monocular that are quality, versatile and reliable. They will help you get the most out of the activity you will be using them for while being easy on your eye and hands.  With that in mind, let's take a look.
Best Budget Monocular
1) Vortex Optics Solo Monocular 8×36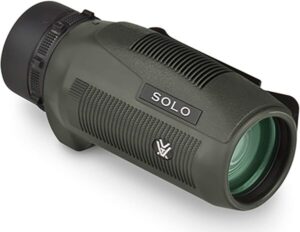 The 8×36 Solo Monocular from Vortex is one of the best budget monocular available on the market today. It's compact for easy holding, extremely lightweight and perfect for travel. Though compact, this product delivers high quality images and it's suitable for numerous outdoor applications. It boasts fully multi-coated lenses which provide quality views in all light conditions.
Like any other Vortex optic, the Solo is nitrogen purged and O-ring sealed to provide reliable fog proof and waterproof performance. Better yet, it has a rubber armored body which shields it from weather elements and gives you a comfortable non-slip grip even in wet conditions.
Featuring a wide field of view, this product ensures that you get a quick glimpse of your targets smoothly. A utility clip is included so you can attach it to your belt, clothing or equipment for easy and ready access. Above all, the monoculars has a 16.4-feet close focus for viewing up close targets and an adjustable eyecup which gives you a snug viewing experience with or without eyeglasses.
Features
8x magnification
4-feet close focus
Adjustable eyecup
Fully waterproof and fog proof
Rubber armored body
Compact and ultralight
Utility clip included
Wide field of view: 393feet at 1000 yards
Fully multi-coated lenses
Diamond-checkered grip
2) Opticron 30440 BGA 8×42 Monocular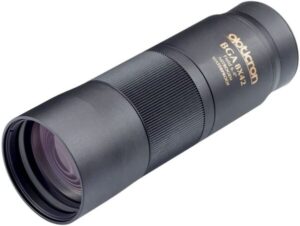 The Opticron BGA 8×42 Monocular offers the ultimate price/value ratio. It has a wide 42mm objective lens which gives your excellent low-light performance while remaining lightweight. This objective lens is fully multi-coated, so it works well in various light conditions.
This monocular boasts a long 19mm eye relief which makes it eyeglass-friendly. It also provides a wide field of view at 330 feet @ 1000 yards, so you'll have a smooth time identifying your targets and tracking mobile targets and flying birds.
When it comes to construction, this device is well-made to provide unbeatable durability. It has a tough all-metal construction with a ribbed focus wheel for simple one hand operation. It also has a thick rubber covering with finger grooves for a secure, non-slip grip even when your hand is wet, sweaty or you are wearing gloves. Above all, this compact and lightweight device is filled with nitrogen gas to provide waterproof and fog proof performance.
Features
Compact, lightweight roof prism design
Long 19mm eye relief
Wide field of view at 330 feet @ 1000 yards
Eyeglass-friendly
Simple one hand operation
Sturdy and hard-wearing all-metal construction
Fully multi-coated lenses
Built-in objective lens cap
Thick rubber covering with finger grooves
3) Roxant Wide View Monocular Telescope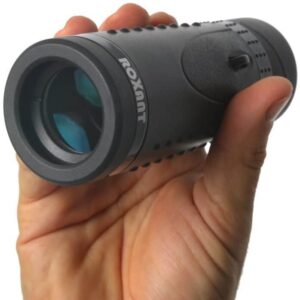 This monocular is compact, durable and highly versatile. It's designed to give you a wide and unobstructed field of view whether you are bird watching, hunting, boating, hiking, camping or travelling.
What makes it stand out among similar products is that it provides a wide range of features at an amazingly affordable price. For starters, it uses top-tier optical glass with premium fully multi-coated lens and BaK-4 prisms to provide bright and clear viewing. The ergonomic design makes it simple to use, while the molded grip gives you a comfortable, non-slip grip.
Weighing just 7.8 ounces, this monocular is light and very easy to carry. Also, it's solidly built to provide great strength and give you many years of field use. Lastly, it has a retractable eyecup for comfortable viewing with or without eyeglasses.
Features
Wide field of view
Retractable eyecup
Multipurpose application
6x magnification and 30mm objective lens
Fully multi-coated optics and BaK-4 prisms
Non-slip molded grip
Lightweight, compact and easy to carry
Solid build
4) Vortex Optics Solo R/T 8×36 Monocular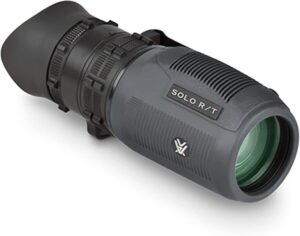 Vortex is well-known to produce high-quality yet affordable optics and the Solo R/T 8×36 Monocular is no different. Featuring 8x magnification and a 36mm objective lens, this monocular is a perfect choice for nature observation and range estimation. It's compact, lightweight, weatherproof and your best companion when outdoors.
Featuring fully multi-coated lenses with anti-reflective coatings, this device provides superb light gathering capability in low light conditions. The flared eyecup blocks external light and folds down to accommodate users with glasses. Moreover, the monocular has a large focus wheel for smooth operation and a utility clip that you can attach to your belt or vest for convenient access in the field. In addition to everything else, this device has a textured rubber armor which provides added durability and firm grip all the time.
Features
Waterproof and fog proof
Large focus wheel
Compact and lightweight design
Fully multi-coated lenses with anti-reflective coatings
Flared eyecup
Sharp reticle range
Generous eye relief
Utility clip for convenient access
Textured rubber armor
5) Hawke Endurance ED 8×42 Monocular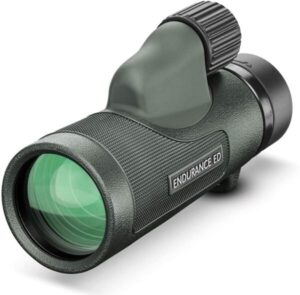 The Endurance ED 8×42 Monocular is another excellent monocular for the budget buyers. It boasts a 42mm objective lens that provides excellent low light performance and high resolution BaK-4 roof prisms that provide high-quality images. You can use it for hunting, bird watching and hiking among many other applications.
With 8x magnification, you can zoom in distant targets and enjoy every single detail. Besides that, this monoculars has a compact and ultralight design that makes it comfortable to hold and carry for long hours. It also has a durable rubber coated chassis which gives you an ergonomic, non-slip grip.
For added convenience, this monocular has a focus knob with 2 user-friendly turns and a twist-up eyecup with position stops for customized eye relief. Above all, its nitrogen sealed to prevent internal fogging and misting.
Features
Tripod thread
Lightweight magnesium alloy chassis
Hard-wearing rubber coating
Adjustable eyecup
Compact design which is ideal for travel
Fully multi-coated optics
Built-in lens cover
Phase corrected BaK-4 roof prisms
Fog proof construction
6) Bushnell Legend Ultra HD Monocular 10×42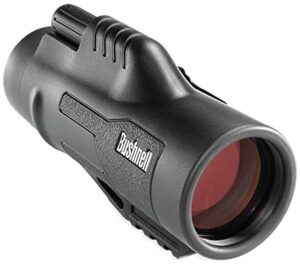 Bushnell has a longstanding reputation for making top-tier optics and selling them at an affordable price and the Legend Ultra HD Monocular 10×42 cements this reputation. This monocular comes with multiple features and specs to suit the needs of every outdoorsman out there.
To begin with, it features BaK-4 glass with ED prime elements to facilitate optimum light transmission for high-quality image production. It also features an ultra-wide broad band lens coating for bright images and a RainGuard HD coating that provides clear views even when it's raining or misty.
This high-quality monocular offers unbeatable durability. It utilizes the latest waterproof and fog-proof technology for total moisture and fog protection. This means that you can use it even in extreme weather conditions. Above all, it comes with comfortable twist-up eyecup and a carry clip for convenient access in the field.
Features
RainGuard HD coating
100% waterproof and fog proof
ED prime glass
Fully multi-coated optics and BaK-4 glass
Comfortable twist-up eyecup
Durable make
Built-in lens cover
Lightweight and portable
7) Celestron Nature DX 10×25 Monocular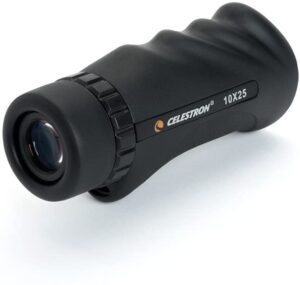 Next on our list is the Celestron Nature DX 10×25 Monocular. This device is not only ultra-compact, but also ultralight. It has a pocket-size design which makes it a valuable tool for outdoorsmen/women who are always on-the-go. It's very simple to use and great for any application.
The multi-coated optics facilitate optimum light transmission for bright, sharp and clear as crystal images. The soft rubber twisting eyecup is easy on your eyes and eye-glass friendly too. Moreover, this monocular is fully waterproof and fog-resistant for all-weather reliability.
Another good thing about this Celestron monocular is that it comes with a rubber armor which cushions it from shock, impacts and accidental falls. This armor has deep grooves which give you a firm and secure gripping surface regardless of the weather conditions. Overall, it's a fun monocular to have if you want to get closer to nature.
Features
Durable rubber armor
One hand focus
Waterproof and fog proof
Secure gripping surface
Comfortable, twisting eyecup
Lightweight and ultra-compact
Numerous accessories included
Multi-coated optics
8) Gosky Titan 12×50 High Power Prism Monocular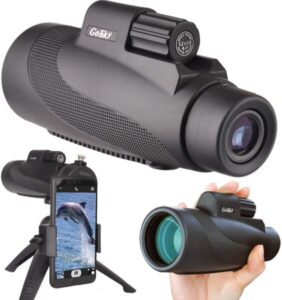 This is a high-power monocular suitable for sightseeing, hiking, mountain climbing, birding, watching wildlife and any other outdoor adventure activity. The smartphone capability, high 12x magnification and generous 50mm objective lens make it stand out among similar products within the same cost. It provides excellent images, high resolution and accurate color reproduction.
This monocular has a durable framework which stands up to the toughest weather conditions. The durable rubber armor provides a firm grip which ensures that no slippage occurs even in the wettest conditions. Also, it's fully waterproof, fog proof, dustproof and shockproof.
Another good thing about this monocular is the eyeglass-friendly design. The adjustable eyecup twists up and down for comfortable viewing with or without eyeglasses. You can also mount it on a tripod with a binocular adapter and enjoy hands-free viewing during long observations sessions.
Features
Smartphone compatibility
High 12x magnification
Solid framework
Shock-absorbing rubber armor with stripes
Adjustable eyecup
Fully waterproof, fog proof, dustproof
Smart phase correction BAK4 prism
Advanced FMC objective lens
Tripod adaptable
See Also
How to Choose the Best Budget Monocular
Whether you are buying your first monocular or looking to upgrade your old one, these are some of the important factors you should put in mind when shopping for the best budget monocular.
Size and Weight
With monoculars, size and weight go hand in hand. Though most monoculars are compact and light, both the size and weight are different from one model to the other. The best budget monocular should be compact and lightweight so you'll have an easy time carrying and using it. Go for a model that weighs around 8 ounces and measures  4-5" in height. This way you can slide it inside the pocket and take it anywhere you want.
Optical Quality
Even if you are on a budget, you shouldn't compromise on the optical quality. The best budget monocular provide excellent optical clarity and quality even in low light settings. Any monocular worth your hard-earned money should have nothing less than fully multi-coated optics. It should also have BaK-4 prisms.
Eye Relief
The other important feature you should consider is the eye relief. This is the maximum distance between your eye and the eyepiece. If you have to move the monocular around to see the entire field of view, then you may not have adequate eye relief. Most monocular have adjustable eyecups that allow you to customize your eye relief. Go for a model with at least 15mm eye relief if you don't wear glasses and 20mm and above if you wear glasses.
Magnification
Just like in scopes and binoculars, magnification power is important in monoculars. A model with a high magnification strength will help you see more and spot targets that are far away swiftly. However, high magnification makes the field of view smaller.
Most budget monoculars have 5-8x magnification. Such models provide a wider field of view which is essential for tracking moving objects. However, most 5x and 6x models have smaller apertures which reduces their ability to gather adequate light.
Objective Lens
The diameter of the objective lens in a monocular dictate how much light will be gathered. A monocular with a larger objective lens gathers more light and creates brighter and clearer images. However, larger optics are not only delicate, but also more expensive. For the budget buyers looking for best optical performance, choose a model with about 42mm objective lens or more.
Field of View
A wide field of view is very important if you want to get the most out of your outdoor expedition. It helps you to keep track of moving objects and gives you a wide view to spot different targets smoothly. Monoculars with smaller magnification power offer the largest field of view. Go for a model whose FOV falls between 250 feet and 350 feet at 1000 yards.
Durability
A durable monocular will give you many years of use. Get a model that's sturdily built and capable of standing up to anything thrown at it. For added durability, make sure that the monocular has protective and shock-absorbing rubber armor. If you'll be using the monocular is wet conditions, make sure that it's fully weatherproof.
FAQs
What's the best magnification for a monocular?
The ideal magnification depends on what you intend to use the monocular for. In most cases, models with 8x and 10x magnification are highly versatile and perfect for most outdoor applications.
How do I choose a good monocular?
The first thing to do is to choose a model that provides high-quality images even in low light situations. It should be simple to operate with one hand and easy to carry and hold for long hours. Also make sure that you know what you needs are and get a model that perfectly meets those needs.
Which is better, binoculars or monoculars?
In most cases, binoculars are always better because they cause less eye strain and fatigue. But if portability and single-hand operation is what you are looking for, a monocular is your best option.
How far can you see with a monocular?
This depends on the type of monocular that you are using. With a high-powered model, you can have clear views as far as 1000 meters away even in low light conditions. But you need the best of the best optics to see that far.
Conclusion
Hopefully, this article has provided you with some insight into the best budget monocular. Monocular are compact but mighty. Compared with other optics, they offer unparalleled convenience. Besides, they are extremely helpful in numerous situations and great all-purpose optics for a wide range of outdoor adventure activities.