Are you in the market for the best scope for M4? If so, you have come to the right place. This post sheds light on the best scopes for the popular M4 rifle that are available on the market currently.
When it comes to hunting and shooting, the M4 is one of the most popular firearms available out there. It is popularly known for its ease of use and great performance particularly in the hunting grounds. Thanks to its renowned reputation, it has become the go-to rifle for hunters looking to up their game in the hunting field.
If you use the M4 for whatever application, a good scope is a valuable tool to have. It is key to offering greater accuracy and maximizing your overall performance. Additionally, a scope can help you find targets swiftly especially at extended ranges and ensure that you leave nothing undiscovered.
However, finding the best scope for M4 is not a walk in the park. With a sea of options available out there,  the selection process is somewhat unpleasant and daunting especially for the first-time buyers. To help, we have done a review of the top 7 best scopes that pair well with this versatile and dependable firearm. We also have an additional buying guide to help you choose the best model for your needs.
Without wasting any more time, let's get started.
7 Best Scope for M4
Here are the best scopes for M4 rifle available on the market today.
1) Trijicon ACOG 4×32 USMC M4 Rifle Scope
First on our list is the Trijicon ACOG 4×32 USMC M4 Rifle Scope. This rifle scope is built to provide quick target acquisition for close combat ranges and more accurate shot placement for targets at extended ranges.
The scope is made to last. It is built from forged aluminum alloy housing which provides a nearly indestructible optic. Additionally, it is shockproof to weather any impact or vibrations from high recoil for greater durability.
Another feature that makes the ACOG 4×32 USMC stand out is the superior image clarity it provides. Built with broadband anti-reflective lens coatings, it offers excellent light gathering abilities for bright, detailed and crisp image views. Further, it comes with Trijicon fiber optics that illuminate the reticle based on the available light.
The scope also features a decent field of view for faster target acquisition and a lightweight design of just 15.1oz so it will be easy to carry wherever you go. Best of all, it is fully fog proof and waterproof for all-weather reliability.
Features
4x fixed magnification
Multi-coated lenses
Matte finish
Fog proof and shockproof construction
Illuminated reticle
Military grade aluminum alloy housing
Pros
Battery free illumination
Great low light performance
Lightweight design
Crystal clear optics
Cons
2) Vortex StrikeFire II Scope w/ 4 MOA Dot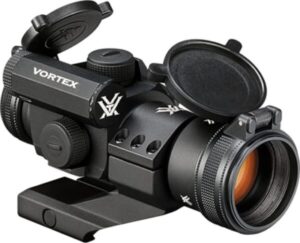 Vortex makes a multitude of high-quality scopes and this is clear in the StrikeFire II Scope. Mounting this ultra-versatile optic on your M4 rifle will guarantee split-second target acquisition and greater accuracy as well.
It features unlimited eye relief that helps with faster target acquisition as well as snug observation with or without eyeglasses. Furthermore, the scope employs fully multi-coated optics that yield a clear field of view, even when you are hunting in low light conditions. It also has a 4 MOA dot with 10 intensity levels for day and night operation.
Like any other Vortex optic, the StrikeFire II Scope is built to weather anything nature throws at it. It has a 30mm aluminum alloy chassis that is recoil proof and shockproof for greater durability. Additionally, it is waterproof, dust proof and fog-free for use under any environment.
Features
Crisp clear 4 MOA dot
Unlimited eye relief
Fully multi-coated optics
Water, fog and shock proof construction
1x fixed magnification
30mm objective lens
Aluminum alloy chassis
Pros
Parallax free
Night vision compatible
Lightweight and compact design
Great value for the price
Great glass quality
Cons
The mount is confusing and difficult to use
3) Trijicon 4×32 ACOG Scope M4A1 Rifle Scope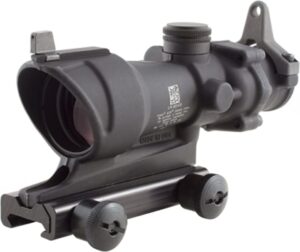 If you are looking for a scope that matches the maneuverability and versatility of your M4, this is it. The Trijicon 4×32 ACOG Scope is built with nearly every feature that you need to find targets swiftly and place the shot accurately.
This rifle scope is ideal for shooting and hunting among several moving targets. It will help you identify the target accurately and now where to place the shot. Besides, it has a Tritium reticle illumination that enhances visibility in various lighting conditions and a decent visual field that makes target spotting a walk in the park. The scope also features 4x fixed magnification that is ideal for close and medium range hunting.
In terms of construction, the body of this scope is crafted from forged aluminum that maximizes its durability while remaining lightweight. Further, the robust housing is rigid enough to stand up to heavy recoil, shock and impacts. It is also designed to be operable in a wide range of temperatures and with the strong seals, you can use it in any weather condition.
To top it all, the scope comes with a sighting hole that allows easy addition of an iron sight without removing it from the rifle.
Features
Forged aluminum housing
4x fixed magnification
Fog proof, shockproof and water proof
Internally adjustable
BDC reticle
Tritium illumination
Pros
Outstanding optics clarity
Ultra-robust and durable
Compact, light and easy to use
The reticle is bright and easy to use
Excellent low light performance
Cons
Poor eye relief
Expensive
4) NightForce 2.5-10x42mm NXS Compact Rifle Scope

Nightforce is a leading brand in the optics industry. It is known for its high-end scopes and the 2.5-10x42mm NXS Compact Rifle Scope is not any different. This rifle scope harbors a multitude of high-end features that will help push your M4 rifle to full potential.
Featuring a variable 2.5-10x zoom power, the scope offers both close and long range versatility. It is also equipped with a large 42mm to complement the versatile magnification power and an adjustable parallax that ensures parallax-free viewing from 25 yards to infinity.
Furthermore, this compact rifle scope is built like a tank. It has a robust housing that is sturdy enough to withstand any rough handling. Besides that, it has a matte finish to help hide your position when hunting under broad sunlight and a power throw lever that allows for instant magnification adjustments.
The scope is also available in multiple reticle options with adjustable brightness settings to ensure optimal visibility even in inadequate light settings.
Features
5-10x magnification
Second focal plane reticle
DigIllum reticle illumination
30mm main tube
Side parallax adjustment
Power throw lever
42mm objective
Matte finish
Pros
Night vision compatible settings
High-quality workmanship
Quality optics
Solid adjustment clicks
Cons
5) Vortex Razor Gen II-E 1-6x24mm Rifle Scope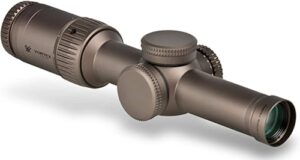 Another best scope for M4 on our list is the Razor Gen II-E 1-6x24mm Rifle Scope. This scope is immensely popular among hunters and shooters thanks to the exceptional accuracy and reliable performance it yields.
It employs high-quality optics which provide a level of clarity, color fidelity and resolution that is second to none. Moreover, it possesses an LED illuminated second focal plane reticle that remains visible under any light settings. You can also adjust its brightness to 11 different settings to match the situation at hand and maximize your shooting accuracy.
Following its high-quality craftmanship, the scope provides dependable performance no matter the hunting condition. It is made of top-notch materials that optimize durability, even in the most unforgiving outdoor conditions. Furthermore, the external surface is coated with a  hard anodized finish to ensure that it stays rust proof and scratch-free.
Well, that's not all. The Razor Gen II-E 1-6x24mm Rifle Scope is rated to be fully waterproof and fog proof for use under any weather. It also comes with Armortek coating that shield the exterior lens from scratches, dust and dirt.
Other essential features included are a fast focus eyepiece, generous eye relief and large diameter turrets.
Features
HD lens elements
30mm single-piece tube
Large diameter turrets
Fast focus eyepiece
Water, fog and shock proof
Hard anodized finish
Armortek lens coating
Second focal plane reticle
XR plus fully multi-coated lenses
Pros
Capped turrets
Clear and high-quality optics
Long eye relief
Versatile illumination
Lightweight
Cons
Costly for the budget buyer
6) Leupold VX-Freedom 1.5-4x20mm Rifle Scope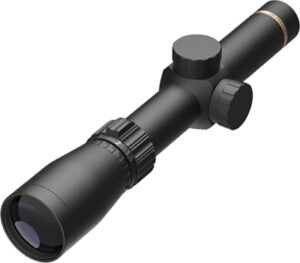 The Leupold VX-Freedom 1.5-4x20mm is the best scope for M4 for the budget buyers. It offers a wide range of good quality and reliable features at an amazingly affordable price point.
This scope will last for years thanks to the robust housing. It has a ruggedized 6061-T6 aluminum housing that is tough enough to weather rough outdoor handling. It also possesses scratch resistant lenses that provide additional protection from dust and scuffs, and a waterproof and fog-free design for use even in bad weather conditions.
Another admirable feature of this scope is its low light performance. It employs a Twilight Light Management System that offers unmatched image brightness and clarity even in the poor lighting conditions. It also features a finger click adjustment system and an ultra-lightweight design to ensure that you have a comfortable time carrying it in the field.
Features
Scratch resistant lenses
Waterproof and fog proof
One-inch main tube
Twilight Light Management System
Versatile 3:1 zoom ratio
1/4 MOA finger click dial system
Second focal plane reticle
Pros
Easy on the wallet
Ultra-lightweight design
Comfortable eye relief
Good quality glass
Cons
Non-illuminated reticle
It is a 1-inch tube scope
7) NightForce NX8 1-8×24 F1 Scope w/ZeroStop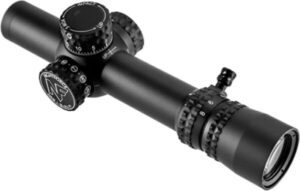 Lastly, we have the NightForce NX8 1-8×24 F1 Scope. This rifle scope is designed to provide outstanding optical performance, accuracy and reliability even in the most demanding conditions in any hunting ground or shooting range.
It features a variable magnification that ranges from 1x to 8x. At close quarters, it provides a wide visual field that makes target spotting a breeze. You can also ramp it up to 8x for more rapid target acquisition at extended ranges.
Furthermore, the scope employs premium ED glass elements that generate exceptional image detail and clarity from dawn till dusk. On top of that, the lens feature a broadband multi-coating that enhance light transmission in low light settings for better target identification and acquisition.
Construction-wise, the scope is built from premium quality materials that offer superior strength and durability. It also has a compact and lightweight design so it won't interfere with your movement in any way.
Features
Built-in power throw lever
ZeroStop function
First focal plane reticle
1-8x magnification range
Waterproof construction
30mm body tube
ED glass elements
Broadband fully multi-coated lenses
Pros
Ruggedized and reliable housing
Compact and lightweight
Crystal clear optics
Reticle illumination
Good eye relief
Cons
Read Also
Criteria for Choosing the Best Scope for M4
Regardless of whether you are purchasing the first M4 scope or you need to get a newer optic, below are some of the key features you should take into consideration before purchasing an M4 scope.
Magnification
Choosing a scope with the right magnification can help you push your M4 to its full potential. Generally, your intended usage and how far you will be shooting at determines the most appropriate scope magnification.
A fixed power scope is more suitable for taking shots at constant ranges in close and medium quarters. On the other hand, it is best to get a  variable power scope so you have the flexibility to take shots at different ranges. Typically, any model with not more than 10x magnification power will do.
Type of Scope
Given that the M4 is one of the most versatile rifles out there, there are plenty of scopes that you can pair it with and achieve or exceed your expectations.
Generally, you can get an LPVO, red dot sight, variable power scope or thermal scope. It all trickles down to the intended usage and your preference.
Lens Coating
Get a scope that employs fully multi-coated lenses or fully-coated lenses. Such a scope will enhance light transfer and minimize glare and loss of light via reflection. Glare reduction makes aiming simpler when you are shooting in excess light settings. Additionally, optimal light transfer guarantees bright and clear image views even in low light settings.
Weatherproofing
No matter the application that you will be using the M4 for, it is best to get a scope that can handle rain, fog, snow, mist and any other weather element. The scope should be purged with either argon or nitrogen to counter fog build up internally and externally. It should also be sealed to keep moisture, dust, dirt and any other debris from entering the optics.
Eye Relief
Ideally, the scope you get should have an eye relief that is not less than 3.5 inches. The M4 kicks hard when fired and can result to eye injury  if the scope you are using has a poor eye relief. A scope with a generous eye relief also aids in faster target acquisition and maximizes eye comfort with or without eyeglasses.
Durability
The M4 is an ultra-versatile rifle that performs in virtually any condition. To achieve its fully potential, you will need a scope that is well built to weather anything you and nature subject it to.
With so many options out there, go for a model that is made from premium grade materials such as aluminum. The scope you get should also be shockproof to withstand rough handling.
Weight
Weight is another important factor that you should take into account. Given then the M4 emits heavy recoil, it is best to get a scope with an ultra-lightweight design. It will disperse the recoil effectively and optimize durability. A light scope is also easy to carry, simpler to mount and convenient to shoot with.
Best Scope for M4 FAQs
What optics does the military use with the M4?
The US military uses the Trijicon ACOG optics with the M4. These optics are designed to offer rapid target acquisition and greater shooting accuracy which is what the military look for the most in an optic.
What is the best scope for an M4?
The best scope for an M4 is one that meets your needs and hunting/shooting needs and habits. Given the plethora of options available out there, it is hard to say that there is one scope fits all since our needs are different.
Final Thoughts
Finding the right scope for your M4 can help you make the most out of it whether you are in the military or you are civilian shooter. Knowing what features you need the scope to have will make your selection process less taxing and more pleasant. No matter what your needs are, there is an option out there waiting for you.