If you like to spend quality time outdoors, a spotting scope is an indispensable item to have. The best spotting scopes under $200 may lack the bell and whistles of the high end models, but are still functional. They offer higher magnification than binoculars, monocular and rifle scopes which makes them more better particularly when you are observing targets at long distances.
However, finding the best spotting scopes is no easy feat especially when you are on a budget. Spotting scopes are generally expensive. But with the modern advancements happening in the optics industry, today you can find a quality yet budget-friendly model if you take your time to shop around.
If you are looking for the best spotting scope under $200, you have come to the right place. In this article, we have reviewed 7 of the most cost-effective and top-rated spotting scopes which fall under the $200 price category. Without wasting any more time, let's take a look.
Best Spotting Scopes Under $200
1) Gosky 20-60 X 80 Porro Prism Spotting Scope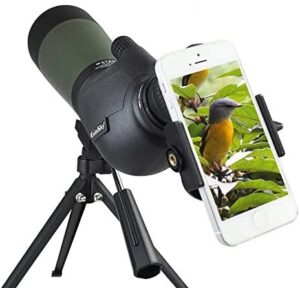 This Gosky Porro Prism Spotting Scope is one of the best spotting scopes under $200 available in the market currently. It is made with versatility in mind and you can use it for bird watching, target shooting, archery and other outdoor activities.
Weighing just 800 grams, the spotting scope is amazingly light and portable. It has a heavy duty Magnalium framework which enhances its durability and a shock-absorbing rubber armor for maximum protection. It is also sealed to prevent entry of water, dust and debris that can damage the optics.
Moreover, the scope has a broad magnification which spans from 20x to 60x. This makes it ideal for viewing objects even at extreme long ranges. It also features a dynamic lens focusing system for easy zooming in on target and fully multi-coated 80mm green film objective lens which increases light transmission to generate brighter, clearer and sharp images. This spotting scope also comes with a metal tablet tripod and a Digiscoping adapter that you can use to capture the beauty of the distant world.
Features
Waterproof design
Rugged rubber armor
Variable 20-60x magnification
Fully multi-coated objective lens
Durable Magnalium framework
Dynamic lens focusing system
Digiscoping adapter included
Central focus system
Ultralightweight design
Sunshade and tripod mount included
2) Celestron – Ultima 80 Angled Spotting Scope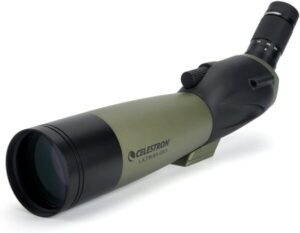 When it comes to versatility, it is hard to beat the Ultima 80 Angled Spotting Scope from Celestron. This all-round angled spotting scope is perfect for nature observation, hunting, target shooting and long distance viewing among many more.
It features a comfortable 45° viewing angle which is also ideal for group viewing. The zoom eyepiece included helps you zero in distant targets for detailed views and with the large focus dial, you will be able to bring the subject into tack-sharp focus before it disappears. Besides, the scope features multi-coated optics to improve the color and contrast of the images you will be viewing while maximizing brightness even during low lighting conditions.
The Ultima 80 also features a sleek design and waterproof construction so you can use it confidently even when it is raining. It is fairly lightweight for convenient portability and has a removable eyecup for comfortable observation. You can also use the scope for Digiscoping if you like to capture pictures of the objects you view.
Features
Sharp zoom eyepiece function
Integrated T-adapter for Digiscoping
Waterproof construction
Lightweight design
Comfortable 45° viewing angle
Multi-coated optics
Rugged armored exterior
20-60x variable magnification
Removable rubber eyecup
3) Barska 30-90×90 Waterproof Colorado Spotter Scope and Tripod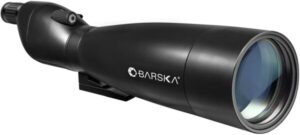 This Barska Colorado Spotter Scope has virtually everything you need for long range observation. It features a broad magnification for general observation at varying ranges and a large 90mm objective lens which ensures that you get high-quality image views at every magnification.
What makes this spotting scope stand out is that it is built with ease of use in mind. First, it features a lightweight built for easy carrying in the field. It is also compact in size for convenient packability. Moreover, it has a long eye relief that allows for snug viewing with and without glasses. It also boasts fully-coated optics which provide excellent image clarity and performance even at longer distances and a collapsible sunshade for glare protection.
With this spotting scope, you don't have to incur extra costs buying a tripod separately. It comes with a fully adjustable tripod which offers a solid viewing platform. Above all, the scope has an easy-to-access side-focusing knob to help you focus in on targets for a clearer look.
Features
Wide 30-90x magnification
Compact and portable design
Fully coated optics
Lightweight build
Side-focusing knob
Extendable and collapsible sunshade
Straight eyepiece design
Tabletop tripod included
4) ROXANT Blackbird Spotting Scope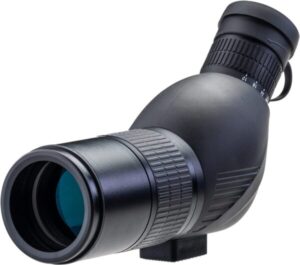 The ROXANT Blackbird Compact Spotting Scope is another high-quality spotting scope ideal for the budget buyers. Besides being cost-effective, this spotting scope is highly versatile and well-suited for multiple applications such as hunting, watching sports and birding in addition to wildlife viewing and tactical shooting.
It features a compact and lightweight design which enhances its ease of use as well as portability. Furthermore, it has a 45-degree angled eyepiece which helps reduce neck and eye strain during long glassing sessions. The included eyepiece is designed to extend and retract to provide a comfortable viewing experience for all users, with or without eyeglasses. This spotting scope also comes with a tripod and a handle which fold into a small size for convenient packing.
And that's not all. This optic had a wide magnification which spans from 12x to 36x. With the variable zoom range, the scope is ideal for a wide range of viewing scenarios. It also features fully multi-coated all-glass lens which optimize transmission of light for bright and crisp image views. It also has an extendable sunshade for glare protection, a textured focus wheel on the main barrel and a shock-absorbing rubber armor which provides an ergonomic, non-slip grip even in wet conditions.
Features
45-degree angled eyepiece
Premium BAK4 prism
Lightweight and compact design
Non-slip armored housing
Extendable sunshade
Textured focus wheel
Variable 12-36x magnification power
Fully multi-coated all-glass lens
Adjustable eyepiece
5) Athlon Optics Talos 20-60x80mm Spotting Scope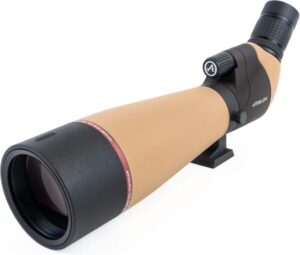 This Athlon Talos Spotting Scope is designed with good optical quality to give you exceptional optical performance. It has silver-coated K9 prism and fully multi-coated lenses which provide excellent image clarity and brightness even in low light settings.
This spotting scope is built ready for rugged outdoor use. It has a robust aluminum housing which is ultra-durable yet lightweight. It is also fully waterproof to offer reliable performance in harsh weather conditions and nitrogen filled to promote better thermal stability and keep the lenses fog free.
Moreover, this product has an angled eyepiece design and rotating ring which you can use to rotate it around the tripod until you achieve the most comfortable and convenient viewing angle. Above all, the scope comes with table-top tripod for stable viewing and large soft case which allows you to carry it and the tripod in one compact package.
Features
Angled eyepiece
Large 80mm objective lens
Waterproof and fog proof
Silver-coated K9 prism
Lightweight design
Durable aluminum construction
Fully multi-coated optics
Rotating ring
Table-top tripod and soft case included
6) Landove HD 20-60×80 Spotting Scope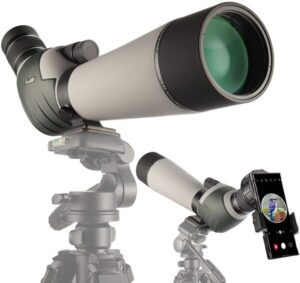 As one of the best spotting scopes under $200, the Landove HD 20-60×80 has virtually everything you need for long range viewing. It has a big 80mm objective lens, a wide zoom power and fully multi-coated optics which provide brilliant, crisp and sharp images at every magnification setting even in low light conditions.
This spotting scope has a 45-degree angled eyepiece which allows for comfortable observation especially during long viewing sessions. It also has a dynamic dual focus system for precision focus and a telescopic sunshade which reduces glare and protects the objective lens from accidental damage, scratches and dirt.
Moreover, the scope is well-made using high quality materials to stand the toughest environments. To add on that, it features a rugged rubber outer layer which is slip-resistant, shockproof and easy to grip. It is also fully waterproof for all weather reliability and filled with nitrogen to prevent lens from fogging on the inside.
To top it all, this spotting scope comes a kit. Inside this kit, you will find a smartphone Digiscope adapter, table top metal tripod, lens cover and lens cap.
Features
Large 80mm objective lens
Waterproof and fog proof
Coaxial coarse and fine focus dials
Fully multi-coated optics
High-quality construction
Non-slip grip
Shock-absorbing rubber armor
Telescopic sunshade
Angled eyepiece
BaK4 Porro Prism
New design smartphone adapter
7) SVOBONY SV13 Spotting Scope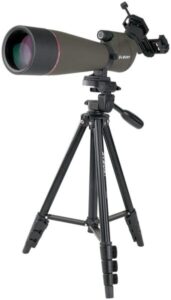 This SVOBONY SV13 Spotting Scope is not only cost effective but also versatile. It is perfect for hunting, bird watching, safari, tactical shooting and many more. It has a manageable weight which makes it convenient for you to carry it anywhere you desire.
This spotting scope is durable and weather resistant. It is made with high-quality materials which optimize its durability. It also features a IPX7 waterproof design which delivers the living waterproof function and withstands anything Mother Nature throws at it.
Furthermore, the scope has a 45-degree angled eyepiece. This makes it ideal for group sharing. It also has fully multi-coated lens which guarantees superior light transmission for bright and crisp image views even during poor light settings. Better yet, it comes with a retractable sunshade for glare protection and a twist-up eye cup which provides a ample eye relief for comfortable glassing with and without glasses.
Last but not least, this product comes with an adjustable tripod so you don't have to buy a tripod separately. The tripod folds into a small size for convenient portability.
Features
45-degree angled eyepiece
Smooth focus knobs
Fully multi-coated lens
IPX7 waterproof and fog proof
Extendable sunshade
Generous eye relief
Twist up eye cup
Superior high refractive index prism
Large 80mm objective lens
See Also
Factors to Consider when Choosing the Best Spotting Scopes Under $200
Design
Spotting scopes come in two designs, straight and angled. Spotting scopes with straight eyepiece design are used mainly for hunting as they offer faster target acquisition. They are also simpler to use so they are ideal for beginners.
On the other hand, spotting scopes with angled eyepiece designs are more versatile than the straight counterparts. Additionally, they are comfortable to use during lengthy glassing sessions. They are also ideal for group sharing where the tripod height can be set at a height that is comfortable for users of different height.
Magnification
Magnification is the other important factor to consider. Under this price range, it is best to get a unit that has a lower magnification power of at least 40x. This will be more than enough for viewing objects even at extreme long ranges. Also make sure that the scope has quality optics so it will provide clean and clear images even with the high magnification.
Lens Coating
Spotting scopes lens can be fully-coated, fully multi-coated or multi-coated. The importance of lens coatings is to maximize transmission of light in poor light settings and reduce the amount of light reflection when you are using the scope in broad daylight. Go for a spotting scope that either has fully multi-coated or full-coated lens. With such a scope, you are guaranteed of bright, sharp and vivid image views even in dismal lighting environments.
Size and Weight
When shopping for the best spotting scopes under $200, be activity specific. This will help you determine the ideal spotting scope size and weight. If you will be trekking for long distances or you plan to use your scope hand-held, don't go heavy weight. Instead, look for a unit that is compact and lightweight for easy portability. You can afford to get a heavy and large spotting scope if you will be viewing your targets from a stationary point and using a tripod.
Durability
The other thing you should consider is the durability of the spotting scope. Even if the spotting scope is cheap, it should not compromise on its construction quality. Try to look for a model that is crafted with high-quality materials such as aluminum or magnesium. Such spotting scopes are both durable and lightweight. Also ensure that the spotting scope you decide to buy has a rubber armor for added protection. A good spotting scope under $200 should also be fully waterproof, fog proof and shockproof to stands up to anything Mother Nature throws at it.
Best Spotting Scopes Under $200 FAQs
Are spotting scopes under $200 worth it?
Yes. Even though this spotting scopes have a lower cost, they do not compromise on quality. They are reliable, functional and ideal for various outdoor applications.
How much spotting scope magnification do I need?
Your ideal spotting scope magnification will largely depend on what you intend to use the spotting scope for and how much distance you intend to cover. The longer the distance, the higher the magnification you require. In most cases, a spotting scope with 20-60x will cover varying ranges and be ideal for different applications.
What do numbers mean on a spotting scope?
Spotting scopes have three numbers which represent two different things. The first two numbers represent the magnification power while the last and third number indicates the size of the objective lens. For example, a 20-60×80 scope means that it has a variable magnification power which spans from 20x to 60x and an 80mm objective lens.
Conclusion
We do hope that you have found the information in this article enlightening and you are now able to make a well-informed buying decision. As you work towards finding the best possible spotting scope, be activity specific then focus on getting a model that suits both your budget and your needs.