When it comes to coyote hunting, the optic you are using can either make or break your hunting trip. Investing in a quality optic will provide a bright and clear vision while in the hunting field which translates to a more successful hunting trip.
Today, binoculars make a valuable asset for coyote hunting. They are simple to use and always ready for quick deployment. Modern binoculars also offer excellent low light performance which makes them really helpful when hunting in poor light settings of dawn and dusk.
However, picking the best binoculars for coyote hunting is not an easy task. There are so many models out there that make the selection process a little overwhelming.
7 Best Binoculars for Coyote Hunting
In this post, we have the ultimate guide to some of the top-performing and top-rated binoculars that can help you locate and track coyotes with ease in virtually any hunting environment. Without further ado, let's jump right in.
#1) Steiner Predator Series Hunting Binoculars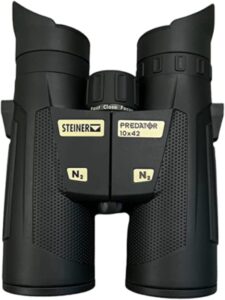 The Steiner 10×42 Predator AF binoculars are some of the best binoculars for coyote hunting that offer the best value for money. The binocular is built with a plethora of high-quality and impressive features that make it suitable for hunting under virtually any environment.
This set of top-performing binoculars will help keep prey in focus at any distance. It possesses an advanced optical design that yields bright and clear as crystal sight pictures from dawn till dusk. It also comes with advanced CAT lenses that reveal every detail of targets even when they are hidden in cover or shadow.
Another feature that makes the binoculars stand out is the rugged housing. It features a bombproof Makrolon housing that is waterproof and fog proof for all-weather use. It also has a laser-textured design that provides a secure grip in all conditions and a military grade Porro prism that enhances strength and rigidity.
For additional convenience, the binoculars have a lightweight design for mobility convenience and a fast close focus that maintains sharp image focus without the need to over rotate the focus wheel.
Features
Wheel-free open bridge design
Ergonomic silicone cups
Waterproof and fog proof
CAT game sensing lens coatings
Porro prism design
10x magnification
Fast-close-focus central focusing wheel
Pros
Lightweight design
Large field of view
German quality
Ergonomic, non-slip grip
Great value for money
Cons
It might take some time to get used to it
#2) Vortex Optics Crossfire Roof Prism Binoculars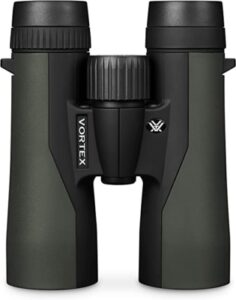 As one of the leading brands in the optics industry, Vortex offers a multitude of high-quality binoculars and the Crossfire 10×50 Roof Prism Binoculars are not any different. Made with hunters in mind, the optic delivers superb performance in the hunting field no matter the situation.
Featuring a high 10x magnification, the binoculars deliver rich detail of targets even at lengthy distances. It also offers a wide and enhanced depth of field that makes target finding a snap regardless of the environment.
Whether you like to hunt coyotes in broad daylight or in low light settings when they are more active, this set of binoculars got you covered. It has a large 50mm objective lens that maximizes performance in low light settings. Additionally, it boasts fully multi-coated lenses which promote excellent light transmission for impressively bright and clear image views.
Moreover, the binoculars feature a right eye diopter which offers precise functionality and twist-up eyecups that guarantee comfortable viewing with or without eyeglasses. It also has a lightweight design for convenient carrying in the hunting grounds.
To add on everything else, this product has a waterproof and fog proof design for use in all weather conditions, and a rubber armoring that provides a durable, anti-slip grip even when your hands are wet or sweaty.
Features
Fully multi-coated lenses
Smooth, center focus wheel
Durable rubber armoring
Waterproof and fog proof barrels
10x magnification
Right eye diopter
Pros
Lightweight and easy to handle
Wide field of view
Great low light performance
Impressively bright and clear views
Cons
Harness included can be confusing
#3) Nikon 7576 Monarch 5 8×42 Binoculars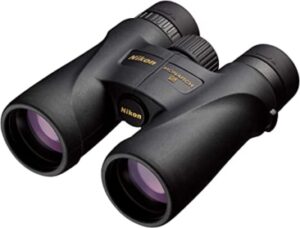 The Monarch 5 8×42 Binoculars is a lightweight optic that will elevate how you hunt elk and make you a better hunter. It offers unmatched performance in all light settings from dawn till dusk and reliable durability as well.
It has a powerful 8x optical power that brings the distant targets closer for accurate identification. It also yields a wide visual field which is helpful with quick target location and easy monitoring of fast moving game. Moreover, the binoculars boast Nikon's high eye-point design which offers a broad and comfortable field of view for all users, with and without glasses.
This set of binoculars is designed to provide excellent optical clarity in nearly any lighting condition. It has fully multi-coated eco-glass lenses that ensure a more natural and clearer view from dawn till dusk. Better yet, it uses dielectric high-reflective multi-layer prism coatings which generate color accurate image views across the whole light spectrum.
Construction-wise, it has turn-and-slide rubber eyecups that offer optimal eye comfort and a simple and intuitive smooth central focus knob. It also comes with a rubber armored body which provides a secure, anti-slip grip under any condition and a waterproof and fog proof construction that guarantee reliable performance under any weather condition.
Features
Extra-low dispersion glass
Waterproof and fog proof design
Turn and slide rubber eyecups
Fully multi-coated eco-glass lenses
High-reflective multi-layer prism coatings
Rugged rubber armored body
Pros
Wide and clear field of view
Great low light performance
Smooth focus
Lightweight design
Great value for money
Cons
#4) Leica 10×42 Noctivid Binoculars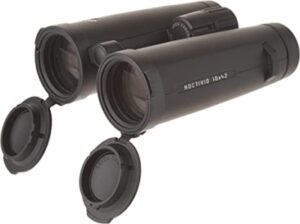 To take your coyote hunting skills to the next big level, you should equip yourself with a high-end optic like the Leica 10×42 Noctivid Binoculars. It provides high-contrast, brilliant and tack-sharp image views in nearly all lighting and weather conditions.
This pair of binoculars is made with large oculars and a long eye relief that maximizes user comfort with or without eye glasses. Furthermore, the lens elements are positioned with absolute precision to ensure that the quality of images generated is not degraded by light. It also has a focus wheel that is centrally placed to ensure ease of access regardless of whether you are left or right-handed.
Another outstanding feature about this unit is the robust housing. You can subject it to the harshest hunting conditions and it will still perform. It is also waterproof to 5m and weather resistant as well for use even in harsh weather conditions.
Above all, the binocular has an anti-slip rubber armoring which provides a comfortable grip and greater protection from nature elements.
Features
P40 phase corrected roof prism
Schott HT glass
Waterproof and weatherproof design
Central focusing system
Non-slip rubber armoring
Pros
Fast and precise focusing
Crystal clear views in all weather conditions
Long eye relief
Perfect color brightness and contrast
Great durability
Cons
Big budget
Slightly heavy
#5) Swarovski EL Binocular 10×42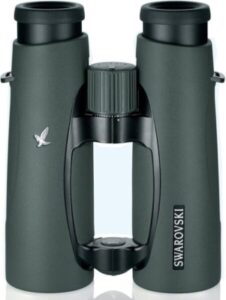 Next on our list is the Swarovski EL 10×42 Binocular. This is a high-end optic that is ideal for hunting coyotes and any other game in almost any situation. Though its budget is quite big, the features it possess make it worth every penny.
Firstly, this optic is built to offer unmatched optical clarity. It has a nonstick Swaroclean coating on the exterior surface of the lens which makes cleaning the lens a breeze. It also repels dirt and dust to provide clear views all through. Moreover, the 42mm objective lens optimizes low light performance, while the premium diamond-bright optics generate high-quality image views under any lighting condition.
The binoculars are built ready for rugged outdoor use. They are rigid enough to tackle any hunting environment and perform reliably. They are also water submersible to 13feet so you can hunt coyotes with confident even when it is raining.
Other noteworthy features included are a wraparound grip that allows for snug and secure one hand operation and a large grooved focusing wheel.
Features
10x magnification
Waterproof construction
Large grooved focusing wheel
Nonstick Swaroclean exterior lens coating
Large 42mm aperture
Premium diamond-bright optic
Pros
Wide field of view
Easy one-hand operation
Good for hunting in low light environments
Edge to edge brightness, clarity and resolution
Cons
#6) Maven C1 42mm ED Binoculars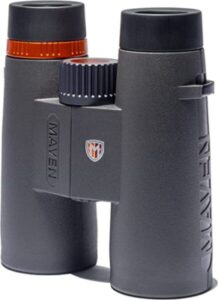 Another pair of the best binoculars for coyote hunting on our list is the Maven C1 ED Binoculars. Offered in 8x, 10x and 12x magnification, this unit offers dependable and powerful performance in various hunting environments.
With a mere weight of about 24oz, this optic is one of the lightest mid-sized binoculars in our list. Thanks to the high-quality optics, it generates extremely clear and bright views of targets even in low light settings to ensure that you place the shot accurately. The ED lens also boasts a scratch resistant exterior coating to ensure unimpeded field use.
Best of all, these ultra-versatile mid-sized binoculars are fully waterproof and fog proof to be operable in both good and bad weather conditions.
Features
Extra-low dispersion glass
Waterproof and fog proof
Fully multi-coated lenses
42mm objective lens
Schmidt-Pechan prism
Pros
Versatility
Generous eye relief
Lightweight and easy to use
Incredible image brightness and clarity
Cons
The focus adjustment knobs are quite stiff
#7) Vortex Optics Razor UHD Binocular 10×42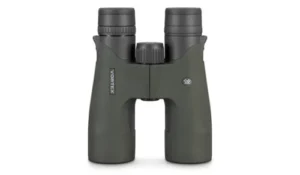 Lastly, we have the Razor 10×42 UHD Binocular from Vortex. When you want the best of the best for your coyote hunting expedition, this pair of binoculars is a handy companion.
It is built with an ultra-high definition optical design which offers improved optical perception and unmatched image resolution. Whether you need to scout for targets in densely packed woodlands or in more open plains, this unit will do it all. It also has anti-reflective lens coatings on all air to glass surfaces to provide bright and clear sight pictures from sunrise till when the sun goes down.
To complement the unparalleled optical clarity, this pair of binoculars also possesses a magnesium chassis that protects the optic from bumps and harsh use. Though the housing is ultra-sturdy for optimal durability, it is ultra-light for convenient mobility. Even better, it is argon purged and O-ring sealed to offer a lifetime of waterproof and fog proof reliability.
For added comfort and ease of use, the Razor UHD Binoculars feature a right eye diopter that tailors each barrel's focus to your eye and a center focus wheel that provides fine focus control. It is also comfortable to use for all users with or without eyeglasses thanks to the accommodating eye relief.
Features
Robust magnesium chassis
Twist-up eye cups
Index-matched lenses
Rugged rubber armor
Center focus wheel
Waterproof and fog proof
Armortek lens coating
Right eye diopter
Pros
Tripod mountable
Secure, non-slip grip
Excellent low light performance
Great image brightness and clarity
Cons
Expensive for the budget buyers
Read Also
Factors to Consider when Choosing the Best Binoculars for Coyote Hunting
Here are some of the key factors to take into consideration when you are shopping for the best binoculars for coyote hunting.
Magnification
Picking the right binocular magnification is key to having an easy and rewarding time in the field. Typically, binoculars with either 8x or 10x magnification will do. 8x magnification is suitable for close and medium range hunting in forested areas, while 10x is sufficient for hunting at longer distances in open fields.
Objective Lens
Objective lens/aperture go hand in hand with magnification. For coyote hunting, you should pick a unit that has a large objective lens of 40mm or more. This will optimize the amount of light collected and generate bright image views.
However, be careful not to pick a binocular with an excessively big objective lens. Extra-large objective lenses weigh more and they also tend to be more expensive.
Lens Coatings
To be able to place the shot accurate under various light settings, you must have a clear view of the target. This is achieved if the binocular's lenses are coated with the right layers of coatings.
Lens coatings optimize light transmission and minimize glare and loss of light through reflection. With so many binoculars to choose from, pick a unit that boasts fully multi-coated lenses.
Construction
Coyote hunting can be rough particularly when you are hunting in new and unfamiliar terrains. Whether you are buying your first pair or looking for a new product, you want a model that is rigid enough to handle any abuse that comes its way. Look at the materials used to make the binoculars as it affects the overall durability.
Also ensure that you pick a unit that has a rubberized construction. It will offer greater protection from bumps and rough use and ensure that you get a secure grip in any environment.
Eye Relief
Eye relief is a significant factor to take into account. It is particularly important for users that put on eye glasses. Look for a unit that offers more than 15mm eye relief. It will optimize eye comfort, aid in rapid target acquisition and allow you to observe targets comfortably with or without your eyeglasses on.
Weatherproof
The best binoculars for coyote hunting are weatherproof. They should be purged with argon or nitrogen gas to ensure that the lenses stay fog free even when rapid changes in temperature and humidity occur. On top of that, the optics should be sealed to be free of moisture, dust and any other debris.
Weight
It is also important to pay attention to the weight of the binoculars given that coyote hunting involves moving across the fields looking for game. This calls for a model that is lightweight and portable. Binoculars that weigh not more than 2 pounds are easy to carry together with the hunting firearm and other hunting accessories.
Best Binoculars for Coyote Hunting FAQs
What binocular magnification is best for hunting?
It depends. First, the environment you are hunting in will play a huge role in determining the magnification that suits you best. The hunting distance also plays a significant role in your selection process. Typically, binoculars with 8x and 10x are great for every hunter looking to cover longer ranges without compromising on the field of view.
Are binoculars good for coyote hunting?
Absolutely. Binoculars are quick to deploy and they offer a decent magnification power for hunting at various ranges. They also offer a wide viewing angle which is crucial for rapid target finding and keeping track of the coyotes as they move or after you have taken the shot.
Conclusion
To wrap it up, we do hope that you have gained some insight into the best binoculars for coyote hunting from this post. Remember that the quality of glass and housing play a big role in determining the overall performance of the binoculars. While finding the best set for your needs takes some time and research, there is a model out there waiting for you.