Are you looking for the best binoculars under $200? If yes, you have come to the right place. There are numerous binoculars available out there and, in our article today, we will take you through the best budget models available under $200.
Binoculars make a handy companion for many outdoor adventure activities. From bird watching to hunting, hiking, astronomy and wildlife viewing, their functionality is unparalleled. They are simple to use for all people no matter the age, and very easy to carry for the on-the-go adventures.
As the optics industry continues to evolve and diversify, binoculars have become more affordable and available than ever. There are tons of models available from different brands and you don't have to break the bank to buy one. In this product roundup, we will enlighten you on the design features that make a great pair of binoculars and then take you through the best models under $200. Let's begin.
What Makes a Great Pair of Binoculars
There are a number of features that make a great pair of binoculars. They include:
Lightweight Design
A good pair of binoculars should have a lightweight construction to ensure convenient carrying in the field without fatigue
Excellent Picture Quality
It is also important for the binocular to have high-quality glass elements for production of bright, clear and detailed sight pictures
Sturdy Construction
Sturdy and durable construction is another thing that makes a great set of binoculars. The greater the durability, the more the years of service you will get from the binoculars
Sufficient Eye Relief
It is important that you get a pair of binoculars that has a long eye relief to enable comfortable and fatigue-free observation with or without eyewear
Rubber Armored Body
Last but not least, the best binoculars under $200 should have a rugged rubber armoring which is vital in ensuring that you get a secure, anti-slip grip in all environments.
Best Binoculars under $200 – Top Picks
Here is our selection of the top-performing binoculars under $200 that you can choose from. Let's dive right in.
1) Vortex Optics Diamondback 10×42 Binoculars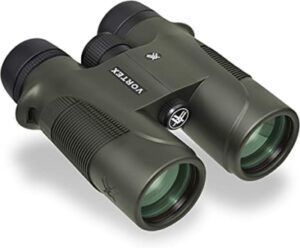 Taking the first spot on our list is Vortex Optics Diamondback 10×42 Binoculars. This full-size binocular is outstanding in terms of performance, quality and value. It is designed with an intuitive and user-friendly design and a ton of other great features that make it the best binoculars under $200.
The highlight of this pair of binoculars is how well it detects targets in low light. This makes it an ideal sighting tool for hunting. Furthermore, it provides a huge field of view for seamless target scanning and acquisition.
Another impressive thing about the binocular is optical performance. The large 42mm objective lens works in tandem with the fully multi-coated lenses to maximize image brightness, clarity and sharpness. Besides, it has phase-corrected prisms that are responsible for enhancing resolution and color.
As outstanding as the optical features are, so is the build quality. This pair of binoculars is built durable to last long. It is also fully waterproof, dustproof and fog proof.
Features
10 magnification power
Multi-coated optics
Waterproof and fog proof protection
Tethered objective lens cover
Phase-corrected prisms
Rugged rubber armored body
Soft tapered eye cups
5ft close focus distance
Pros
Large field of view
Lightweight
Generous eye relief
Great value for money
Easy to use
Cons
2) Celestron – Nature DX 8×42 Binoculars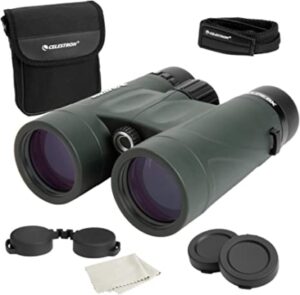 Celestron – Nature DX 8×42 Binoculars offer the perfect balance of performance, value and versatility. They are perfect choice for a variety of outdoor expeditions from birding to camping, nature watching and more.
These easy-to-use binoculars feature a moderate 8x magnification power. They offer steady views of target without any shakiness. Besides, the lightweight design makes them easy to hold steadily with no need to use a tripod.
Optical perfection is another thing that makes this pair of binoculars stand out. It has multi-coated optics that offer quality details that you will hardly find with other entry-level binoculars. Other than that, the binocular has twist-up eyecups which create a comfortable viewing experience with or without eyeglasses,
In addition to everything else, the Celestron – Nature DX 8×42 Binoculars are waterproof, dustproof and nitrogen filled to prevent the interior lenses from fogging.
Features
Fully multi-coated optics
8x magnification power
BaK-4 prisms
Waterproof and nitrogen purged
Rubber armored body
42mm objective lens
Robust polycarbonate chassis
Twist-up rubber eyecups
Pros
Easy to use
Durable
Phenomenal picture quality
Large, unobstructed field of view
Cons
3) Bushnell Engage X 10x42mm Binoculars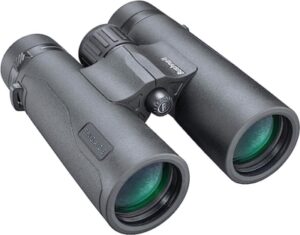 Bushnell in a household name in the world of optics. It is known to manufacture high-quality and budget friendly optics and the Engage X 10x42mm Binoculars are not an exception. These binoculars are designed for hunting but are also great for a ton of other outdoor adventure activities.
Featuring 10x magnification power, the binoculars are good for long range observation. The large 42mm objective lens enhances performance in low light and provides a wide field of view which is important for monitoring mobile game.
Moreover, this binocular is built with excellent glass and fully multi-coated lenses which enhance light transmission while minimizing glare. This guarantees exceptional image brightness and clarity even in low light settings.
On top of that, the binocular has an IPX7 waterproof rating to outlast elements. It also boasts an exclusive molecularly bonded EXO barrier lens coating which provides a clear field of view no matter the weather.
Features
Adjustable diopter
10x magnification power
IPX7 waterproof rating
Fully multi-coated lenses
Large ultra-smooth focus wheel
Ruggedized design
Water repellent EXO barrier coating
Pros
Versatile
Rugged and sturdy construction
Superb picture quality
Crisp clear optics
Cons
4) Nikon Aculon A211 10×42 Binoculars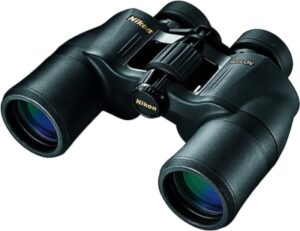 As one of the best binoculars under $200, Nikon Aculon A211 10×42 Binoculars are compact, high-quality and easy to use. They are built with multi-purpose functionality which makes them an excellent companion for birding, hunting and other applications.
This pair of binoculars delivers high-quality image views under a multitude of lighting conditions. This made possible by the aspherical multi-coated eco-glass lenses that ensure high levels of light transmission. Besides, a triad of optical technology is incorporated to optimize optical clarity.
To complement the optical finesse, the binocular also has a smooth central focus knob that allows for quick viewing. Besides, the eyecups turn and slide to facilitate correct positioning of the eyes. This enables comfortable viewing during extended periods of use.
In terms of construction, Nikon built this binocular with a durable rubber armor coating which guarantees non-slip grip in all environment. The armoring also provides extra protection from elements when outdoors.
Features
10x magnification
Turn-and-slide rubber eyecups
Durable rubber armored coating
Smooth central focus knob
42mm objective lens
Multi-coated Eco glass lenses
BaK4 Porro prism
Pros
Ultra-lightweight design
Versatile
Durable
Great picture quality
Cons
5) Athlon Optics 8×42 Talos G2 HD Binoculars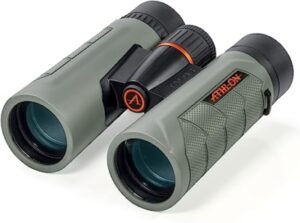 Athlon Optics 8×42 Talos G2 HD Binoculars are the best binoculars under $200 for beginners. It has a lightweight and user-friendly design that is compact enough to hold snugly and securely with one hand.
This binocular is built ready for use outdoors. It is completely sealed to prevent moisture, dust and debris from entering. Furthermore, the optical tubes are purged with dry nitrogen gas to help with fog proof and thermal resistance capabilities.
Not only is the binocular weatherproof, but also optimized for durability. It is built with a composite chassis which is fully rubber armored. The armoring is shockproof and non-slip to ensure positive grasp, even in wet environments.
Moreover, this pair of binoculars employs HD glass which amplifies resolution and color fidelity. It also features fully multi-coated lenses for top-tier viewing experience.
Features
Composite chassis
Water repellent XPL lens coating
HD glass
Waterproof and fog proof
Advanced fully multi-coated lenses
Rubber armored body
Twist up eyecup
1ft close focus distance
8x magnification power
Pros
Versatile
Easy to use
Relatively lightweight
Generous eye relief
Tripod ready
6) Leupold BX-1 McKenzie HD Binoculars, 10×42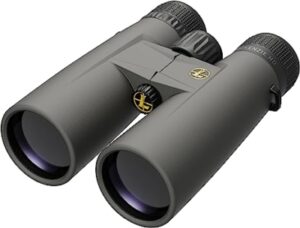 If you are in the hunt for the best budget binoculars for hunting, look no further than the Leupold BX-1 McKenzie HD Binoculars. Built with the avid hunter in mind, this binocular is an excellent companion for virtually all hunting applications.
What makes it ideal for hunting is ruggedized construction. It is built using the most durable materials to take in the beating that comes with hunting. Other than that, the binocular has an open-bridge, roof proof prism design which is extremely lightweight, ergonomic and easy to carry in the field.
Another remarkable feature of the binocular is low light performance. It is designed around Leupold's Advanced Optical System which offers tried and true light transmission. This system also extends glassing sessions in low light and provides the best glare reduction in harsh light.
What's more, this pair of binoculars is 100% waterproof, fog proof and shockproof. This ensures uninterrupted performance in the field. Over and above that, it is built with removable twist-up eyecups for easy eye relief customization.
Features
Twist-up eyecups
HD, calcium fluoride lenses
10x magnification power
Tough aluminum chassis
Waterproof and fog proof construction
BaK4 prism optical path
Fully multi-coated lenses
Open-bridge design
Center focus system
Pros
Lightweight
Solid and sturdy construction
Generous eye relief
Amazing brightness and clarity
Cons
7) GLLYSION 12×50 Professional HD Binoculars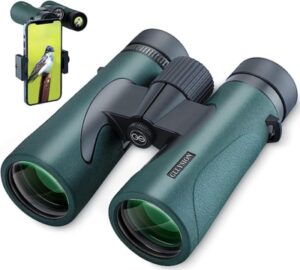 Last in our list of the best binoculars under $200 is GLLYSION 12×50 Professional HD Binoculars. These binoculars are ideal for beginners and intermediate outdoor enthusiasts who spend most of their time outdoors.
Built with a high 12x magnification power, these binoculars are the best for long range glassing. Even with the high zoom power, they don't sacrifice field of view. They provide panoramic views so you can immense yourself fully to your outdoor activity and get the most from it.
Furthermore, the binocular has a well-balanced body which is lightweight and easy to hold. It is crafted with a polymer frame which is rubber armored to provide a secure, anti-slip grip. On top of that, this binocular is IPX7 rated to be waterproof and dustproof for use even in extreme weather conditions.
And that's not all. The GLLYSION 12×50 Professional HD Binocular boasts premium BaK4 prisms that are dielectric-coated to enhance image detail and color accuracy. It also has fully multi-coated lenses which provide exceptionally bright and clear images even in the harshest conditions and challenging lighting environments.
Features
22mm large eyepiece
IPX7 waterproof rating
Rugged rubber armoring
12x magnification power
Fully multi-coated lenses
High-quality BaK4 prisms
Well-balanced polymer frame
Pros
Incredible visuals
Lightweight and well-balanced design
Infinite delight in use
Ease of use
Generous eye relief
Cons
Read Also
Criteria for Choosing the Best Binoculars under $200
Before you settle on any pair of binoculars, here is a list of the important things you need to take into consideration.
Magnification Power
The first thing to do is pick a magnification power that suits the kind of activity you will using the binoculars for. Binoculars with lower magnification of 10x below are the best for most outdoor adventure activities.
They are beneficial because they provide a crisp and steady image view without the need to use a tripod. Furthermore, they provide a significantly huge field of view which means that you will be able to find your targets with ease no matter the distance.
Intended Usage
When shopping for the best binoculars under $200, consider the application you will be using it for. This feature is important to take into account as different outdoor settings present different challenges.
For instance, if you are hiking or hunting, you need a binocular that is easy to carry and durable to withstand the abuse you predispose it to. So, be activity-specific and then focus on finding the binocular that is best suited for your specific activity.
Weight
The next important thing you need to check is weight. You want to have the lightest pair of binoculars for convenient carrying in the field. Irrespective of the application you will be using the binoculars for, pick a model that does not weigh more than 2lbs.
Picture Quality
The picture quality in binoculars depends on the type of glass elements used and the quality of lens coatings. The best glass elements are ED, UHD and fluorite. A binocular that employs any one of the three will do. It will provide high-contrast sight pictures rich in resolution and detail no matter the light condition.
When it comes to lens coatings, we recommend that you pick a binocular that features fully-coated or multi-coated lenses. The more the layers of lens coatings, the better the light transmission.
Eye Relief
Don't forget to look at the amount of eye relief the binoculars have. Whether you wear glasses or not, ensure that you get a binocular with a long eye relief. It will be comfortable to glass with in all situations without any fatigue.
FAQs
What does close focus distance mean?
In binoculars, close focus distance refers to the closest distance you can focus on an up-close target without losing focus. It is measured in feet and varies from one pair of binoculars to the other.
Must I buy a tripod for my binoculars?
No. It is not a must that you buy a tripod for your binoculars. If the binoculars you are using are lightweight and easy to hold steady with your hands, there will be no need to get a tripod.
However, you should consider getting a tripod if the binoculars you are using are too heavy on the hands or have a high magnification that makes it hard to hold the binoculars steadily. The tripod will take the weight off your hands and keep the binoculars steady all through.
Conclusion
We hope that you have found our article on the best binoculars under $200 to be insightful. As the optics technology continues to advance, there are so many cost-effective binoculars that are exceptional in terms of quality, performance and functionality. Whatever your budget and needs are, there is a binocular out there waiting for you.