Looking for the best binoculars for duck hunting? You are in the right place. This post sheds light on the best binoculars for duck hunting available in the market today.
Duck hunting is a great way to spend quality time outdoors. It is a fun activity for people of all age groups and even more enjoyable when you have a quality pair of binoculars as your companion. The right binoculars will help you spot the ducks from afar distance, bring them closer and ensure that you place the right shot. This makes your hunting expedition more rewarding irrespective of whether you hunt while boating or on foot.
However, the process of finding the best binoculars for duck hunting is easier said than done. Today, the market is flooded with binoculars from different brands that make the selection process less daunting.
6 Best Binoculars for Duck Hunting – Our Top Picks
Whether you are a seasoned duck hunter or you are just starting a new hobby, here is an in-depth review of the best binoculars for duck hunting to pick from. Let's take a look.
1) Bushnell H2O Roof Prism Binoculars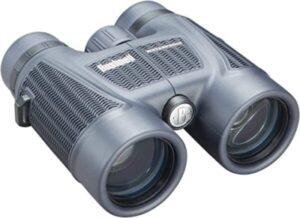 First up is the Bushnell H2O Roof Prism Binoculars. Bushnell makes a multitude of quality and reliable optics and this model is not an exception. It is well-made to ensure that you get to use it for a long period of time.
This is an all-round pair of binoculars that is specially designed to be used in wet conditions. It has an IPX7 construction which means that it can withstand being dropped in standing water. Additionally, it is purged with nitrogen gas to get rid on moisture internally and prevent buildup of fog on both the internal and external lenses.
Another impressive feature that makes this set of binoculars shine is the superb optical performance. Featuring multi-coated optics and premium BaK-4 prisms, it maximizes light transfer to deliver brilliant, vivid and detailed image views.
Furthermore, the binocular comes with a large center focus knob that helps you bring the image into sharp focus with a simple turn. It also has twist-up eyecups that facilitate comfortable viewing with or without eyewear.
Above all, this compact binocular has a lightweight design so you will be able to carry it around without breaking a sweat.
Features
Smooth center focus knob
Multi-coated optics
Non slip rubber armor
10x magnification
Twist up eyecups
Waterproof and fog resistant
Premium BaK-4 prisms
42mm objective diameter
Pros
Rugged and reliable housing
Generous field of view
Compact and lightweight
Cost friendly
Easy eye relief
Cons
Can be difficult to make adjustments
2) Zeiss 8×42 Victory SF Binocular with LotuTec Protective Coating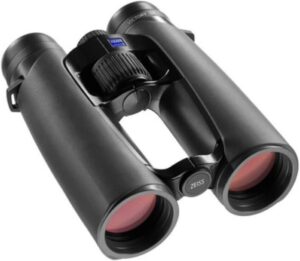 If you hunt duck mainly on foot, the Zeiss 8×42 Victory SF Binocular is your ideal companion. It has a lightweight design to ensure that you have a comfortable time carrying it everywhere you go. It also possesses an ErgoBalance concept that enables steady observation with minimal hand fatigue during prolonged viewing sessions.
This model offers a massive field of view of 148m/1,000m to ensure that nothing is left undiscovered. To complement the ultra-large visual field is a moderate 8x magnification that offers steady views of targets and a large 42 objective to enhance low light performance.
Furthermore, the binocular comes with a durable and abrasion resistant LotuTec coating that reduces contamination of the lens surfaces. This yields a clear field of view in all conditions. This optic also brings to the table a SmartFocus concept that delivers a quick focusing speed to help you respond to targets rapidly and with ease.
Features
Moderate 8x magnification
Abrasion resistant LotuTec coating
SmartFocus concept
Ultra-wide field of view
True to life image quality
SCHOTT fluoride glass
Fully waterproof and fog proof
Easy to access focus wheel
Pros
German quality
Crisp and clear optics
Lightweight design
Easy to hold and adjust
Cons
3) Vortex Optics Diamondback Roof Prism Binoculars 10×42
Carrying the highly-respected Vortex name, the the Diamondback Roof Prism Binoculars 10×42 offers virtually every feature you need to take your duck hunting to the next big level.
It features a 42mm objective lens that enhances low light performance and dielectric, fully multi-coated lenses that deliver stunning views from dawn till dusk. Further, this model has an ultra-wide field of view to help you cover a large area effortlessly and acquire subjects easily.
In terms of construction, the binocular has a sleek, short hinge design covered with an ultra-durable rubber armor that provides a secure, comfortable and non-slip grip. The eyecups are adjustable to offer a customized eye relief and with the right eye diopter included, you are guaranteed that the binocular will accommodate the focal differences in your eyes.
Best of all, this pair of binoculars is fully waterproof and nitrogen purged to prevent fog build up over a wide range of humidity and temperatures.
Features
Dielectric, fully multi-coated lenses
Rubber armored body
Waterproof and fog proof
Right eye diopter
Multi-position eyecups
10x magnification
Sleek, short hinge design
Pros
Massive field of view
Robust construction
Easy on the pocket
The focus knob turns smoothly
Outstanding low light capabilities
Cons
The eye relief could be longer
4) Nikon 8250 ACULON A211 16×50 Binocular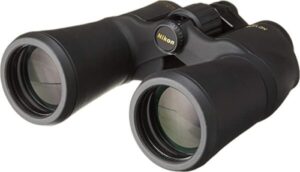 As one of the best binoculars for duck hunting, the Nikon ACULON A211 brings to the table a plethora of high-quality features at a remarkably affordable pricing. It is also ideal for a variety of outdoor pursuits, not just duck hunting.
The binocular features a high 16x magnification to help you scout for ducks easily even at extended distances. It also comes with a large 50mm objective that guarantees crisp clear sight pictures even with the high zoom power.
More importantly, a triad of optical technology is built into these binoculars to guarantee unmatched optical clarity. First, it has aspherical eyepiece lenses that help deliver a flat field of view. It also comes with premium BAK4 Porro prism system and multi-coated lenses that enhance image brightness and clarity even in low light conditions.
The binocular is designed to usable in any weather condition, thanks to the weatherproof housing. It also possesses a rubber-armored coating that guarantees an ergonomic, anti-slip grip even in wet conditions.
Other noteworthy features included are a smooth central focus knob and turn-and-slide rubber eyecups.
Features
16x magnification
Durable rubber-armored body
Multi-coated eco-glass lenses
Turn-and-slide rubber eyecups
BAK4 Porro prism system
50mm objective lens
Smooth central focus knob
Pros
Ergonomic, lightweight body design
Easy to use
Powerful magnification
Clear, tack-sharp and bright images
Cons
The large magnification can be difficult to hold steady
5) Zeiss Terra ED Compact Binoculars, 10×42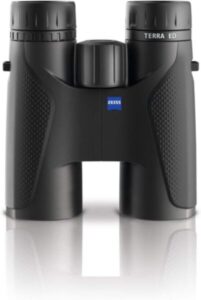 When it comes to versatility, the Zeiss Terra ED Compact Binoculars are hard to beat. It is a perfect optic for nearly all hunting applications, bird watching and any other outdoor activity.
This pair of binoculars is ideal for duck hunting as it is fully waterproof and fog proof. It also employs Zeiss LotuTec coating that provides a clear and unhindered viewing window in any weather condition.
Furthermore, it has a compact size that makes it easy to grasp and use with one hand only. The focus wheel is placed at a convenient location to ensure fast and easy focusing and with the wide field of view, location of targets becomes a walk in the park.
This pair of binoculars also has comfortable eyecups for easy target viewing and a robust construction to ensure that it weathers anything you subject it to. To top it all, it utilizes SCHOTT ED glass that yield bright and high-contrast image views even in adverse weather and lighting conditions.
Features
10x magnification
Zeiss LotuTec coating
Easy to grip focus wheel
SCHOTT ED glass
42mm aperture
Wide angle field of view
25ft close focus
Pros
Compact, light and ergonomic design
Great construction quality
Versatility
Extremely easy to use
Admirably crisp and clear optics
Cons
Pricey for the budget buyer
6) Steiner Predator 10×42 Hunting Binocular – 2444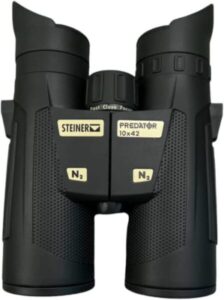 Lastly on our list of the best binoculars for duck hunting, we have the Steiner Predator 10×42 Hunting Binocular. Made with hunters in mind, this ultra-versatile pair of binoculars is ideal for near all hunting applications including duck hunting.
It features a lightweight roof prism design which is portable and easy to use. Besides, it utilizes unique color adjusted transmission coatings that can help you find targets swiftly even in the most challenging hunting environments. This set of binoculars also offers excellent low light performance for hunters who prefer to chase game in low light situations.
Moreover, this hunting binocular delivers a viewing angle of 328' at 1000 yards. This is large enough to help you find targets swiftly and acquire them rapidly. Besides, it has a powerful 10x magnification to help you locate the targets swiftly even at long ranges. It is also fully waterproof and fog proof to be operable in any environment, and shockproof to stand up to any abuse or rough handling.
Above all, the binocular is tripod ready. You can mount it on any tripod and free your hands.
Features
10x magnification
Roof prism design
Water, fog and shockproof construction
Fast focus mechanism
Wide angle viewing
Non-slip rubber armor
Fully multi-coated optics
6ft close focus distance
Pros
Lightweight design
Quality optics
Good eye relief
Easy to use
Cons
The lens caps could be better
Read Also
Factors to Consider when Choosing the Best Binoculars for Duck Hunting
Whether you are looking to buy your first pair of duck hunting binoculars or you are in the market for a better model, below are some of the important factors to consider when making your selection.
Weatherproof
Binoculars for duck hunting should be operable in any environment. They should be sealed to prevent entry of moisture that can interfere with the performance of the optics. Further, the binoculars should be purged with argon or nitrogen gas to ensure that your view stays clear, free of fog or dust.
Magnification
You will want a pair of binoculars that offers a magnification that is sufficient for your hunting needs. Largely, binoculars with 10x or 8x are the best for duck hunting. They help bring the distant targets closer and offer a decent field of view for quick target finding. The moderate magnification also goes a long way in ensuring that you hold the binoculars steadily in any situation.
Objective Lens
The best binoculars for duck hunting have an objective lens that ranges from 40mm to 50mm. The large the objective lens is, the more light the binocular collects. This is essential when hunting in poor light settings of dawn or dusk. A large objective lens also yields a wide viewing angle.
Durability
Whether you purpose to hunt ducks on foot or from a boat, ensure that the binoculars you get are durable and sturdy to weather the impacts that come with hunting.
Binoculars with an aluminum or magnesium chassis offer long term durability without being bulky. Also make sure that the model you pick possesses a rubber armoring. It will shield the optics from shock and provide a secure, slip-resistant grip.
Weight & Size
When it comes to duck hunting, a pair of binoculars that is lightweight and compact in size is the best. It will be easy to pack together with any other hunting gear that you will need. Light binoculars are also more convenient to carry around and comfortable on the hands when you are hunting for a prolonged period of time.
Len Coating
Ensure that you pick a model that boasts high-end glass and premium lens coatings. Quality lens coatings translates to more effective light transfer and reduced loss of light through reflection. The end result is bright, crisp clear and detailed image views even in unfavorable light settings.
Eye Relief
Remember to check on the eye relief the binoculars present. This is the distance from your eyes to the eyepiece of the binoculars. A model that presents an accommodating eye relief of 15mm or more will be comfortable to use with or without eyewear. It will also reduce eye fatigue when you are hunting for lengthy hours.
FAQs
What binocular magnification is best for duck hunting?
8x or 10x. 8x binoculars offer a wider field of view which is ideal for tracking ducks in flight. On the other hand, the more power in 10x models can help you scout the ducks at extended ranges.
Are binoculars necessary for duck hunting?
Yes. Binoculars a valuable hunting gear that will help change how you hunt ducks for the better. You will be able to have a detailed view of the duck without getting too close to it, and enhance your chances of taking the shot accurately and ethically. You will also be able to spot other creatures that could be hard to spot with your naked eyes.
Conclusion
We hope that this guide has provided enough insight on the best binoculars for duck hunting, and you are now in a position where you can make an informed buying decision. Remember that your hunting style and preference play a huge role in determining which model you pick. Use this guide to find the best pair that will help turn your duck hunting expeditions into a success this season.