When it comes to hunting elk, you need the right gear to make your hunting trip a success. A good scope is one of the most important pieces of gear you need to have a rewarding hunting excursion. A great scope will help you secure a clean kill regardless of your hunting environment or how difficult the shot is. It will also make it easier for you to detect the animal from a distance and take the shot without the need to get close to it.
But, finding a great scope for elk hunting is easier said than done. It is even more difficult to pick the right model when you are looking for a scope from a specific brand. In this post, we have done a review of the best Nightforce scopes for Elk hunting. These scopes are made with hunters in mind which makes them a valuable addition for every elk hunting enthusiast out there.
Before we dive into these scopes in detail, let us first start by looking at the key features that make a scope great for elk hunting
Essential Attributes of a Great Scope for Elk Hunting
A great scope for elk hunting boasts a wide array of features. To start with, the scope has a decent optical power that will help you spot the elk even at long distance. Good magnification also allows you to place the shot without getting extra close to the animal.
A good scope for elk hunting has a solid construction which optimizes durability. With solid housing comes reliable resistance to shock and recoil when you are using heavy recoiling calibers. On top of that, a great scope for elk hunting is both fog resistant and waterproof to offer reliable performance under any weather.
Lastly, elk hunting takes place in different environments. Make sure that you select a scope that is designed to offer greater versatility and reliable performance in any lighting and weather condition.
Best Nightforce Scope for Elk Hunting – Our Top Picks
Nightforce scope speak for themselves when it comes to reliability, durability and optical performance. Even with their renowned performance, not all Nightforce scopes are ideal for elk hunting.
If you have been searching for the best Nightforce scope for Elk hunting, here are the best models you can choose from.
#1) NIGHTFORCE SHV 5-20x56mm Zeroset .250 MOA Scope

The NIGHTFORCE SHV is a high-end rifle scope that meet the needs of ever hunter out there, no matter their hunting skills and experience. It is ideal for numerous hunting applications and it offers admirable performance regardless of whether you are hunting elk, deer or any other big or mid-sized game.
This scope has almost every feature you require to have a more rewarding hunting trip. First, it is sturdy, reliable and ideal for use with any caliber, even the big ones. The sturdy housing ensures that it takes any beating you subject it to. Also, it offers reliable performance regardless of the weather condition.
Furthermore, the scope features a wide and versatile zoom range from 5x to 20x. This makes it appropriate for hunting elk at both intermediate and lengthy distances. It also has a large objective lens to complement this high optical power by providing a huge field of view and brighter images of the target as well.
More importantly, the scope has an illuminated reticle that every hunter needs for accurate aiming in low light situations. Other noteworthy features included are a ZeroSet technology, a side parallax adjustment as well as waterproof and fog proof construction.
Features
Forceplex reticle with center only illumination
5-25x variable magnification
1/4 MOA windage and elevation adjustment
Robust construction
Waterproof and fog proof
30mm main tube
Pros
Excellent glass clarity
Ample amount of eye relief
Superb performance in low light
Compact in size
Easy to use
Cons
Expensive
Can be bulky for some
#2) NIGHTFORCE NXS C437 8-32x56mm Hunting Scope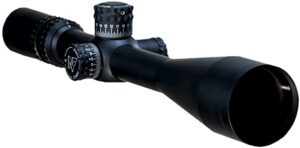 The NXS Rifle Scope is a multi-purpose rifle scope ideal for hunting, extreme-long range target shooting and tactical applications. It is made to deliver superior precision at every range and boasts a high-powered zoom that spans from 8x to 32x for shooting versatility at varying ranges.
The exceptional optical integrity of this rifle scope makes it a favorite among elk hunters looking to take their game a notch higher. Even in low light settings like dawn or dusk, it delivers amazingly bright and clear views. Further, it offers a large field of view that is important for quicker and straightforward target scanning.
This rifle scope has a solid construction to ensure that you get to use it for many years. It is made from aircraft-quality aluminum which is rigid enough to take in any beating. It is also recoil and impact resistant to add on durability and weather resistant to ensure that you can use under any weather condition.
Above all, the scope provides speed and precision in all situations.
Features
30mm main tube
Second focal plane reticle
Broad 8-32x magnification
Adjustable parallax from 50 yards to infinity
Exceptional optical integrity
Fully waterproof and recoil resistant
Rugged aircraft-quality aluminum body
Pros
Reticle illumination
Fairly light
Very sturdy housing
Unparalleled optical clarity
Great speed and accuracy in all situations
Cons
#3) NIGHTFORCE NX8 4-32x50mm F1 Scope

Next on our list is the NX8 4-32x50mm F1 Scope. This is a 30mm tube scope that is ideal for all-round hunting not just elk hunting. It is top-choice for many hunting enthusiasts looking for a reliable, repeatable and most importantly rugged and quality hunting scope.
Unmatched optical performance awaits you in this scope. With all air-to-glass surfaces being multi-coated, you will get superb image brightness and clarity even in low-light situations. Besides, all the lenses on this scope are optically indexed to yield unparalleled optical performance from sunrise all the way to sunset.
Additionally, the NX8 F1 scope is built ready to tackle anything nature throws at it. It is machined from aircraft-quality aluminum alloy that creates a virtually unbreakable shield for the delicate optics. It is also sealed to prevent entry of dirt, dust and moisture that can cause damage to the optics.
Above all, the scope has DigIllum reticle illumination, a side parallax adjustment knob and a power throw level that allows for smooth and quick magnification adjustment.
Features
4-32x magnification range
DigIllum reticle illumination
Rugged aircraft-quality aluminum alloy housing
Optically indexed lenses
Side parallax adjustment knob
Multi-coated optics
Pros
Superb clarity and resolution
Compact size and lightweight construction
Quality craftsmanship
Numerous accessories included
Cons
#4) NightForce SHV 4-14x50mm F1 Rifle Scope

The NightForce SHV 4-14x50mm F1 Rifle Scope might be costly like the other scopes we have listed above, but don't let the high price scare you. It is built using high-grade and shooter-friendly features that make the price worth.
This F1 rifle scope features a variable 4-14x magnification suitable for elk hunting at close to long ranges, in a wide variety of environments. Even better, it offers a large and clear field of view even at high magnification for smooth target identification. It also has a power zoom ring that offers excellent resolving power and fast focus eyepiece for simple reticle focusing.
When you choose this SHV F1 scope, you are choosing an optic that offers virtually every solution for your hunting trips. In addition to being intuitive and simple to use, it has a ZeroSet function that helps you get back to zero settings effortless. Additionally, the scope has a first focal plane illuminated reticle with 12 different brightness settings. The numerous brightness settings makes it suitable for use in different lighting situations.
To top it all, this rifle scope has a sturdy aluminum housing that offers the ultimate durability.
Features
Power zoom ring
30mm tube diameter
Fast focus eyepiece
First focal plane reticle
Robust aluminum body
ZeroSet Elevation function
Adjustable parallax from 25 yards to infinity
Pros
Illuminated reticle with 12 different brightness settings
Lightweight construction
Great glass quality
Perfect tracking
Super easy to use
Cons
Numbers showing mils are partially illuminated and hard to read
#5) NightForce SHV 4-14×56 .250 MOA Rifle Scope

When hunting in unforgiving conditions or unfamiliar terrains, you need a quality optic that delivers like the SHV 4-14×56 .250 MOA Rifle Scope. It is ruggedly built to tackle anything you subject it to and give you a lifetime of uncompromised reliability.
The scope features a variable zoom range from 4x to 14x, which is ideal for hunting at close quarters out to long distances. It has a large 56mm objective lens that complements the wide zoom by offering optimal light collection. It also has top quality optics which deliver HD image clarity even in low light situations.
With a weight of about 28.5oz, the scope is light for easy maneuverability in the hunting field. Additionally, it has a parallax adjustment from 25 yards to infinity for greater accuracy at extended distances and a second focal plane that remains clearly visible even at close quarters.
Last but not least, this hunting rifle scope has a 30mm main tube which is compatible with a wide variety of rifles.
Features
Zero tolerance lens
Aircraft quality aluminum body
30mm tube diameter
Adjustable parallax
4x to 14x magnification range
Pros
Clear glass
Ultralight construction
superb build quality
It offers great value for money
Cons
Poor eye relief
Poor low light performance
#6) NightForce 2.5-10x42mm NXS Compact Rifle Scope

Another best Nightforce scope for elk hunting on our list is the NXS 2.5-10x42mm Compact Rifle Scope. It is the most compact scope on our list. Though compact, it comes with plenty of high-quality and advanced features to meet and surpass your expectations.
In addition to being compact, the scope is feather-light and portable. With a weight of  20.5oz, you will have an easy time carrying it in the field. Moreover, the scope is built to offer reliable optical clarity and performance even in low lighting situations. It has an illuminated reticle with adjustable brightness settings for visibility in different settings. Better yet, it has night vision compatible settings for greater versatility and large 42mm objective lens that ensures optimal light collection.
Construction-wise, the scope is well-crafted to last long. It is made with high-quality materials which maximize its rigidness and durability. Besides that, it is made with convenience in mind. It has a side parallax adjustment knob for parallax correction and a power throw lever that makes magnification adjustment as simple as a five-finger exercise.
Above all, it is an excellent scope for, tactical applications as well as hog and predator hunting, not just elk hunting.
Features
30mm main tube
2.5-10x variable magnification
Second focal plane reticle
Side parallax adjustment
Power throw lever
Larger 42mm objective lens
Red and green illuminated reticle
Pros
Night vision compatible settings
Multiple brightness intensities
Ideal for numerous applications
High-quality craftmanship
Ultralight and compact
Cons
Read Also
Criteria for Choosing the Best Nightforce Scope for Elk Hunting
Choosing the correct Nightforce scope for elk hunting is not something you should do on a whip. Before you settle on a specific model, consider the following factors.
Magnification
This is the first and chief factor to consider. Nightforce scopes vary greatly in magnification to meet the demands and needs of different hunters and shooters.
If you plan to use the scope at close and medium distances, get one that has a medium optical power. For such distances, avoid high-powered scopes as they can be an overkill.
However, if you know that you can hit target at long distances, or you are looking to advance your hunting skills to long range, go for a scope with a high magnification power.
Objective Lens
The best Nightforce scope for elk hunting should have a large objective lens. This is particularly essential if you are going to be hunting in low light settings like dawn and dusk. With a large objective lens, the scope collects as much light as possible for brighter image views. You will also get a wide and crisp field of view from a large objective lens.
Durable Make
You will want a scope that will be sturdy and toughly built to endure anything that comes your way. To achieve this, go for a scope that is built with high grade materials like aircraft-quality aluminum, magnesium alloy or better. In addition to quality construction, make sure that you choose a scope that will do well in fog, mist and rainy weather conditions.
Weight
Don't forget to check how heavy the scope weighs. If you will be trekking miles looking for the game, ensure that you get a scope that is light and compact in size as it will be more portable. Another added advantage of using a light weight scope is that they are more accurate and simple to mount and use.
Eye Relief
Another important feature you should consider is the eye relief the scope presents. The more ample it is the better. Firstly, having a long amount of eye relief will keep your eye safeguarded from heavy recoiling rifles. Furthermore, it will ensure that you don't get fatigued when you are hunting for extended sessions and let you aim comfortably from different shooting positions.
Price
Lastly, you should consider the price. Nightforce scopes tend to cost more, but don't let the high price scare you. Put your finances in order then look for a model that matches your budget needs and hunting needs. In the long run, these scopes offer remarkable performance in the hunting field as well as excellent value for money.
Best Nightforce Scope for Elk Hunting FAQs
What size scope is best for elk hunting?
This chiefly depends on the hunting distance as well as environment. For close quarter applications in brush timber during the day, a model with not more than 10x magnification will be ideal. But for long distance situations, mainly in large, open plains you need a high powered scope with at least 10x optical power.
What does the numbers on a rifle scope mean?
The numbers on riflescopes represent the scope's specifications. The first number with an "x" shows the magnification while the other number after the "x" identifies the size of the objective lens. Thus, a rifle scope with 2.5-10×42 configuration has a variable magnification of 2.5-10x and an objective lens that is 42mm in diameter.
Final Thoughts
The right Nightforce scope for your elk hunting excursions will rely on your preference, skills and hunting style. Hopefully, after this guide you are now able to make an informed buying decision. With any one of these top-performing rifle scopes, you can rest assured that you will get it right once you set your foot on the hunting field.