Nightforce is an outstanding optics brand which provides some of the best scopes for hunting. Whether you are a beginner in this field or a seasoned hunter, Nightforce got you covered. The have a well-respected reputation of offering a wide selection of quality optical instruments, and this is clear in their hunting scopes.
All Nightforce scopes for hunting are custom-engineered with high-end designs to give hunters the best of the best in terms of durability, reliability and functionality. No matter how challenging your hunting environment usually is, a Nightforce scope will make is less challenging and more rewarding.
But choosing the best Nightforce scope for hunting isn't an easy task. This brand offers a wide selection of scopes and it can be overwhelming to pick the right model for your hunting needs.
If you are having a challenging time selecting the right hunting optic, you are in the right place. We have taken out time and compiled a list of the top-performing hunting scopes from Nightforce optics to help you make the right selection. But first, let's start by looking at the essential features that make a Nightforce scope appropriate for hunting.
Essential Attributes of a Great Scope for Hunting
The first feature that makes a great Nightforce scope is magnification. For close and mid-range hunting in heavily wooded areas, go for a medium powered scope that offers a wide viewing angle. On the other hand, you will need a scope that has a high magnification power for long distance hunting.
Secondly, the scope should have high-quality glass and good lens coatings. Hunting takes place in different environments with different light settings. So you will want the scope to offer bright and crisp image views in different light settings. The hunting scope should also have a lightweight design since hunting majorly involves moving from one location to the other looking for game.
A good scope should also have a solid and reliable construction. It should be sturdy enough to persevere rough handling and rigid as well to stand up to heavy recoiling hunting rifles. It should also be designed to do well in rain, fog and extreme temperature conditions.
7 Best Nightforce Scope for Hunting – Our Top Picks
Having said all that, let us now have a detailed look at the Nightforce scopes that offer reliable and unbeatable performance in the hunting field.
1) NIGHTFORCE SHV 5-20x56mm Zeroset .250 MOA Scope

The SHV 5-20×56 is perhaps the best Nightforce scope for hunting available on the market currently. Though it is pricy, the high-end design speaks for itself. Besides, it is a multi-purpose optic ideal for target shooting and tactical applications in addition to hunting.
With the incredible 5-20x zoom setting, this scope will let you cover distances you have never covered before. To complement the high zoom setting, the scope features a large 56mm objective lens that offers surprisingly bright image views and a large viewing angle even at the highest 20x magnification.
Another thing that makes this optic stand out is the admirable level of durability. It is well designed to stand up to any punishment you subject it to. With this rugged housing also comes reliability and repeatable performance. The scope also comes with high-quality optics which deliver super bright image views and an illuminated reticle that maximizes visibility even in critical poor light settings.
Features
Quick adjustment turrets
Durable housing
Variable 5-20x magnification
Weatherproof body
Side parallax adjustment
Full 80 MOA of elevation
ZeroSet technology
Pros
Excellent glass and reticle clarity
Lightweight design
Ample amount of eye relief
Easy to use
Superb low light performance
Cons
2) NightForce 8-32x56mm NXS Rifle Scope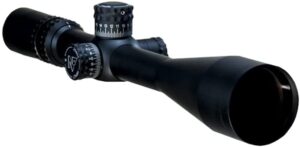 When it comes to durability and versatility, it is hard to beat the NXS 8-32x56mm Rifle Scope. It is full of high-end features that make it the ideal scope for long distance hunting, precision target shooting and all of your shooting needs.
Featuring a wide magnification range from 8x to 32x, the scope meets the needs of all medium and long range hunters out there. To ensure that you increase your odds of hitting your target accurately, it offers bright and crisp clear target pictures across the whole zoom. Besides, it provides a large viewing angle even at the highest magnification which is essential for quick target scanning and accurate identification.
This long range Nightforce scope is built to last. You can subject it to the most unforgiving conditions, but it will still perform. This makes it ideal for hunting particularly in rough and unfamiliar terrain. Furthermore, it has a waterproof and weather resistant housing to ensure that it performs well under rain and humid environments. To top it all, it is recoil and impact resistant to ensure long-term durability.
Features
30mm body tube
Wide 8-32x magnification range
Adjustable parallax from 50 yards to infinity
Exceptional optical integrity
Second focal plane reticle
Fully waterproof and recoil resistant
Robust and reliable aircraft-quality aluminum body
Pros
Reticle illumination
Great speed and accuracy in all situations
Fairly light
Very sturdy housing
Unparalleled optical clarity
Extreme long range accuracy
Cons
3) NightForce 2.5-10x42mm NXS Compact Rifle Scope

For close and medium range hunting, the NXS 2.5-10x42mm Compact Rifle Scope is your best option. It has a variable magnification that spans from 2.5x up to 10x. At every zoom setting, it offers admirably clear images of the target. It also offers a huge field of view at close ranges and rapid acquisition of game at extended distances.
Nightforce built this rifle scope with hunters in mind. It is super light and compact for easy portability. In addition to that, it has a robust and dependable housing for use in any hunting terrain. Furthermore, it comes with an adjustable parallax from 25 yards to infinity for accurate shooting at extended ranges and a power throw lever for instant and easy magnification adjustment.
If you like to hunt at low light situations such as dawn or dusk, this scope has your back. With the 42mm objective lens and high-end optics, it offers exceptional low light performance. Even better, it has night vision compatible settings that make it appropriate for hog and nocturnal predator hunting. It also has a red and green illuminated reticle that aids in easy aiming in low light situations.
Features
30mm main tube
2.5-10x variable magnification
Second focal plane reticle
Second focal plane reticle
Side parallax adjustment
Power throw lever
Larger 42mm objective lens
Pros
Night vision compatible settings
Illuminated reticle with multiple brightness intensities
Ideal for numerous hunting applications
High-quality craftmanship
Light in weight and compact
Cons
4) NightForce SHV 4-14×56 .250 MOA Rifle Scope

Built on a true strength platform, the NightForce SHV 4-14×56 rifle scope delivers unbeatable performance and the ultimate precision. No matter where you take it, it will perform. It is crafted from a solid bar of aircraft quality aluminum to ensure that you get a lifetime of uncompromised reliability in every hunting expedition you engage yourself in.
This rifle scope delivers superb optical performance from dawn till dusk. It is built with zero-tolerance lens that prevent any movement of the optical elements to ensure that you receive clear and bright image views with superior edge-to-edge clarity.
With a weight of 28.5oz only, the scope is light so it will be easy to maneuver with in the field. It is built on 30mm main tube diameter that works well on a wide range of platforms for greater versatility. On top of everything else, this optic also has an adjustable parallax from 25 yards to infinity for accuracy even at extremely long ranges.
Features
Aircraft grade aluminum housing
Second focal plane reticle
Zero tolerance lens
30mm main tube diameter
Adjustable parallax
4x to 14x magnification range
Pros
Clear glass
Ultralight construction
Excellent build quality
It offers great value for money
Cons
The eye relief is short
Poor performance in low light settings
5) NightForce SHV 4-14x50mm F1 Rifle Scope

Another best NightForce hunting scope on our list is the SHV 4-14x50mm F1. This is a first focal plane rifle scope that makes a handy companion for every intermediate and long range hunter out there.
The scope features a variable zoom power from 4x to 14x which is ideal for hunting at different environments. It is also complemented by a large 50mm objective lens that provides superb resolving power as well as a wider field of view even at high magnification. Furthermore, it has a powering that ensures smooth magnification changes without the need for you to keep changing your shooting position.
For extra convenience, this optic boasts a fast focus eyepiece that aids in smooth and rapid reticle focusing, and a Zero Set elevation which allows for simple and rapid return to zero. Additionally, it has an illuminated reticle with 12 brightness settings for enhance visibility as well as more accurate aiming in a wide range of lighting conditions.
To top it all, the SHV 4-14x50mm F1 rifle scope has an aluminum housing that optimizes both strength and durability.
Features
First focal plane reticle
Robust aluminum housing
ZeroSet Elevation function
Power zoom ring
30mm tube diameter
Fast focus eyepiece
Adjustable parallax from 25 yards to infinity
Pros
Lightweight construction
Great glass quality
Excellent tracking and repeatability
Illuminated reticle with 12 different brightness settings
Super easy to use
Cons
Numbers that show the mils are poorly illuminated and difficult to read
6) NIGHTFORCE NX8 4-32X50MM F1 Scope

For extreme long range hunting, you need a powerful scope that is capable of covering the distance. This is exactly what the NX8 4-32X50MM F1 Scope is built for. To offer outstanding precision at long distances and take your long range hunting skills to the next high level.
This rifle scope features a MOAR reticle placed on the first focal plane. This means that it shrinks and enlarges with change in magnification. This type of reticle helps with range estimation for greater accuracy when engaging targets at long ranges.
Construction-wise, this Nightforce scope is built like a tank. This rigid construction is a guarantee that it will offer long-term durability. It is made with a solid bar of aircraft-grade aluminum alloy which gives it exceptional thermal stability and a nearly unbreakable shield. Moreover, its optics are optically indexed to deliver the highest optical performance from sunrise till sunset and are also waterproof and for proof.
To add on everything else, the scope features broadband multi-coatings on all air-to-glass surface to deliver bright, crisp and sharp images views.
Features
4-32x magnification range
Optically indexed lenses
Side parallax adjustment knob
Multi-coated optics
DigIllum reticle illumination
Rugged aircraft-quality aluminum alloy housing
Pros
Unmatched clarity and resolution
Compact and lightweight construction
Outstanding craftsmanship
Comes with numerous accessories
Cons
7) NightForce 5.5-22×50 NXS Tactical Rifle Scope

If none of the scopes outlined above meets your needs, you can hardly go wrong with the NightForce 5.5-22×50 NXS Tactical Rifle Scope. It offers you a wide magnification range, combined with a massive field of view as well as 100 MOA of elevation travel to ensure that you make the most out of your hunting expedition.
Whether you will be hunting in thickly wooded environments or in wide, open plains, this scope has your back. It offers reliable performance and exceptional accuracy in any hunting environment. Plus, it has a rugged housing that is rigorously tested to stand up to any hunting terrain you might find yourself in.
Another impressive feature about the scope is its outstanding optical performance. Even in poor light settings, it delivers bright, sharp and crisp clear image views for instant target recognition. It also boasts an LED reticle illumination for better visibility and accurate aiming in low light settings.
Features
Second focal plane reticle
Adjustable parallax from 50 yards to infinity
Rugged housing
30mm main tube
Tested rigorously for perfection
100 MOA of internal adjustment
Pros
Speed and accuracy in all situations
Outstanding optical integrity
LED reticle illumination
Zero Stop function
Very sharp reticle
Cost
Too expensive for recreational use
Slightly heavy
Read Also
Best Nightforce Scope for Hunting Buyer's Guide
When you are shopping for the best Nightforce scope for hunting, here is what you should consider.
Magnification
Magnification is what makes a scope. Nightforce offers it scopes having different and variable magnification settings to suit the demands of all hunters across the globe.
Generally, your ideal optical power will chiefly depend on your needs and preference. If you intend to hunt game at close and medium distances, get a scope that has a medium optical power.
On the other hand, if you know that you can easily hit your target at long distances, or you are a seasoned hunter looking to go the next level by hunting game at long range, go for a high-powered scope.
Objective Lens
Magnification and objective lens go hand in hand. The best Nightforce scope for hunting should have a big objective lens. This is particularly important if you are going to be hunting mainly in poor light settings such as dawn or dusk.
With a large objective lens, the scope will gather more light for brighter image views. You also get a larger field of view from a large objective lens even at high magnification.
Durability
A scope meant for hunting must be durable. Hunting can be rough so you will want your scope to be sturdy enough to withstand rough handling as well as anything thrown to it by nature. For a scope to achieve this, it should be built with high grade materials such as aircraft-quality aluminum, magnesium alloy or better. In addition, the scope should be built to perform well in fog, most, downpour and any other weather condition.
Eye Relief
Another important thing you should consider is the amount of eye relief the scope presents. The longer the better. With an ample amount of eye relief of more than 3.5 inches, you will not only protect your eye from heavy recoiling calibers, but you will also be able to acquire your targets more quickly and with ease. Moreover, you will not experience any eye strain or fatigue during lengthy hunting sessions.
Weight
Portability, it arguably one of the qualities that make a scope great for hunting. If you will be hunting at stationary locations which is rare in hunting, you need not to worry about the weight.
However, if your hunting excursions involve trekking miles looking for the game, make sure that you get an optic that is both light and compact in size. It will be easier on your shoulders as you carry it together with your hunting around. Low weight scopes also have an added advantage of being more accurate in addition to being simple to mount and operate.
Price
The other important thing to consider is the cost of the scope. Nightforce scopes are expensive compared to scopes from other brands, but don't let the high cost scare you. Put your finances in order first, then go for a model that matches both your budget and hunting needs. In the long run, these are high-end scopes that offer outstanding performance in the field and unprecedented value for every penny.
Best Nightforce Scope for Hunting FAQs
What magnification scope is best for hunting?
The best magnification for hunting chiefly depends on the hunting range, hunting environment and the type of game you will be hunting. For closer and medium range situations, a scope with 10x or less magnification power will be sufficient. But for long distance hunting, it is best to get a scope with higher magnification of more than 10x.
Which is better, a fixed power or a variable power scope?
It depends on individual's preference as well as hunting distance. A variable power scope is the best when it comes to hunting at varying distances and at long ranges as well. This is because you can set it on the highest magnification and make accurate long distance shots. However, fixed power scopes only cover close and medium quarters and is ideal for hunters who mainly hunt at a fixed distance.
Are Nightforce scopes worth it?
Absolutely. Nightforce offers a wide selection of high-end scopes ideal for a variety of applications. Typically, Nightforce scopes offer excellent long range accuracy and will perform admirably well even in the most challenging weather and lighting conditions.
Final Thoughts
We do hope that you have gained some insights from this detailed post and you are now in a position where you are able to make a proper buying decision. Every Nightforce scope listed above is well designed using the best of the best ergonomics. Invest in any one of them and have it revolutionize the way you'll be hunting this season.