Are you in the market for the best angled spotting scope? If so, you have come to the right place. If you are fond of the outdoors, a spotting scope is a valuable tool to have. A spotting scope is an all-purpose optical instrument. You can use it for hunting, tactical shooting, bird watching, wildlife viewing, ocean viewing and many more.
Whether you are buying your first spotting scope or looking to upgrade to a new one, you will need to choose either an angled or a straight spotting scope depending on your preference and individual needs. In this post, we will take you through some of the best angled spotting scopes available on the market today. These scopes offer bright views and comfortable glassing which is what every outdoorsman needs. With all that in mind, let's get started.
Best Angled Spotting Scopes
1) Celestron Regal M2 65ED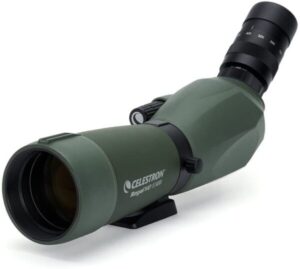 Celestron is one of the leading optics manufactures across the globe. It makes high-quality optical instruments and the Regal M2 65ED spotting scope is no different. It is one of the best angled spotting scopes out there.
Excellent image views from dawn to dusk await you when you get this spotting scope. It is made premium-quality ED glass which provides high-quality images with unparalleled clarity. This makes it a valuable addition to your field gear. Besides, it is sturdy, durable and weatherproof for all use in all outdoor excursions. It has a durable magnesium alloy body that is rubber armored for added protection and it is also fully waterproof, fog proof and dust proof for use in any weather condition.
Well, that's not all. It boasts fully multi-coated lenses which maximize light transmission to provide brightest and vivid image views. The angled eyepiece design reduces neck and eye fatigue during lengthy viewing sessions and with the rotating tripod mount, you are able to position the eyepiece to the most comfortable viewing angle. The scope also works with any 1.25" astronomical eyepiece for perfect and ultra-snug viewing angles.
Features
XLT lens coating
Rotating tripod mount
16-48x variable magnification
ED objective lens
Durable magnesium alloy body
Fully waterproof and fog proof
Rugged rubber armor
Ergonomic dual speed focusing mechanism
2) Vortex Optics Diamondback HD Spotting Scope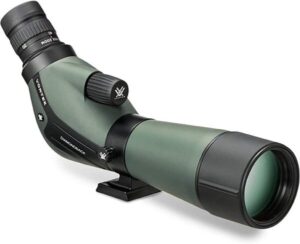 The Diamondback HD Spotting Scope is one of the best angled spotting scopes for the money. Though affordable, this scope does not compromise on its quality. It features a versatile 16-48x variable magnification suitable for glassing at varying ranges. It also provides all the horsepower that a long-range hunter or tactical shooter will need.
The scope provides outstanding views in low light conditions. It features a HD optical system that provides outstanding resolution and color fidelity. Even better, it is equipped with numerous anti-reflective coatings on all air-to-glass lenses that optimize light transmission and reduce light loss and glare. This gives you bright and clear sight pictures from sunrise to sunset.
Furthermore, the spotting scope is sealed with O-rings to lock out moisture, dirt and any other debris. It is also argon purged to prevent internal fogging and comes with Armortek coatings that shield the exterior lens from scratches and dirt. Moreover, it has rubber armor that enhances its durability and provides a secure, slip-resistant grip. Other noteworthy features found on this product are an adjustable eyecup, built-in sunshade and a built-in helical focus wheel.
Features
Tripod compatible
Waterproof and fog free
Armortek lens coating
Rubber armor
Built-in helical focus wheel
Adjustable eyecup
Built-in sunshade
HD optical system
Several anti-reflective coatings on all air-to-glass surfaces
3) Celestron – Ultima 80 Angled Spotting Scope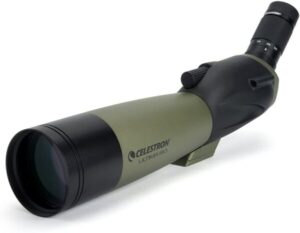 Another best angled spotting scope on our list is the Ultima 80 Angled Spotting Scope. This is a premium-quality spotting scope made with the budget buyers in mind. It is an all-purpose spotting scope that is both portable and simple to use. You can carry it everywhere you go and enjoy the best outdoor views.
The scope has a wide 80mm objective lens that provides a spacious field of view. Pair it with the variable 20-60x magnification and the 45-degree viewing angle and you will get the most comfortable long-distance views. Besides, it features multiple anti-reflective lens coatings that guarantee bright, sharp and color accurate images at every magnification setting even in low light conditions.
Moreover, this product features a large focus dial that makes image focusing a breeze. The included eyepiece will also help you zero in for better detail of far-off subjects in seconds. When it comes to construction, the Ultima spotting scope is fully waterproof and fog proof for reliable performance even in extreme weather conditions. Above all, it comes with an extended tripod mounting plate and a built-in T-adapter for Digiscoping.
Features
Large 80mm objective
45-degree viewing angle
Waterproof and fog proof
Lightweight and portable
Use-friendly design
Multi-coated optics
Built-in T-adapter for Digiscoping
Large focus dial
20-60x magnification
Removable rubber eyecup
4) Vortex Optics Razor HD Spotting Scope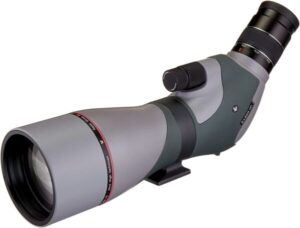 Next on our list is the Razor HD Spotting Scope from Vortex. This is a high-end spotting scope suitable for professional use. It employs top-tier optical technology to give you outstanding optical performance.
This spotting scope is highly functional. It has a smooth helical focus dial for easy image focusing and a multi-position eyecup that twists up to provide an eye relief that is large enough to ensure snug viewing with or without glasses. Besides, it has a built-in sunshade that pulls out to minimize glare when you are glassing under direct sunlight.
Like any other Vortex optic, the Razor HD Spotting Scope is built to endure rough handling. It has a rubber armor that protects it from shock and impact, and Armortek coating that shields the external lenses from scratches and dirt. It is also fully waterproof and fog proof for use in all weather conditions. Overall, it is a high-quality spotting scope worth the investment.
Features
Multi-layer prism coatings
Fully multi-coated lenses
Waterproof and fog proof
Premium HD glass lens
Rubber armor
Built-in extendable sunshade
Flexible viewing angle
Smooth helical focus dial
Multi-position eyecup
Locking collar
Armortek lens coating
5) Burris Signature HD Spotting Scope 20-60x85mm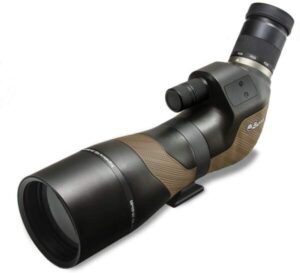 If you are looking to take your glassing  to the next big level, you should get this high-quality spotting scope from Burris. It has a versatile 20-60x magnification for views targets at any distance. It also provides the best sight pictures at every magnification setting to make your outdoor activity more rewarding.
This spotting scope is built to deliver top-notch optical performance. It has a large 80mm objective lens that collects optimum light for exceptional optical clarity. Moreover, it features premium HD glass for maximum resolution and indexed-matched lenses that deliver color accurate images from dawn to dusk.
Another good thing about the Signature HD Spotting Scope is the durable construction. It features an armored magnesium body that is durable yet feather light. You can carry it for long hours but it won't weigh you down. Moreover, it is waterproof and fog resistant to give you a lifetime of field use. For added convenience, the scope comes with an eyeglass-friendly adjustable eyecup, rotating tripod mount, built-in sunshade and dual focusing knobs.
Features
Coarse and fine focusing knobs
Adjustable eyecup
Waterproof and fog proof
Rugged rubber armor
Durable yet lightweight magnesium body
Premium HD views
Exceptional optical clarity
Rotating tripod mount
Built-in sunshade
6) Vanguard Endeavor HD 82A Angled Eyepiece Spotting Scope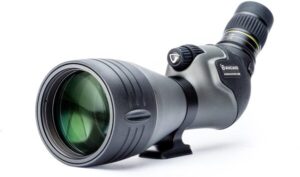 As one of the best angled spotting scopes, the Vanguard Endeavor HD 82A Angled Eyepiece Spotting Scope is your best option if you are looking for an angled spotting scope for intermediate and long-range observation. The scope provides an array of great and high-quality features at remarkably affordable price.
It brings to the table fully multi-coated lenses that maximize light transmission for brighter and clear sight pictures. It also features an ED glass optical system and phase-coated BAK-4 roof prism which provides greater image detail even in poor light settings. In addition, it boasts a wide field of view that makes target identification a breeze regardless of how far the target is.
More importantly, the scope is well-constructed so you will get many years from it. It has a rubber armored magnesium body that is both durable and lightweight. It is nitrogen purged to prevent fog build up in extreme weather conditions and sealed with O-ring to lock out dirt, moisture and any other debris from damaging the optics. Other notable features that the scope provides are dual focus controls, detachable angled eyepiece and a long eye relief.
Features
Premium ED glass
Waterproof and fog proof
Advanced multi guard lens coatings
Rubber armored magnesium body
Dual focus controls
Detachable angled eyepiece
Lightweight and portable
Large eye relief
Wide viewing angle
7) Bushnell Legend Ultra HD 20-60×80 Spotting Scope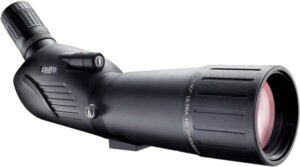 The Legend Ultra HD 20-60×80 Spotting Scope from Bushnell is a 45-degree angled spotting scope ideal for multiple outdoor applications. It delivers unmatched optical clarity that makes it a favorite among avid birders, hunters and nature enthusiasts. It's light as feather for easy portability, simple to use and budget-friendly too.
It features ED prime glass, fully multi-coated optics and BaK-4 prisms that work together to provide the clearest and brightest sight pictures in any light settings. Besides, the lenses have a special rain guard water-repellent coating that provides the clearest views even in heavy downpour. It also brings to the table stacked, coarse and fine controls that provide rapid and easy adjustments.
Features
Waterproof and fog proof
Fully multi-coated lenses
Long eye relief
Stacked, dual-focus controls
Wide field of view
80mm objective lens
Lightweight design
20-60x variable magnification
Water-repellent rain guard coating
See Also
Criteria for Choosing the Best Angled Spotting Scopes
Finding the best angled spotting scopes is not something to do on a whip. Before you decide to finally settle on a specific angled spotting scope, make sure that you consider the following factors first.
Magnification
Magnification is the first thing you should consider when picking the best angled spotting scopes. What you intend to use the scope for will largely determine your ideal magnification power. If you intend to use to view objects at intermediate distances, a moderate magnification power of not more that 45x will do. However, if you are planning to use the spotting scope for long-range viewing, get a model with greater magnification.
Objective Lens
The other important thing after magnification is the size of the objective lens. It dictates how much light gets into scope which affects the final sight picture. The bigger the objective lens, the better especially during low light conditions. A spotting scope with not less that 60mm objective will give you finer details of your target even in low light settings. It will also provide a wider field of view that is essential for smooth identification and tracking of targets.
Intended Use
Majority of angled spotting scopes are all-purpose scopes. You can use them for hunting, birding, wildlife viewing and so on. However, try to get a scope that works best for your individual needs. If its for hunting, make sure that it has every feature that you need for hunting. If you plan to use it for long outdoor excursions, ensure that it light enough to be easy to carry around.
Eye Relief
Another thing to consider is the amount of eye relief that the spotting scope provides. If you put on eyeglasses, the scope's eye relief should be long enough to give you a comfortable viewing experience with or without eyeglasses. This way, you won't have to constantly remove the glasses every time you want to look through the scope. Go for a spotting scope that has at least 15mm eye relief.
Construction Quality
The construction quality of any angled spotting scope determines how reliable it is. You will want a scope that is built well so it will give you many years of use. Always buy a spotting scope that is waterproof, dustproof fog proof. This will give you reliable performance in any weather conditions.
When it comes to the main body, make sure that the scope is crafted with top-notch materials preferably aluminum or magnesium. Also ensure that it is wrapped with a rubber armor. This will shield it from shocks and accidental falls and optimize its durability.
Tripod Compatibility
Setting your spotting scope on a tripod will help provide more stable views. Most angled spotting scopes come with a tripod mount which will fit into any standard camera tripod with ease. Some models even come with a tripod included so you don't have to buy another one separately.
Advantages of Angled Spotting Scopes
Neck and eye relief. With an angled spotting scope, you can easily change the angle of the eyepiece to a position that is most comfortable for you
Best for glassing on targets that are either uphill or downhill
Ideal for group viewing. It is easier for a group of people to share an angled spotting scope regardless of their body height
Versatile glassing position. It is easier to glass while standing, sitting and any other position
Supports Digiscoping. It is simpler to mount a camera or a smartphone on the angled eyepiece for Digiscoping
Conclusion
Knowing what to look for in an angled spotting scope will save you time and make the purchasing process less taxing. As you have seen, you have multiple models to choose from. Use this post and weigh in the unique features that each spotting scope above has, then choose the unit that aligns with your individual needs.