Looking for the best crossbow scope? You are in the right place. This is your ultimate guide to purchasing the best scope for your favorite crossbow.
In this day and age, scopes are by far the most essential crossbow accessories a hunter or archer can have. With the purchase of the right scope, you will be able to find your subjects easily compared to when you are taking shots with your naked eyes. A scope will also help horn your archery skills, enhance your speed of target acquisition and better your chances of having a rewarding hunting expedition.
However, it is not an easy task to find a scope for your crossbow. There are so many scopes available out there which make the selection process a little overwhelming, especially for the first-time buyers.
If you are having a hard time finding the ideal crossbow scope, we are here to help. We have taken our time and made a review of the best crossbow scopes available on the market currently. Thanks to these high-quality scopes, your crossbow will become a more reliable hunting instrument and you a better hunter.
7 Best Crossbow Scopes – Our Top Picks
Whether you are buying your first crossbow scope or looking for an upgrade, here are some of the best performing scopes you can pick from. Let's take a look.
1) UTG 4X32 1" Crossbow Scope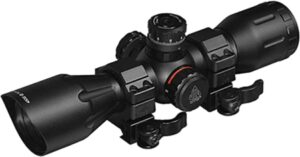 The UTG 4X32 is by far the best crossbow scope available on the market today. This 1-inch tube scope is built on a robust true strength platform to maximize durability. It also features nearly everything you need to sharpen your hunting skills with a crossbow.
The scope offers the brightest image views from dawn to dusk. This is thanks to the high-quality precision broadband lens coatings that optimize low light performance. Furthermore, it is designed to provide a relatively wide field of view that aids in rapid target finding and acquisition.
Another outstanding feature about this scope is the illuminated reticle which maximizes visibility in nearly all light settings. Besides, the reticle has 5 horizontal lines calibrated for all 300fps crossbows. This ensures quick aiming at 10, 20, 30, 40 and 50-yard distances.
Other notable features included are premium zero lockable and resettable target turrets, flip open lens caps and a built-in tact edge angled sunshade.
Features
4x fixed magnification
High-quality broadband lens coatings
Premium zero lockable and resettable turrets
Built-in sunshade
Reg/green illuminated reticle
Robust aluminum housing
Pros
Generous field of view
Solid construction
Lightweight design
Illuminated reticle
Affordable cost
Cons
2) MA3TY 1.5-5×32 Crossbow Scope
The MA3TY 1.5-5×32 is a perfect addition to virtually any crossbow. It has a variable 1.5-5x magnification which makes it more flexible for taking shots at varying ranges out to 100 yards. Better yet, you can adjust the speed from 300FPS to 425 FPS to suit the situation at hand.
This 30mm scope is built to last. It features a robust aluminum housing that is durable and sturdy enough to stand up to anything you throw at it. Furthermore, it is fully waterproof and fog proof to be operable under harsh and unforgiving environments.
With a mere weight of 15.8 ounces only, the scope is ultra-light and very easy to use. It is easy to mount and with the ultra-lightweight design, it won't add any extra weight on the crossbow. Furthermore, it features a dual illuminated ballistic reticle to ensure that you aim and takes shots easily in any lighting condition.
Best of all, it features multi-layer lens coatings that guarantee more than 93% light transmission for bright, crisp and detailed views of the target.
Features
Variable 1.5-5x magnification
Waterproof and fog proof
30mm main tube
Multi-layer coated lenses
Red and green ballistic illuminated reticle
Pros
Lightweight design
Parallax free
Good clarity
Durable and reliable construction
Highly accurate and practical
Cons
Slightly hard to hold zero when aiming
3) Barnett Cross Scope w/Rings 4X32mm Multi-Ret 17060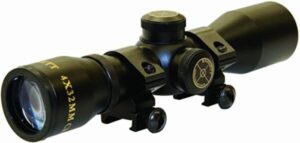 If you are looking for the best crossbow scope for the money, look no further than the Barnett Cross Scope. This optic is compatible with all full-size crossbows in the company's line and it is available at a remarkably affordable price.
It has a fixed 4x zoom which is easy to use, even for beginner and ideal for most hunting applications. Furthermore, it brings to the table five-point programmed, multi-reticle crosshair system that aids in easy aiming and accurate shooting. The scope also has an ultra-lightweight design to ensure that it doesn't get in your way when hunting.
To top it all off, the scope has a water resistant construction to be usable even when its raining and a shockproof housing for greater durability.
Features
4x magnification
Multi-reticle crosshair system
Water resistant housing
875-inch dovetail mounting rings
Shock proof design
Pros
Surprisingly powerful
Lightweight
Easy to use
Affordable pricing
Cons
The accuracy could be better
4) Hawke Crossbow 1.5-5X32 IR SR Scope with Illuminated Circles
Next our list of the best crossbow scope is the Hawke Crossbow 1.5-5X32 IR SR Scope. This high-performance crossbow specific scope has nearly everything you need to take your bow hunting to the next big level. It is very simple to install and use for all users, irrespective of their skills or user experience.
The scope's optics are fully multi-coated to enhance light transmission and reduce light loss through reflection. This ensures optimal image brightness and clarity even in low light settings. Even better, it comes with an illuminated reticle to enhance visibility in poor light conditions of dusk and dawn. To complement the illumination, the reticle is also designed to provide precision aim points at intervals ranging from 20 yards to 100 yards.
The scope also features a matte finish that helps keep you inconspicuous when hunting in broad daylight.
Features
1-inch main tube
Fully multi-coated optics
Dual red/green reticle illumination
Matte finish
Pros
Lightweight
Easy to mount
Superb accuracy
Great value for money
Cons
5) TRUGLO Crossbow 4×32 Compact Scope w/Rings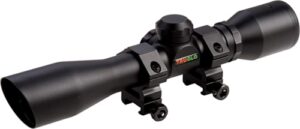 Another best crossbow scope in our list is the TRUGLO Crossbow 4×32 Compact Scope. This scope is ideal for archery and bow hunting as well.
It features 4x fixed magnification that helps bring the distant targets closer and enlarge the smaller objects. Since the magnification is fixed, the scope is easy to use even for the beginners. Besides that, the scope comes with fully-coated lenses that provide maximum image brightness, clarity and contrast from dawn to dusk.
In terms of construction, it features a durable housing with non-reflective and scratch proof matte finish that keeps you hidden from the game you are hunting. Furthermore, the scope possesses a generous 4-inch eye relief that aids in rapid target acquisition and ensures effortless glassing, with or without eyewear.
The scope is also waterproof and filled with nitrogen to provide a lifetime of reliable fog proof performance.
Features
Fully coated lenses
Weaver-style rings
Fog proof construction
Scratch proof, non-reflective matte finish
Fixed 4x magnification
Pros
Long 4-inch eye relief
Ultra-lightweight construction
Lens cap and mounting rings included
Admirable low light performance
Cons
6) Hammers Compact Red/Blue Illuminated Multi-line Reticle Crossbow Scope

Next up is the Hammers 4×32 crossbow scope. This is a 1-inch tube crossbow scope ideal for both archery and bow hunting. It works well with most crossbows and comes with solid rings so you don't have to buy them separately.
The scope has 4 different crosshairs which provide 4 reference points on different yardages. With these reference points, you will have an easy time eliminating guesswork down the range. Besides, the reticle is illuminated in either red or green color and each color has 5 adjustable settings to enhance visibility in multiple light settings.
When it comes to construction, the scope is made of aircraft quality aluminum alloy. This is the most sought-after material in optics which is known to maximize durability without being bulky. It also has an attractive and non-reflective anodized finish that shields if from scratches, rust and corrosion.
The scope is also waterproof and fog proof to provide a lifetime of reliable performance in all weather conditions.
Features
4x magnification
See-through lens covers
Black anodized finish
Water, fog and shock proof design
One-piece, 1-inch main tube
Illuminated reticle
Pros
Solid construction
Lightweight design
Ample eye relief
Reticle illumination
Budget-friendly
Cons
Less suitable for use in low light settings
7) CenterPoint Optics 4x32mm Illuminated Multi-Line Reticle Crossbow Scope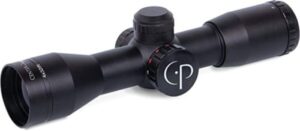 Lastly, we have the CenterPoint Optics 4x32mm Crossbow Scope. This is a quality crossbow scope that is specifically designed for crossbow hunting. It is simple to mount and easy to operate for all hunters no matter their hunting skills or experience.
With a weight of 0.9 pounds only, the scope is ultra-light and portable. This makes it a favorite for hunters looking to carry other gear for their hunting trip. Furthermore, it features crisp clear optics that ensure accurate target identification even in inadequate light settings and a bright illumination to enhance visibility in low light settings.
Construction-wise, the scope has a solid one-piece main tube that optimizes sturdiness and durability. It is also equipped with a glass-etched reticle which provides accurate aim points out to 50 yards.
Features
4x fixed magnification
Glass-etched reticle
One-piece main tube
32mm objective lens
Pros
Manageable weight
Simple to use
Great scope for the money
Crisp clear optics
Cons
Read Also
Factors to Consider when Choosing the Best Crossbow Scopes
The following are some of the important factors you should take into consideration when you are shopping for the best crossbow scope.
Size and Weight
The first two factors you should take into account is the weight and size of the crossbow. For you to shoot comfortably and without any impediments, go for a scope that is not just lightweight, but also compact in size.
A lightweight scope will be comfortable to carry and simpler to shoot with. It should also be compact in size to enhance packability and be easy to maneuver with in the field.
Magnification
The best crossbow scopes are available in either fixed or variable magnification power. If your hunting expeditions largely involve pursuing game at constant distances, a fixed power scope will be sufficient.
On the other hand, its best to get a variable power scope if you are looking to acquire targets in different environments and varying ranges.
Lens Quality
Go for a scope that utilizes the best lens quality you can afford. With high-quality lenses, the scope will be able to yield clear and bright image views even in low light settings. Furthermore, the lenses should be fully multi-coated to enhance transmission of light, reduce glare and light reflection. The result is more visual clarity irrespective of the lighting condition.
Durability
The next thing you should consider is the durability of the scope. Just like rifle scopes, any crossbow scope that is well-built is a reliable scope.
Try and look for a scope that is made of good quality material like aircraft grade aluminum. It will maximize durability, stand up to rough use and ensure that you get many years of use.
It will also be an added advantage if the scope you get is fully waterproof, fog proof and shockproof.
Eye Relief
The scope you intend to buy should have a long eye relief. This is the distance you can hold the scope away from your eye and get a nice view without moving it around. With most crossbow scopes, this distance in measured in millimeters.
The longer the eye relief the scope has, the more comfortable it will be to use. It will reduce eye strain and fatigue particularly when you are hunting for long hours. A long eye relief will also save you the hassle of having to take off your eyeglasses every time you want to use the scope.
Mounting System
Different crossbow scopes come with different mount systems that work with certain crossbows only. Before you settle on any crossbow scope, make sure that is has a mounting system that is compatible with your crossbow. The last thing you would want is to invest in a scope only to find that it isn't compatible with your crossbow.
FAQs
Can I use a rifle scope on a crossbow?
Yes, you can mount a rifle scope on a crossbow as long as it is compatible with the crossbow. The scope should also be rigid enough to weather multi-directional recoil that crossbows generate.
Do you need a special scope for a crossbow?
Not really. You can use your rifle scope on your crossbow and still achieve good results. However, it is best to use a scope that is specifically designed for crossbows since crossbows present different challenges and have different scope specifications as well.
How many yards is a crossbow accurate?
This will depend on the individual crossbow in use. However, the accurate range of most crossbows is about 40 yards. At this distance, majority of hunters and archers are able to fire the crossbow accurately.
Final Thoughts
The best crossbow scope will largely depend on the intended usage, your needs and preference. All the crossbow scopes reviewed in detail above offer the essential features a hunter or archer needs to take their shooting skills a notch higher.
Finding a scope that matches your individual needs calls for some research, but irrespective of what your budget or needs are, there is an option out there for you.